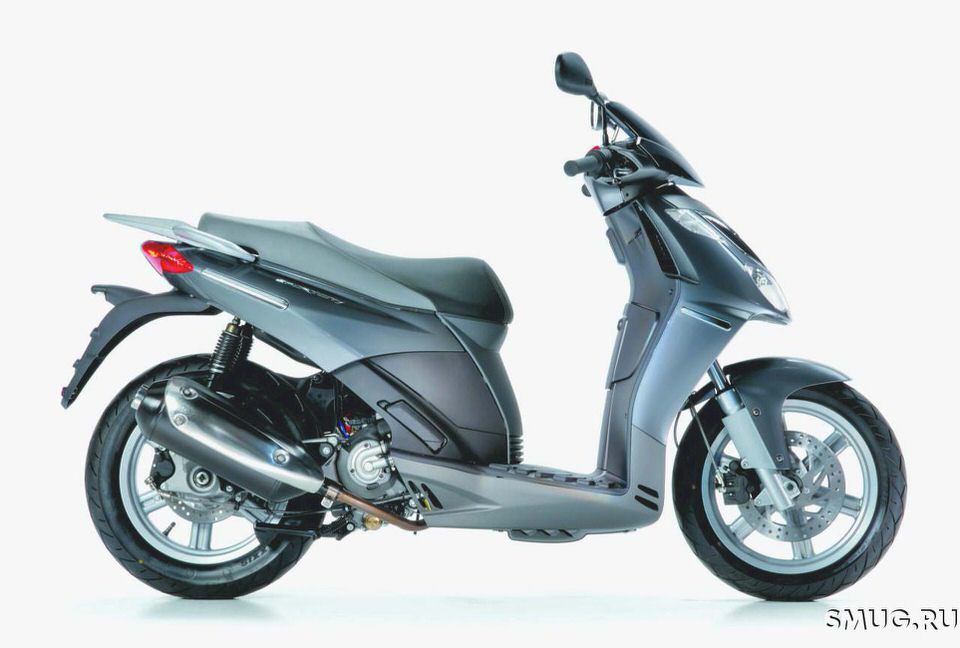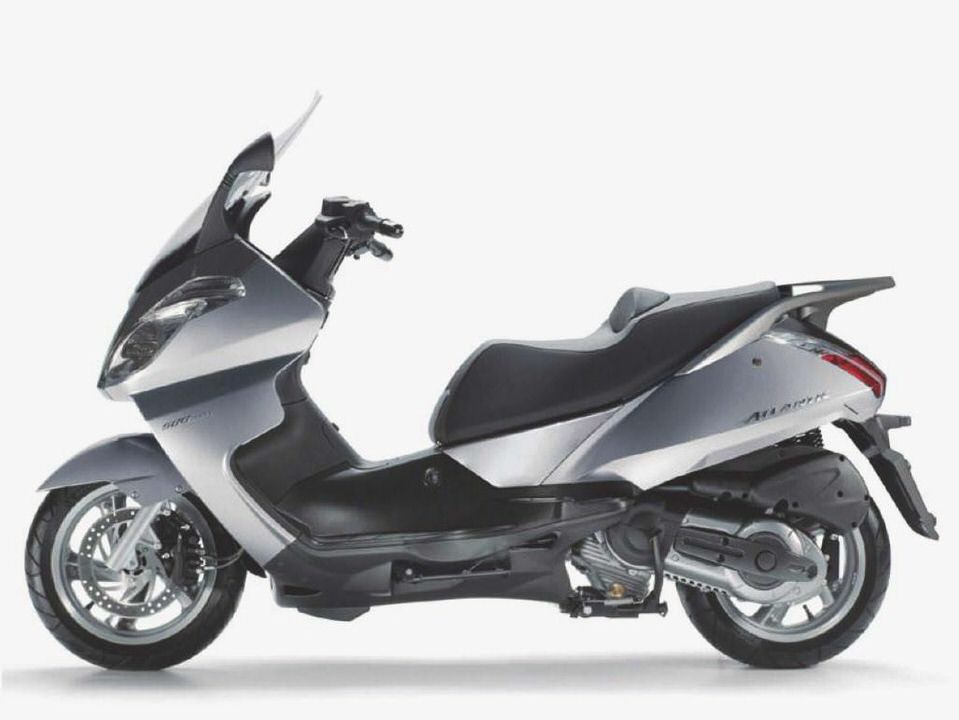 Specifications:
Performance, comfort, spaciousness, and load carrying capacity are the main features of the sportiest maxi scooter around. The Atlantic Sprint is even respectful of the environment and is homologated to Euro 3 standard. Now, with the addition of a new 400cc engine, the Atlantic range is even more complete.
continue reading
A world that is moving faster every day needs vehicles that can keep up. And a world where open spaces are rapidly filling up needs vehicles that can nip through traffic, park on a sixpence, and carry maximum load in minimum dimensions. These are exactly the needs the Aprilia Atlantic Sprint is designed to satisfy.
With the arrival of the new 400 cc engine, the Atlantic Sprint range offers more choice than ever, with not just one scooter but an entire family to choose from, all built to fulfil your every need, and all offering the legendary style and superb ride that have become trademarks of Aprilia motorcycles and scooters.
The Atlantic Sprint opens up new horizons in personal mobility, thanks to advanced, clean running high performance engines (both Euro 3 homologated), standard-setting comfort and unmistakeable style.
Its agility and sparkling performance make the Atlantic Sprint unbeatable around town. Roominess, comfort, excellent wind protection, and large capacity (400 and 500 cc), high-performance engines mean that the Atlantic Sprint is great on country roads, and a classy performer on long distance touring holidays.
The Atlantic Sprint's styling is a passport to success; clear-cut no-frills lines, elegant colours, and a dynamic but elegant look that hides advanced scooter technology. The Atlantic Sprint is Aprilia's answer to scooter riders who have been waiting for a fast and safe machine that promises high performance urban commuting without compromising on comfort.
Rider and passenger benefit from a high level of wind protection, a large load-carrying capacity, excellent ergonomics, and active and passive safety. In fact, everything about the Atlantic Sprint has been designed and made for unbeatable comfort without compromising the natural, instinctive ride and unmistakable style that defines all Aprilia scooters.
In addition to guaranteeing exceptional comfort, the generous seat gives you great control and a truly instinctive ride.
The Atlantic Sprint's footboard has been carefully tapered where you put your feet on the floor, to ensure quick, easy and firm contact with the ground.
The ample leg shield and high windshield offer excellent protection against the wind and rain.
The luggage rack incorporates passenger grab handles and accepts the optional top box without additional mounting plates or brackets.
Load carrying capacity plays an important role in choosing a scooter. The Atlantic Sprint boasts a generous lined and illuminated under-seat storage compartment which even incorporates a convenient power socket for charging your mobile phone.
A second, lockable storage compartment is housed in the rear of the leg shield.
If even this volume of storage is not enough, you can easily add an optional 45 litre top box, directly on the standard luggage rack.
The unrivalled quality to price ratio achieved by the Atlantic Sprint emerges clearly not only from its exceptional performance and finish but from its impressive level of standard equipment. When you buy an Atlantic Sprint you get a very complete scooter at a very incomplete price.
Everything you need comes as standard on the Atlantic Sprint, including an electronic remote control anti-theft system. This highly advanced system is the first of its kind ever fitted on a scooter. The system acts as an engine immobiliser and sounds a highly audible alarm and flashes the hazard warning lights if any attempt is made to move the scooter.
Chassis
The Atlantic Sprint's chassis embodies Aprilia's race-winning expertise and years of experience in scooter manufacturing. The extremely robust chassis is a perfect match for the high performance engine. The frame and suspension are designed for comfort, agility and safety.
The frame itself is of proven structural rigidity and is coupled with a highly efficient fork and shock absorbers.
The Aprilia design team has succeeded in creating a scooter with perfect weight distribution, exceptional riding feel and manoeuvrability plus excellent stability.
The high strength tubular steel frame incorporates a closed double cradle designed for maximum torsional rigidity and robustness. This rigid and efficient frame gives the Atlantic Sprint faultless stability even at high speeds.
The front fork with its 35 mm stanchions ensures precision steering and great suspension with a generous wheel travel of 105 mm.
The engine and transmission assembly, which acts as the rear swingarm, is damped by two gas-filled shock absorbers. Spring preload is adjustable to 5 positions, to allow you to achieve maximum suspension efficiency for all levels of load and all types of surface. Wheel travel of 90 mm ensures a smooth ride over even the roughest roads.
Another factor contributing to the Atlantic Sprint's excellent ride is its 14 inch wheels and generous size tubeless tyres (120/70 at the front and 140/60 at the rear).
In conjunction with the rigid frame, these wheels and tyres give the Atlantic Sprint excellent stability and make control intuitive even for the novice. So despite its impressive performance, the Atlantic Sprint is beautifully easy to ride! The generous tyres even enhance the effect of the suspension in smoothing out rough roads as well as guaranteeing maximum safety during braking.
Brakes, of course, are another of the Atlantic Sprint's strong points. Integral braking provides reliable, safe and gradual control over all surfaces. The Atlantic Sprint features a 260 mm diameter front disc with floating caliper and three parallel pistons, and a 190 mm rear disc.
The principle of integral braking is simple. When you pull on the left hand lever (the rear brake lever) you operate not just the rear brake but one of the three front brake pistons too. A special valve distributes pressure between the two wheels to maximise effect and make braking easy to control even for inexperienced riders.
Integral braking dramatically reduces stopping distances and gives you a far greater feeling of safety and control than conventional braking systems.
Engine
A choice of two large capacity engines satisfies all possible needs, from urban commuting to long range touring. With the arrival of the 400 cc engine, the Atlantic Sprint family has become one of the widest scooter ranges in Europe.
Both the 500 and the 400 engine are packed with the latest technology and deliver amazing performance for their respective sizes, together with impressively low emissions, a totally vibration-free ride and unprecedented elasticity.
Both engines incorporate advanced, four valve cylinder heads, liquid cooling and the latest generation of automatic transmission.
An advanced fuel injection system delivers low fuel consumption and silky smooth power for maximum comfort and riding pleasure. A dynamic balancer shaft minimises vibration. Miserly fuel consumption and a large capacity tank combine to give the Atlantic Sprint excellent autonomy and extended intervals between refuelling.
The 500 cc engine is a single cylinder, liquid cooled, four stroke powerplant with a single overhead cam and a four valve head.
Thanks to a maximum power of 29 kW at 7500 rpm and maximum torque of 43 Nm at 5500 rpm, the Atlantic Sprint 500 delivers unbeatable performance, easily equivalent to many multi-cylinder motorcycles. In fact, impressive power plus extremely light weight gives it one of the highest levels of performance for any scooter of the same engine size.
The 400 cc engine is a new introduction to the Atlantic Sprint range for 2007. Based on exactly the same design technology as the 500, it differs from it only in displacement, which is reduced from 460 cc to 399 cc. With 25 kW of power and 37 Nm of torque, the 400 cc engine offers a level of performance almost as high as its bigger brother, but the Atlantic Sprint 400 can be ridden by A2 class licence holders (under Italian legislation).
Less capacity can also mean significant savings on insurance (up to 40% on the Italian market).
Both engines are equipped as standard with a three way catalytic converter and conform easily to Euro 3 emission control standards.
To complete the Atlantic Sprint's, already generous level of equipment, Aprilia also offers a wide range of accessories, including:
large windshield with hand-guards, 50 litre tunnel bag, passenger backrest, Street Case II 47 litre top box in matching paint finish, 35 litre City top box in matching paint finish personalised for Atlantic, optional top box backrests.
SPECS
Engine: Liquid cooled single cylinder four-stroke. SOHC (Single OverHead Cam), four valves.
Fuel: Unleaded petrol.
Bore and stroke: 92 x 69 mm (86 x 69 mm).
Displacement: 460 cc (399 cc).
Compression ratio: 10.5:1.
Max. power: 27.5 kW 37.4 HP at 7,250 rpm (25 kW 34 HP at 7,500 rpm)
Starting: Electric.
Alternator: 12 V 380 W.
Lubrication: Wet sump. Forced lubrication with mechanical oil pump.
Gearbox: Automatic variator.
Clutch: Automatic centrifugal dry clutch.
Primary drive: V belt.
Final drive: Gearbox.
Frame: High-strength tubular steel frame with closed double cradle.
Front suspension: 35 mm hydraulic fork. Wheel travel 105 mm.
Rear suspension: Engine acting as swingarm. Two gas filled shock absorbers with 5 position spring preload adjustment. Wheel travel 90 mm.
Front: 260 mm (diam.) stainless steel disc with floating three piston caliper and integral braking system
Rear: 190 mm (diam.)stainless steel disc with integral braking system.
Light alloy.
Front: 3.00 x 14.
Rear: 3.75 x 14.
Tubeless
Front:120/70 x 14.
Rear: 140/60 x 14.
Dimensions:
Overall length: 2,200 mm
Overall width: 815 mm (at handlebars)
Overall height: 1,370 mm (at windshield)
Wheelbase: 1,550 mm
Seat height: 780 mm
Dry weight: 199 kg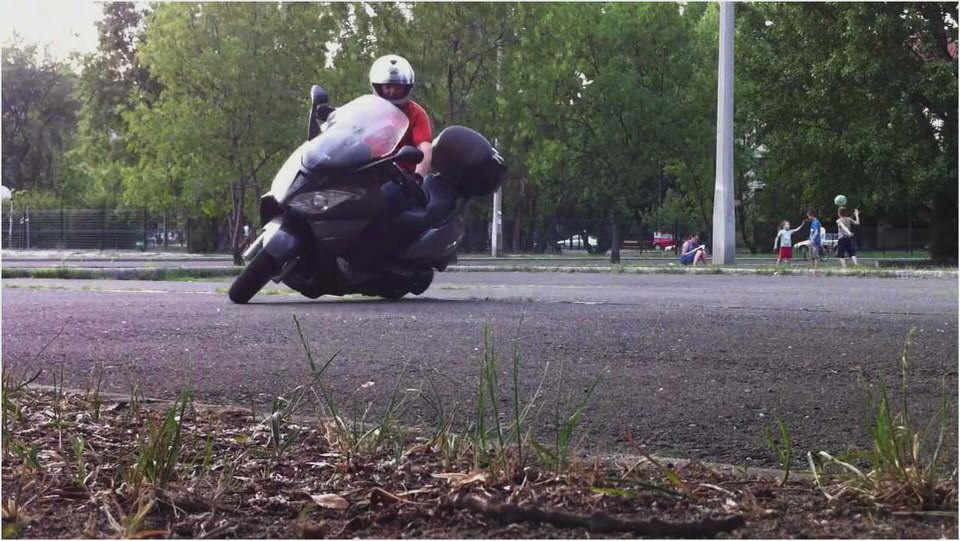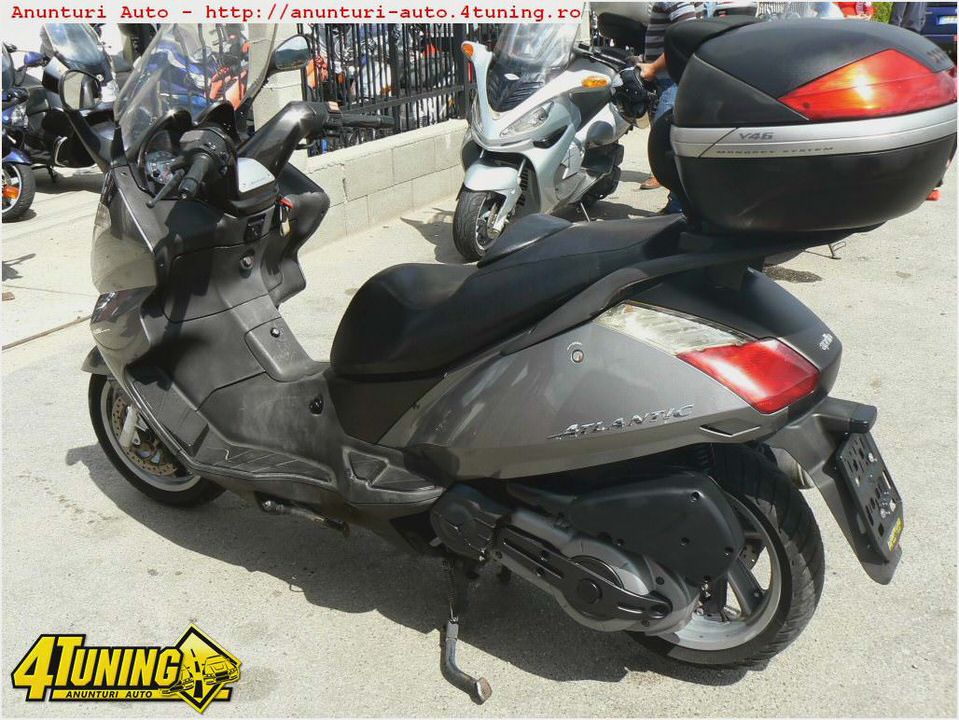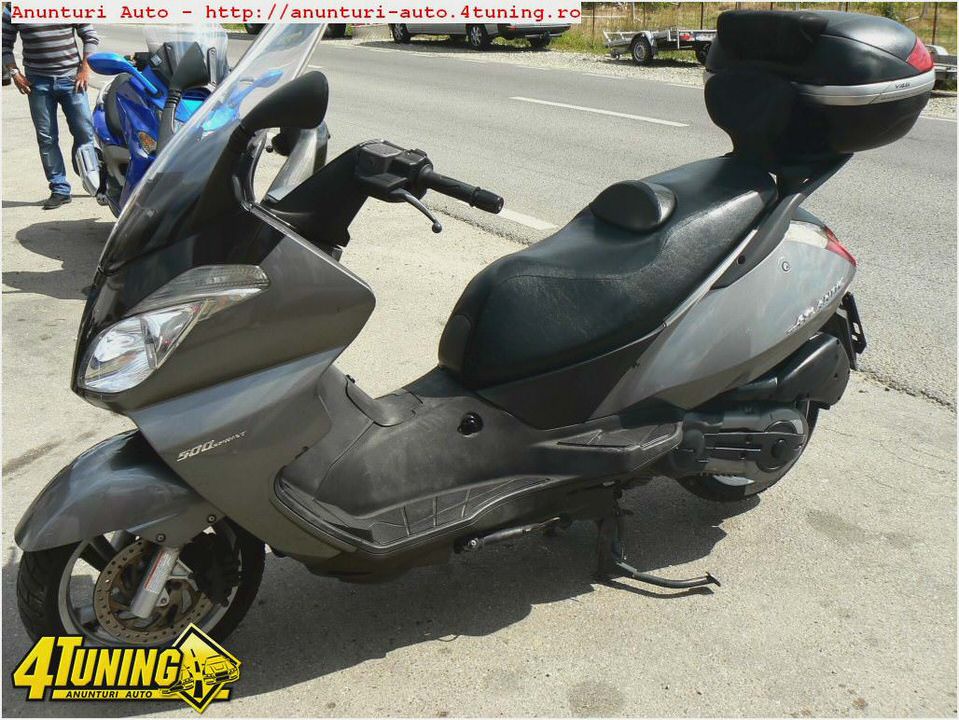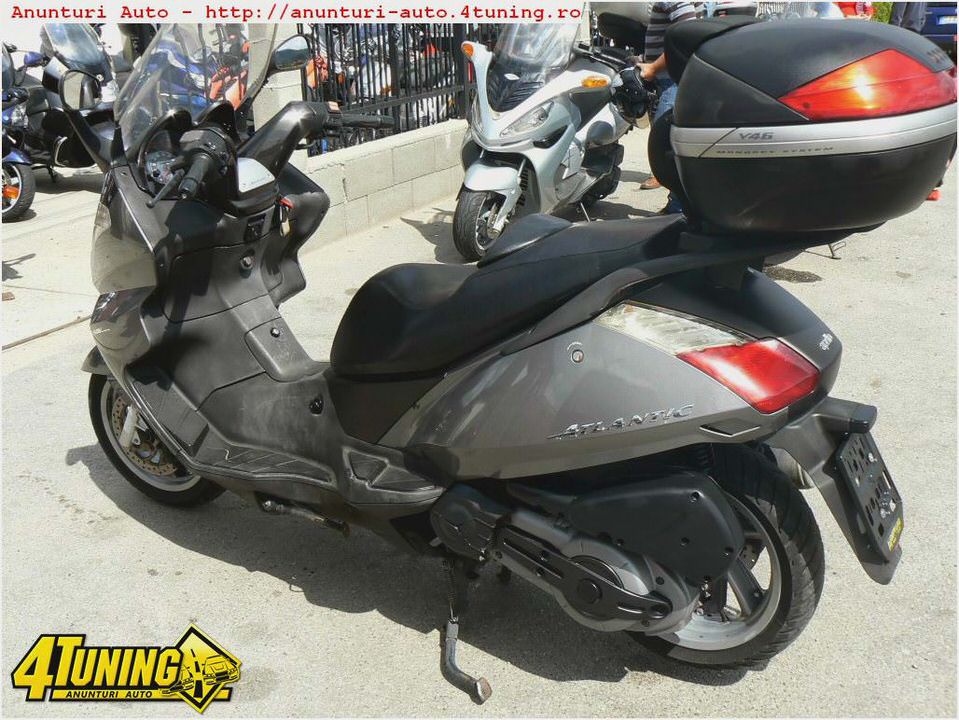 Aprilia ETV 1000 CapoNord – Review – Italian v Japanese
Aprilia R 50
Used 2011 Aprilia Mana – Reviews, Prices and Specs at Motorcyclist Magazine
Aprilia SR50 and Scarabeo Scooters –
Test Aprilia ETV 1000 Caponord ABS Motors TV