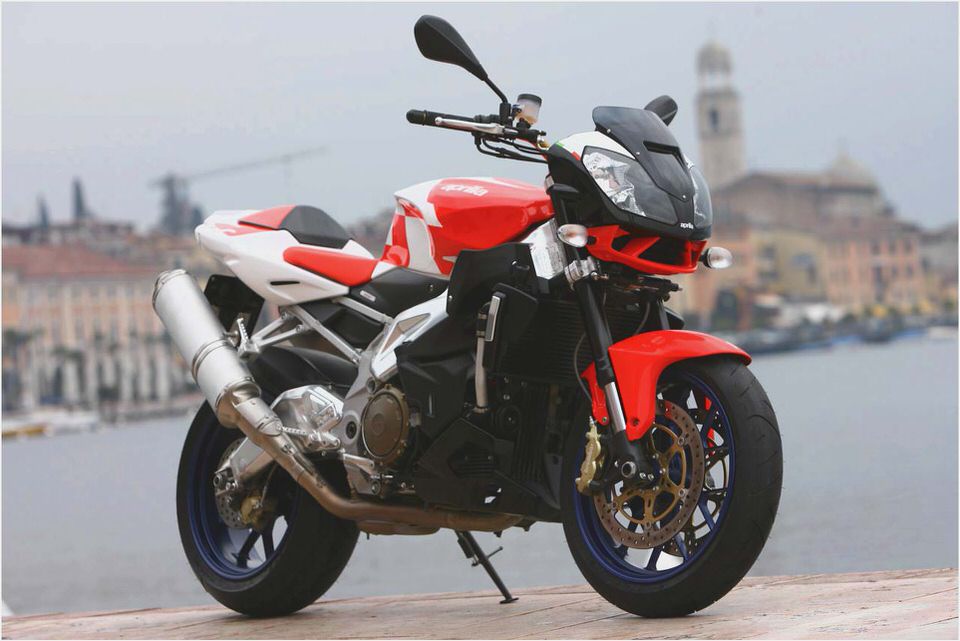 2009 Tuono 1000 R Factory
2009 Aprilia Tuono 1000 R Factory
Intro
Aprilia, the Italian motorcycle and scooter maker, introduced the Tuono, a sport bike, in 2002 and revised it in 2006. The 2009 Tuono 1000 R and 1000 R Factory were carryovers of the 2008 models, which saw some updates on the original design. Aprilia started out making small-displacement bikes before producing the 998cc RSV Mille in 1998.
That bike was so successful that it gave rise to a number of successor 998cc bikes, including the Tuono, which is a versatile street machine, something of a cross between a sport bike and a street fighter.
A 60-degree V-twin engine made by Rotax, with dual overhead cams and fuel injectors, is paired with a six-speed transmission and a chain final drive. The standard front suspension on the 1000 R is a Showa inverted fork with spring preload and rebound damping (an Ohlins steering damper is available as an option); the rear is an aluminum-alloy banana swing arm. The Factory comes with an Ohlins rear shock, which reviewers considered much superior.
Aprilia's patented anti-vibration double countershaft keeps the machine running smoothly and comfortably, while making sure all of its power is at the rider's disposal. Since the Tuono has been clocked at 150 mph, there is indeed plenty of power. The Brembo disc brakes on both models provide effective stopping.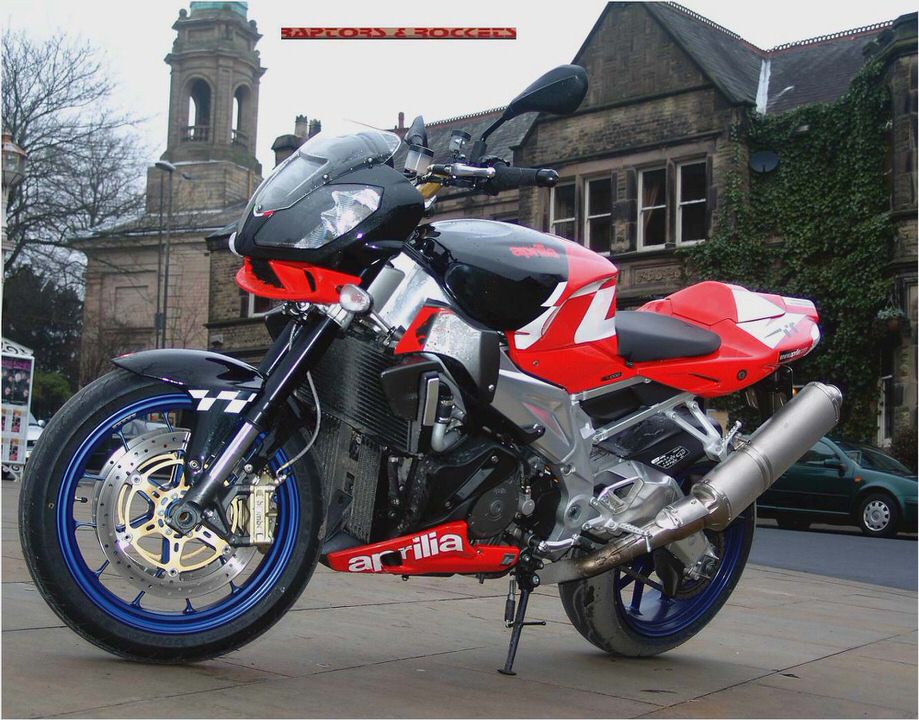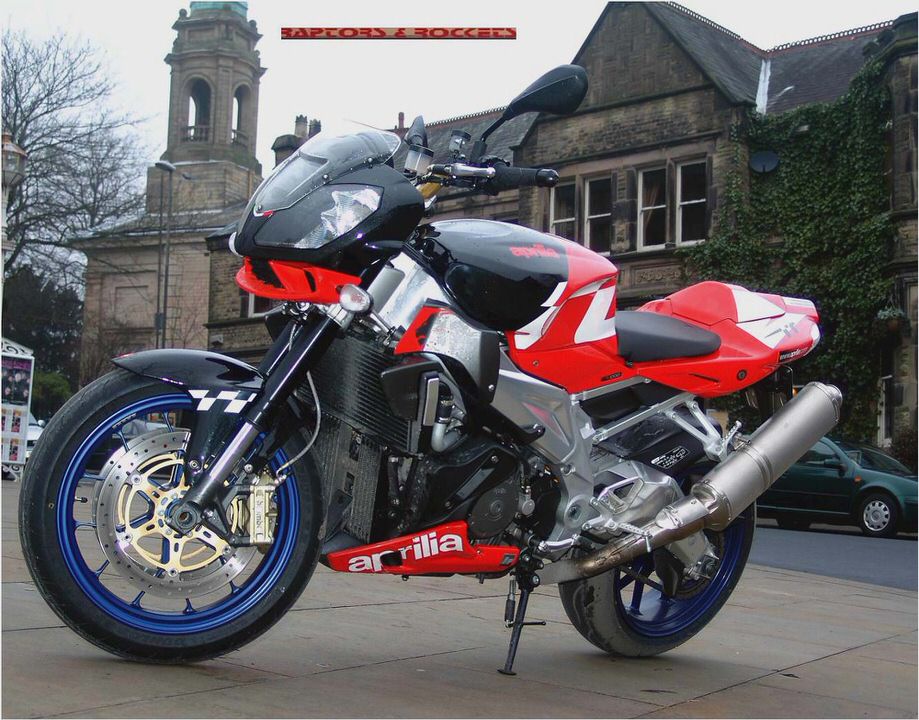 The more expensive Factory model is essentially the same bike, but with carbon-fiber additions, Ohlins front and rear suspension—a racing inverted 43mm fork and rear monoshock, both adjustable and with rebound damping—and an air intake that improves the air-fuel mixture. The Factory is a few pounds lighter, just 399 pounds to the 1000 R's 407 pounds (dry), and comes in a red-and-white paint scheme.
The stock wheels can be switched for optional, lightweight OZ magnesium wheels to reduce the weight a bit more. The Tuono's wide handlebars and upright seat position keep a rider comfortable, but this is not an easy-going tourer. This bike is a street fighter.
Trust the Italians to give the aluminum-framed bike a distinctive look to go with its track roots and street-use versatility. A naked bike, the nose fairing houses only the air intake, headlights, and a surprisingly effective though small windscreen (which can be replaced with an optional, larger one). Lateral spoilers protect the rider's legs from wind.
The 2009 Tuono 1000 R came in three colors in 2009: orange, white, and silver.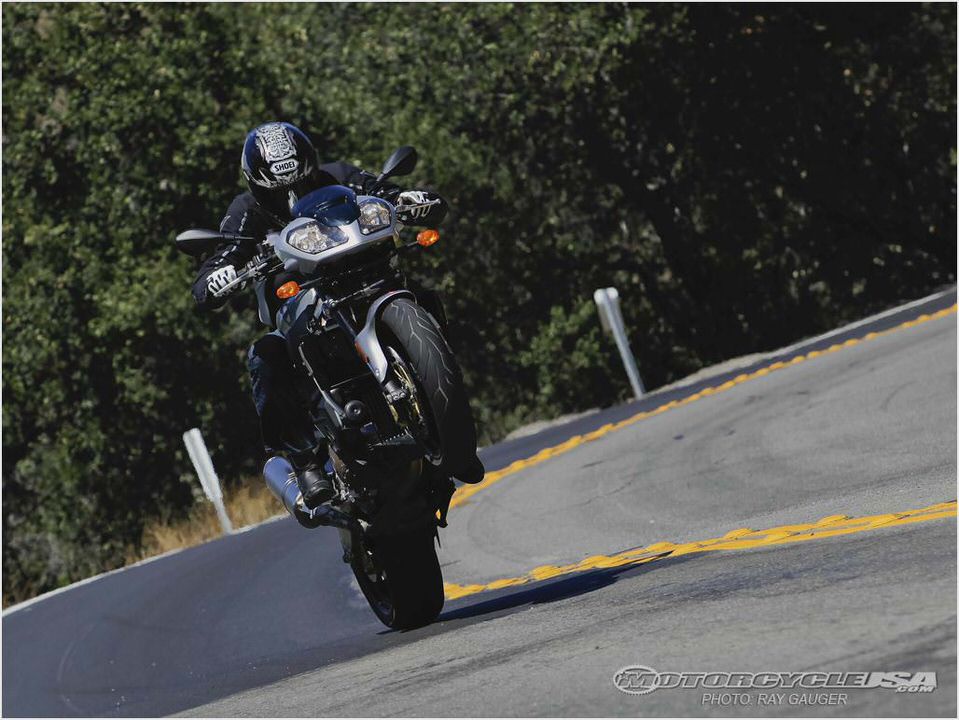 2012 Aprilia Mana 850 GT ABS – Used 2012 Mana 850GT ABS at Motorcyclist Magazine
Fiat 500 1957 Edition : 2014 Cartype
2000 Aprilia RSV Mille
In the Autoblog Garage: Aprilia SXV550 – Autoblog
2012 Dakar Rally Preview Enduro360.com