Specifications:
year: 2010 make: Aprilia Model: RS Engine: Liquid cooled, single cylinder two stroke Transmission: six-speed Horsepower @ RPM: 8.4 @ 10,000 rpm Energy: Dell'Orto PHVA – Ø14 Displacement: 49.9 L Top Speed: 70 mph
Filed under:
Posted on 04.16.2010 11:12 by Maxx Biker 3
In a world where 50cc two-wheeled vehicles are called mopeds, the Aprilia RS 50 manages to stand out as a supersport model with all the features that come with the category.
The two-stroke engine's 8.4 horsepower would mean the difference between a stock and an aftermarket exhaust in the case of most liter bikes, but when you start thinking that Aprilia took the time to develop an aluminum frame and swingarm, light wheels and an RSV-inspired fairing for the RS 50, you know that they're up to something big (and not necessarily in terms of engine displacement) here.
Although it might seem like it's designed for pure fun, the smallest supersport bike from Italy is here to teach kids and teenagers the first steps in sports riding. And when the engine starts feeling week, an 80cc cylinder kit will keep riders on their first RS bike before even considering the RS 125 alternative.
continue reading
Press Release
You might think that you can only find lightweight wheels, radial calipers, an aluminum frame and swingarm, and an under-seat exhaust on a big bike. But you would be wrong. Because these are the specifications of the Aprilia RS 50, the undisputed top dog in the world of 50 cc supersport motorcycles. The Aprilia RS 50 is a genuine sports motorcycle, and comes packed with the sort of technology normally found only on a GP racer.
Its eye-catching, racing lines and determined, aggressive shape tell you that the Aprilia RS 50 knows no compromises. This 50 cc supersport is made to thrill and has all the performance needed to do so. In terms of style, the RS 50 is clearly and unashamedly inspired by the flagship of the Aprilia family, the RSV 1000 R, the twin that beat Japanese four cylinder racers to win the 2006 Master Bike trophy.
This same thirst for victory is found in the RS 50, together with technology developed for the world-beating Aprilia 125 GP. No wonder the RS 50 is the machine that all other 50 cc bikes have to beat.
The specifications for the RS 50 are simply breath-taking. The following are just the most important:
aluminum frame
aluminum swingarm
lightweight wheels with 'Y' spokes
radial caliper front brake
Euro 2, two-stroke engine
fairing based on that of the RSV 1000 R
analog/digital instruments
STYLE
The aggressive lines of the new RS 50 are enhanced by a new, wind tunnel tested fairing, with a sporty modern design. This fairing is very similar to that of the [RS 125-http://www.topspeed.com/motorcycles/motorcycle-reviews/2009-aprilia-rs-125-ar76549.html ] which won the 2006 Design Award.
Twin headlights give superior visibility and contribute to the aggressive racing styling of this incredible 50.
A streamlined, slender tail completes the Aprilia RS 50's racing image and also hides the expansion chamber of the under-seat exhaust, another feature taken from the world of racing, that dramatically improves balance and weight distribution.
A 13 liter fuel tank and miserly fuel consumption mean that the Aprilia RS 50 has an amazing autonomy. Even the new tank shape conveys the bike's racing spirit: the tank appears to sit on the twin beam frame just like the tanks of genuine GP racers.
CHASSIS
Aprilia was the first manufacturer to make a 50 cc motorcycle with an aluminum frame. The new RS 50 takes things one step further, with a light alloy, reinforced, extruded tube frame for better than ever performance. This revolutionary frame not only reduces overall weight but offers a new level of structural rigidity.
Even the swingarm is made from a prestige light alloy and is damped by a hydraulic monoshock with adjustable spring preload, giving a wheel travel of 110 mm.
The upside down fork is another important feature of the RS 50. This extremely advanced fork is totally safe and reliable while offering amazing performance in terms of sliding action and damping. The 40 mm stanchions are the same size as on many big bikes, and wheel travel is a generous 120 mm, making the bike's powerful braking system even more effective.
BRAKES
Aprilia has set new standards in braking technology and performance too. The record diameter 300 mm front disc is braked by a radial caliper, a solution first introduced by Aprilia in 250 cc GP racing, and subsequently copied on all racing bikes. This impressive braking system enables the new RS 50 to tackle GP style braking in total safety.
Even the back brake is a high performance unit, featuring a 180 mm stainless steel disc and a powerful two piston caliper on a special aluminum bracket.
The new 'Y' spoke wheels share the same design as those fitted to Aprilia GP racers. These lightweight, precision-balanced wheels combine with the latest generation of high performance tires to give amazing road holding on bends.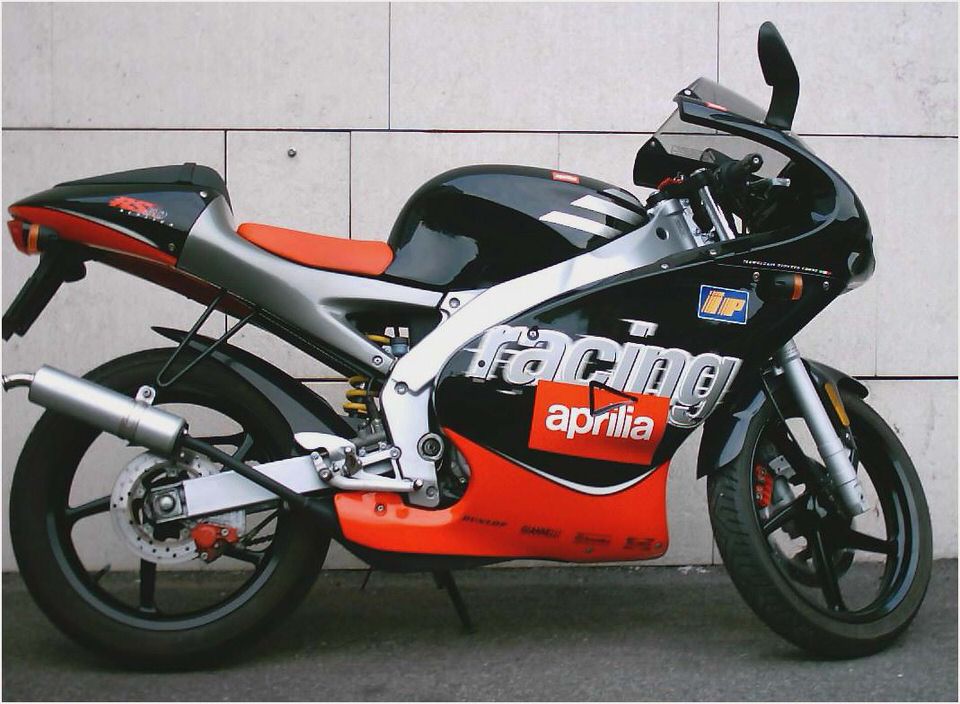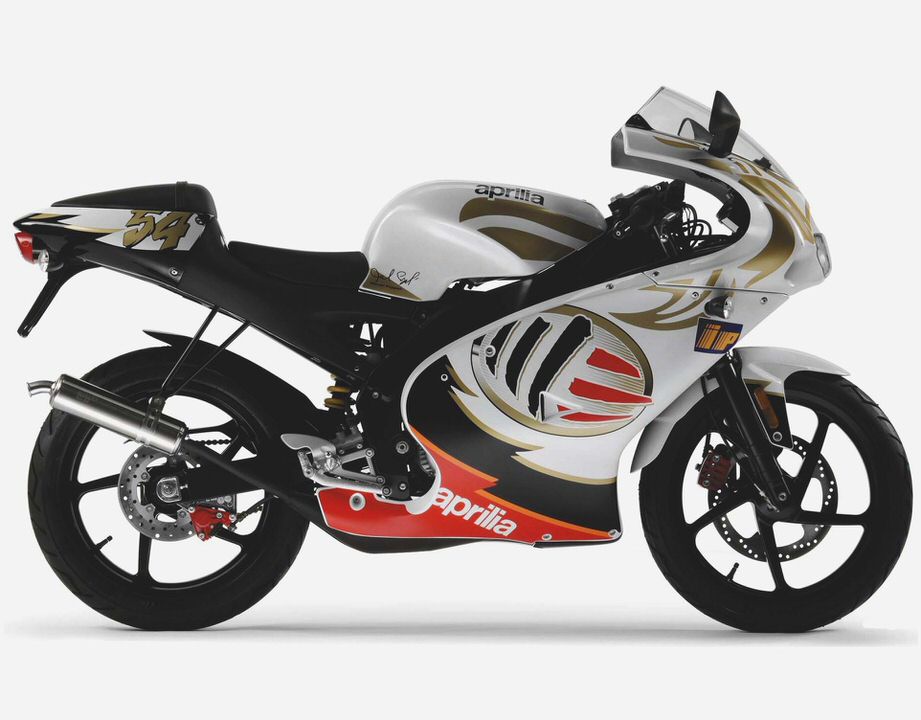 ENGINE
A performance chassis demands an engine to match. The RS 50 is therefore equipped with an advanced engine of the latest generation, in the form of a single cylinder, liquid cooled, two stroke powerplant with read valve induction and an anti-vibration balancer shaft. The very latest design and technology enables this new engine to deliver exceptional performance (6.25 kW at 10,000 rpm) for its size and weight (only 15 kg).
Lubrication is provided by a separate mixing system, incorporating a variable displacement volumetric pump. Starting is electric. The gearbox is a six speed unit, to make the most of the engine's exceptional power.
EQUIPMENT
On top of all this, the lucky RS 50 owner benefits from a whole range of prestige components normally only found on far bigger machines. Take, for example, the aluminum brake and clutch levers, aluminum footrest brackets, high level silencer and tubeless radial tires. Aprilia has even fitted the RS 50 with an advanced multi-functional instrument panel. This compact analog-digital unit acts as a real on-board computer.
In addition to all the usual parameters and functions, it also incorporates a built-in lap timer to enable the champions of tomorrow to record their best track times.
SPECIFICATIONS
Engine and Transmission
Chassis and Dimensions
Frame: Aluminum twin beam frame with extruded profiles and internal reinforcement
Front suspension: 40 mm upside down fork; wheel travel 120 mm
Rear suspension: Double reinforced member aluminum swingarm with bracing arch; hydraulic monoshock; wheel travel 110 mm
Brakes: Front: radial caliper with two 28 mm opposed pistons; 300 mm stainless steel disc; aeronautical braided brake hose Rear: 180 mm stainless steel disc; caliper with two 25 mm opposed pistons; aeronautical braided brake hose
Wheels: Light alloy 6 'Y' spoke wheels with tubeless rims. Front: 2.75 x 17 Rear: 3.50 x 17
Tires: Front: 110/80 – 17 Rear: 130/70 – 17
Dimensions: Overall length 1965 mm Overall width 720 mm Max height at windshield 1.100 mm Seat height 810 mm Wheelbase 1,310.5 mm
Fuel tank capacity: 13 liters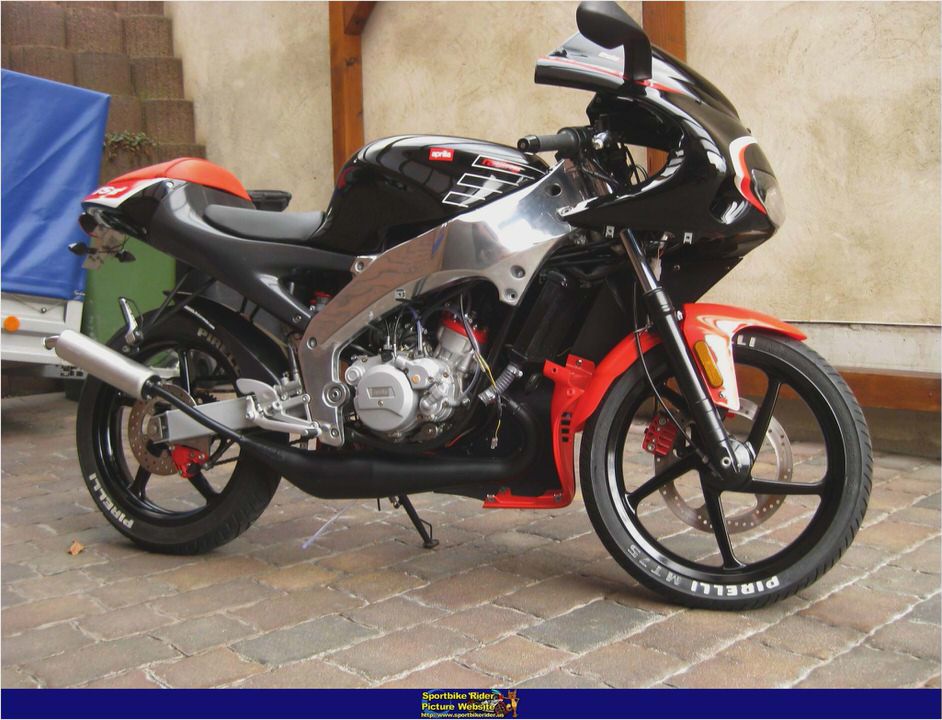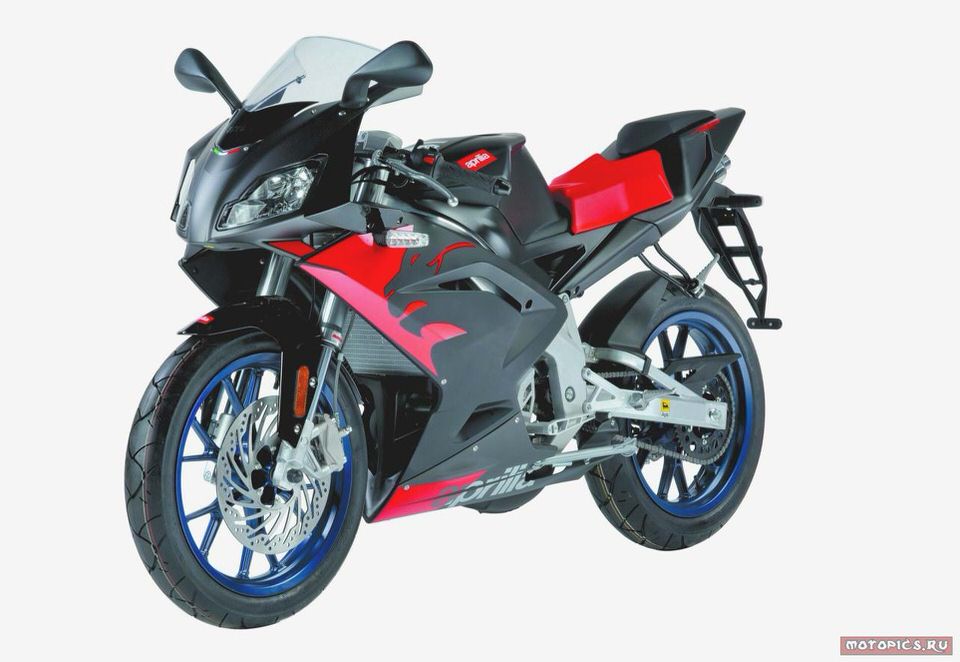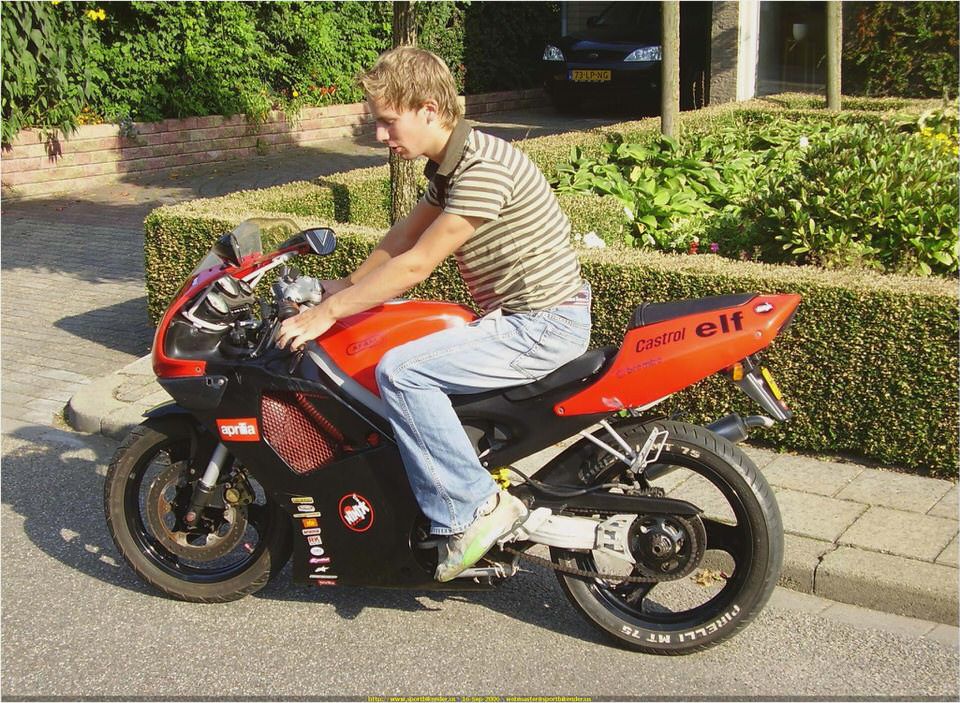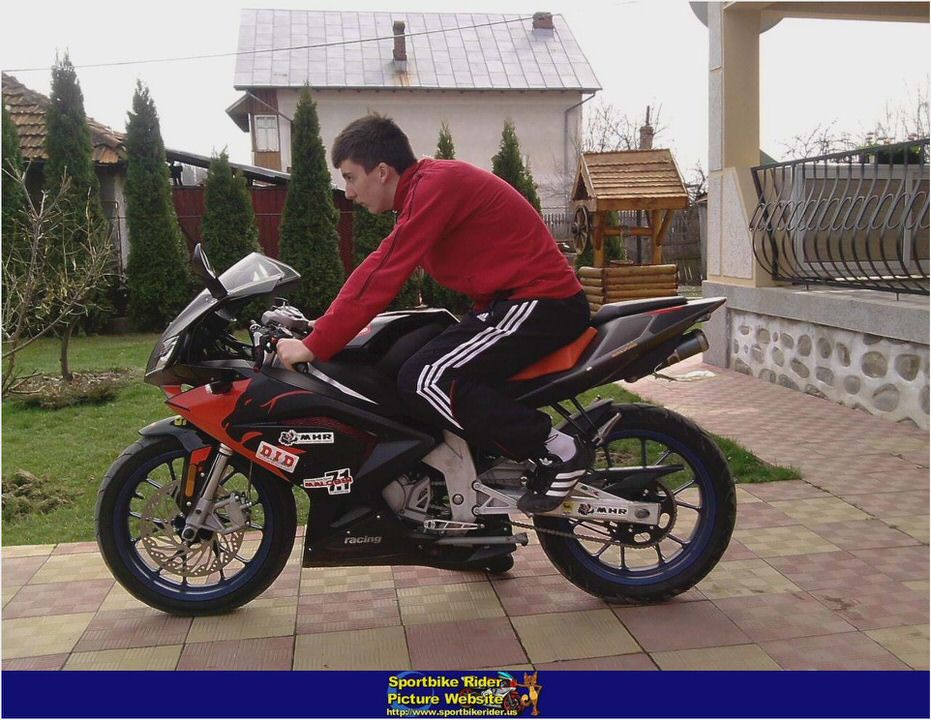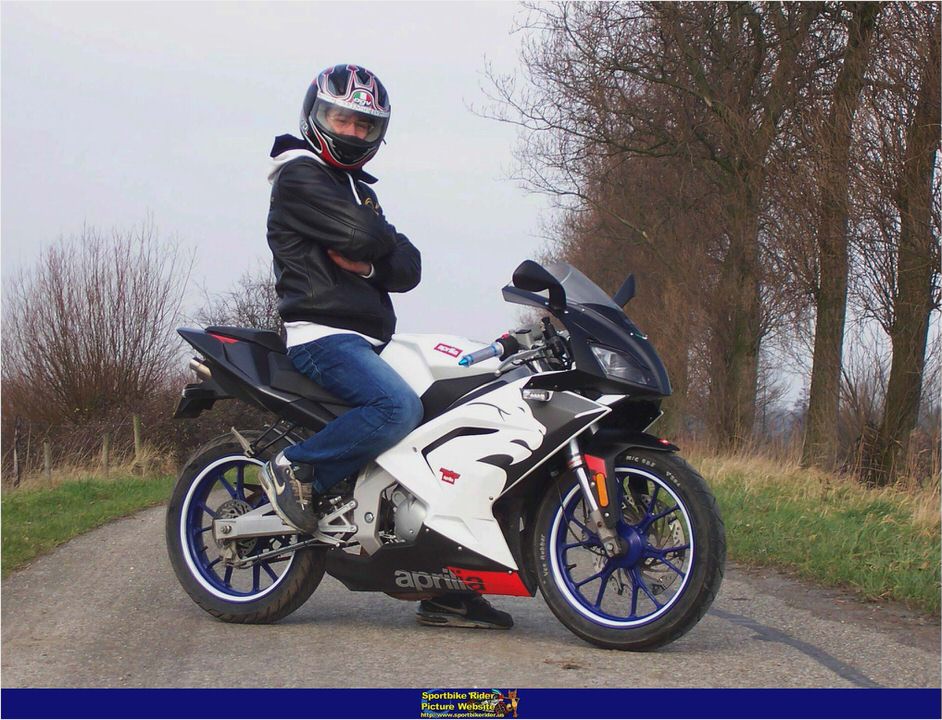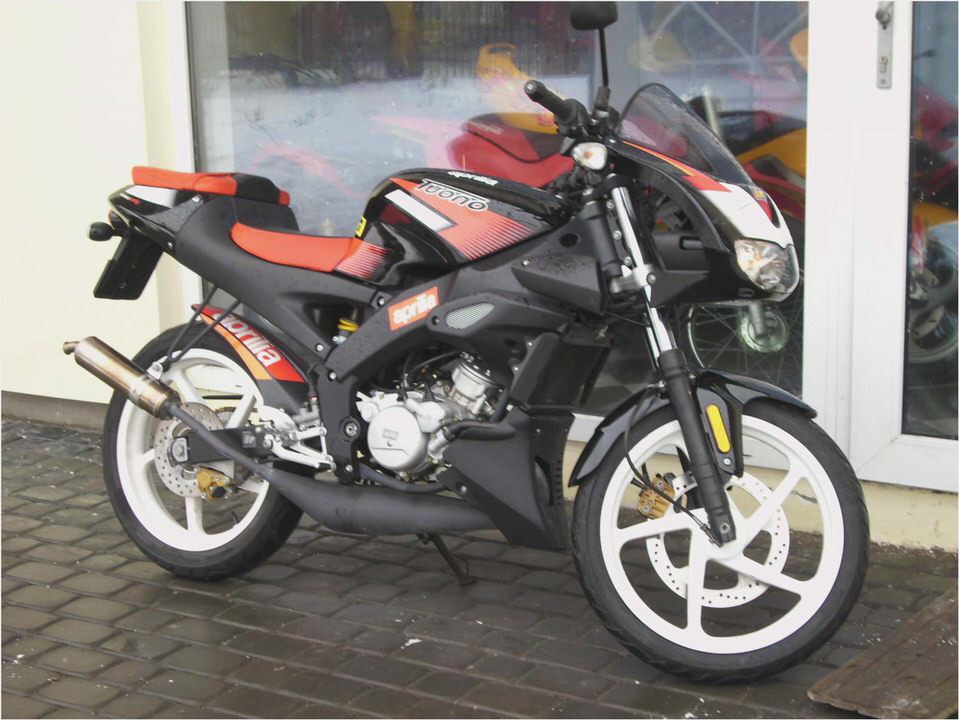 2011 Aprilia Tuono V4R – Motorcycle news, reviews & riding tips – bikesales.com…
2003 Aprilia RSV Mille Super Streetbike
2011 Aprilia RSV4 R – Used 2011 RSV 4 R APRC at Motorcyclist Magazine
2010 Aprilia Mana 850 / GT ABS motorcycle review @ Top Speed
APRILIA ATLANTIC MANUAL WORKSHOP PDF: