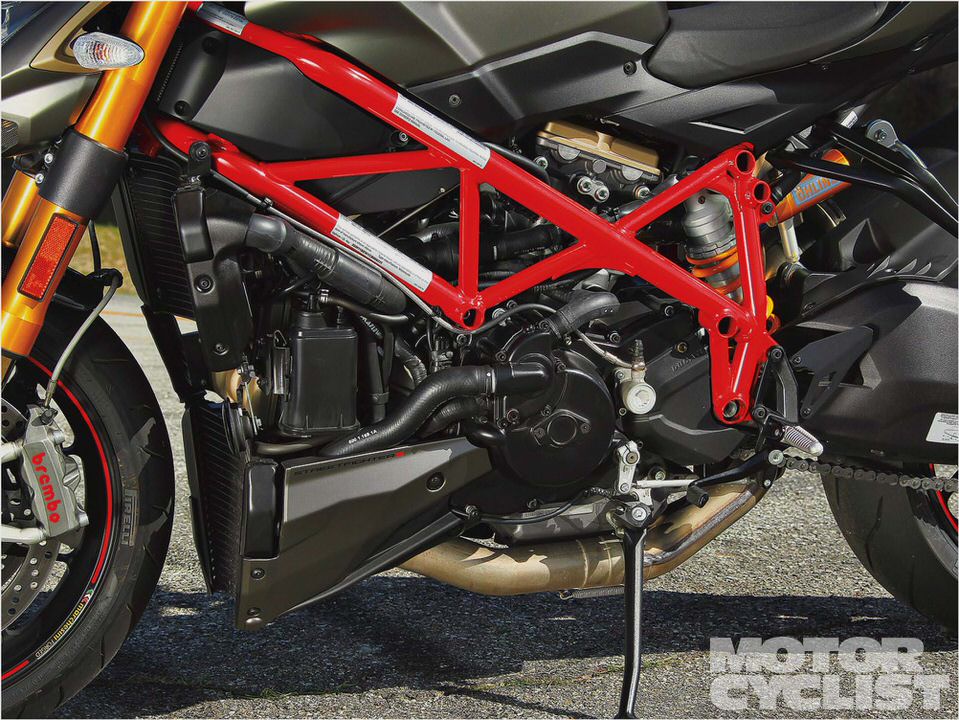 Everybody Get Naked. A Flurry of Naked Standards for the USA Market: CB1000R, Aprilia V4R Tuono,BMW R1200R and F800R
Why, O, why do they do it? Despite naked standards being a tiny percentage of total bikes sold in the USA, OEMs insist on bringing new models in to a mostly unappreciative market. The reason why is clear to moto-journalists—the product planners, marketer's communications staff and management are undeniably enthusiasts, and a big, fast, nice-handling and comfortable bike is what they (and we) want to ride.
Tragically, sales are usually disappointing. You'd think that a global recession would be enough to kill all development of anything not sportbike or cruiser, but happily (for riders and journalists), it's not; behold, four exciting and interesting nekkid models for our Fruited Plains and Purple Mountains.
First up is the Honda CB1000R. It's actually not a new model — it was introduced in 2008 for the Euro market—but it's gotten some updates for 2011. The basic formula is a sound one: single-backbone aluminum frame with single-sided swingarm holding the nothing-wrong-with-that 998cc fuel-injected motor from the '06-'07 CBR1000RR.
It is, (some of you would say, "of course,") given the tuned-for-torque treatment to make it more street-friendly, but it's still making a claimed 123 horsepower at the crank; dyno reports peg it at about 110 hp at the wheel. Front suspension is a three-way adjustable 43mm inverted fork; a preload and damping-adjustable monoshock with HMAS linkage handles things in back.
Braking is done with radial-mount, four-piston calipers and 310mm discs (traction fans, despair: it doesn't look like we'll get an ABS model for the USA). Tires are standard-sized sportbike radials, with a 180-section rear. A 25-degree rake and 56.9-inch wheelbase show a middle-of-the-road approach to handling. The bike is a claimed 484 pound wet weight for the Euro model.
Updates for 2011 include a fatter aluminum handlebar and a new marker lamp.
Honda won't release pricing until around Veteran's Day, but we can make a guess. The 2010 CB1000R is anywhere from 67-80 percent the price of a CBR1000RR in European markets. The 2010 CBR1000RR is $13,399; 75 percent of that is just over $10,000.
Kawasaki's Z1000 is $10,599; I'd expect Honda to price its model at a few hundred dollars more.
We've seen a lot of criticism of Honda on our discussion boards. It seems our readers are losing faith in Honda producing exciting, interesting bikes, but it seems that the global Honda motors is putting more pressure on American Honda's handlebars. The PCX scooter and CBR250R entry-level sportbike seem more like world products than products tailored to the USA market, and seeing this Euro-designed and built machine here in the USA makes me think the trend will continue, with one global product lineup being the final result.
Different frame and tuned-for-torque motor is one way to build a naked, a tried-and-true recipe Honda and other Japanese OEMs have been following for a while. Aprilia goes a different way. Starting with the original Touno.
Aprilia has just removed the fairing, slapped on some superbike-style bars, sliced a grand off the pricetag and called it a day. And we love it.
That continues with the 2012 Tuono V4R. The starting point is the 65-degree V-Four-powered RSV4R superbike. It is a little revised from the full-honk 180 hp mill in the RSV4R, with different gear ratios and slightly different tuning that brings the torque peak down 1000 rpm and also loses 18 hp (boo!) from on top.
Still; 162 hp isn't bad for a naked. The rest of the package is basically the same bike as the track-oriented superbike, with radial-mount calipers, 320mm floating brake rotors, and titanium-nitride-coated tubes on the fully-adjustable 43mm inverted fork. From there, Aprilia's people removed the upper cowl, designed a little bikini fairing similar to the current Tuono's. added a fattie motocross-style bar and said, "here, ride this. "
Some of the most interesting features are also on the V4R Tuono's brother, the RSV4R Factory APRC SE. That's a lot of letters for a bike model, but what you need to know is the APRC stands for Aprilia Performance Ride Control, a joystick-controlled electronics package that measures wheel speed, ground speed, the bike's pitch, yaw and roll angles and probably hat size and inseam to keep the tires firmly on the ground under all conditions.
The traction control is eight-way adjustable and also includes two other features of great interest to hooligans. The first is wheelie control, and it's not what you think; instead of keeping you from doing wheelies, as you may find on many recent sportbikes, it helps the rider make smoother, more-controlled landings from what will probably be a perpetual state of one-wheeledness on the new Tuono.
The other gizmo is called Aprilia Launch Control. This cues the motor to deliver full power to the rear tire as soon as the clutch is released. It's not really clear how this works from the press release, so stay tuned for reports on the RSV4R Factory APRC SE (Piaggio, do I have to type that out every time?).
Oh, and there's an electronic shifter too.
The sad news is the new Tuono won't be in USA dealers until the end of 2011. There is no pricing yet, but I'm thinking somewhere around $16,000.
BMW R1200R and F800R
Of course, BMW kind of invented the big, powerful, torquey naked standard, or at least is best known for building big, powerful roadburners since David Robb was in diapers. And that tradition continues with two redesigned variants of the R1200R.
Lightweight, sweet-handling and torquey, the original R1200R is one of my all-time favorite rides. For 2011, it's made even better with the dohc cylinder heads from the HP2 and R1200GS. good for a claimed 110 hp (BMW gives power numbers at the wheel) and 88 ft.-lbs. of torque. Redline gets stretched out to 8500 rpm to broaden the powerband.
Also, the instruments are now reworked with two round binnacles for the tach and speedometer, and the muffler is shortened. As with the prior model, ABS, traction control and other electronics are available options, as are enough luggage and touring accessories to make the R into a competent tourer or commuter.
That retro look of the instruments is extended with the R1200R Classic. Nobody's going to mistake it for an R90S, but with wire-spoke wheels, a chrome exhaust and a classy racing stripe, it does harken back to the classic Beemers of the '70s. USA pricing and availability has not yet been released, but the 2010 R1200R starts at $12,795.
I drooled over the F800R when it was announced in Europe in 2009. And why not? That F800 motor is cheap, cheerful, silky-smooth and plenty powerful at 87 hp.
At 450 pounds wet, it was 50 pounds lighter than the R1200R. Plus, it had a chain drive and a comfy-looking, upright seating position—but it wasn't available for the USA.
That was then. BMW has finally decided we can handle the F800R. It will appear in BMW dealers around January, with an MSRP of $9950. Options include ABS, heated grips, tire-pressure monitors and more.
All those bikes—plus the new Speed Triple — give potential nudists a lot of choices for 2011. Will that be enough to spur buyers into showrooms? We'd be surprised if it did, but we look forward to riding a lot of very cool motorcycles this year.
Aprilia RS125 – Review – Greatest 125
4SR Apparel Australia CzajRacing.com
Aprilia Mojito 125 Scooter News and Reviews Scootersales
APRILIA RSV MILLE – REGULAR SERVICE MANUAL Pdf Download.
Aprilia 500cc