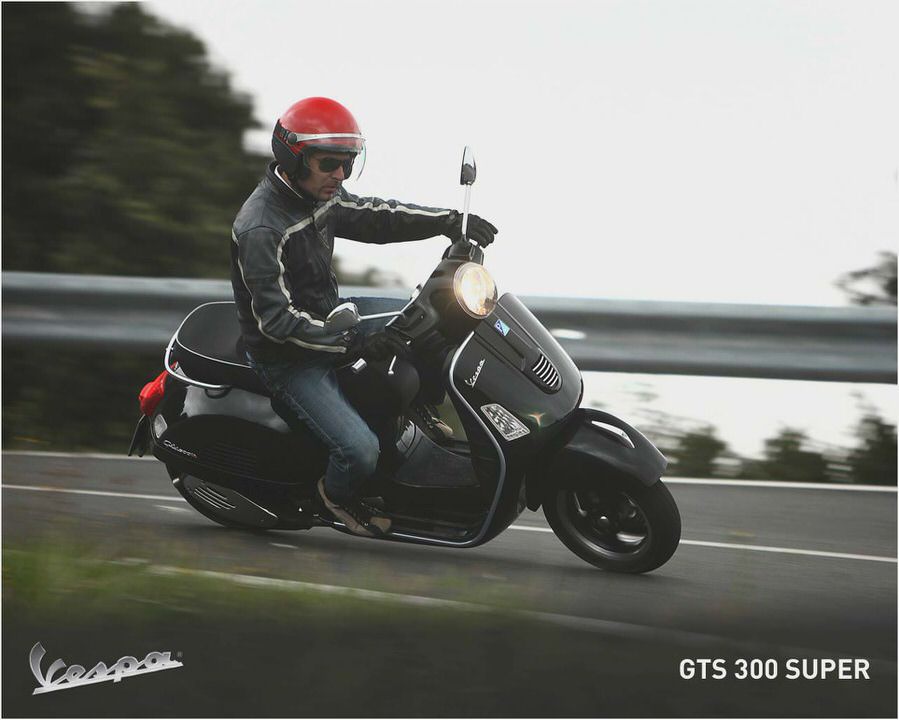 VESPA 300 GTS Super Review
As often happens in the vehicle business, bigger engines find their way into existing models. Thus, the Vespa 300 GTS is simply a "Vespa 250 GTS" with a bigger engine. A 278 cc liquid-cooled, SOHC, single-cylinder engine, as it happens, with about 22 horsepower and 16.5 pound-feet of torque, developed at 7,500 and 5,000 rpm respectively.
I'm not sure the "Vespa" ever gets to 7,500 rpm, since there is no tachometer. But it does get to an indicated 85 mph on the 405 freeway when I duck my head down to reduce wind resistance. This is good enough to keep you in the diamond lane without having a pickup truck driver breathing down your neck.
That's pretty stellar performance for a small scooter like this, isn't it? And that's the thing about the 300 GTS. It isn't one of those maxi-scooters you see everywhere, pounding the pavement with their porky weight and casting a giant shadow under the huge wheelbase.
No,the 300 GTS is about the size Vespas have always been, with a short 55-inch wheelbase and easily manhandled 326-pound dry weight.
Which you never get to feel, since nobody can actually ride a dry motorcycle. You have to put the oil, coolant and fuel in there first. But you can certainly sense how light the machine is while pushing it around in the garage.
With a lot of its weight slung low in the stamped steel body, the Vespa wheels around almost as easily as a bicycle.
Despite the compact size, tall riders can sit on the Vespa without feeling like a monkey on a unicycle. The controls are at a reasonable reach, and the handlebars don't come back against one's knees. The thing steers easily, too, feeling perfectly balanced during low-speed urban maneuvers.
And when the light goes green, it steps off the line with a strong, smooth push that usually leaves the cars for dead. As is usual with a continuously variable transmission (CVT), the speed increases without a dramatic increase in engine revs, which makes the acceleration deceptive. Think zero-to-60mph in about 11 seconds, and you've got the idea.
Maybe that doesn't sound all that fast compared to test results you see in CAR and DRIVER, but the simple fact is that most drivers launch in a rather leisurely fashion, and their responses aren't that sharp, either. One guy in a Ford Aerostar van went flat out from one traffic light as it changed, and the Vespa was still ahead at an indicated 60.
More important than the little scooter's fairly surprising pace is its stability. For a machine that steers so fast in urban situations, it manages freeway speeds with complete composure. Sure, the steering is super light, and you don't want to be hanging on it or shoving it around.
But the Vespa tracks ahead steadily when left to its own devices.
The ride you get from the trailing-link front end and adjustable-preload dual shocks that suspend the engine/transmission/hub unit at the rear wheel is commendably plush over small surface regularities. Bigger bumps do move the 12-inch wheels more than the suspension travel will accommodate without displacing the chassis, and these come through as small, well-damped movements at the bars.
But that stamped-steel body is stiff and strong, and it absorbs stuff like this without exhibiting any nastiness. Since the chassis is not much upset by bumps at speed, you just keep on scooting. With so much unsprung mass at the rear wheel, some pitching motions back there are inevitable over big heaves, but the machine quickly recovers its composure.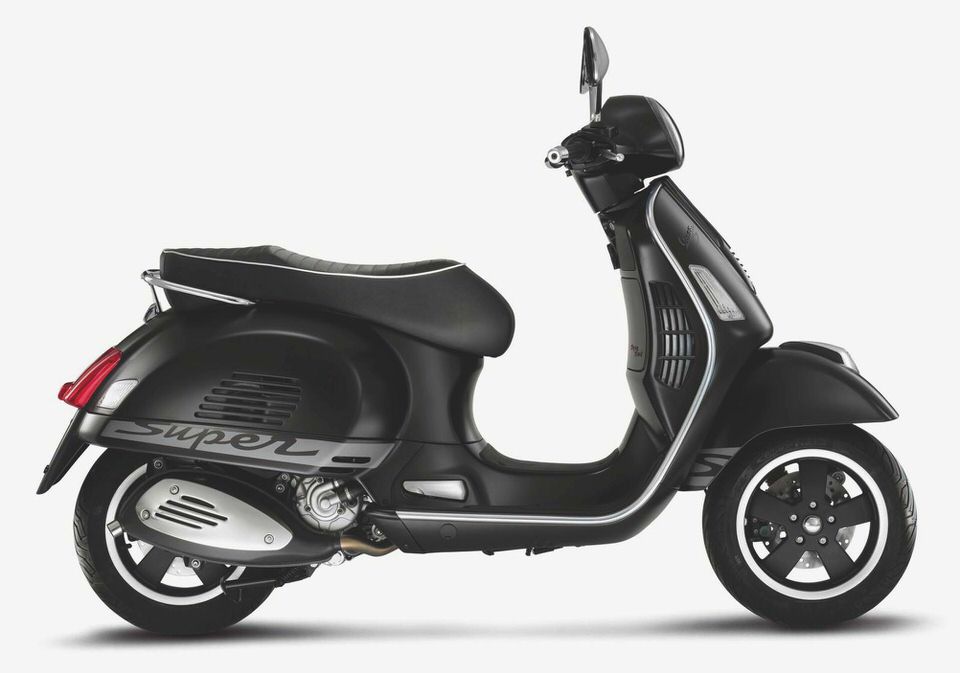 Another surprise is how well the Vespa goes around corners. It handles not unlike a real motorcycle when cranked into a bend, and I mean that in the kindest way. You have to be trying quite hard to get the center-stand tang to touch down, and I don't forsee many prospective Vespa riders inclined to ride that hard.
We do this so you don't have to.
Equipped with disc brakes on both wheels, the 300 GTS slows dramatically when both levers are squeezed firmly. It doesn't take much effort, either. Even someone with moderate hand strength should be able to generate meaningful retardation. This facility in every dynamic department is part of the Vespa's mission.
It needs to do everything well, and be easy for anyone to operate.
And it is. You just step on, switch on, and go. The seat is fairly large and well padded, and it seemed pretty comfortable during the trips we took on the bike.
Fold down rear passenger pegs deploy when necessary, and while they don't afford the same support as the rider's floorboard, the rear seat looks just about as comfy as the front one.
The whole thing lifts up to reveal an underseat compartment, and while it isn't quite wide enough to accommodate a large full-face helmet, it will happily swallow other helmet styles and a lot of other stuff besides. Just no pets, please. There's a big sticker warning against that in case some brain donor figures it might be just the place for little Garfield.
The 300 GTS we rode was the Super variant, which features black wheels, red suspension springs, and a chrome passenger grab rail. It retails for $6,200, and while that may sound high, Vespa is an iconic brand, and the GTS 300 has the broad repertoire to handle virtually any transportation role.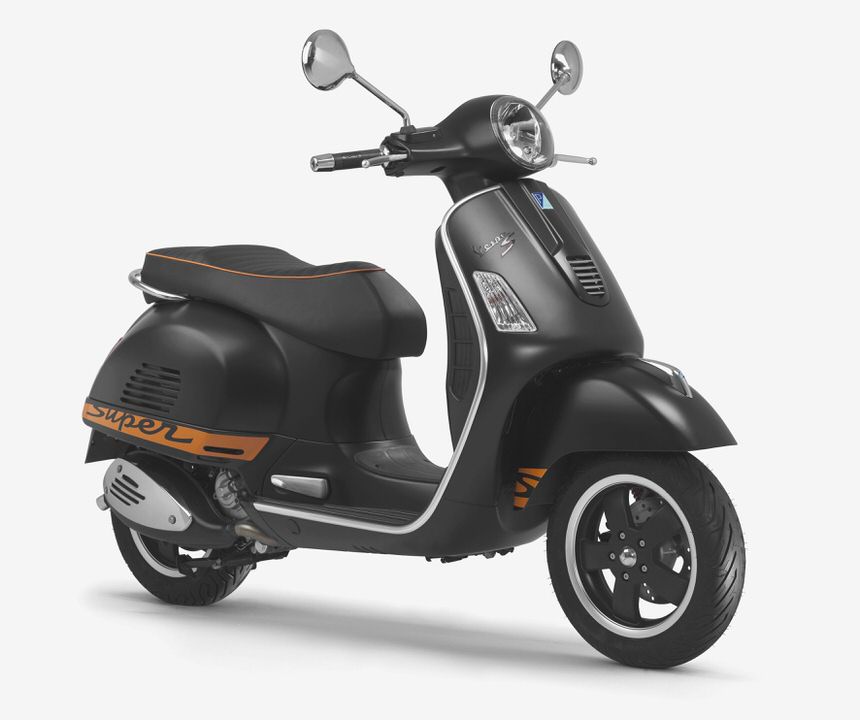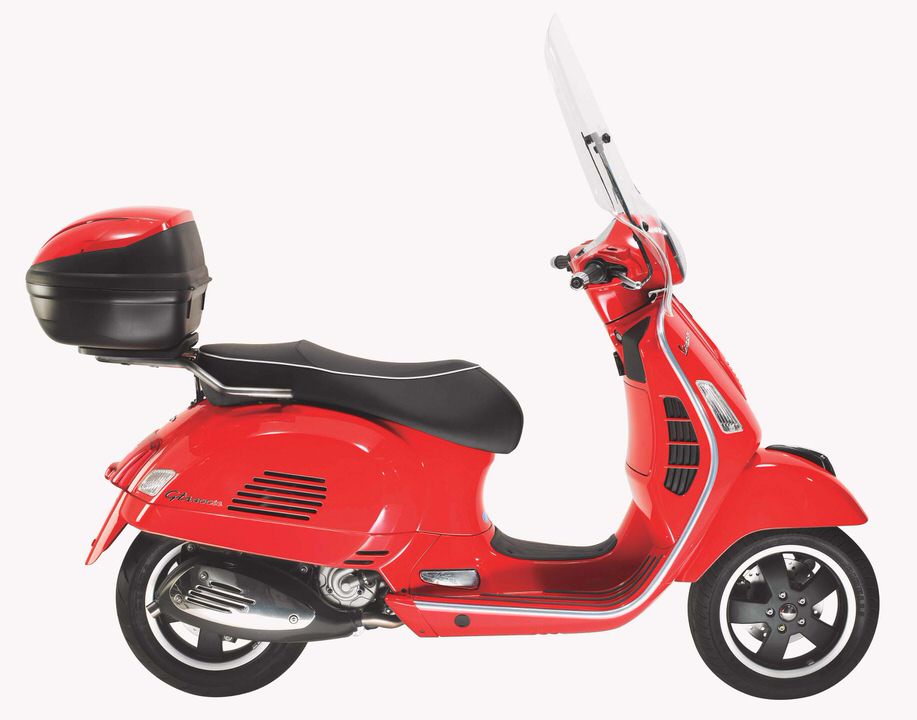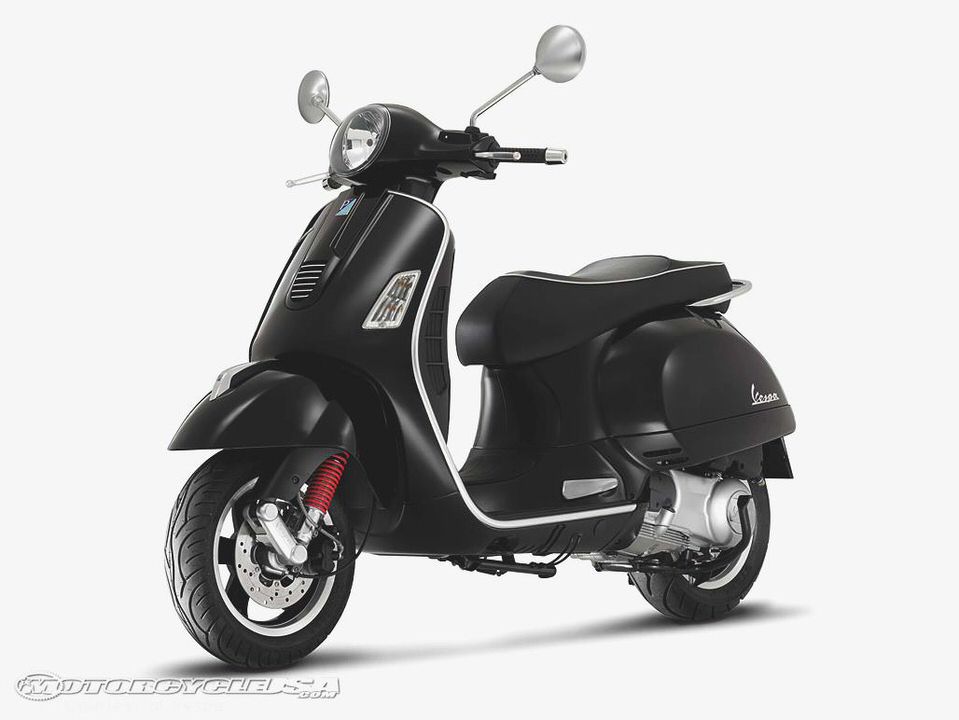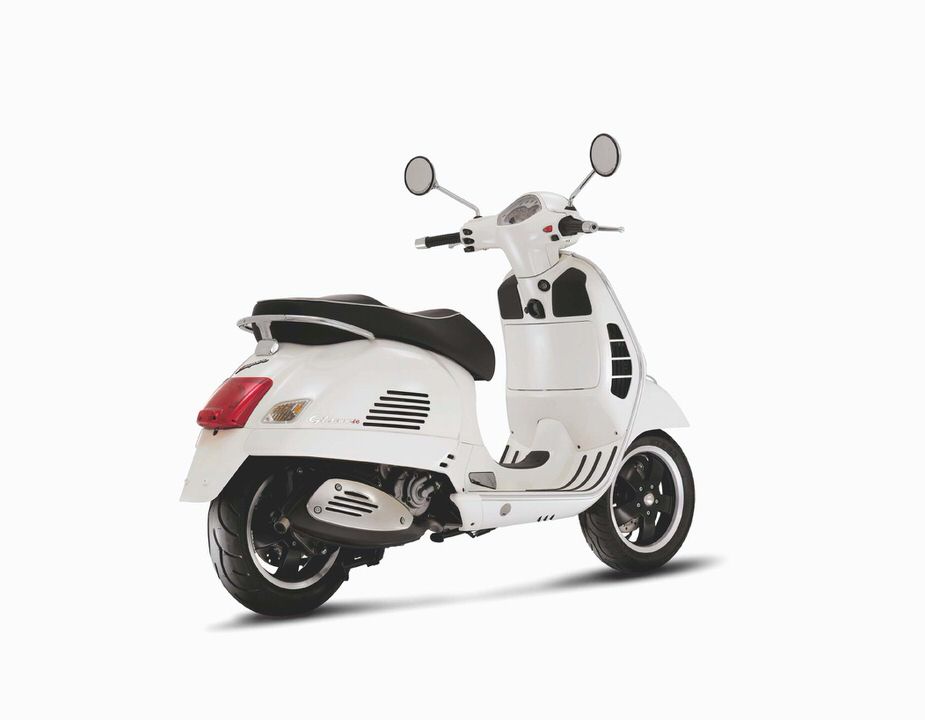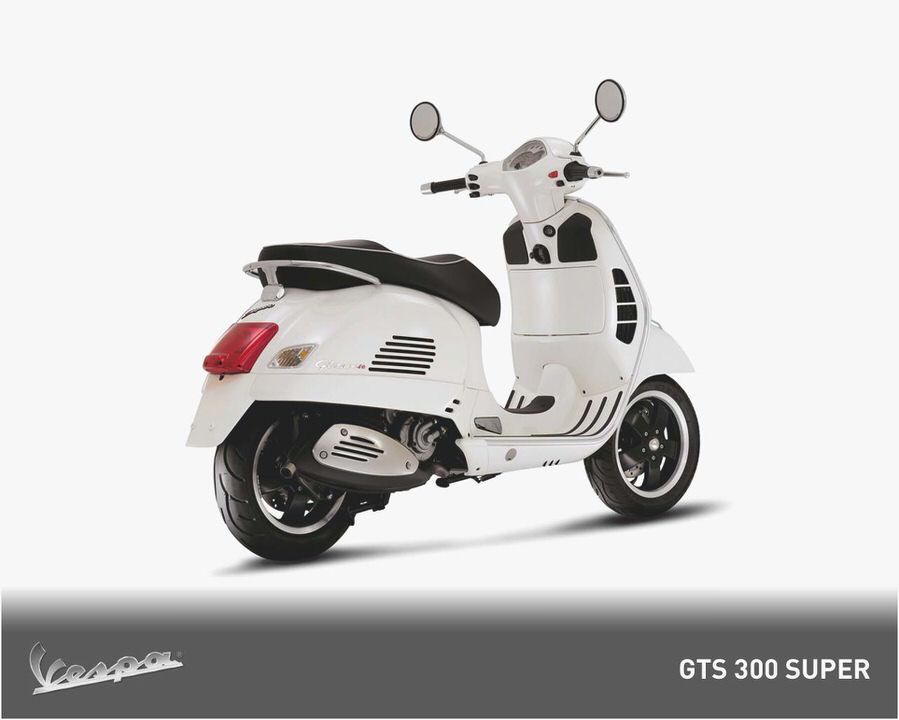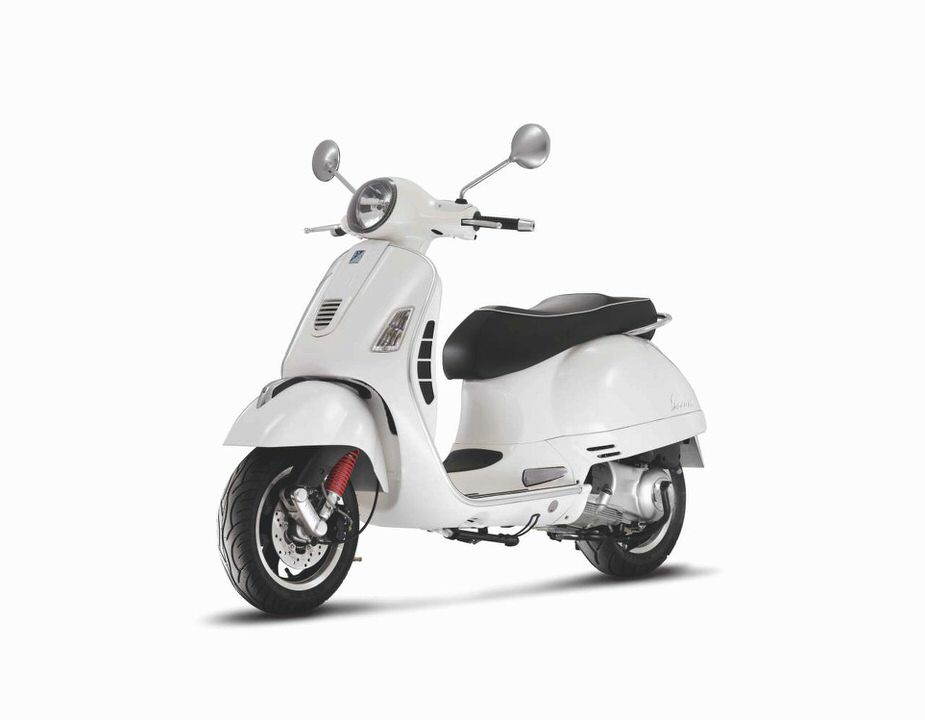 Vespa GTV 250 – Motorcyclist Magazine
Test Vespa S 125 IE 3V 2012
New Vespa GTV "Via Montenapoleone"
Vespa GTS 250ie
Yahoo Answers – Whats a good 150 – 175 cc Motorcycle or Vespa?