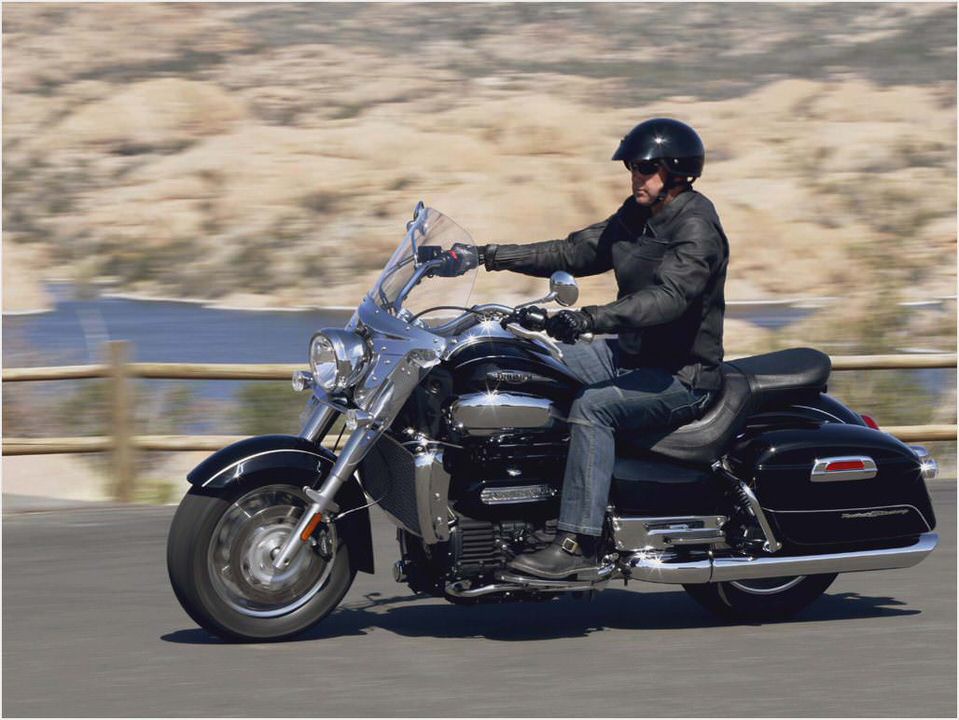 2011 Rocket 3 Touring
2011 Triumph Rocket III Touring
Intro
The 2011 Triumph Rocket III is a cruiser style, muscle bike which houses the world's largest production motorcycle engine. The 2011 Triumph Rocket III is Triumph's flagship model and is unlike any other Triumph made. The Rocket III is available in Roadster and Touring submodels. Each Rocket III cycle lodges a massive, inline three-cylinder engine which produces horsepower and torque which rival that produced by many compact sedans.
With so much power and presence, the 2011 Rocket III provides a riding experience unmatched by anything else on two wheels. Mid-mounted pegs and a comparatively upright riding position set the Rocket III even further apart from other cruisers. Both submodels come with anti-lock brakes (ABS) and feature hand-painted finishes.
Possessing such an enormous size and providing ridiculously awesome power, any 2011 Rocket III is not for the fainthearted. Both Rocket III submodels come highly equipped with standard features.
The 2011 Triumph Rocket III Roadster distances itself from other cruisers, forcing its metal into muscle bike and street-fighter territory with a 2297cc engine matched to aggressive, naked bike appearances. Triumph increases the 2011 Rocket III's torque by 15 percent over 2010. The Roadster takes on a more blacked-out appearance than does the Touring, further reinforcing the Roadster's bad attitude.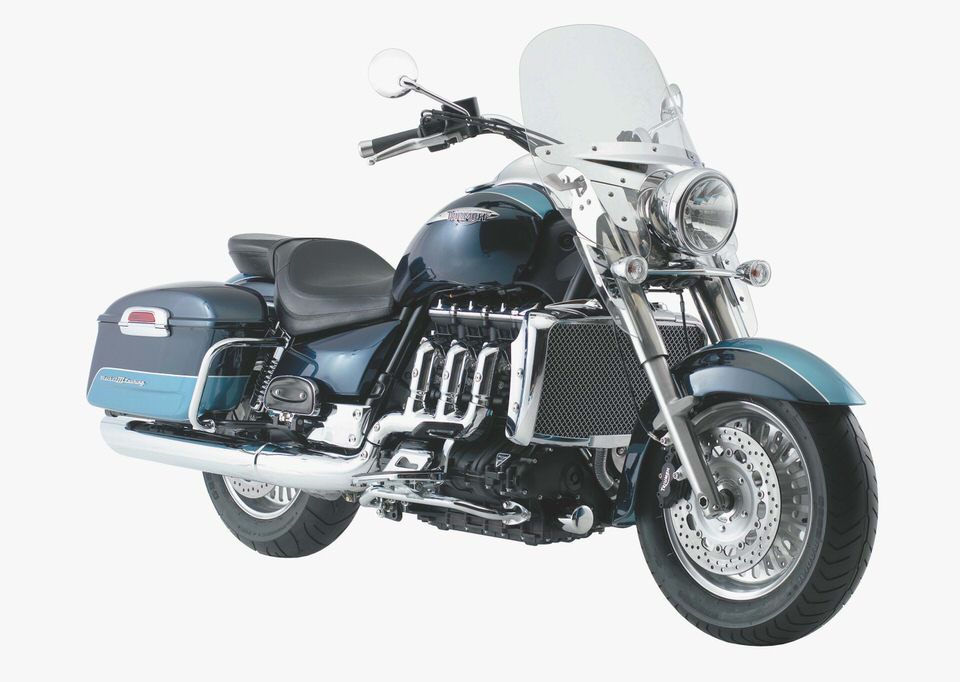 Silencers flank both sides of the cycle and are less restrictive than the Touring's pipes. This not only increases air flow (gaining power and torque) but also increases the anti-social aUral experience. Even when two-up riding, the Roadster is surprisingly easy to hustle around corners.
Seating is plush, and the adjustable suspension ensures each trip is a comfortable one.
The 2011 Triumph Rocket III Touring is a tad more sedate than its raucous Roadster sibling (assuming any Rocket III can be sedate). This is more of a mile-munching, custom touring bike and comes with a windscreen; a touring saddle; and side-mounted, pannier hard cases as standard accessories. The suspension has been tuned to achieve high comfort levels on long hauls. Oddly, the Touring's total fuel capacity is slightly lower than the Roadster's.
The Touring's engine has been retuned for additional low-end torque, making this Rocket III an excellent mid-speed tractor passer even when fully loaded. A low maintenance, reliable shaft drive system keeps the Rocket III crossing continents with no worry of chain or belt failure.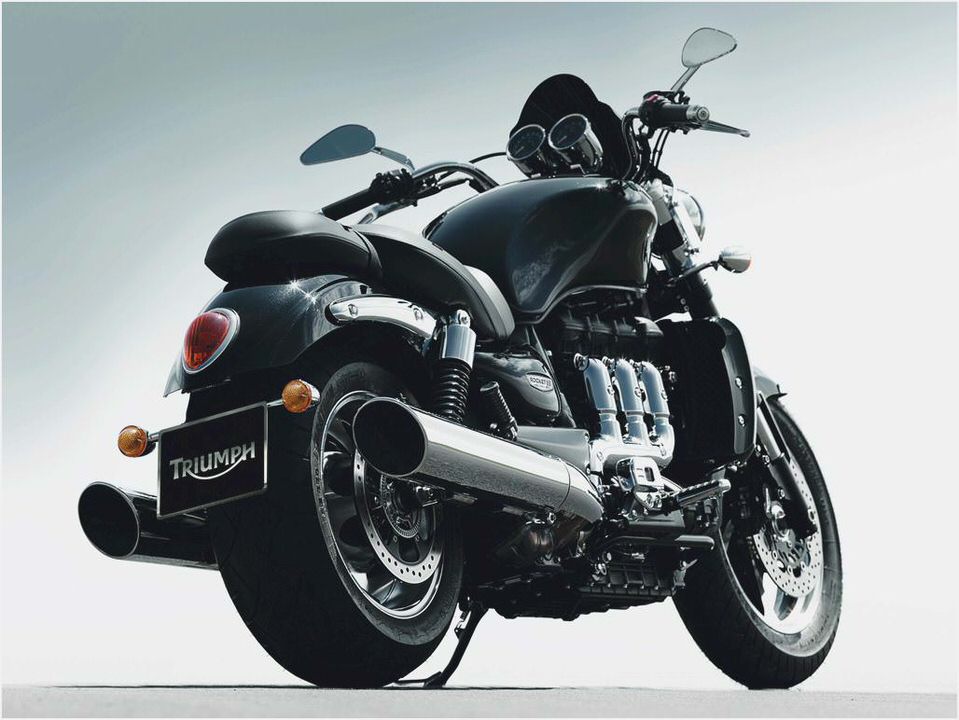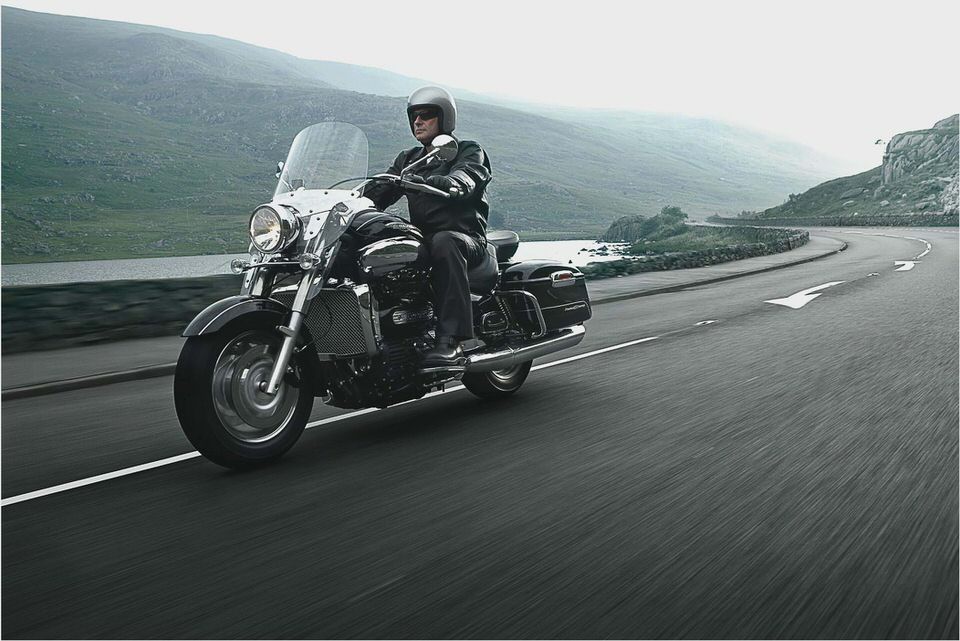 2013 Triumph Street Triple – Motorcyclist Magazine
2012 Triumph America Review – Triumph Forum: Triumph Rat Motorcycle Forums
Triumph Bonneville America –
2012 Triumph Tiger 800 Review
2013 Triumph Daytona 675 motorcycle review @ Top Speed