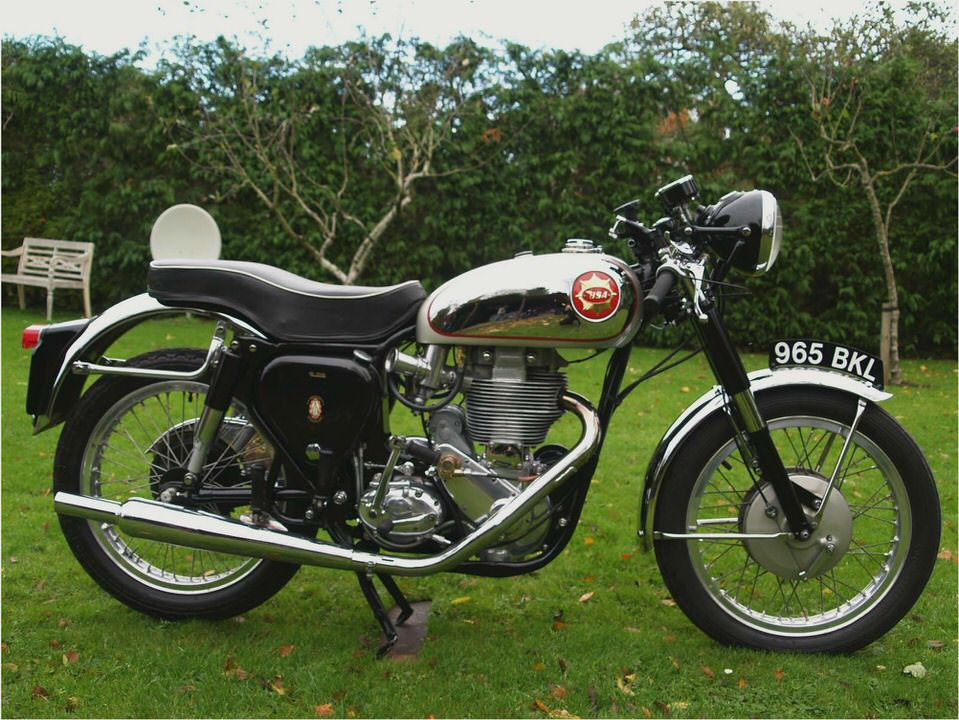 Related Content
The Past and Present of BSA Gold Star Racing
From dirt track racing in the 1950s to contemporary racing circuits, BSA Gold Star racing is still p.
Auctions America Explores Classic Motorcycle Market Trends at Las Vegas Auction
A group of the world's leading experts in collectible motorcycles, including two members of the Amer.
Indian Motorcycle to Reveal the 2014 Indian Chief
Indian Motorcycle to electrify Sturgis, History, and the motorcycling world with the 2014 Indian Chi.
Alomar rider's jacket transforms into a backpack for your gear
1962 BSA Gold Star DBD34
Claimed power: 40hp @ 7,000rpm
Top speed: 95mph (est.)
Engine: 499cc air-cooled OHV single
Weight (dry): 380lb (173kg)
MPG: 45mpg (est.)
Price then: $985 (est.)
Price now: $12,500 – $20,000
The most iconic BSA model ever, the BSA Gold Star DBD34 was actually something of an anomaly for the company. For decades, BSA made its money selling well built, reliable, non-sporty motorcycles to people who needed to get to work. There was a big market for two-wheeled Buicks in England and the Commonwealth countries, and BSA did well with its staid and reliable lineup.
The Gold Star, on the other hand, was not a good bike for getting to work. Built for performance, it was noisy and hard to start. But it was also fast and a lot of fun to ride, and in the days after World War II, Gold Stars became famous on both sides of the Atlantic for their performance both on and offroad.
In England, Gold Stars dominated in the Clubmans TT races and were road raced in many amateur events, and won numerous offroad competitions. In the U.S. Gold Stars did well on the beach at Daytona, qualified for the finals in flat track and TT racing, and lined up for all sorts of offroad events.
BSA Gold Star beginnings
The BSA Gold Star got its start in the 1930s. Designer Val Page, his assistant Herbert Perkins, and Jack Amott and Len Crisp from the BSA factory worked over a 500cc BSA Empire Star overhead valve single until it could put up with a 13:1 compression ratio and alcohol fuel, and signed a recently retired racing star, Wal Handley, to ride it. In 1937, Handley lapped the Brooklands track at over 100mph and was awarded a Brooklands Gold Star for this feat.
The publicity this prototype stirred up convinced BSA management there was a market for a sports machine that could be campaigned in amateur events. The first production Gold Stars appeared in 1938 and featured an aluminum alloy barrel and head, and an Amal TT carburetor. They did well in English trials competition, but the advent of World War II ended production of sport motorcycles.
After the war ended, BSA concentrated on building bikes for people to get to work on, and tried to ignore the increasing clamor for something a little sportier. Finally, in 1948, BSA unveiled a new 350cc Gold Star, with an aluminum alloy overhead valve engine and an extensive option list. Buyers could specify compression ratio, transmission ratios, cams, and lighting equipment.
It was an immediate success in the Isle of Man Clubman TT races that had been launched in 1947, and a 500cc version followed in 1950.
During this time, British factories were being pushed — mandated, in fact — to export as much as possible to retire England's enormous war debt. Gold Stars started washing up on American shores, where riders found that they did very well in flat track competition, enduros — pretty much everything they were thrown at. Gold Stars were campaigned on the beach at Daytona and were part of the 1954 BSA Wrecking Crew, although BSA's twins won Daytona that year.
American racers found that Gold Stars did particularly well in short track events; California's Ascot half mile was Gold Star territory for years.
Like Triumph, BSA started building special models for U.S. riders, including a rigid framed version for flat track competition. Some of America's best tuners worked on Goldies, including Tom Sifton, who took a vacation from Harleys to build a front-row Gold Star. Axtell designed racing cams for them.
Golden years
John Niesley, the owner of our feature Goldie, says most later English Gold Stars were sold with the six-gallon (five-gallon Imperial) aluminum "Clubman" gas tank, rearset foot controls and clip-on bars, while most Americans opted for the smaller two- or three-gallon tank, standard bars and standard shifter. "For normal road riding, it's not comfortable to ride with rearsets and clip-ons," he explains.
The postwar Goldie had a die-cast rocker box bolted to the head with nine studs, a nickel-alloy exhaust valve, and polished flywheels. Spark was by Lucas magneto and road machines had lights powered by a Lucas generator.
Early postwar BSA Gold Star engines were housed in a plunger frame, but behind the scenes, British trials ace and BSA rider Bill Nicholson was designing a new dual-downtube cradle frame with a swingarm. Featuring dual rear shocks, this well braced frame debuted in 1953, along with a dual seat and a new clutch.
For 1954 the engine was redesigned with massive fins, a shorter piston, a new breather and a lighter valve train. Alloy wheel rims became an option. The DB version of the Gold Star appeared in 1955, with better lower-end lubrication.
It was accompanied by a new muffler and new brakes.
The final version of the Gold Star, the DBD, hit showrooms in 1956, sporting a 1-1/2-inch Amal GP carburetor, the largest made, a larger intake valve, different flywheels and an optional close-ratio gearbox. A full-width 190mm front drum brake was now available as an option.
To celebrate the bike's success in American offroad racing, in 1956 BSA cataloged the U.S.-only BSA Catalina Scrambler version of the Goldie; BSA won the 1956 Catalina Island GP — after the Catalina Scrambler had been added to its lineup.
Change of fortune
As the Fifties ended, BSA began to run into trouble. Its base customer, the British get-to-work buyer, was increasingly able to afford a small car. A larger and larger percentage of the factory's output was being exported, but BSA had trouble maintaining quality control while meeting American buyers' demand for increased horsepower.
To make matters worse, BSA was now forced to compete with Japanese motorcycles that started by push button and didn't leak oil. BSA responded by putting its development efforts into its 500 and 650 twins, and ending production of its big-bore singles.
The Gold Star was still popular, but the simple fact was it was outdated. Offroad races were increasingly being won by light two strokes, and pushrod singles were losing ground in road racing. New motorcycles were running alternators, but the expense necessary to revise the Goldie's lower end from magneto ignition to alternator would have been considerable.
BSA finally decided to end Gold Star production in 1963.
There is, however, something soul-stirring about a big, fast single, and there are a lot of Gold Star fans out there. Eddie Dow in Banbury, England, took over support for the model after the factory gave up. More recently, Phil Pearson in Norfolk, England, has been making Gold Star parts, including crankshafts, "the weakest link in the Gold Star," says vintage BSA racer Ron Halem.
Requiem for a heavyweight
In 1958, John Niesley bought a used 1956 Goldie from the legendary Ghost Motorcycles, just outside New York City. He was just out of the service and wanted a fast two-wheeler. Niesley ended up having Ghost ship the bike to him in Colorado, where he rode it around the Rockies.
Eventually, though, he sold the Goldie.
In 1995, Niesley returned to motorcycles and decided he wanted another BSA Gold Star. Unfortunately, you can't just go to Auto Row and order one; Gold Stars have always kept their value, and there is strong demand for the few on the market. "Everyone wants to find a Gold Star," Niesely discovered.
Eventually, Niesley learned of a 1962 Gold Star in a barn. He had a friend who had a habit of buying basket cases, not quite finishing them, and then storing them. The engine had been restored by Sacramento, Calif. BSA dealer Hall-Burdette, but the rest was in pieces. The frame was in primer, the fenders were in a box, there was no carburetor and no magneto.
John eventually persuaded his friend to sell the pile of parts to him.
After the money changed hands, John carted his prize home and started looking for the missing pieces. A conscientious restorer, he enjoys the rebuilding process as much as riding the finished product. Like most of his restorations, the bike looks stock on the outside, but this Gold Star features several internal updates suggested by BSA enthusiasts.
These include aftermarket fork damping rods for a superior ride, and a three-spring Triumph clutch. "It's much easier to operate than the six-spring BSA clutch," John says. The carburetor is a 1-3/8-inch Amal GP carb, which looks identical to the standard 1-1/2-inch GP but helps it start easier.
Electrics guru Bob Kizer at PODtronics rebuilt the magneto and generator, important items on a Gold Star as a weak magneto will have you kicking until the cows come home. A Gold Star will start easily if it has a fresh spark plug and a good magneto, John says. Just use the kickstart to get up on the compression stroke, give the throttle a quarter turn and kick hard. "With a little luck, mine will start second kick," he says.
Eventually, the Gold Star was completed, but it wouldn't run smoothly. John took it to Ron Halem, who identified the carburetor as the culprit. Careful inspection showed someone had filled the air slide slot with JB Weld, clogging it.
Cleaning the slot with a Dremel tool fixed the problem.
Niesley likes to ride this bike on the regular club runs in his area. "I got a prize once for having 'The Sweetest Single,' and another time I got the local BSA Club's 'President's Award.' It really is a delightful bike to ride. It's comfortable the way it is," he says, adding, "It's lighter than a modern bike, and a lot of people are surprised to find out it's not vibratory. The gearing is tall, and if you are going up hill, you have to shift down.
The carburetor doesn't have an idling screw, like a Monobloc, and you have to hold the throttle open a little at stops. It runs better if you keep the RPM over 4,000, although on a flat road you can loaf along at 3,500. This might just be my bike. My rear sprocket is 42-tooth. Stock is 46.
They came with different gearing. By today's standards, it's slow, but it's a fun rider. It's not bad, not bad at all."
Competitive when it was new, and with a successful competition record that continued long after it went out of production, the Gold Star is today considered one of the most iconic motorcycles of all time.
Too bad BSA didn't pay more attention to its American dealers and keep the model in production just a little bit longer. MC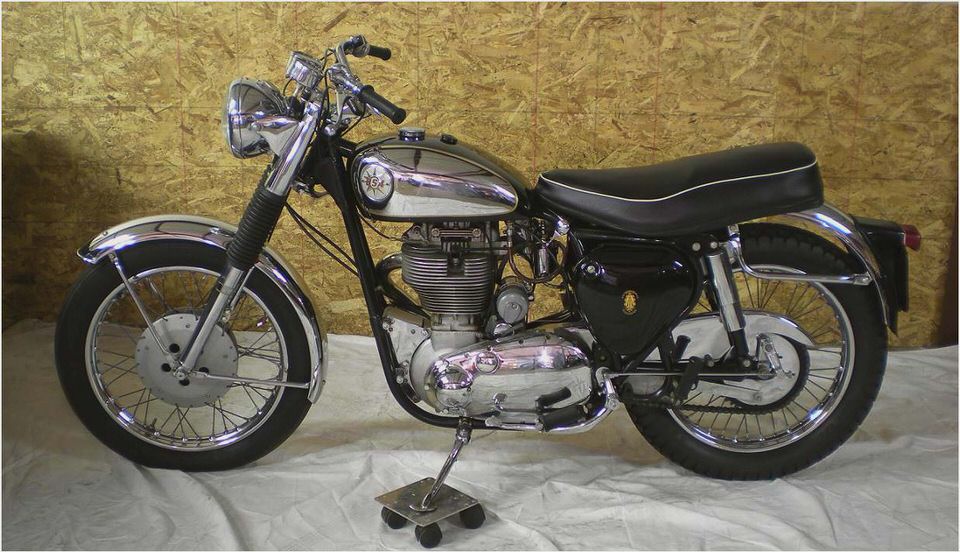 BSA C15 – Wikipedia, the free encyclopedia
1960 BSA Gold Star Classic Bike Review – Ultimate MotorCycling
SR500 Gallery and Fact Sheet
BSA Motorcycles
The BSA Rocket Three and Triumph Trident Projects