Specifications:
Nothing like the Gilera GP 800 has ever been seen before. Far more than a scooter, the GP 800 is a totally new species.
The most powerful on-road machine produced by Gilera in almost a century of history simply defies definition. More than a scooter, here is a new class of twowheeler. Riding a Gilera GP 800 is a totally new and exclusive experience. The power of its amazing 75 bhp engine is tamed by a superbly rigid frame and transmitted to the road by a unique chassis.
The Gilera GP 800 offers all the comfort and convenience of a scooter around town, plus the performance of a true sport tourer on the open road. And when stationary, the GP 800's aggressive beauty simply exudes power and technology.
Amazing!
The Gilera GP 800 is born to amaze. And amaze it does, from the very first glance. The GP 800's impressive, dynamic and clean lines are inspired by the best Italian motorcycling traditions.
The chassis features a robust double cradle, steel tube frame. The 90 V twin engine boasts electronic ignition, 4 valves per cylinder, and liquid cooling. This engine marks a turning point in scooter evolution, and gives the Gilera GP 800 the sort of performance that no other scooter can rival.
The GP 800 is designed uncompromisingly, to satisfy the most demanding sport tourer rider.
The Gilera GP 800 is designed for the rider who wants all the practicality of a scooter but longs for the sort of performance and emotions that until now only a motorcycle could hope to deliver. Even urban commuting becomes a whole new, thrilling and satisfying experience. The Gilera GP 800 boasts the unbeatable usability of a scooter, thanks to elegant, stylish and classical sporting lines, great manoeuvrability, automatic CVT transmission with plenty of engine braking, perfect ergonomics and the carrying capacity of the classic under-seat storage compartment.
But the destiny of the Gilera GP 800 is sure to be determined by its unique performance. Power, top speed, and acceleration are all unprecedented, so it's only natural to look beyond the city for satisfaction. The Gilera GP 800's advanced engine and chassis really show their mettle on country roads, opening up new horizons for medium and long range touring.
On the open road, the excellent protection afforded by the leg shield and electrically adjustable windshield deliver unrivalled comfort for rider and passenger. Motorways to the beach, mountain passes, and twisting country roads the world in front of the Gilera GP 800 knows no frontiers.
The Gilera GP 800: beyond the scooter.
The only engine of its kind in the world
Everything about the Gilera GP 800 has been designed, developed and made to rule the road. Each individual stylistic choice and technical solution speaks of a revolutionary machine, conceived around the first ever 90 V twin scooter engine, and designed to dominate the world of scooters. The new 839.3 cc engine features liquid cooling,
Magneti Marelli electronic fuel injection, a single cam, 4 valves per cylinder and twin spark ignition. It develops a mighty 75 bhp at the crank with a torque of 76.4 Nm, 95% of which is already available at 3,500 rpm. These specifications are totally unique in the scooter world.
On the road they translate into an extraordinary reserve of constantly available power and a uniquely smooth ride. Thanks to CVT (continuously variable transmission) with engine braking effect, urban commuting is effortless and relaxing, with the ideal ratio automatically selected. But when the road leaves the town and opens up, the GP 800's V twin engine really comes into its own, placing Gilera's flagship scooter in a class of its own.
The Gilera GP 800 engine features dry sump lubrication, and is secured rigidly to the frame by vibration-damping rubber mountings. Final drive can therefore be entrusted to a robust but sophisticated, Regina Z-ring sealed chain. The exhaust system is totally decoupled from the frame to minimise vibrations.
This 2-in-1 system terminates in an aggressively styled silencer with a black heat shield that adds plenty of character to the styling of the GP 800, and emphasises its elegant but sporting nature.
The amazing performance of the GP 800's V twin engine have been achieved in full respect of the environment. Emissions have been minimised by an advanced closed loop injection system with Lambda oxygen sensor and an exhaust with three-way catalytic converter. Fully integrated control of the electronic ignition system also ensures that the GP 800 conforms to strict Euro 3 standards.
The new twin cylinder power plant has been designed, developed and manufactured entirely in Pontedera, the historical home of Piaggio and one of the world's most advanced engine development and production centres. This engine is born from the challenge that the Piaggio Group has taken on: to offer an ever more sophisticated customer a product that guarantees performance, reliability and safety while also leading the field in respect for the environment.
A truly impressive chassis
The Gilera GP 800's double cradle frame has been designed around the engine to embrace it and convert its exuberant power into rigorous, precision control. The frame is made from a tubular steel trellis with steel reinforcement and strengthening plates.
Excellent torsional and flexural rigidity has been built in at all stages of the development and road testing process, to deliver an amazing sense of control. The Gilera GP 800 corners like a sports motorcycle, reaching angles of lean of 45 while still delivering neutral handling and amazing road holding. The GP 800 holds the most precise lines through fast bends, obeying rider input at all times without ever exceeding performance limits.
Absolute control is the result. The generous power of the GP 800's engine demands a superbly rigid chassis. Simulations and road tests have demonstrated that the GP 800 has a coefficient of stability at full power similar to a motorcycle (1 rad/sec) and almost twice as high as a conventional scooter.
The swingarm catches your eye as soon as you see the GP 800. This impressive component symbolises how the Piaggio Group has drawn on its experience in motorcycle design in developing the amazing GP 800. The swingarm is in cast aluminium and is secured directly to the side plates of the frame.
It is damped by suspension linkages that are dominated by a horizontally mounted, lateral hydraulic monoshock, adjustable to seven different preload settings. Reduced unsuspended mass and a generous 133 mm of rear wheel travel ensure excellent suspension performance.
The front wheel fork is also in aluminium, with 41 mm stanchions. Once again, stability and safety, even under harsh braking, are at a level never previously found on any scooter.
The hollow five spoke wheels, 16" at the front and 15" at the rear, are manufactured from aluminium alloy in a lost core, gravity casting process to minimise unsuspended mass and guarantee motorcycle-type precision handling. Overall performance is also helped by standard equipment radial tyres, 120/70 at the front and 160/60 at the rear.
The braking system incorporates Brembo Gold double piston floating calipers and two semi-floating 300 mm steel discs at the front. At the rear, a floating caliper with two opposed pistons brakes a 280 mm steel disc. Metal braided brake hoses and adjustable, 4-position brake levers are further testimony to the GP 800's cutting edge braking system.
The GP 800 is even equipped with a parking brake operated by a practical lever on the right of the leg shield.
Gilera style
The Gilera GP 800 is made to amaze even when stationary, exhibiting as it does abundant power, unrivalled technology, and technical and stylistic solutions that are designed for looks as well as functionality.
The body is totally innovative for a scooter. Alternating concave and convex surfaces and a clever use of reflection confers a unique sense of dynamism. Seen from the front, the GP 800 seems to divide the air and attack the road.
In contrast, the tail is streamlined and slender, distinguished by graceful air vents and terminating in an original double LED tail light with obvious sporting pretensions.
The nose of the GP 800 is characterised by vertically twinned headlights, a solution chosen to keep the front streamlined and narrow. The windshield has been extensively tested in the wind tunnel and is electrically adjustable from a handlebar switch to optimise protection or air penetration to suit riding conditions.
The bodywork welcomes and protects the rider who completes the symmetry of the design when seated.
The GP 800 reveals its exclusive style in the care and attention lavished on every little detail, in the very best Italian traditions. Nothing is left to chance: the pressed aluminium handlebars feature a prestigious sporting design; the passenger footrests fold away; the seat is upholstered in top quality materials, and the limited step between the rider and passenger sections improves comfort and control when riding two up. The storage compartment under the seat is easily big enough to hold a full face helmet.
The GP 800's dashboard, which combines analog and digital instruments, is generous and elegant, as a scooter of this class demands. The easy to read, classical rev counter and speedometer are accompanied by a fuel gauge. The LCD display incorporates an odometer, two trip counters and a clock, and displays outside temperature, distance travelled on reserve, a service indicator and an engine coolant temperature gauge.
Information on the LCD display can be selected quickly and easily from a mode button behind the right hand control block.
The instrumentation is completed by a series of warning lights and function indicators for the direction indicators, oil pressure, fuel reserve, high beam, injection check, hazard warning lights, side stand, and parking brake. A LED in the middle of the speedometer flashes when the electronic anti-theft system with engine immobilizer is engaged.
In full respect of Gilera's racing traditions, the GP 800 comes in a choice of sporting colour schemes. The Graphite Black and Emotion Red finishes (both metallic) enhance the aggressive looks of the Gilera GP 800.
Accessories
Your Gilera GP 800 can become even more functional with a range of dedicated accessories:
48 litre matching paint finish top box
Passenger backrest
Tom Tom sat-nav system with dedicated mounting system for the Gilera GP 800
Electronic anti-theft system
Leg cover
Bike cover customised with the GP 800 logo.
Specifications
Displacement: 839.3 cc.
Stroke: 69 mm.
Fuel: RON 95 unleaded petrol.
Compression ratio: 10.5: 1.
Max power at crankshaft: 75 bhp (55.16 kW) at 7,250 rpm.
Max torque: 76.4 Nm at 5,750 rpm.
Exhaust: Closed loop system with Lambda oxygen sensor and three-way catalytic converter.
Valve train: SOHC (single overhead cam), 4 valves, electronic fuel injection.
Ignition: Electronic inductive discharge ignition, variable timing. Electronic control unit with engine immobiliser and warning LED. Automatic fuel shutoff in case of tip-over. Twin spark ignition.
Starter: Electric.
Cooling: Liquid with three-way thermostat.
Gears: Belt primary drive. CVT (continuously variable transmission) with engine braking effect. Chain final drive.
Clutch: Centrifugal clutch.
Frame: Double cradle, high strength tubular steel trellis.
Front suspension: 41 mm aluminium alloy telescopic hydraulic fork; 122 mm wheel travel.
Rear suspension: Aluminium alloy swingarm with laterally mounted, horizontal, hydraulic monoshock. Seven-position spring preload adjustment. 133 mm wheel travel.
Front brake: Double, 300 mm semi-floating stainless steel discs with two Brembo double piston floating calipers. Metal braided brake hose.
Rear brake: 280 mm stainless steel disc; floating caliper with two opposing pistons. Metal braided brake hose.
Front wheel: Die-cast aluminium alloy, 3.50×16".
Rear wheel: Die-cast aluminium alloy, 4.50×15".
Front tyre: Tubeless radial, 120/70 R 16".
Rear tyre: Tubeless radial, 160/60 R 15".
Length: 2,237 mm
Width: 790 mm at the handlebars.
Wheelbase: 1,593 mm
Seat height: 780 mm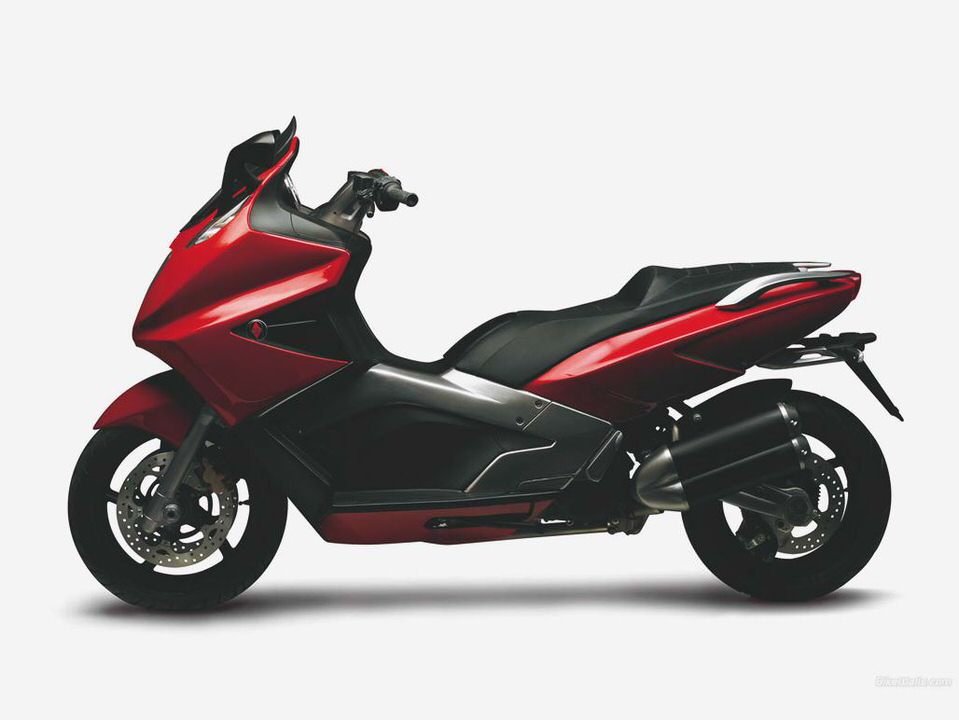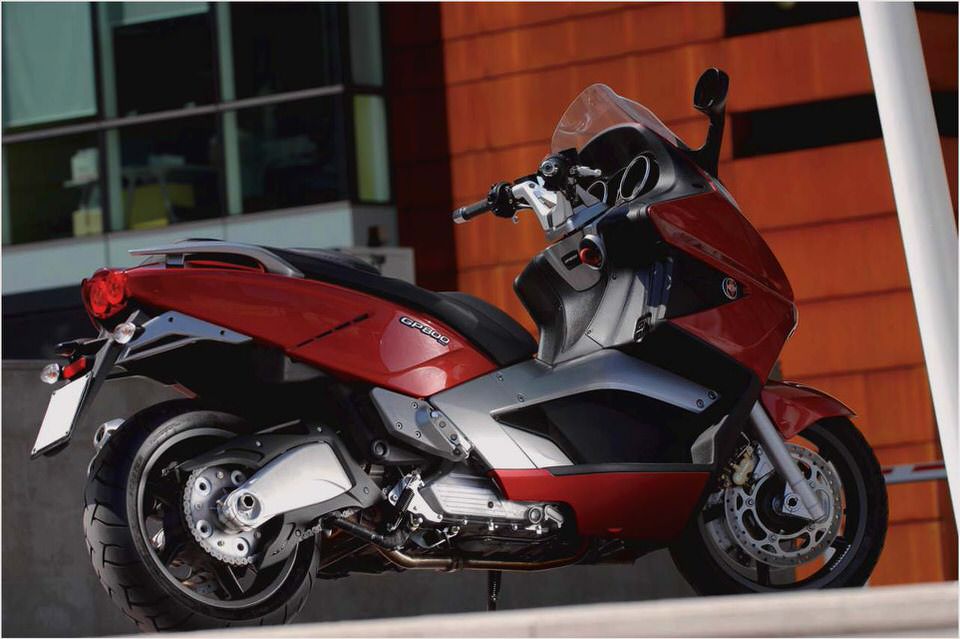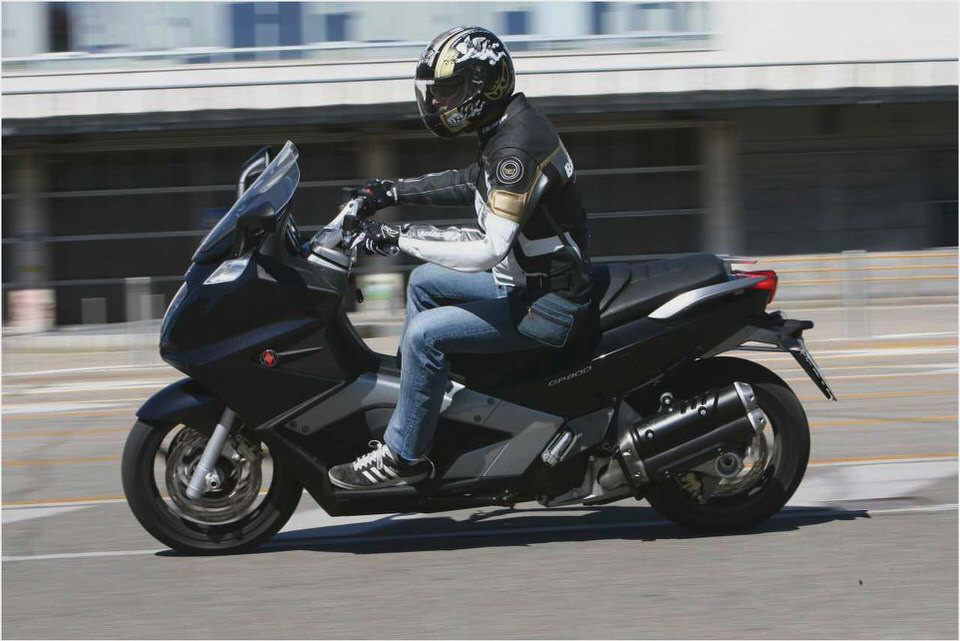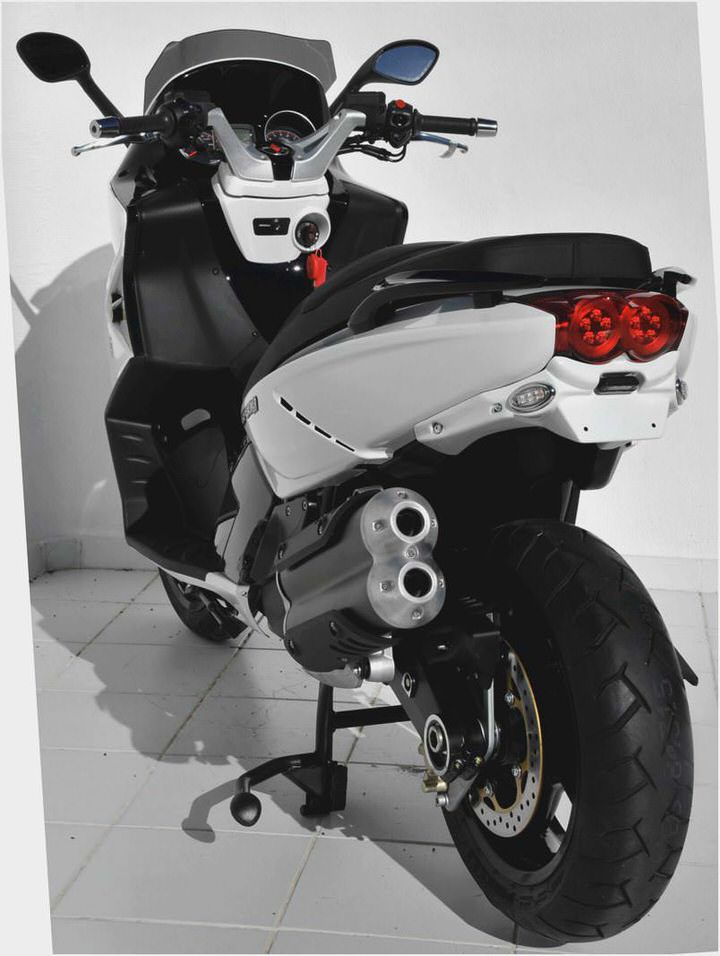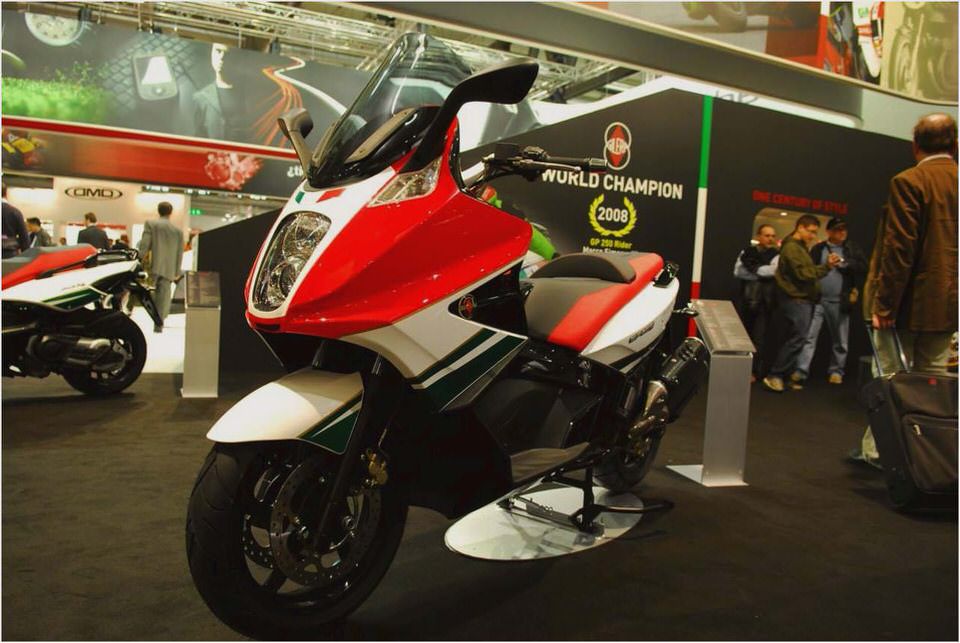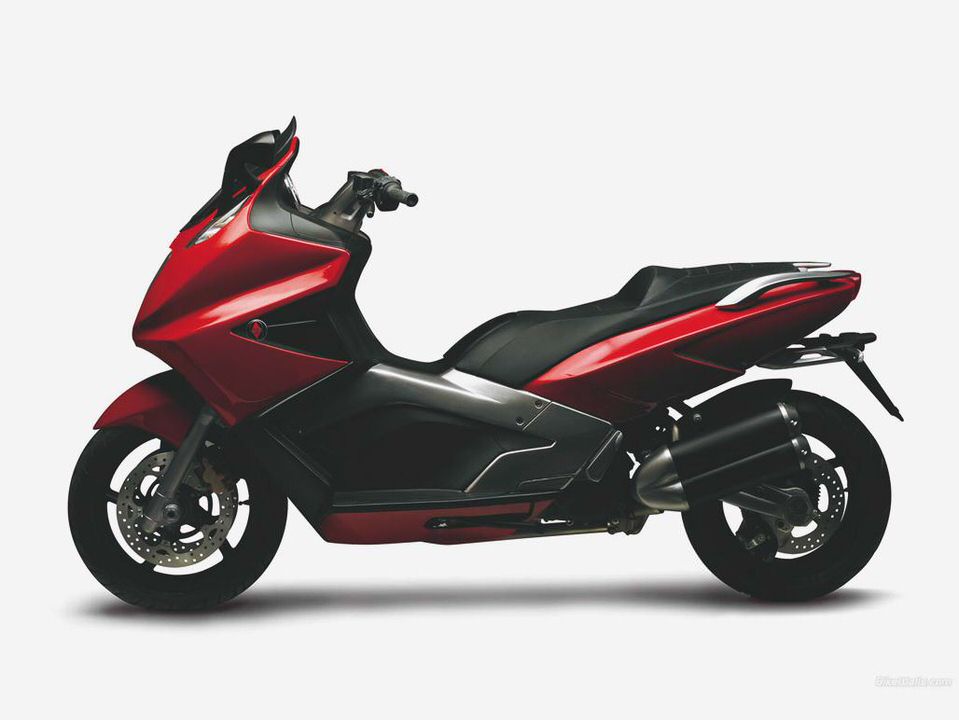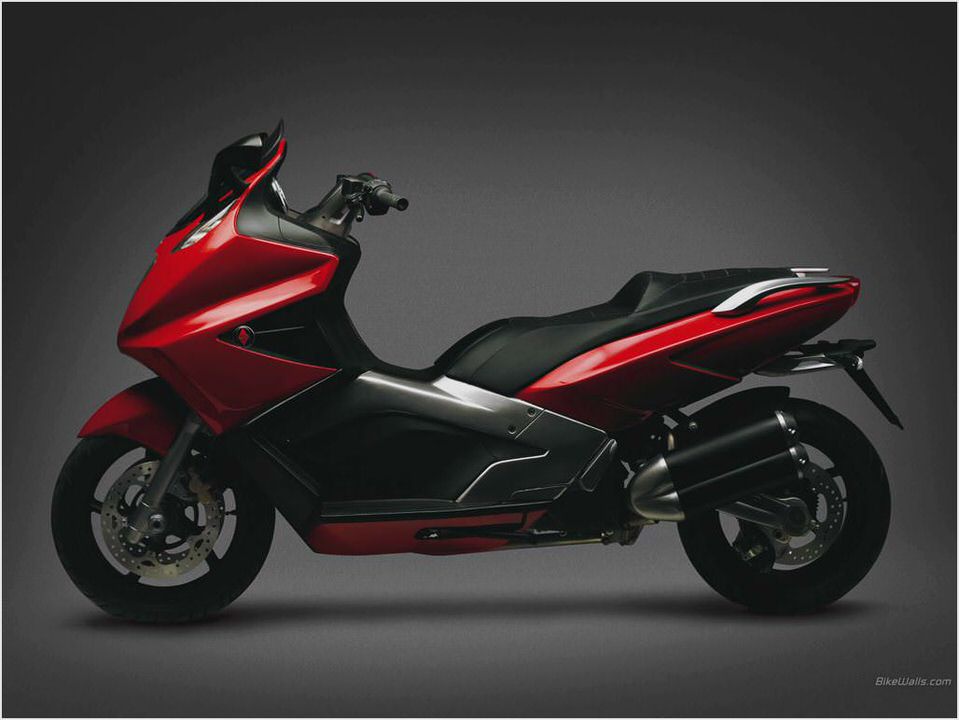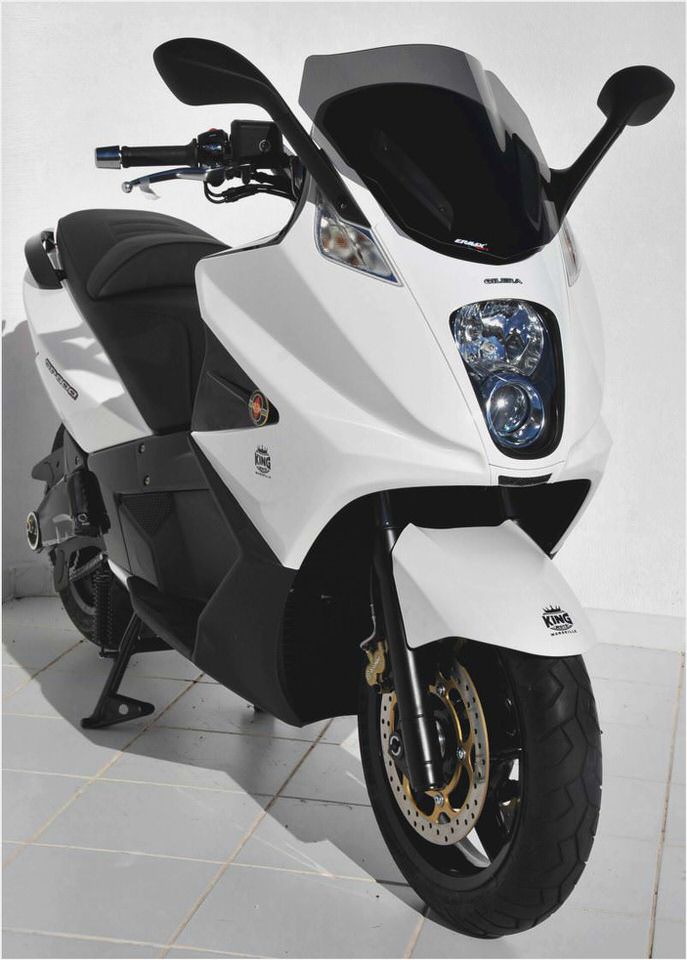 Gilera Runner 180 FXR – Scooter Community, Everything about Scooters…
Gilera Runner VXR 200 – The Scooter Review
Classic Sport Bikes For Sale Archive Gilera
Gilera Mototype
Gilera Nexus 250 ie Test