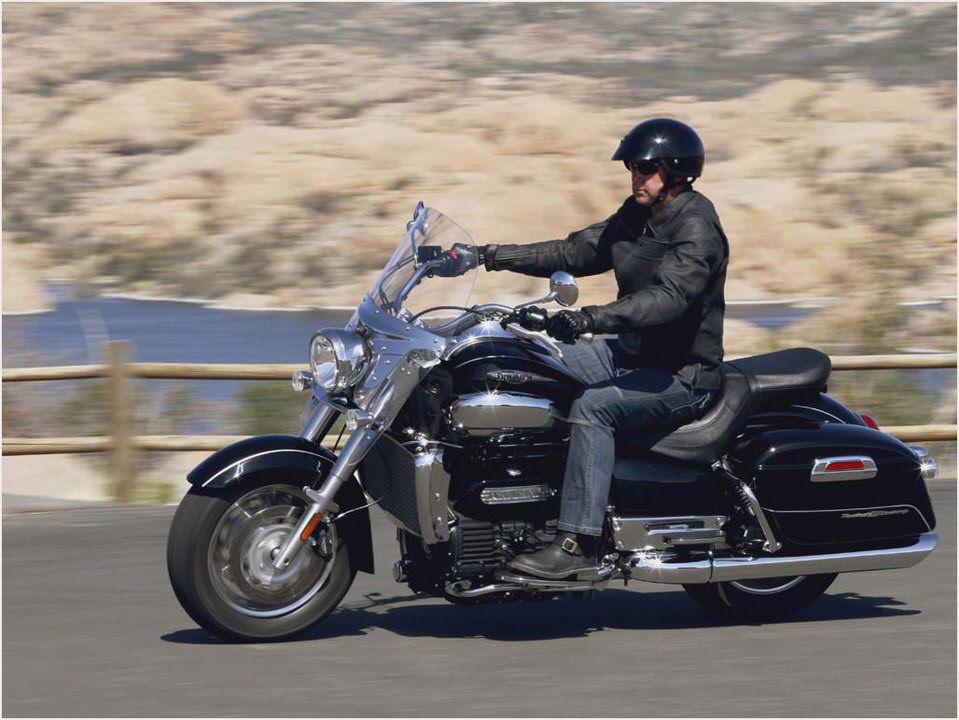 2008 Triumph Rocket III Touring Road Test
2008 Triumph Rocket III Touring
Rider Magazine
June 30, 2008 [this review of the 2008 Triumph Rocket III Touring was originally published in the April 2008 issue of Rider ]
You Triumph guys think you're so clever. So it's just a touring bike, eh? Like a Road King or Star Silverado? Yeah, right.
Sorry, but there's just no hiding that humongous longitudinal triple between the bags and windscreen. Since 2004 you've been teasing the madcap power-cruiser crowd with the standard Rocket III, with its fat 240-series rear tire, 150-series front, a handlebar and little else wrapped around the biggest, baddest torque-monster engine in motorcycledom. Now it seems you're hoping to hook the mild-mannered cruiser-touring crowd on your 2,294cc of displacement smack.
I can hear the salesperson now, casually sneaking in a comment like, "Oh, and if you and the missus really wanna load this big ol' touring bike up for bear, you see that large, round speedometer on the tank? Well, at 4 inches across it's about the same size as one of this bike's three pistons! This ain't no potato-potato cruiser, no sir!"
Despite having a dry sump the R3T's engine hangs down quite low, though cornering clearance is very good for a big cruiser.
Compared to big V-twins the 2008 Triumph Rocket III Touring is turbinelike, pulling relentlessly like a jet on takeoff. In giving the new bike two low mufflers instead of an upswept threesome to clear the saddlebags, Triumph has sacrificed some power–our test bike made 135 lb-ft of peak torque at 3,000 rpm at the rear wheel on the Borla Performance Dynojet dyno, vs. 141 at 3,500 in our 2005 Rocket III.
Peak horsepower is way down, from 127 to 90, though with redline at just 5,800 rpm it hardly matters. And 135 lb-ft is still so much torque that the 2.3-liter R3T shrugs off the load of a passenger and gear like so many feathers, and makes passes and pulls hills without even downshifting from top gear. Heck, it'll start out from a stop in fourth and just keep going.
At idle it sounds like a purring tiger, on the throttle like a P51 Mustang at full song. The only hitch is a bit of throttle abruptness at low-to-middling engine speeds that can create a brief lurch in the power delivery before it smoothes out.
When you already build the largest-displacement production motorcycle, the next logical step is to make a touring version, hence the 2008 Triumph Rocket III Touring. This wasn't merely a bolt-on windscreen and bags exercise, though–except for the engine, the only parts the R3T shares with the standard Rocket III are the brakes, mirrors and taillight.
Although the R3 is surprisingly nimble despite its heft and wide 240-series rear tire, as a tourer the R3T had to be nimbler yet at low speed, and accommodate a pair of hard bags without being too broad in the backside. It started with new 25-spoke cast-aluminum wheels, a 16-inch diameter one in front carrying the 150-series radial in place of the R3′s 17-inch hoop. In back a 5.00 x 16-inch rim spins a 180 tire instead of the R3′s 7.50-inch-wide wheel wearing a 240.
Add new fenders front and rear, and the 10-gallon locking bags tuck in at 33 inches from hinge-to-hinge, about the same as a Harley-Davidson Electra Glide.
Once underway, it's hard to believe you're riding an 875-pound motorcycle, as the Rocket III Touring has light steering and nimble handling.
A new tubular-steel twin-spine frame contributes to the Triumph Rocket III Touring's easy handling at all speeds, too (although at 875 pounds wet the bike is a massive lump to push around). The engine remains solidly mounted and part of the frame's structure–to it the R3T adds a half-inch of wheelbase and 1.3 inches more trail.
It still seems more willing to turn than the R3, which is to say smoothly and easily, yet is also more stable and planted in a corner as well as straight up-and-down. Cornering clearance before the floorboards begin to drag is ample for a cruiser, too, so you can ride the R3T pretty spiritedly on its good Bridgestone touring radials.
Suspension is simple and comfortably effective on the highway and at normal speeds on backroads, though it can get overwhelmed pretty easily by lots of speed, weight and bumps. Some heavier fork oil up front and maybe some heavy-duty shocks in back would be more suited to regular loads close to the R3T's 480-pound maximum.
Like other Triumphs the Rocket III Touring's ignition sometimes hesitates for a moment when you press the starter button, as if it wants you to be really sure . then the liquid-cooled fuel-injected triple jumps to life immediately without need of a fast-idle control. Twin catalytics in the 3-1-2 exhaust have helped this engine meet Euro III emissions regs since it was introduced in 2004.
Like most longitudinal multis the R3T's 40-pound crank creates an especially noticeable side-to-side torque reaction at a standstill, rocking the bike when you rev it as if it were hit by a strong gust. Once underway the counter-rotating transmission input shaft and driveshaft join the balance shaft in canceling out the torque reaction.
Some high-frequency vibes creep in and out of the hand grips at higher engine speeds, but what vibes remain at lower or cruising engine rpm are kind of coarse rather than buzzy and don't intrude on the ride or the mirror clarity. The bike settles into its smoothest, quietest cruise right around an indicated 72 mph in top gear, though it will cruise for hours at higher speeds without excessive noise or fuss. We didn't notice any excessive engine heat coming off the big mill, though all of our testing was performed in cooler January temperatures.
Even with dual mufflers instead of three, the R3T's 2,294cc triple puts out whopping torque.
Although plenty of large motorcycles use cable-actuated clutches like the R3T's instead of hydraulic, we had to blame it for our bike's stiff shift-lever action and hard-to-find neutral. Clutch feel was good and neutral locatable once we dialed-out all of the clutch free play–this bike may have been hammered at the press intro–and the heel-and-toe shifter works well and doesn't hog much floorboard space.
On the right the brake pedal is similarly well positioned and easy to use and modulate, a good thing since the front brake setup lacks strength for spirited riding and you'll need to use the rear in combination with it at times. Between the large grips and beefy levers with no adjustments you'll need some major hand to operate the front brake well, particularly say, downhill quickly approaching a slow corner.
Rider floorboards provide room to move around, but the passenger's are a bit cramped.
Other rider accommodations on the Rocket III Touring are first-rate, starting with the wide dual-density rider's seat. Though its shape holds you in place I found I could sit there for quite a long time without squirming. Seat height is just 29 inches off the ground, but its width makes it feel higher and I can just get both feet at the ends of my 29-inch inseam on the ground at stops.
The rider reaches up to grips spaced widely but comfortably apart on a big tubular beach bar; feet rest on flip-up floorboards that provide plenty of room to move around, even on the left shared by the heel-and-toe shifter. Your passenger gets floorboards and a large pillion with a built-in gel pad, and like the rider's seat it's comfy enough for all-day rides, though the bike lacks any grabrails for the copilot from the factory. The floorboards are also a bit cramped between the saddlebag guards and rider's leg, though they are at a good height and flip-up when not in use.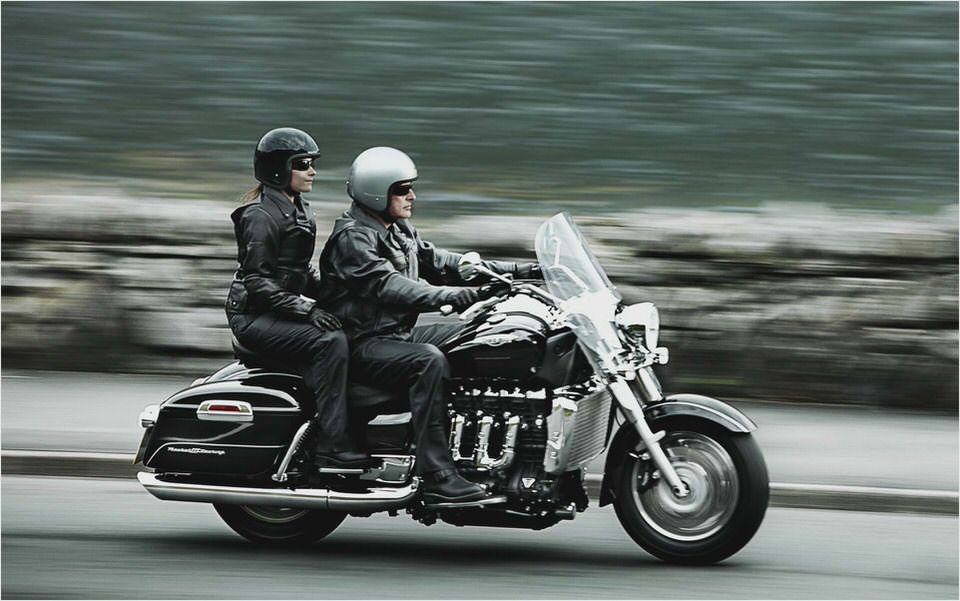 Standard "Look-Over" windscreen as well as optional taller "Roadster" model are made by National Cycle. Both pop off easily with stainless spring latches.
Wind protection on the R3T starts with the standard "Look-Over" windscreen, which pops off in a jiffy using a stainless-steel spring-loaded latch on each side (for which a lock is optional). It's flanked by small lowers on each newly chrome-shrouded fork leg which help keep the wind out of your lap. Overall coverage is full torso and width and quite good, though naturally the rider experiences some helmet buffeting and noise from the shorter screen.
I might opt for the optional 6-inch-taller "Roadster" windscreen to perhaps eliminate the buffeting, then trim it if necessary so I could still see over it. When the weather warms, take the screen off and the airflow is smooth and quiet.
A new chrome throttle body cover and slick new seamless fuel tank complement the Rocket III Touring's sleeker looks, though the 5.9-gallon "Slim-Line" fuel tank is .7 gallon smaller than the R3′s to accommodate a chrome tank-top instrument nacelle. This houses a round analog speedo, a fuel gauge and a scrolling digital LCD display with clock, dual tripmeters and remaining range controlled by a button on the right bar.
Our test bike's fuel gauge tended to read empty prematurely and flick on the fuel warning light when there were more than two gallons remaining. Filling the new tank takes some practice as well, since the fuel level reaches the bottom of the filler tube well before the tank is truly full. In fact, our average fuel economy of 35.6 mpg should be considered more of an educated guess, since we couldn't really be sure if we had filled the tank to the same level each time.
Interestingly, Triumph says the Rocket III only needs 87-octane fuel, probably a result of its relatively low compression.
Pushbutton-locking domed lids give the side bags decent capacity.
You'll have an easier time filling the R3T's pushbutton-locking saddlebags, which have chrome-hinged, domed locking lids that flip outward; the bags can be removed easily for cleaning and service chores by turning a pair of Dzus fasteners inside each. They rest nicely on the floor when off the bike, too.
I did not care for the built-in pouches inside for documents, cell phones, tools, etc. as they can't be removed and steal a bit of much-needed width from the already narrow bags for loading other things. Maximum load is rated at just 15 pounds each, so plan on getting the accessory luggage rack for serious trips. Removing the bolt-on seat gives access to the big battery and air cleaner, but there's no additional storage under there, nor any helmet locks.
In fact, I think several things should be standard on a bike in this price range that aren't–a locking fuel filler cap, for example, and larger, more effective mirrors. In my opinion the shorter standard windscreen should be the option and the taller one standard, too–perhaps dealers will rectify this upon request. While I'm griping, the R3T's beefy clutch and brake levers lack adjustability, and I missed the R3′s tachometer.
The R3T does come with a decent toolkit, ignition-integrated steering lock and a single key for all the locks, as well as convenient right-angled Schrader valves on the wheels. Engine and saddlebag protection bars prevent extreme tipover damage. The accessory list is extensive, too, and includes such things as heated grips, an auxiliary power socket and lights, even cushier touring seats and backrests, a luggage rack and different mirrors, as well as tons of chrome accents.
Sadly, no top trunk is offered at this time.
2008 Triumph Rocket III Touring
At 2,294cc, the Rocket III bests the next biggest production cruiser currently plying the roads of America by 241cc–by itself about the size of a typical entry-level twin. At 875 pounds ready to ride, manhandling all of the Rocket III Touring motor-on-wheels may not be for everybody, but remember that once underway the weight disappears and there's nothing between you and Mach III but your right wrist.
Oh wait, I forgot–it's a touring bike–that power is just there for big loads, right? Sheesh….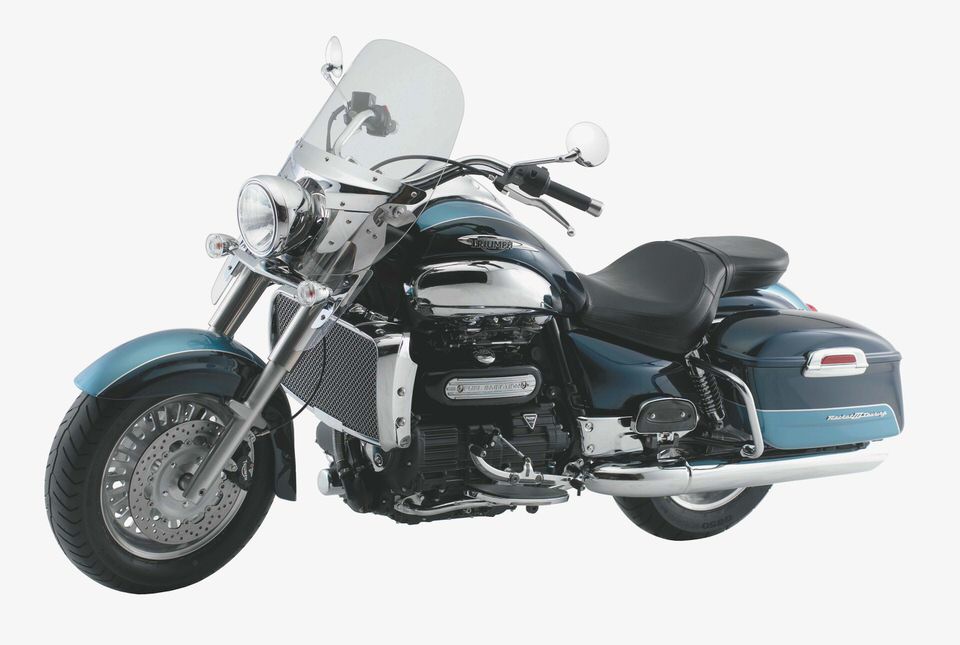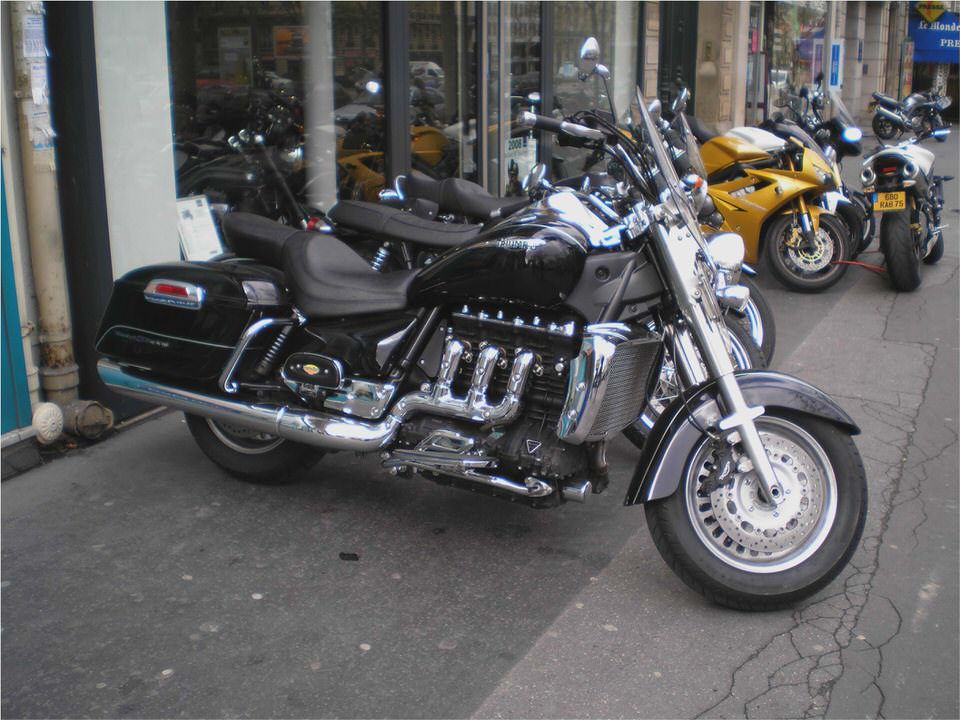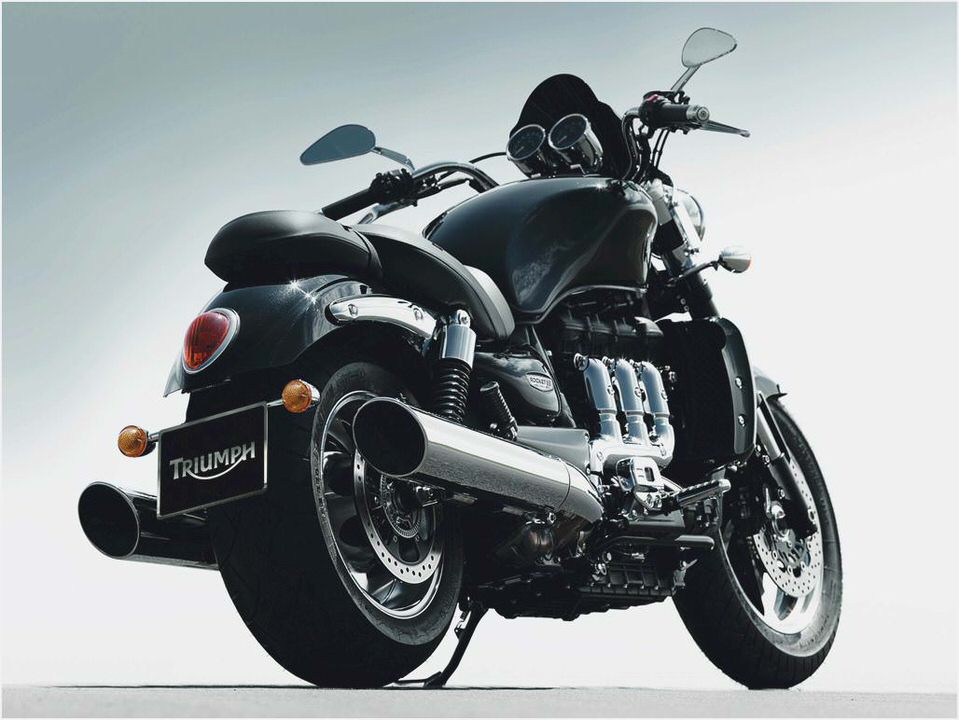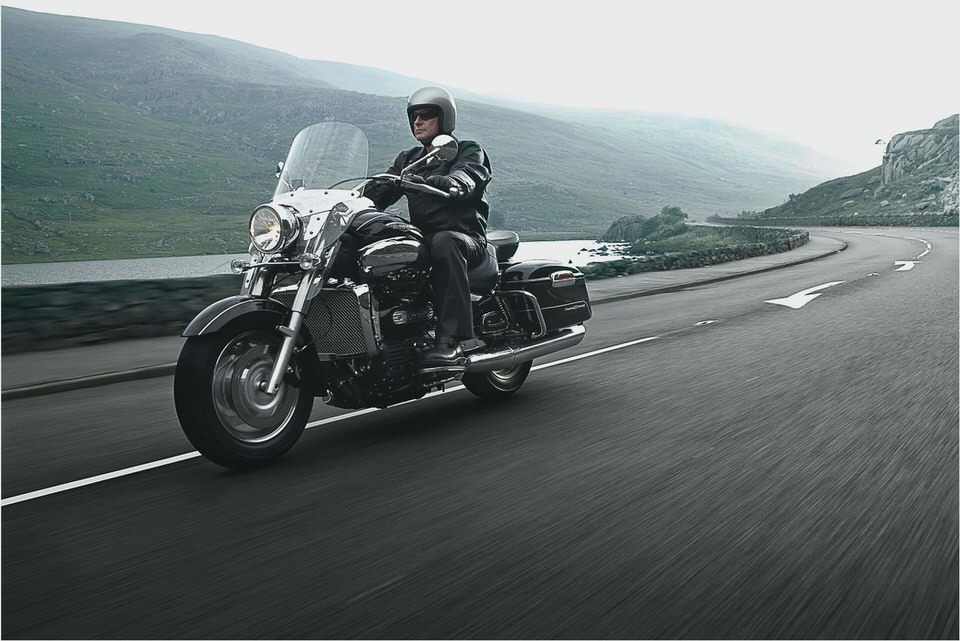 2011 Triumph Tiger 800 XC – Motorcyclist magazine
Honda Crossrunner vs Triumph Tiger 800: A mix of genres
2011 Triumph Sprint GT : MD Ride Review from Four Different Perspectives…
Road Test: Honda Goldwing vs. Triumph Rocket III – Road Tests – Visordown
Triumph Trophy 250 for Sale Uk Owners Guide Books