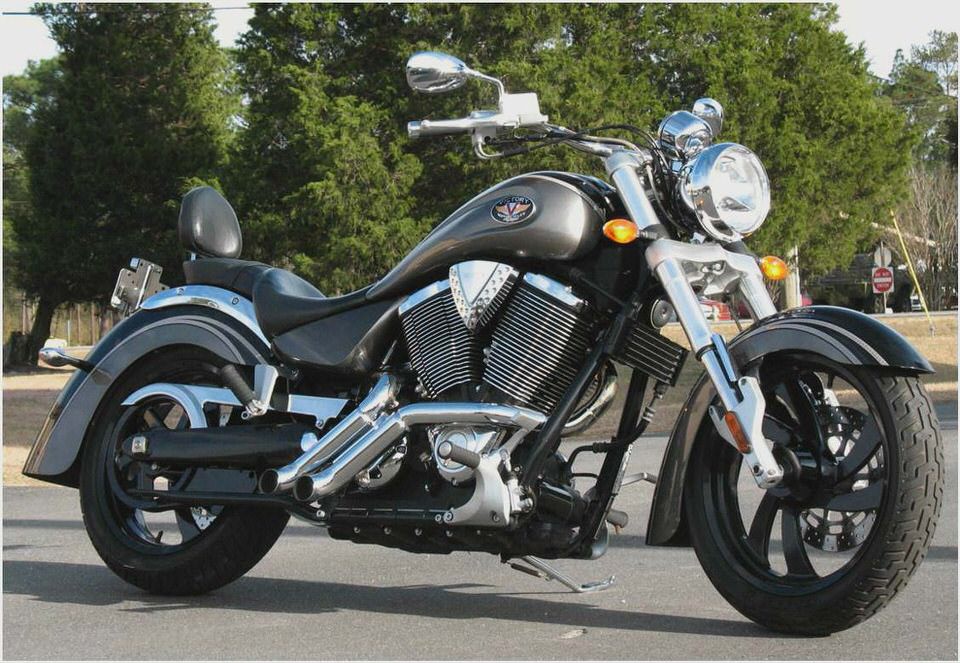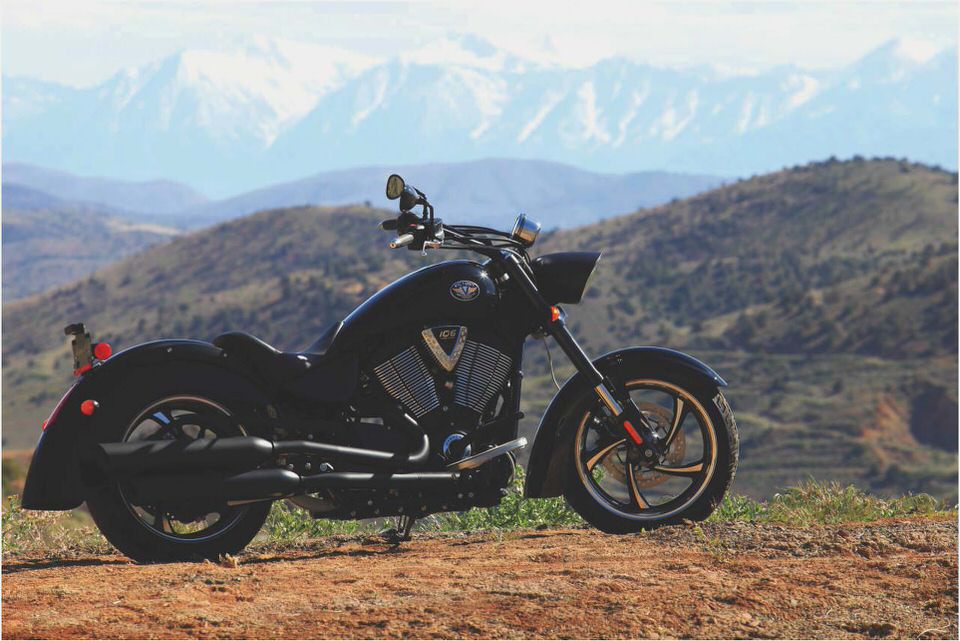 2008 Victory Kingpin 8-Ball: MD First Ride
Victory Motorcycles' tendency to produce some of its models as 8-Ball variants has nothing at all to do with that old drug slang term about an eighth of an ounce. You don't have to be a corner boy or dealer to ride one of these. Instead, the name is used to describe a blacked-out paint scheme with minimized bling.
Only the exhausts, headlight shell and instrument housings retain their shiny chrome skins-the rest of the bike is finished in bad, bold black.
This has benefits other than dazzling fewer people. In conjunction with the standardized color scheme, the installation of a single seat rather than the double you see on other Kingpins, and a five-speed transmission that replaces the normal Kingpin's six-speeder, the price of the 8-Ball is reduced to just about fourteen grand.
So long as you don't plan to carry a passenger, this is a meaningful discount (the rest of the Kingpin line starts at $16,399.00), because the bike is otherwise technically identical to the rest of the Kingpin range, and shares a lot of the standard specifications of most of Victory's cruiser line. That means it benefits from the various upgrades conferred on Victory's range for 2008. (See our article dated November 12, 2007 ).
You have to hand it to Victory. The things that aren't quite right first time around soon come under scrutiny and are improved forthwith. You can see the bikes evolving from one year to the next, with components rationalized and upgraded as the feedback comes in.
The company management seems progressive and determined, and the product line is strong and pretty diverse.
This Kingpin is a good example of Victory's approach. It's powered by the same 100-cubic inch 50-degree "Freedom" V-twin found under the tanks of all Victory bikes bar the new Vision, and does good work with it. The engine has a single overhead camshaft to operate the four valves in each cylinder, with a balance system that does wonders to quell the shake inherent in V-twins with less than 90-degrees between the jugs.
Victory claims 85 horsepower for this handsome chunk of hardware, with 106 pound-feet of torque, and it certainly feels like all of that when you screw it on. The claimed 670 lbs. of dry weight would put the 8-Ball on the lighter end of the large displacement cruiser spectrum. Star's Roadliner Midnight and Harley's Fat Boy, both with pushrod engines, come in at 705 lbs. and 694 lbs. respectively, according to their manufacturers.
The combination allows the Kingpin 8-Ball to pull hard enough to drop the traffic off decisively when the throttle's pinned.
Sure, shrieking high revs are not in this baby's repertoire, but there's a satisfyingly long surge of acceleration in each gear before the engine's exertions go soft, calling for another gear and a new range of opportunity. No, there's no tachometer anywhere to be found, nor is one needed. The thudding vibrations that greet an opened throttle at too low an engine speed tell the rider when a downshift is needed, and the aforementioned softening of engine power is the clue for the rider to put his heel down on the double-ended shifter and ask for another cog.
The shift quality is mechanical but acceptable, given the huge gearwheels customarily used to handle the torque and the big power pulses generated by two substantial pistons (about 820 cc apiece), although shifting up in the lower gears produces some locomotive-scale clonks and bangs. Still, other than the shift from first to second, and maybe from second to third, the mechanism is pretty fluid.
It takes a deliberate effort by one's left ankle at the lever to move things around, but it's nothing a full grown cruiser rider can't handle. The clutch, in contrast, is a fairly stiff pull, particularly in traffic, when constant use soon has your left hand feeling the strain. A hydraulic clutch mechanism is an option with this 8-Ball, and I think I'd get it, even though I have fairly strong, larger-than-average hands.
I suppose it's possible that part of the problem may be in the angle of the handlebar, so try it yourself before checking that option.
Other than that the Kingpin is an easy bike to ride. The new Visteon fuel management system provides pretty transparent metering. The bike starts willingly, idles steadily, and answers the throttle eagerly.
Slow creeping in traffic is managed without annoying surges, and throttle response is crisp and predictable. The belt drive smoothes and quiets the bike's progress down the road, while the quiet valve train and engine internals allow the subdued offbeat exhaust cadence to take center stage.
Some of the company's modifications for 2008 address mechanical noise reduction in the engine, and other than some gear whine in lower gears, the result is a pleasantly muted engine operation, free from clatter, whirring, ticking, or any of the common noises afflicting big twins.
Like it or not, refinement is an inescapable part of technical progress, and I, for one, like the fact that I can hear the off-beat exhaust pulses of this V-twin without competing percussion, and, perhaps more important, without having to fit loud aftermarket pipes. In fact, I'd say this quiet engine operation enhances the Kingpin's sense of integration and mechanical sophistication. Let's hope the cruiser enthusiasts soon begin to appreciate this quality too, before big brother steps in to suppress the racket.
Noise aside, the most important thing about a motorcycle is how it rides, and the Kingpin excels out on the road. It's fitted with a trick-looking inverted fork up front that is raked far enough to look cool, but with enough trail and resistance to flex to provide stable straight-line tracking and accurate steering. The fork is backed up at the rear wheel by a gas-pressurized monotube shock, so the Kingpin steers faithfully at any speed on the freeway, and can be braked hard without any sense of skittishness.
In fact, the stability of the Kingpin is so good that it withstood a hit from a passing semi-tractor at the right-hand bar end without falling over (at 5 mph, thankfully). The impact was hard enough to snap the brake-lever knob right off. Hard enough, we thought, to sink this 8-Ball in the corner pocket.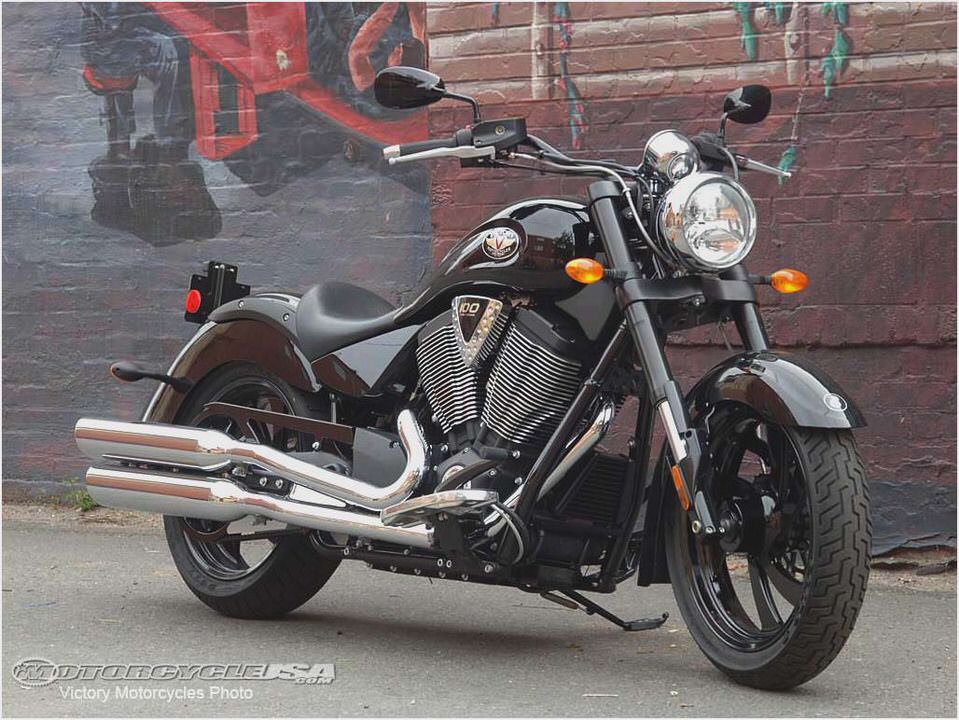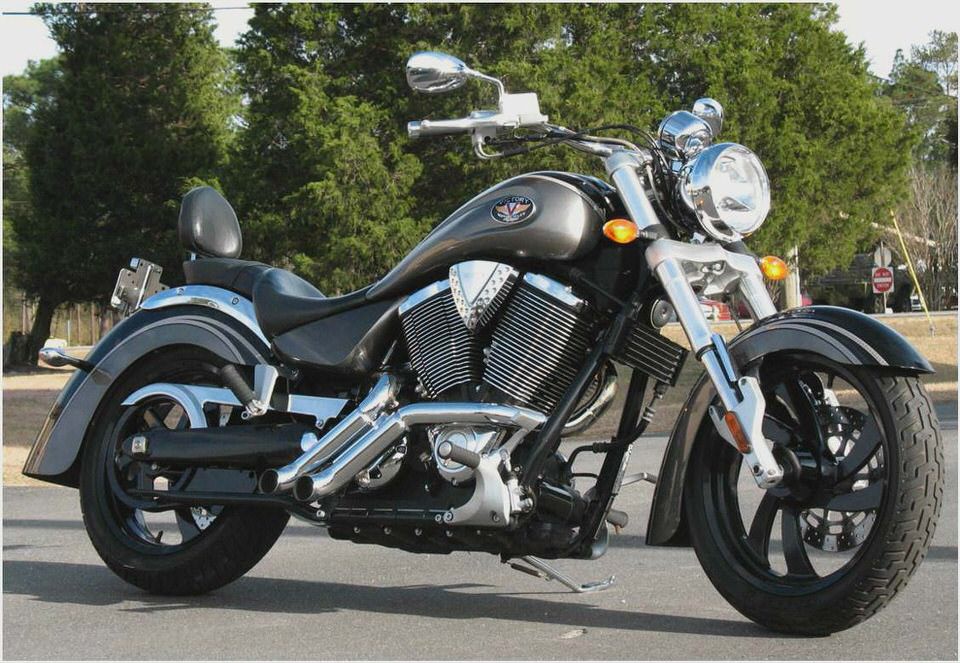 But the bike just jinked and kept going. Hey, we do these things so you don't have to!
This stability manifests itself in twisty environments too, where the Kingpin turns in responsively and sticks to its line very well for a bike of this type. It's much like a standard motorcycle in this regard, able to attack a twisty section of road with a combination of steering response, pitch control, and directional stability.
Although the 8-Ball's modest rear-tire cross section lacks the visual drama of the huge tires now seen on Victory's Hammer and other so-called custom cruisers, the bike tips into bends easily and predictably as a result. Most of those big-tired bikes have distinctly odd-feeling initial steering responses to offset their cosmetic appeal. Besides, the Kingpin doesn't need a fat rear tire since-like most other cruisers-its cornering ability is restricted by the lack of ground clearance under the full footboards that cruiser buyers prefer.
No big deal. This is true of most cruisers, and it hasn't stopped anyone from riding them. What's more, industry surveys indicate that this isn't even considered a problem by typical cruiser buyers. But you still need to watch those corner entry speeds, okay?
Slow in, fast out is the rule with these machines. And in that regard, the Kingpin 8-Ball has a respectable front brake to slow the machine down. It's only a single disc, but it's fairly large at 300mm, and it's gripped by a four-piston caliper.
Braking performance is surprisingly good, assisted in no small part by a rear brake that works well because of the bike's long wheelbase and even weight distribution.
There's an approachable aspect to the Kingpin that makes it an appealing ride. The controls and instruments are simple and straightforward, the accommodations comfortable and confidence inspiring. It's a no-nonsense bike for rides of any length, although the usual feet-forward stance can be tiring at high speed on a freeway.
But if you just crouch forward and let your arms and wrists go slack, you can even manage that for protracted periods, because the monoposto seat has a natural shape and relatively deep padding to keep the dreaded monkey butt at bay.
Regardless of Victory's strategy for blacked-out 8-Ball bikes (see our follow-up Victory interview tomorrow), the look of the Kingpin 8-Ball was approved by onlookers from at least two distinct groups. Dirck's teenage son and his friends loved the elemental look, while a group of fire fighters watching our photo shoot, ranging in age from mid-30s to 50 or so, also specifically complemented the all-black scheme.
All in all, we find the Victory Kingpin to be worthy of consideration by anyone looking for an American premium cruiser at a relatively low price. Particularly if that someone prefers to ride alone, and doesn't wish to buy what everyone else rides. The bike's appearance may well appeal to you stock, but it also provides an ideal starting point for customization (why pay for paint and chrome you plan on changing?).
The U.S. MSRP of the 2008 Victory Kingpin 8-Ball is $13,999. For additional details and specifications, visit Victory's web site here .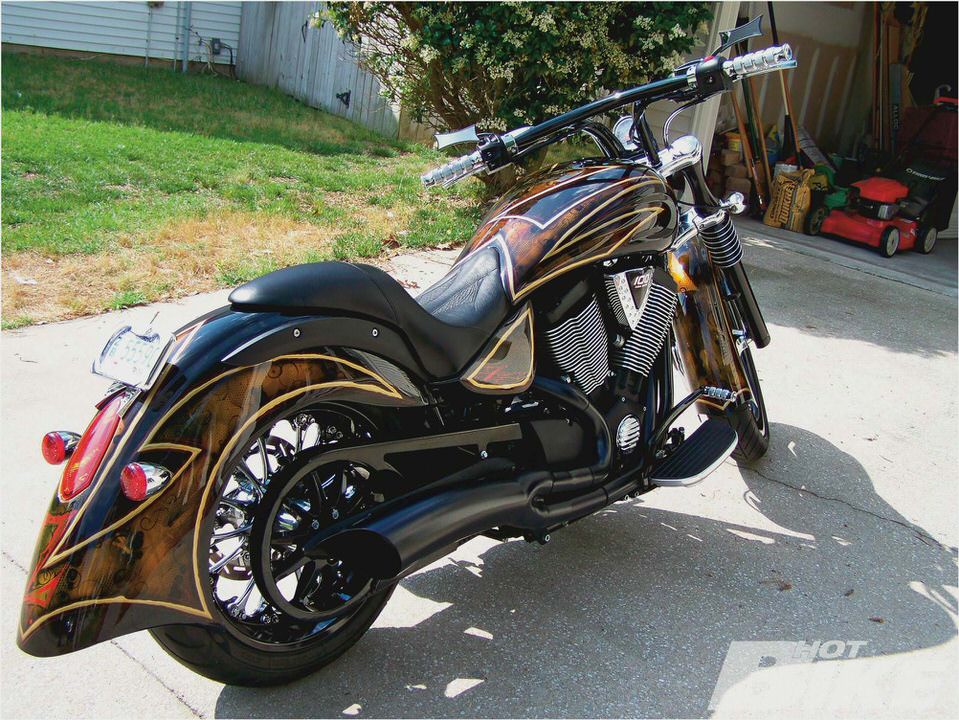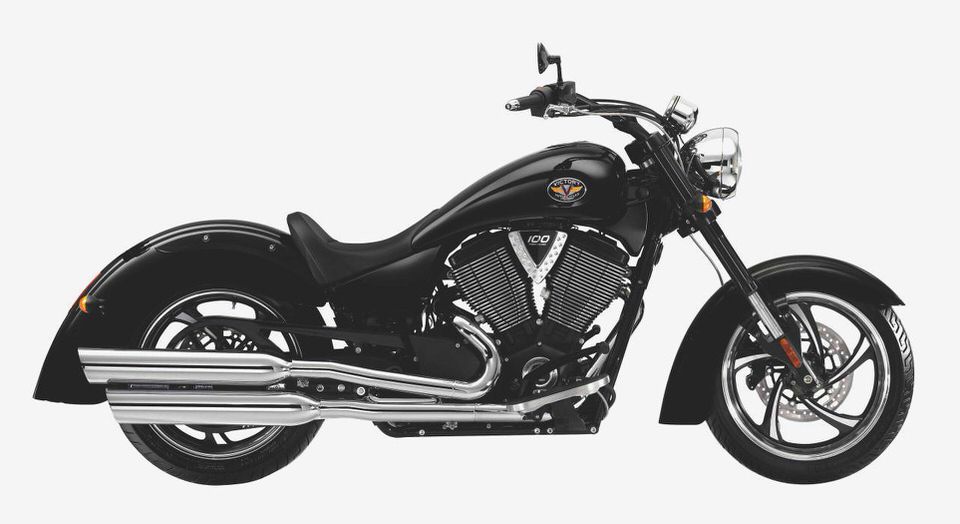 2013 Victory 15th Anniversary Cross Country Tour Limited Edition Review
2010 Victory Cross Country motorcycle review @ Top Speed
2012 Victory Cross Country Tour Road Test Rider Magazine
Victory High-Ball
Victory Motorcycles