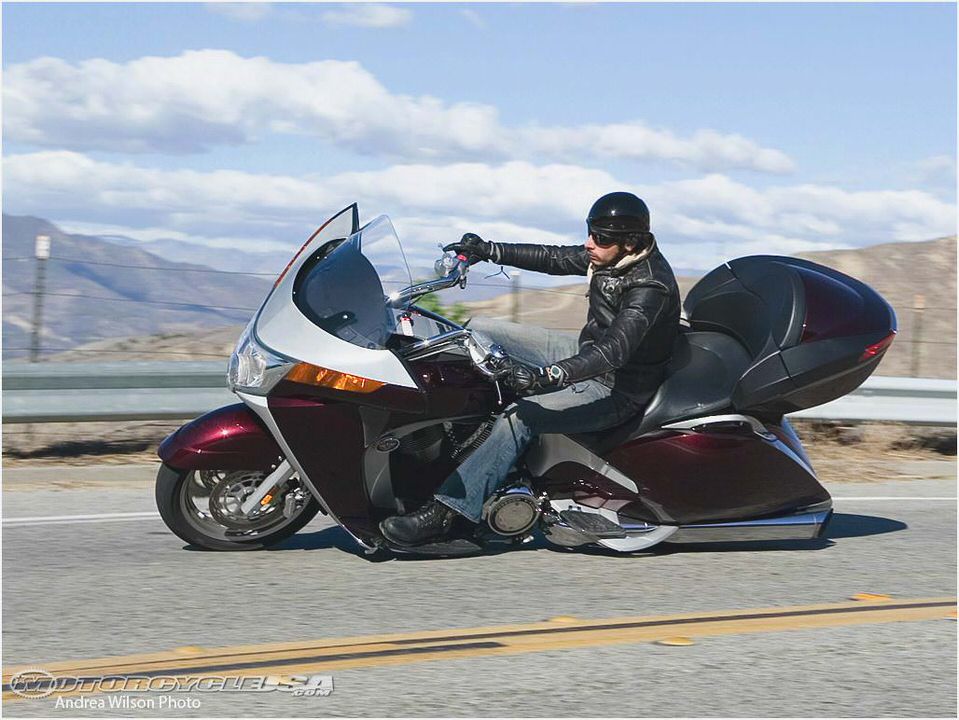 2008 Victory Vision Tour Premium
Photo by David Tong.
I recently returned from Montana on a working vacation, where I saw my first Victory Vision Tour at a dealership in Kalispell. Representative Steve Breck is a long time rider and was kind enough to offer me a test ride of this new bike.
As some of you who have read my previous submissions know, I have been a multiple BMW owner, having ridden /7 Airheads, late 80s K fours, and most recently, 2000-era Oilheads. I have a keen appreciation for functionality and Beemers usually have interesting technical and ergonomic features that lend themselves to long, comfortable days on the road.
I have also owned a 1988 Honda Gold Wing 1500 and have ridden Harley-Davidson Electra-Glides, so I have an understanding of what these bikes are about. Typically you trade handling for cargo capacity and seating comfort, speed for convenience options. These bikes usually come with their own set of styling rules, which tend toward the very conservative.
The Victory Vision obviously breaks this mold. Victory, a division of Polaris, the long time maker of snowmobiles and ATVs, polled riders for nearly three years in the formulation of this bike's design and feature set and it shows.
The frame is three separate aluminum castings; a steering head casting, an airbox and mainframe and a seating subframe. This pretty much insures lateral rigidity, so important for sound and serene handling over bumps at speed. The front fork is very conventional and non adjustable, while the rear shock is easily adjusted via a Schrader valve for ride height and load within the left saddlebag.
The ergonomic and comfort package was what I was mostly interested in. The interface between rider and bike on a long ride is critical and many thousands of miles on bikes have made me very picky. When I was younger, I tended to look upon forward feet seating positions with disdain.
Victory has something here. The seat height for the rider is just 26.5", but it has over 4 full inches of foam, nicely shaped and narrowed in front for putting your feet down at a stop, yet wide and flat to ride with behind, with decent if not outstanding lower back support via a molded step, if one is tall enough to take advantage of it (I could not, being only of 32" inseam and 5'10"). Moreover, the folding footboards are much longer than normal, which means a lot of position flexibility to be able to slightly change the riding position on those long jaunts, which is a great idea.
While seeing to the seat and feet, the handlebar is a custom looking affair that is neither round, oval, or rectilinear in shape. It seems to offer a well considered combination of "not too tall, not too low, not too wide" that provides good control, leverage and comfort for countersteering on twisty roads. There are hand controls for the standard cruise control, as well as audio control.
Plus, there is a left index finger toggle button that allows access to the trip computer functions. Gauges are electronic analog units, easy to read at a glance, while major audio controls are grouped over the false "tank" top a la Gold Wings. The bike has an i-Pod interface, with available satellite radio and Garmin derived GPS navigation as well.
Heated seats, grips, and a power operated windshield are familiar and comforting features for inclement weather.
Powering this 850 pound dry weight tourer is Victory's latest iteration of its "Freedom" V-twin. Again, similar to the Oilhead Beemer is its all alloy construction and use of oil with integrated oil radiator to keep operating temperatures low, along with the use of closed loop fuel injection to help manage emissions and driveability. It displaces 106" cubic inches and the factory claims 95 horsepower and 109 lb-ft. of torque.
What is nice is the hydraulic cam chain tensioner. I prefer chains to belts because of a perception of durability and the engine also has hydraulic valve adjusters to reduce maintenance.
The transmission is a six speed "true overdrive" type and shifts are very mechanical and somewhat clunky unless you "preload" the shifter when pulling in the clutch; again, much like the technique one uses with a BMW. Final drive is by carbon fiber reinforced belt, similar to a Harley-Davidson.
Power seems to be more than adequate, as is ground clearance for such a large and long (over 65") wheelbase machine. The bike has tip over protection under the rear footboards and at the base of the fairing to prevent major body damage in low speed get-offs. Tires are tubeless radials, mounted on cast alloy rims.
All of this sounds pretty "conventional," right? That isn't what you'd say when you first see one of these bikes; you'd be thinking, "WOW. what is that?" It has been reported that no other than Arlen Ness himself had a major role in the bike's design, which can be seen in the very long, flowing lines of the rear fender and its integrated taillight and saddlebags. Some may find this off-putting and too "out there."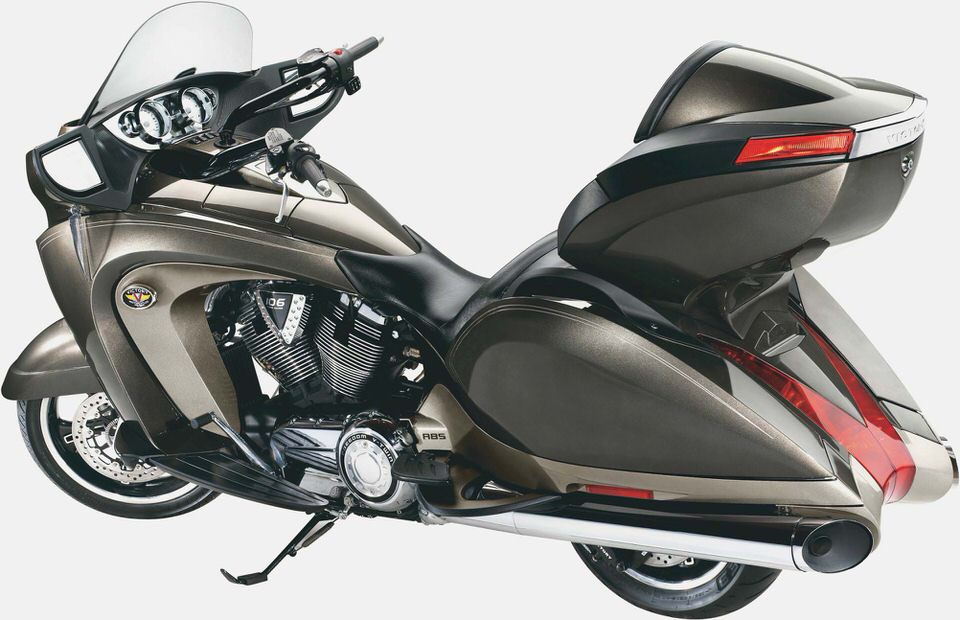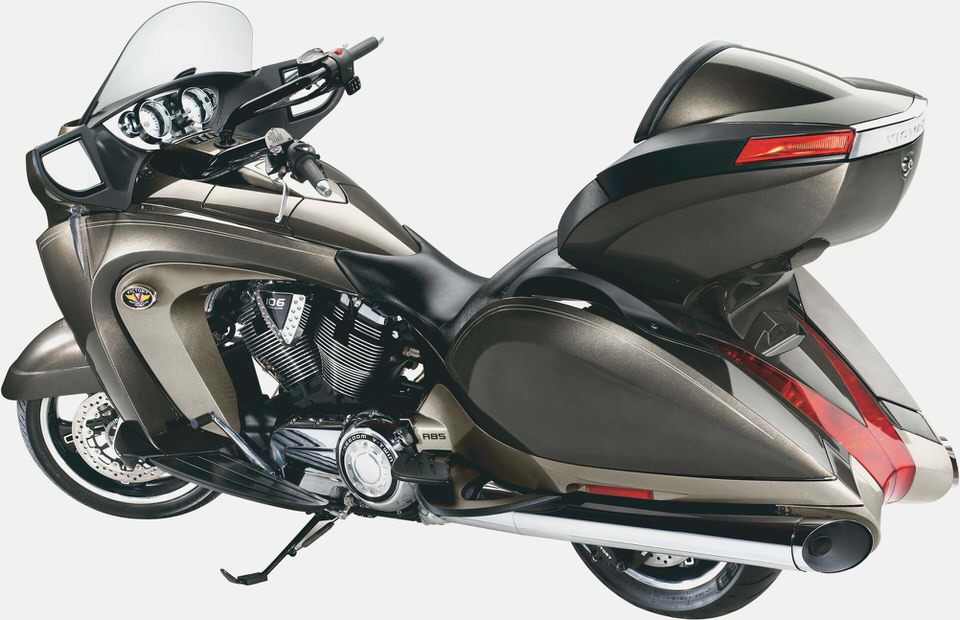 What is interesting to me is that this bike says (screams?) "We don't care how they do it in Berlin/Hammamatsu/Milwaukee." It is different, but it doesn't seem to lose functionality, quite the contrary. She's a stunner and it's up to you whether you like her or not. I happen to.
David on the Vision.
During my brief 30 mile test ride, I was able to ride around town and on some very pretty two lane country roads with some open sweepers. Other than some initial low speed top heaviness and fork flex, the bike handles lightly and surprisingly well at highway speeds. Steering and braking feel are good and the brakes are linked, with a rear proportioning valve that engages the center piston of the front brakes if it senses rear lockup, sort of a poor man's ABS.
The fairing and it's electric windshield provided good noise attenuation and very little of the "backdraft" that plagues big touring rigs and pushes against your back at speed. Two factory shield heights are available, standard and tall. I noticed some engine heat when moving in town at low speed, but this is normal for an air cooled V-Twin.
The exhaust note sounds great without being obnoxious on those long rides.
Demerits include the 849 pound dry weight, engine and transmission mechanical noise and the bike needs a fork brace to eliminate the low speed shudders by tying the two fork sliders together into a more rigid assembly. Further, the internal capacity of those huge looking bags is somewhat disappointing and the tail trunk is too bulky and placed too high.
The price runs right at $20,000 for the Tour, while the Tour Premium, with HID headlight and navigation, will be over $22,000. This puts the Vison in the ballpark with the Electra Glide Ultra, Gold Wing Audio and BMW K1200LT. The H-D will handle better at low speed, the Wing will possibly be more comfortable for very long trips and the Beemer will have high speed competence at the price of very top heavy low speed handling and questionable final drive reliability.
I think that the Victory Vision offers a worthy alternative to the conventional wisdom in the luxo-touring world and hope that the few nits I've picked here can be dealt with before I part with my hard-earned cash. It's that good.
Back to Motorcycles Riding Online
Copyright 2008 by David Tong. All rights reserved.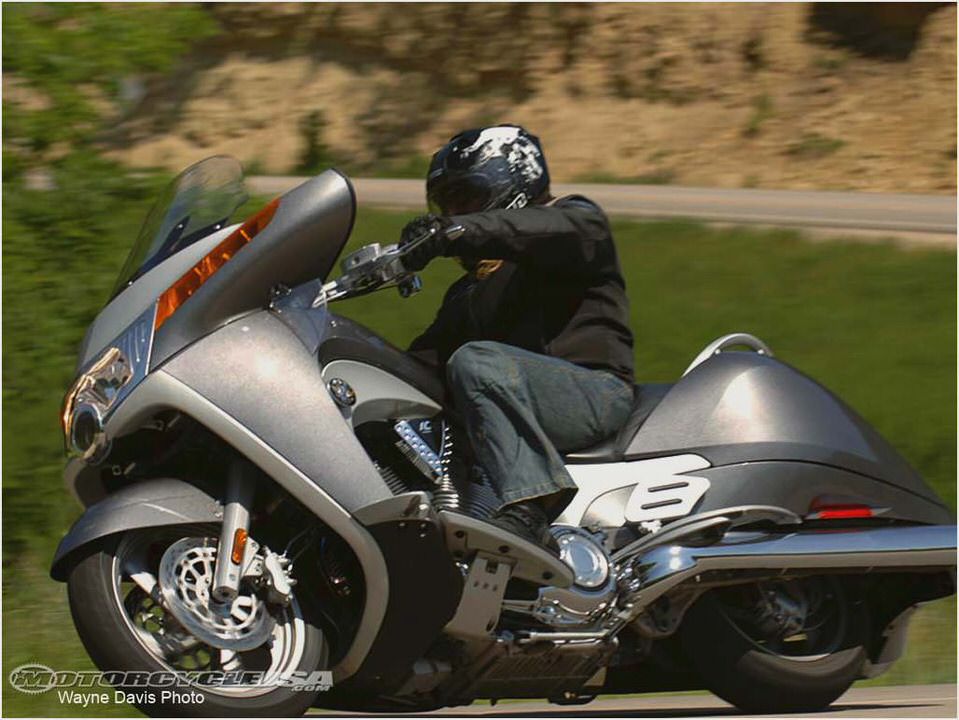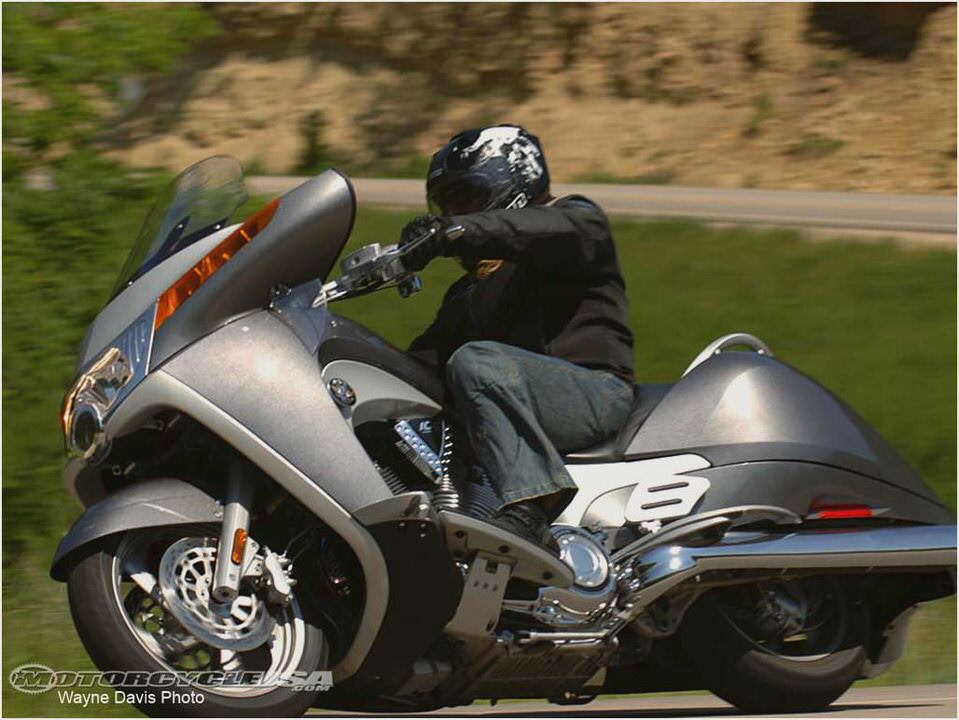 Victory Vision 800 consept [Archive] – TwoWheelForum: Motorcycle and Sportbike…
2010 Victory Cross Roads Review
2008 Victory Kingpin 8-Ball First Ride Review- Victory Kingpin Cruisers
Review of the 2010 Victory Vision Tour – Yahoo Voices – voices.yahoo.com
Victory Cross Country Tour Review – webBikeWorld