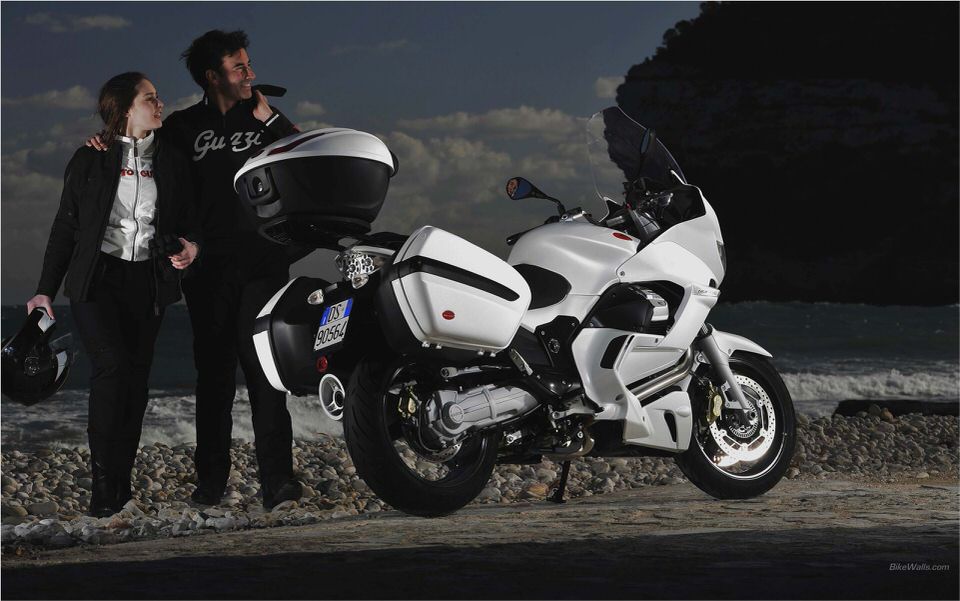 Specifications:
Introduction
In these past few years (ever since the 2006 launch), the Moto Guzzi Norge 1200 hasn't suffered any significant modifications and it is quite interesting if the bike manages both to shine brightly in front of the competition and offer a unique Grand Turismo riding experience.
The Italians sure had a great idea when they thought at increasing their 90-degree V-Twin, four-stroke engine's bore and stroke to 95 x 81.2 mm, resulting in a 1,151 cc displacement and a 9.8. 1 compression ratio. The jewel-like engine is what made a name for Moto Guzzi and the upgrade to Norge's 1200 cc version was the right move to make.
Not precisely a sports bike and not quite a veritable tourer, the 2009 Norge 1200 still goes strong with its 95 hp at 7,500 rpm and 100 Nm at 5,800 rpm. The Magneti Marelli fuel injection system leaves a big fingerprint on those performance figures and also on the fact that the bike meets Euro3 regulations.
This Guzzi is built for to eat up hundreds of miles in a single journey and still deliver both the rider and passenger fresh like two babies. It is also the kind of bike which you don't want to ride in a hurry simply because it offers proper accommodations that the crew onboard wishes to benefit of for as much time as possible. The six-speed is supposed to help keep things lively even at higher speeds and so long all the premises are right about the Norge 1200.
Built around a tubular cradle, high tensile steel frame, the Norge isn't all about performance and, as a result, it also features standard telescopic hydraulic fork with Ø 45 mm, preload adjustable offering 120 mm of wheel travel and single arm suspension with progressive linkage, rear shock absorber adjustable in rebound and pre-load (hydraulic) capable of 140 mm of wheel travel. On a bike in this category, things could sound much better, but at least there's optional ABS for the double stainless steel floating disc, Ø 320 mm, 4 piston calipers front brake and single steel disc, Ø 282 mm, 2 piston caliper rear one.
History
Moto Guzzi used to be a notorious builder of GT motorcycles in the past, but they haven't built anything new in the "new era" of motorcycling apart from the Norge, which was also called a late arrival when it was first unveiled at the 2005 Milan show.
Competition
The Norge 1200 was mainly created to cut in the touring segment that BMW dominated and still dominates with the RT series and in 2009, the BMW R 1200 RT is the bike still giving Moto Guzzi a hard time. Significantly bigger and much more touring-oriented, the RT is built to cover up long distances and it is backed up by a flat twin, four-stroke with eight valves OHV engine of similar displacement (1,170 cc) developing more than decent 110 hp.
There's also a six-speed gearbox and shaft final drive, but what significantly contributes at us calling it a veritable tourer is the optional Electronic Suspension Adjustment, allowing riders to set their suspensions with the push of a button. Other important options are the heated grips, heated seats and a premium sound system and cruise control.
While Japan's sport-touring segment is dominated by motorcycles powered by four-cylinder engines and the British remain faithful to three-cylinder ones, the Norge 1200 will have to settle with the BMW as an only appropriate competitor (not that it isn't enough for it or something).
Exterior
The other difference between these bikes is that, apart from their fairly different characters, they look mostly different. In fact, Norge's two close headlights integrated perfectly in the aerodynamic front end of the bike remind us of the Yamaha FJR. We did ask for some other opinions among the riders in our group and the similitude was confirmed although it wasn't called striking.
Moto Guzzi actually tested the Norge in the aerodynamic tunnel and the bike does look like it was designed like the perfect balance between comfort and proper wind deflecting. The windscreen isn't as tall as that of the BMW and the mirrors are mounted on the handlebars, which is something that we cannot like on a bike in this category.
You do get sharp lines, but if you look pass those you'll notice that the side fairing is shaped like a reversed "S". Designers had to juggle between the cylinders and exhaust pipes, making the aerodynamic fairing quite a tricky piece of the bike. Still, it makes it look good and masks most of the mechanical parts.
In fact, people are seeing only a cylinder head and an exhaust pipe on each side, which is enough for a fan to recognize the bike as being a Norge.
The seat is positioned at 31.5 inches from the ground and the rear end is pretty much composed by a pair of panniers and a topcase with a passenger backrest included, which is very nice to have. Other nice details are the LED taillights and signal lights, but also the color options available for 2009: Silver, Red and Graphite Black.
Test Ride
Moto Guzzi machines offer unique riding experiences, but we never got the chance to ride their grand turismo model, the Norge 1200, and this brought excitement on the scene. The bike isn't that big, heavy (542 lbs dry weight), nor tall and it fails to intimidate anyone who has spend some time even on the BMW F650GS. It allows the average sized rider to flatfoot the ground easily and brings the handlebars close to him, almost like begging to start riding it already.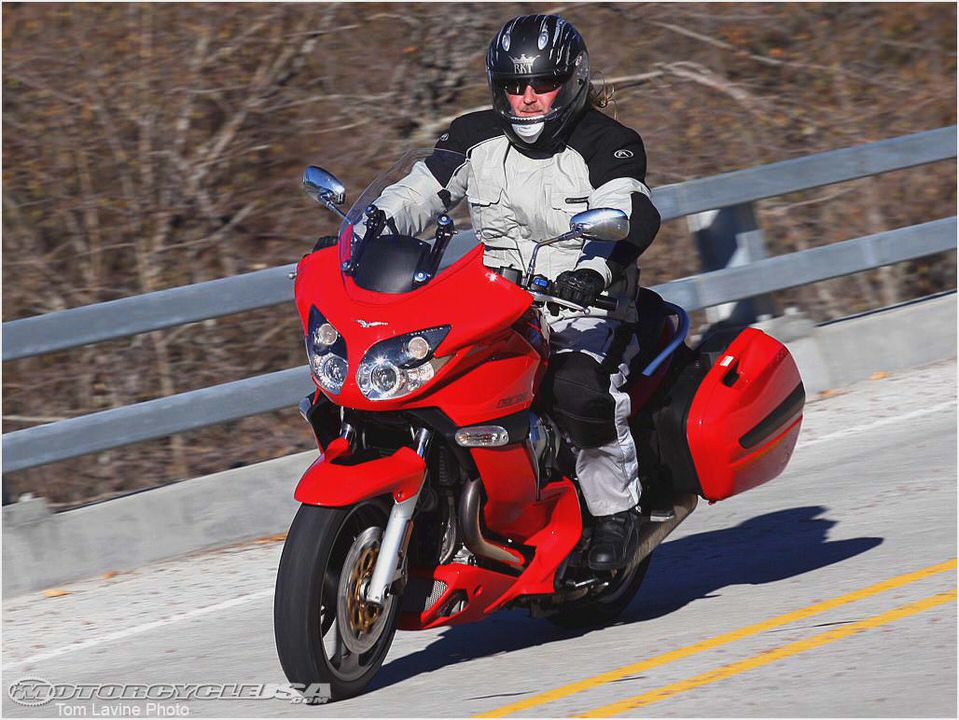 With a low center of gravity and proper mass distribution, the 2009 Moto Guzzi Norge 1200 manages to lose weight as the rider accelerates, but it doesn't perform poor at all when it comes to filtering traffic at slow speeds. That's when the mirrors, which seem inappropriately mounted on the handlebar, start proving effective too. The riding position is comfortable and although the handlebars are at quick reach, the footpegs don't allow for much front/rear rider movement, which is something that I dislike.
Let's get to the important stuff here. The engine is enough powerful to keep things interesting, but doesn't manage to provide a rush no matter how you may start riding the bike. It does feel lively and quite happy revving in between 4,500-6,500 rpm and the engine response is simply excellent all across the rpm range. This allows you to accelerate fast out of corners and feel happy with the bike that you and your passenger are riding in complete comfort.
It feels like this GT was built around the rider and the immediate effect of that is the feeling that you're riding in the bike instead of on it. The Italians have always been good at that and the Norge isn't a disappointment at all.
When pushed to its limits, you do get a slight buzz, but that's nothing bothering and it happens only when the rider literally forgets to shift. The clutch is very smooth and the gearbox feels precise. The ratios are fairly short for a bike in this category and that's because Moto Guzzi wasn't planning to lose any of the engine's grunt with too tall ratios.
Nobody will call the Norge 1200 a corner carver, but the bike won't start wondering around at any time. It does feel stable and quite natural at all times. It is very easy to lean it in and out of corners, the only mistake that a rider could make being to approach a turn with too much speed and miss it.
There's optional ABS for that, but nothing compares with paying attention.
Personally, I could have lived with fully-adjustable suspensions, but Moto Guzzi doesn't offer that as standard equipment and I guess the preload adjustable fork and rebound and preload adjustable rear shock are enough, considering the plushy seat as well.
Price
The MSRP of $15,590 doesn't set the Moto Guzzi Norge 1200 that much apart from the BMW R 1200 RT's $16,800 MSRP, but it's enough to make a difference for a Guzzist.
Conclusion
Overall, the Moto Guzzi Norge 1200 is a more than satisfying ride that can prove effective for years and years of traveling. It is quiet, offers good comfort and wind protection without satisfying beauty. What more could a budged-oriented buyer ask for?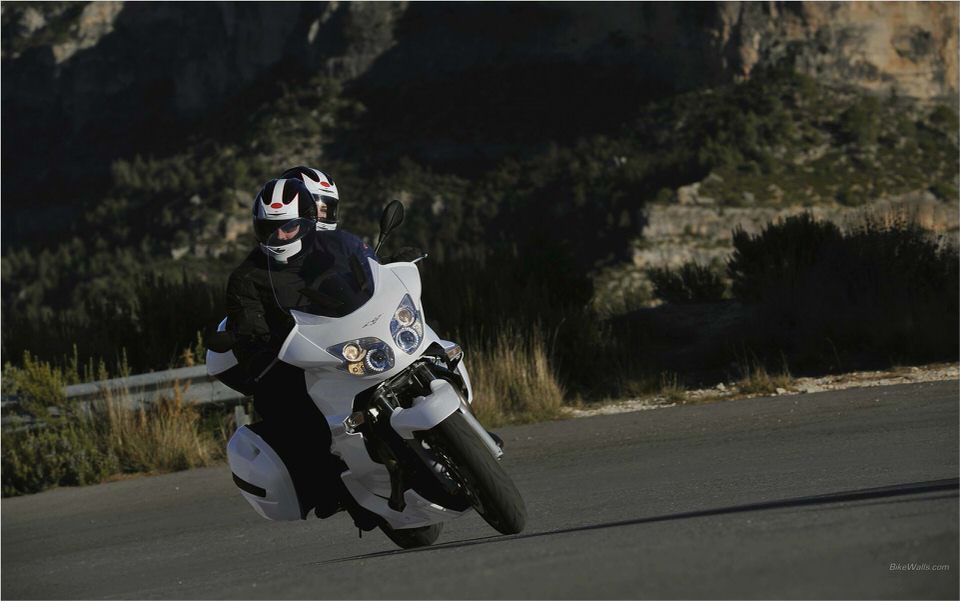 '78 Moto Guzzi Le Mans I – Revival Cycles Pipeburn.com
Moto Guzzi Centauro Owners Impressions
2008 Moto Guzzi Griso 1100 Motortrend
First Impression: Moto Guzzi 1100 Sport –
Moto Guzzi California Vintage‏ Review – Ultimate MotorCycling