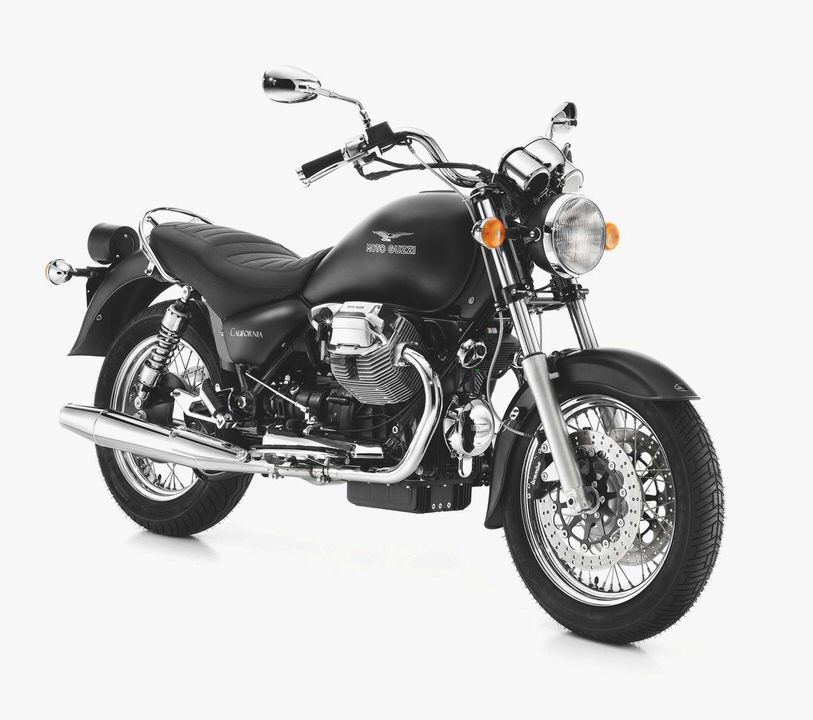 2013 Moto Guzzi California 1400 Touring | First Ride Review
2013 Moto Guzzi California 1400 Touring 2013 Moto Guzzi California 1400 Touring 2013 Moto Guzzi California 1400 Touring 2013 Moto Guzzi California 1400 Touring 2013 Moto Guzzi California 1400 Touring
2013 Moto Guzzi California 1400 Touring Test
Forever connected to the Los Angeles Police Department, which used the Moto Guzzi V7 Police in 1970, the new 2013 Moto Guzzi California 1400 Touring is a modern extension of that original platform. Virtually completely new this year, the 1400 Touring is the best California in the 42-year run of the model name.
The big news is the 2013 Moto Guzzi California Touring's 1380cc motor–the largest twin to ever come from Europe. It's still an air-cooled V-twin, and this latest version has an overhead cam and four-valves on each cylinder, with each combustion chamber fired by twin spark-plugs. 

Usable power is simply stunning.
Peak muscle comes on early–89 ft/lbs at a mere 2750 rpm–and then it revs out to a respectable 96 horses at a surprisingly high 6500 rpm (the redline is 7000 with the soft rev limiter kicking in a bit later).
Riding the California 1400 Touring, one can't help but be impressed by how well the motor works. You get the strong surge down load, and you can shift as early or late as you please.
The electronics package on the 2013 Moto Guzzi California 1400 Touring is impressive and useful. There are three power maps for the oversquare Moto Guzzi 1400 powerplant that features a 104mm piston that is thrown 81.2mm each stroke–Veloce, Turismo, and Pioggia. Yes, Moto Guzzi left the Italian names in the well designed, easy to read and manipulate dash.
Veloce is the performance mode, which means is spins up freely and has the advertised power numbers.
Turismo is for touring, as one would guess, and it has the exact same power curve, but with slower revving and a softer delivery. Pioggia takes care of you in the rain, with less power and even slower revving.

For the most part, the Turismo setting is the way to go. It's sportier than you'd expect, and both fast and completely non-fatiguing. That's not to say that the Veloce setting will wear you out, but most of the time the extra responsiveness is completely unnecessary.
Of course, when it's wet, click on Pioggia.
The ride-by-wire Marelli electronic system also offers traction control (three settings–the most intrusive was fine), plus an easily activated and set cruise control that works much better than mechanically based designs. 

Moto Guzzi has rubber-mounted the new 1400 motor, giving it quite a different feel. At a stop, you'll want to keep your hands off the bars, as everything is vibrating freely.
However, just add a few rpm and the California Touring smoothes out immediately.
One might be skeptical of the handling of a rubber-mounted Moto Guzzi. No need. The 2103 California 1400 Touring is a nimble creature that rides with an astounding level of intuitiveness. Very little bar pressure is needed to change direction–just lean and go.
Switchbacks are shockingly unchallenging, and the 742 pounds (curb weight, claimed) just seem to disappear on the mountain roads.
The Moto Guzzi's non-adjustable suspension (save preload in the rear) is a large help. It's fairly tightly sprung with good compression damping, plus fairly light rebound. This keeps the suspension high in its travel, so the cornering clearance is simply outstanding.
If you touch the floorboards down, you are leaned way, way over.
The Dunlop D251s (a common OEM tire) will hang in there as far as you're willing to go, until the boards touch lightly. The 18-inch front and 16-inch rear is unique, and it works. The steering is light, yet the bike stays settled into turns unless you decide to change lines.
When you do, the bike reacts without complaint.
Riding in some nasty wind through mountain passes, the 2013 Moto Guzzi California 1400 Touring refused to complain. The bike stayed solid in crosswinds, though my body was being hit fairly hard from the side–very impressive. Head on or with a tail wind, you won't even notice the harsh wind. The windshield is low and wide, so you look over it, but the protection is more than adequate.
Guzzi got it just right.
If you need to slow down, the radially mounted (!) Brembo calipers clamp down decisively on a pair of floating 320mm discs. Initial bite is soft, as it should be, but a good grip is rewarded with serious slowing. The rear 282mm disc is less impressive, though you can push on the pedal as hard as you like without worry. The ABS is always on, and works smoothly.
You'll feel a slight pulse, and the rear will not break traction.
Putting hundreds of miles with only gas breaks is easily done on the 2013 Moto Guzzi California 1400 Touring, thanks to superb ergonomics, the excellent windshield, and a highly supportive seat cupped seat that is padded just right. The buckhorn bars are narrow for the cruiser tourer class, but all the leverage you need is available and your arms aren't hanging out in the wind.
The California 1400 Touring hard bags are sizeable, and will carry more than enough for a weeklong ride. They lock, and there's an integrated alarm system so people won't monkey with your stuff. Enhancing safety, there are two large running lamps with the huge multi-reflector headlight, and the turn indicators aren't shy in size.


Our initial rides on the 2013 Moto Guzzi California 1400 Touring have left us stunned.
Its immediate predecessor was an idiosyncratic bike that worked pretty well. This motorcycle still has a few endearing idiosyncrasies, but now it is simply an outstanding tourer that will stand out in any crowd. The styling and finish are high-class, and it gets positive attention and comments from riders and non-riders alike.


If you are in the market for a full-size cruiser/tourer and the 2013 Moto Guzzi California 1400 Touring isn't on your list, you need a new list.
Riding Style:


Helmet: HJC RPHA Max
Jacket: River Road Roadster
Gloves: Roland Sands Design Domino
Jeans: Icon Strongarm 2
Boots: Tour Master Vintage 2.0 Road
Action photos by Don Williams
2013 Moto Guzzi California 1400 Touring Technical Specs:
Engine:
Type: 90° V-twin engine, 4-stroke, 4 valves, double ignition
Cooling: Air and oil and an independent cooling pump. Oil radiator with thermostat controlled fan.
Engine capacity: 1380 cc
Bore and stroke: 104 x 81.2 mm
Compression ratio: 10.5:1
Timing system diagram: Intake valve opens 19° BTDC (1-mm checking clearance); Intake valve closes 55° ABDC; Exhaust valve opens 49° BBDC; Exhaust valve closes 12° ATDC
Maximum power: 96 HP @ 6500 rpm
Maximum torque: 89 ft/lbs @ 2750 rpm
Fuel supply / Ignition: Phased electronic Multipoint sequential injection, Magneti Marelli IAW7SM; "ride by wire" Ø 52 mm throttle body, IWP 243 Magneti Marelli injectors, double oxygen sensor, integrated management of 3 engine mappings, traction control, cruise control
Starter: Electric
Spark plugs: NGK LMAR8F, 2 per cylinder
Exhaust system: Stainless steel, 2-in-2 type, three-way catalytic converter with double lambda probe
Type approval: Euro 3
Transmission:
Gearbox: 6 speeds with final overdrive
Gear ratio values: 1st 17/38 = 1: 2.235; 2nd 20/34 = 1:1.700; 3rd 23/31 = 1:1.348; 4th 26/29 = 1:1.115; 5th 31/30 = 1: 0.968; 6th 30/24 = 1: 0.8
Primary drive: With helical teeth, ratio 26/35 = 1:1,346
Final drive: Double Cardan joint and fixed bevel gear seat, drive ratio 10/36 = 1: 3.6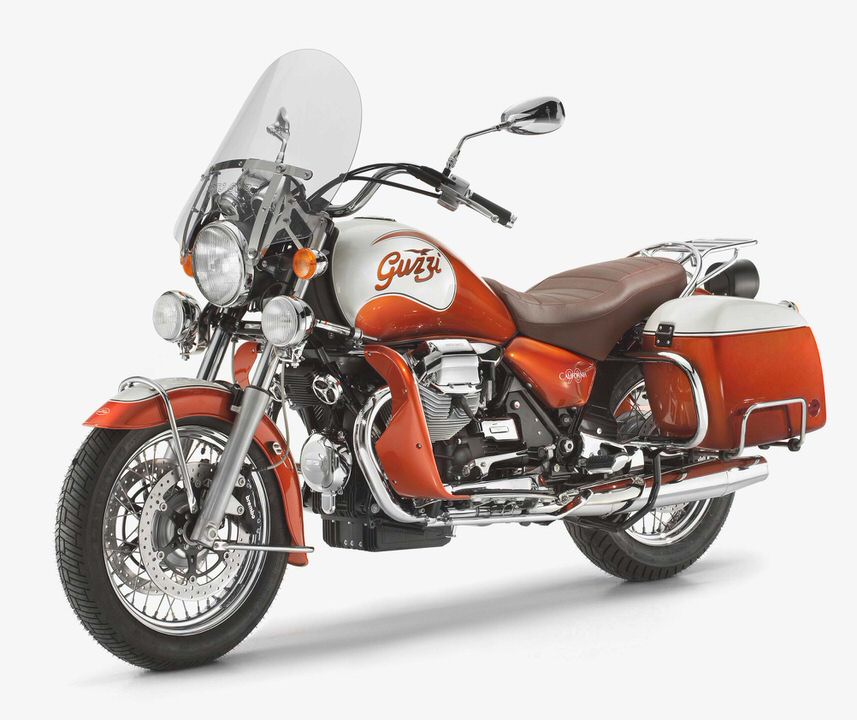 Clutch: Single-disc with integrated anti-vibration buffer
Chassis:
Chassis: Steel tubing, closed double cradle with elastic-kinematic engine mounting system to isolate vibrations.
Wheelbase: 66 inches
Trail: 6 inches
Headstock angle: 32°
Steering angle: 38°
Front suspension: Standard swingarm, 46 mm, with radial caliper mounting bracket and telescopes on the stanchions
Front wheel travel: 120 mm
Rear suspension: Swingarm with double shock absorber with adjustable spring preload.
Front brake: Dual 320 mm stainless steel floating discs, Brembo radial calipers with 4 horizontally opposed pistons
Rear brake: 282 mm stainless steel fixed disc, Brembo floating caliper with 2 parallel pistons
Wheels: Aluminum alloy
Front wheel rim: 3.50" x 18"
Rear wheel rim: 6.00" x 16"
Front tire: 130/70 R 18"
Rear tire: 200/60 R 16"
Electrical System:
System voltage: 12 V
Battery: 12V – 18 Ah
Alternator: 12 V – 550 W
Dimensions:
Length: 96.2 inches
Width: 40.5 inches
Height: 57.5 inches
Saddle height: 29 inches
Minimum ground clearance: 6.5 inches
Curb weight: 742 lbs (fully equipped)
Fuel tank capacity: 5.4 gallons (Reserve 1 gallon)
My Short-Lived Guzzi Romance Awesome Adventures
Moto Guzzi National Owners Club – Out and About – Guzzis Galore at 20th…
California Cool Makes a Comeback: 2013 Moto Guzzi California 1400 – Classic…
Search Results – Squadra Guzzista
Destinations: California Highway 58 – Classic Motorcycle Touring – Motorcycle…