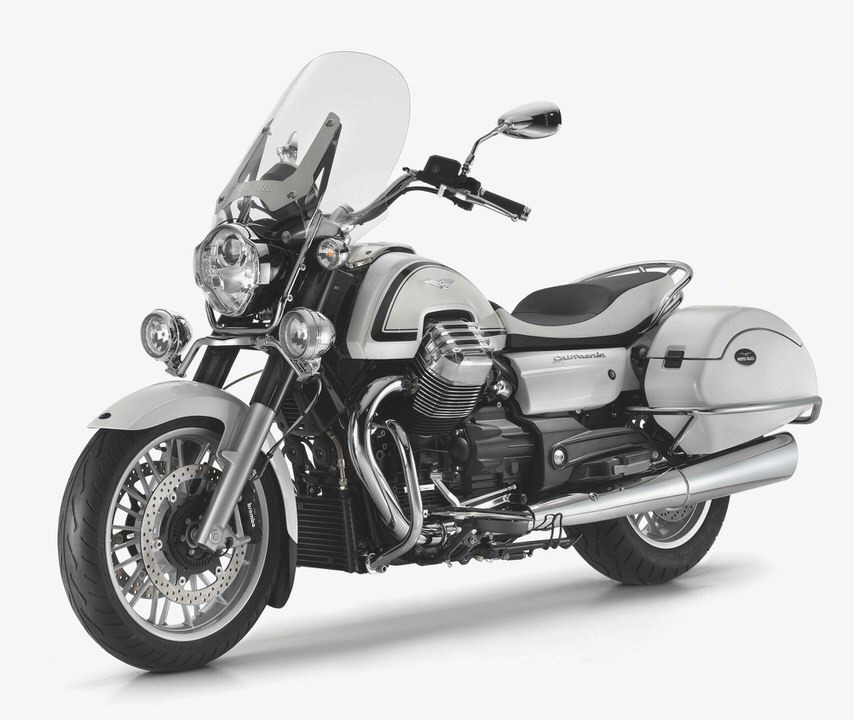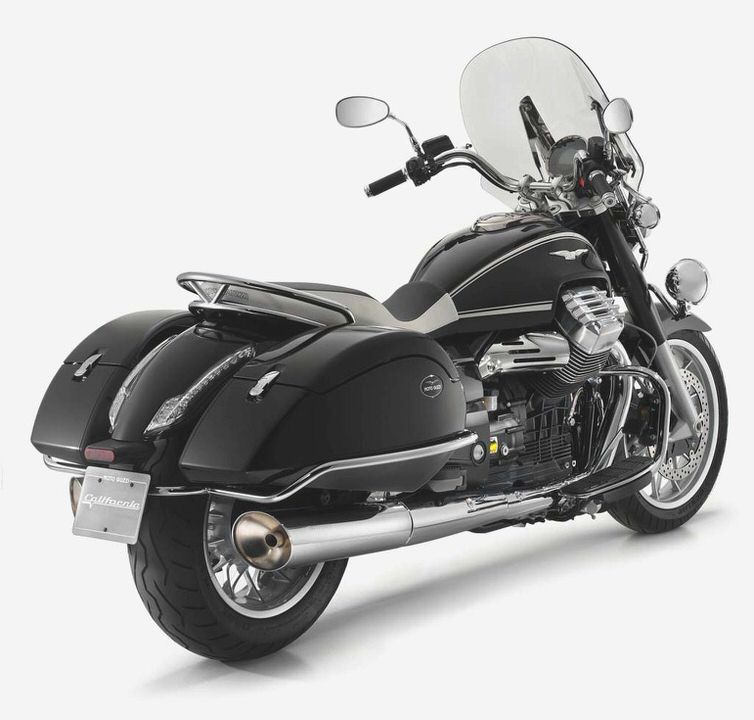 Moto Guzzi California 1400 launched!
On November 13, 2012, Moto Guzzi history was made with the launch of the new California 1400 at EICMA show in Milan. Two versions are being made available and both are built in the famous Mandello del Lario factory in Italy.  The two models launched are the California 1400 Touring and the Custom.
The California Touring is a bagger that comes with the following features: stylized hard bags (35 liter capacity each), windshield, touring handlebars, touring saddle, chrome tube guards up front for the engine and at the rear for protecting the hard bags, three selectable engine performance modes, traction control, cruise control, and anti theft.  These features are all standard equipment on the Touring.
  I have to say, my California Vintage now seems 20 years old when I compare it to the new 1400 Touring.  More about that further down the page, but first let's move on to the new 1400 Custom.
The California 1400 Custom is what Moto Guzzi describes as the "wicked sister" to the Touring model.  With drag bars, a lower seat, no windshield and no bags, the Custom seems to take on the role of a technology-driven street cruiser with three selectable performance modes, traction control and cruise control standard on this bike same as on the Touring model  Since the Custom has no side bags, the advanced rear shocks get to show off their external reservoirs that provide for improved suspension performance and a custom racing appearance.
Unlike the recent past, a huge range of well thought out factory accessories are offered by Moto Guzzi for the new California to help owners customize their new beast.  Those add-ons include such things as slip-on exhaust pipes; black chrome handle bars; additional LED lights and LED turn signals; a lower windshield; leather-covered side bags; various brackets and covers;  billet aluminum levers, grips and mirrors.  Other more practical accessories include a choice of two different trunks of 50 or 60 liter storage capacities, heated grips, and passenger foot boards.
Personally, I'm blown away by this major step forward from Moto Guzzi.  They have not only join the ranks of modern full size touring and cruiser motorcycles, but they have establish new standards by offering advanced technology as standard features on this class of motorcycle, and by manufacturing the largest v-twin production motorcycle engine in Europe.  Congratulations to all at Moto Guzzi and thanks to Piaggio for supporting this project!
On the other side of the coin, I have always been fond of the simplicity of the Moto Guzzi California .  This new California 1400 really kicks things up a notch away from such simplicity.  I'm not saying this is a negative, but is a different approach.  One could argue that the now "old" California was lagging too far behind in design to be competitive on the market.  The engine was "small" for the class of bike it usually got grouped into as people like to categorize motorcycles.
  I never considered 1064 cc small, but the new 1400 (1380 cc) certainly brings Moto Guzzi more up to speed with their Asian and American competitors in the Touring and Custom classes.  Do we really need that much engine displacement, of course not.  Do we tend to like big engines?
  Yes.  However, weight and cost are two very important issues when choosing a motorcycle.  I don't know exact numbers yet ( UPDATE:   The 2013 list prices per Moto Guzzi USA are Touring $17,990 ; Custom $14,990 ). In the end, the bike is an obvious winner in my book
Technical Specs per Moto Guzzi published data:
Weight:  337 kg (743 lbs) fully equipped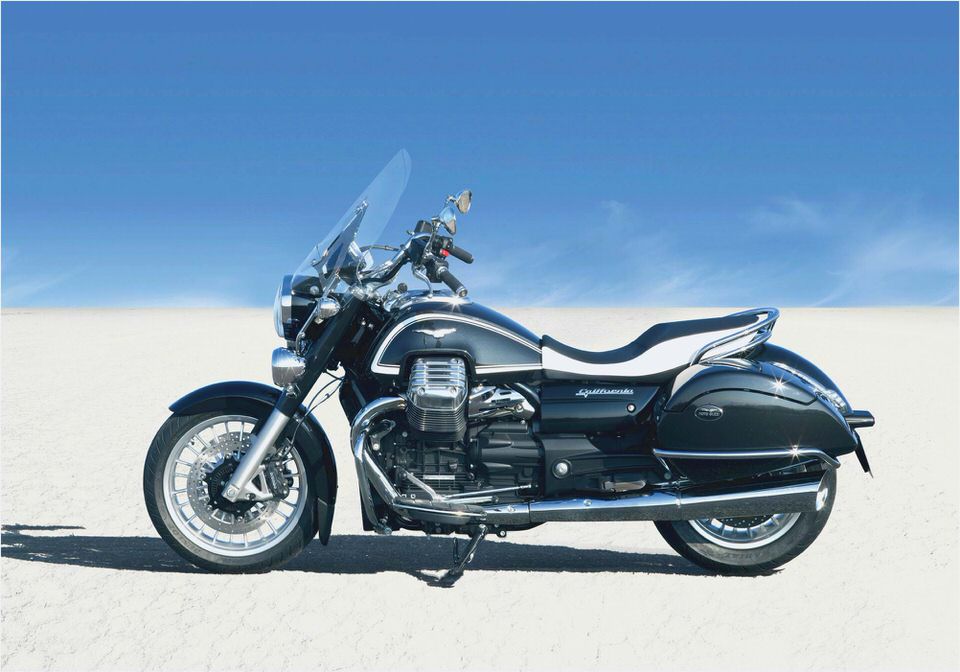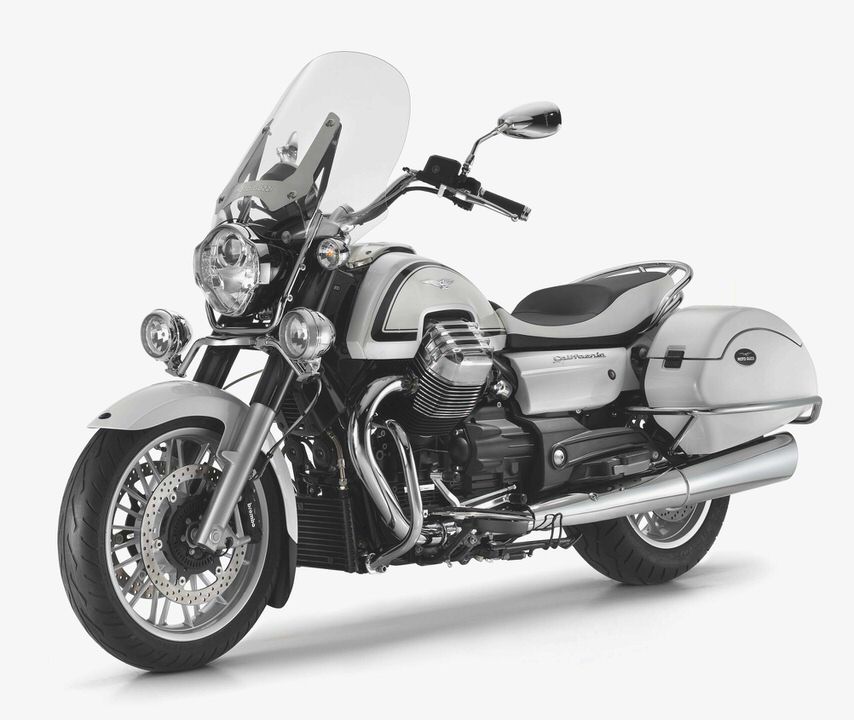 Power:  71 kw (95 hp) at 6500 rpm
Torque:  120 Nm (88.5 lbs-ft) at 2750 rpm
Engine Displacement: 1380 cc
Bore x Stroke:  104 mm  x  81.2 mm (approximately 4.095″ x 3.197″)
Alternator:  550 Watt
Transmission: 6 speed manual
Front Tire:  130/70 R 18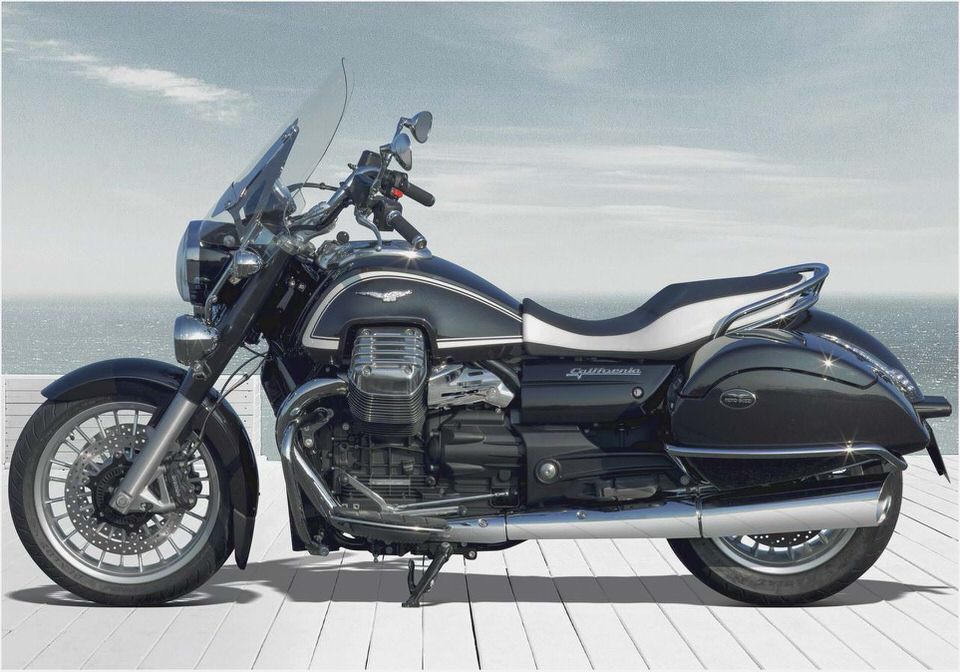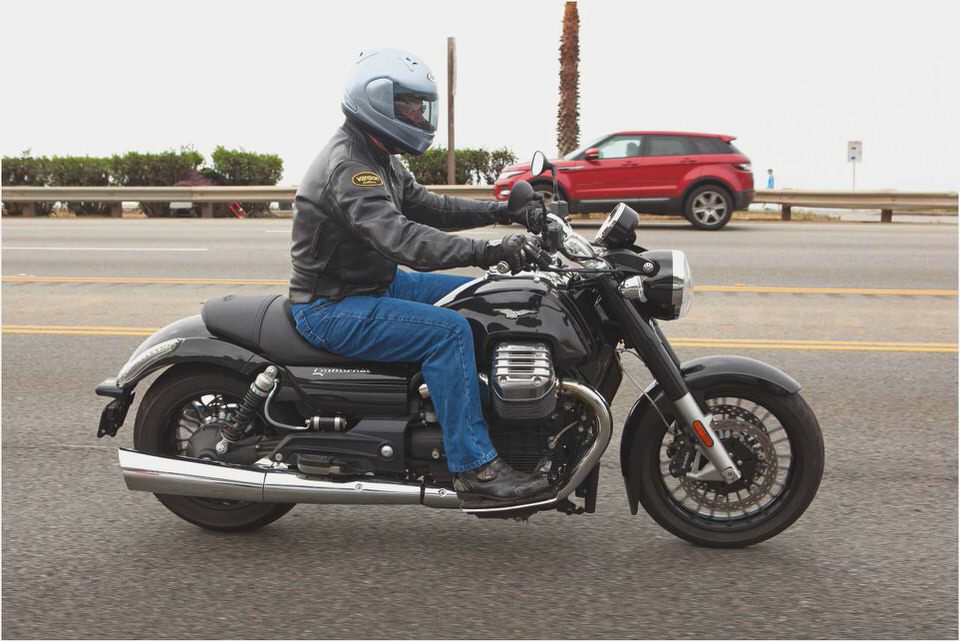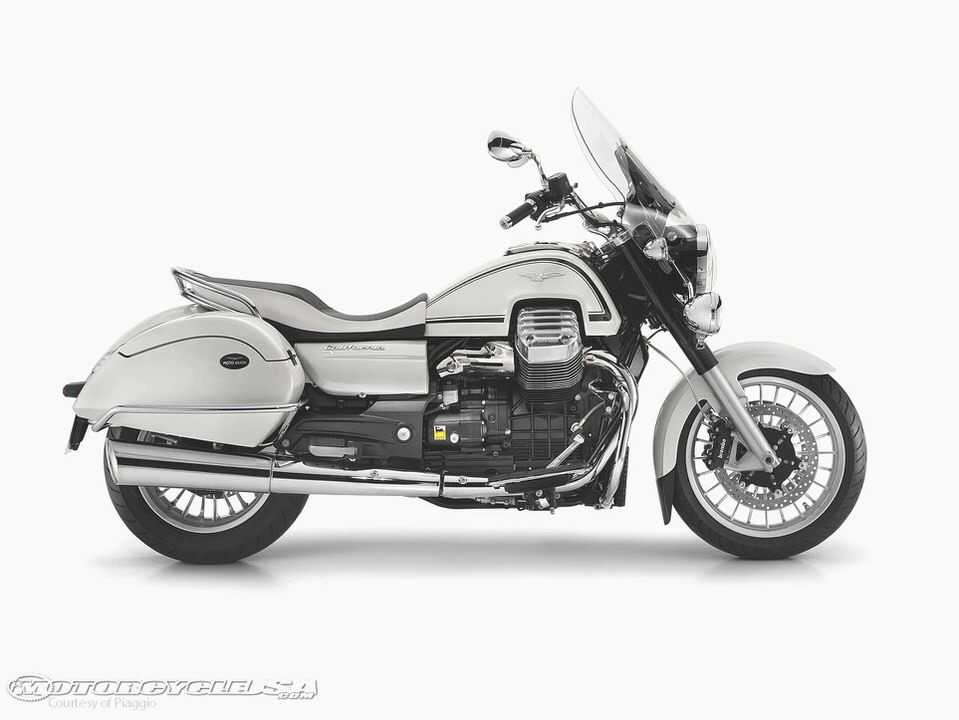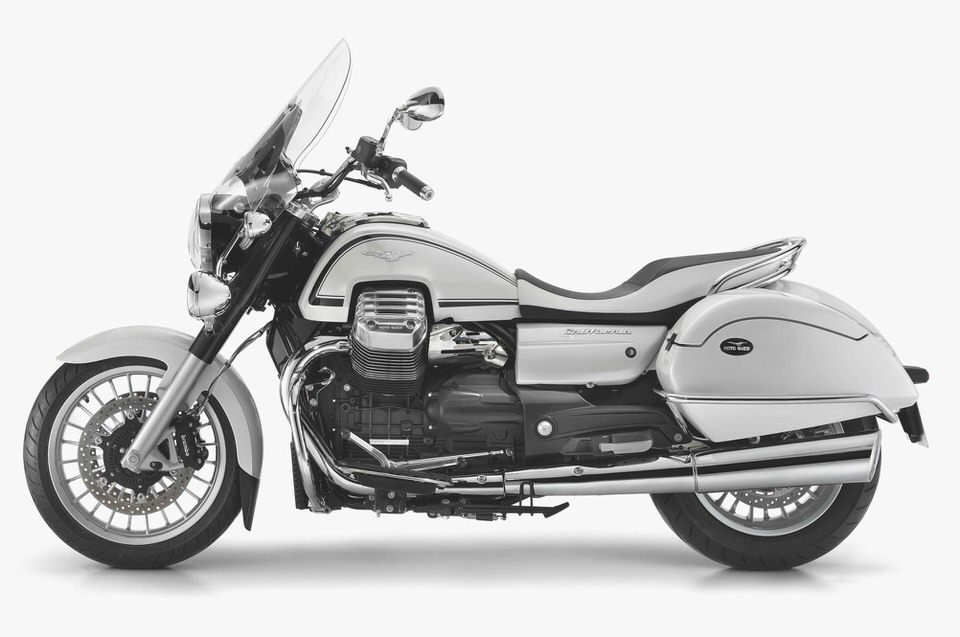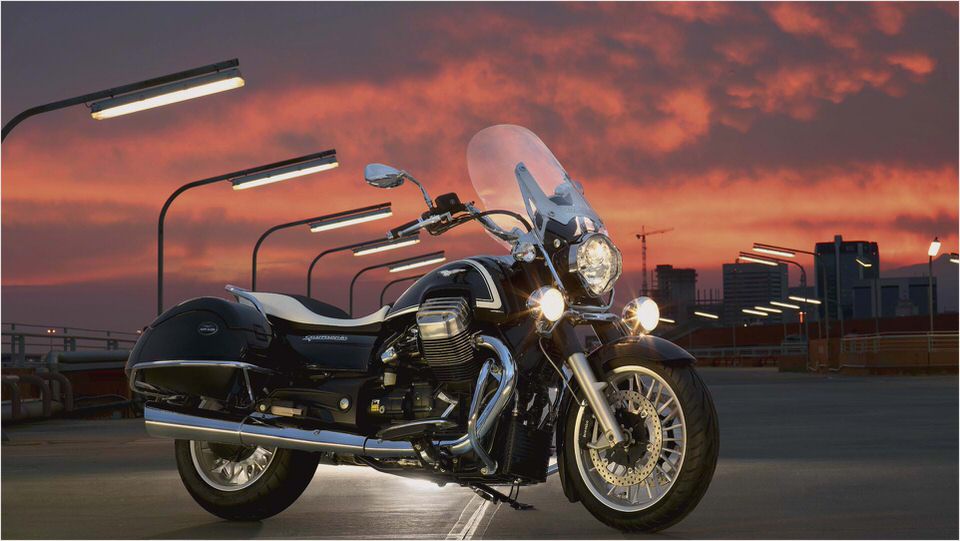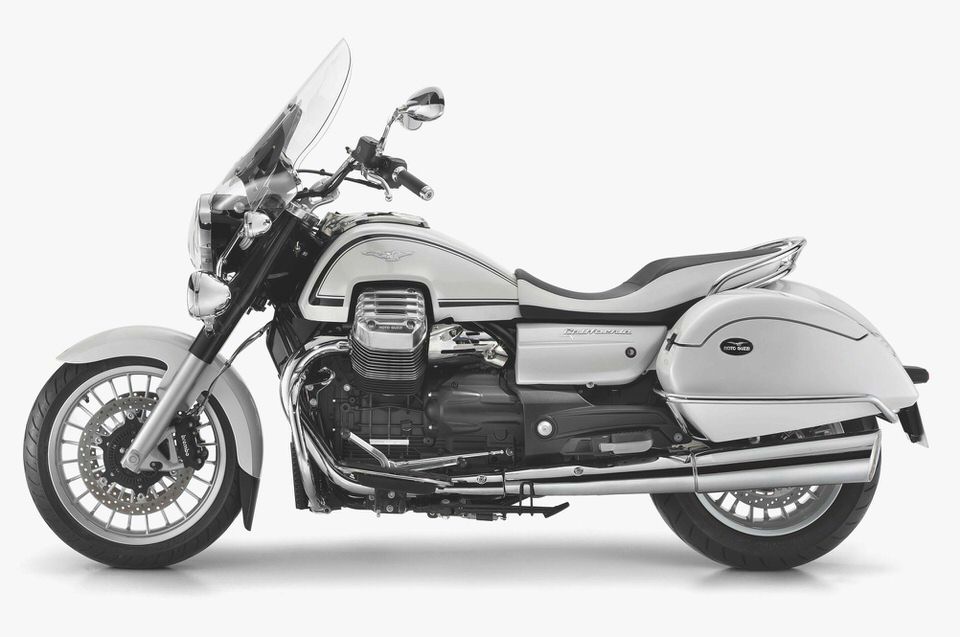 1999 Falcone Southwest Tour
2014 Moto Guzzi California 1400 Test Ride And Review: One Bad Moto Guzzi…
RealClassic.co.uk: 1978 Moto Guzzi T3
Top Ten Bad Ass Motorcycles Indyposted
Moto Guzzi V65 by El Solitario