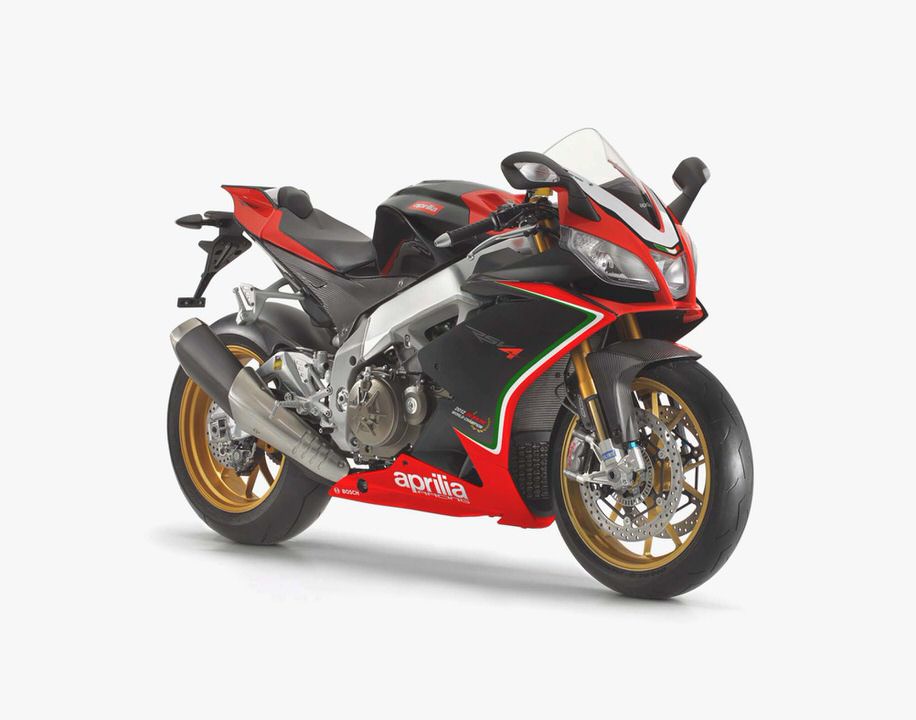 2010 Aprilia RSV4 Factory
Motorcycles developed on the race track then refined for street use are all around us. Kawasaki's official brief for its sportbike line is that they are racetrack ready, and Honda's CBR1000RR was developed by a team whose leader came directly from the company's MotoGP program.
Yamaha's World Superbike championship-winning machine features a crankshaft borrowed from MotoGP practice, and Suzuki's GSX-R range has long been associated with the factory's racing activities. Just lately, we've had BMW join the fray with its S1000RR —a machine that went racing even before it became available to the public.
And there's the Aprilia RSV4 factory. a motorcycle that allows steering head and engine-position alterations as well as the usual suspension adjustments. Its new V-4 engine features electronic "fly-by-wire" throttles and variable-length intake ducts to optimize torque delivery across an operating range that extends beyond 14,000 rpm.
Small and compact (although surprisingly heavy at about 460 pounds), the Aprilia might have been designed specifically for Max Biaggi, the rider who has taken it to four wins so far this season. The racing intent is so clearly expressed by Aprilia's new bike that it met with some resistance from the racing community. Because Aprilia's new model focuses specifically on winning races, there was at least one official complaint from the competition about its legality.
But the Noale factory is really making RSV4s in quantities that will meet the homologation requirements, so nobody can stop the company from racing the bike. The Factory version with its sophisticated specification is clearly the homologation model necessary to qualify the bike for FIM competition, and as such runs a pretty lofty $20,999 retail sticker.
But Aprilia is also fielding an RSV4 R version, which does without the factory's Ohlins suspension components, the adjustable steering and engine-mounting features, and even without the variable-intake system. As a result, the R version is stickered at a much more reasonable $15,999.
Neale Bayly rode the RSV4 Factory on the track at the machine's international introduction (Click Here) and liked it despite the rain that marred the event. Neale outlined all the technical aspects of the new bike, so we'll refer you to that article. Meanwhile, we've just had one to ride on the road, and the real question for us is, does this make a satisfactory street machine?
Expert riders only
Since a track-focused literbike with over 150-horsepower at the rear wheel is not suitable for beginners, nor advisable for intermediate riders, we'll dispense with those parts of our usual smartcycle format, and proceed on the understanding that only expert riders would consider one of these very fast, very expensive, very dedicated sportbikes.
You'd expect a fairly radical riding position on a machine like this, and you get it, but my main concern with the ergonomics—even at 6-foot-five—is the hard seat. It's a real plank for a day in the saddle, and while we understand the need to keep the seat height low, a little more padding would be appreciated.
The footpegs are high at 15.75-inches off the deck (seat height is 32.75-in), and the handlebars are low, but the seating position still compares favorably with Ducatis and it is similar to the competing literbikes in the market. When we picked up our test bike, the ride was brutally firm, probably having been set up for someone's track test and not restored to the factory default settings.
After softening the fork spring preload and dialing out a bit of damping at both ends of the bike, the ride improved dramatically, but it's never going to be as plush as a tourer. Nor should it be. Anything that compromises this bike's lightning turn-in responses and light handling characteristics would mar an otherwise brilliant chassis.
This thing changes direction in a way that completely belies its weight. And then, once it's heeled over, the bike feels rock steady and eager to add more lean angle if called upon. There's plenty of cornering clearance, and communication from the tires' contact patches is clear and reassuring.
It doesn't take long to realize that one can barely tap the bike's potential on the street.
To nobody's big surprise, there's plenty of power. The V-4 makes reasonable torque at low to middling revs, given enough throttle, and then just climbs its extensive rev range with ever-increasing intensity. It pulls briskly through the bottom end of its operating range, and then takes off like a rocket.
The top-end hit on this thing seems never-ending, and it was surprising in its vehemence time after time.
The shifter felt a touch mechanical, and its short throws began to hurt my left instep after a while, but gear selections were positive and quick. There's a slipper clutch to damp torque-reversal loads during quick downshifts, and I could feel the mechanism even during fast upshifts, when there was a brief re-engagement delay at the lever.
Finding neutral at rest was a challenge, and even looking for it while coasting to a stop produced numerous over-shot selections. But you learn to live with it. Out in the canyons, where you aren't thinking about gear shifts as much as you are path control and vehicle placement, the gearbox just becomes an extension of your foot.
Having so much power and a nimble chassis to accompany it presents certain challenges. What's appropriate speed for the road? When the bike feels like it could take a corner much quicker than you usually do, is it smart to pick the pace up?
It all depends on the run-off room, I think. And in the canyons there isn't much of it.
Of course, that's the recurring question surrounding literbike ownership. Could you be just as fast on a 600? In the case of the RSV4 Factory, it's almost as if you were on a 600. That's pretty much how it feels to muscle around in the mountains.
A 600 with a turbo.
The public highways are another matter. Although the bike has enough flexibility to manage commuting and even a little easy touring, there are aspects of its character that become problematic. The sound and vibration levels are much better above 5,000 rpm, and if you spend much time below that engine speed, the exhaust sound is not that harmonious.
In fact, there are annoying resonances that become quite wearing, particularly if your earplugs aren't tightly in place. And the power delivery at sub-5,000rpm wasn't particularly seamless, either. The RSV4 is also mechanically pretty loud, so warbling down the freeway between cars and having the sound bounce around as you go can become tiresome.
I, for one, began to feel sorry for the car drivers.
Thinking that the variable intake-tract system was aimed specifically at generating more top-end power (a point that seems to have been proven by dyno pulls of the RSV4R model, which is devoid of the system and has peculiar dips in the torque curve not shared by its Factory sibling), I tried running the bike in traffic in the Road calibration mode—the slowest of the three choices provided by its three-mode menu. To no avail.
I'm not sure if this kind of rough and noisy behavior is typical of all RSV4 Factorys. Nobody else has written about it, and several reviews have remarked on the smooth midrange power delivery. Perhaps these writers did not ever ride in heavy traffic, forced to run at small throttle openings at low speed.
Notwithstanding, as far as I'm concerned, I'd rather ride just about anything else in that situation to avoid repeating the experience.
Other manufacturers can calibrate their machines for smooth and refined power delivery even at low engine speeds when there is very little torque being produced. BMW and Yamaha also use variable intake and exhaust geometry control to enhance power delivery across the range, and both of them pull smoothly and quietly from low engine speeds.
As I said, perhaps this Aprilia was an exception. But in any event, it's arguable that motorcycles designed with the track in mind ought to spend most of their time there. For sure, I'd advise any aspiring RSV4 owner to consider the bike primarily as a track day toy.
Unless, of course, that person lives somewhere that never experiences heavy traffic.
Despite the issues I encountered on the Southern California freeways, the RSV4 Factory is undoubtedly a remarkable achievement by Aprilia, reflecting not only the company's extensive road racing experience, but also its design and engineering flair.
Aprilia Dorsoduro 1200 First Ride- 2012 Aprilia Dorsoduro 1200 V-Twin
2009 Aprilia Shiver 750 GT ABS performance picture comparison news
2006 Aprilia Scarabeo 500 with ABS – Used 2006 Scarabeo 500 ABS at Motorcyclist…
Full Review: 2008 Aprilia SportCity 250 Scooter
2011 Aprilia Dorsoduro 1200 Review [Video] –