2010 Big Dog Bulldog Road Test
Dan Gingerelli
March 29, 2010 [This 2010 Big Dog Bulldog Road Test was originally published in the April 2010 issue of American Rider ]
Big Dog's new Bulldog is a touring motorcycle. Though you might have to look beyond its gleaming polished billet-aluminum trim and flashy paint job to understand what I'm talking about. And don't let the Bulldog's lengthy wheelbase—all 6 feet, 3 inches—play with your mind, either.
For that matter, you can also overlook the fat Avon rear tire—typically a customizer's delight—that measures 250mm across its tread, and let's not even discuss the rakish 34-degree steering-head angle that extends those 41mm-diameter inverted fork legs and that 21-inch wheel practically into the next time zone.
Instead, believe me when I tell you that the Bulldog is a touring bike—a capable touring bike at that. It has a handlebar-mounted fairing that packs an Alpine sound system to make the ride more bearable while chasing the horizon. And you won't be traveling empty handed—attached to the polished rear fender struts you'll find a pair of form-fitting fiberglass saddlebags, each capable of holding up to 15 pounds of carry-on for a long-distance ride.
Never mind that the bags' lockable lids reveal tight quarters; the fact remains that they're there for you to stow your gear.
Comfort an issue? Then place your feet on those stylish rubber-deck floorboards. Your passenger can do the same when it's time to ride two-up. You'll also find backrests for your backseater and you to help relieve some of the annoying back pain frequently associated with sitting all day in the saddle.
Speaking of the saddle, our bike's optional accessory two-passenger seat was crafted by Mustang Seats, a company known for designing and stitching comfortable yet stylish bun-huggers for American V-twin motorcycles. If you're not sold on the Mustang seat's extra padding, you can opt for the Bulldog's lower-profile standard-issue seat with lines that more closely follow the rear fender's silhouette. In either case your butt will be riding only about two feet off the deck, meaning this bagger enjoys a low center of gravity for a more controlled ride.
The Bulldog has familiar and user-friendly hand controls including a rubber-ribbed throttle grip. Center: At freeway speeds the fuel-injected 111-inch engine's exhaust roar will override your tunes. Bottom: You won't find much storage space in the 15-pound capacity saddlebags but Big Dog claims a more convenient luggage rack is in the works.
The 210 Big Dog Bulldog scores additional high marks as a touring bike because Big Dog designed it to be a bagger first, a custom bike second. This is not a Big Dog Wolf or Mastiff that's been superficially groomed with a fairing and saddlebags.
Instead, the Bulldog is an all-new platform incorporating a rubber-mount frame to cradle the big 111-cubic-inch SS Cycle engine and Baker right-side-drive six-speed overdrive transmission—Big Dog Motorcycles' tried and tested drivetrain package—for a smooth ride. Final drive is handled through a 1.125-inch-wide belt.
If that's not enough for you, a pair of Works Performance nitrogen-charged rear shock absorbers concealed behind the saddlebags helps soak up the bumps in the road, and the Bulldog has perhaps the most refined fork I've yet to experience on any Big Dog. There's ample spring and damping rebound to keep front-tire chatter at bay without disrupting the smooth ride, and the additional 3 degrees of rake in the triple trees helps plant a friendly 4.8 inches of trail in the steering geometry to minimize fork flop.
If you judiciously modulate the throttle and clutch at low speeds, you can complete a feet-up 180-degree turn with the Bulldog on two-lane blacktop. I know because I did it numerous times during our photo session on a mountain road. That's how user-friendly this 768-pound bike really is, and it gives you an idea how docile it can be in a parking lot.
Yet keep in mind that the laws of physics still dictate that form must take a backseat to function, so you'll feel some fork flop under these conditions.
All this is good and well but it's on the open road that you'll truly enjoy the Bulldog's performance. The big billet engine gets you up to speed in no time, and thanks to its closed-loop electronic fuel injection, throttle response is seamless and instantaneous.
Our bike was equipped with an optional performance SuperTrapp exhaust that helped the single-cam engine breathe even easier, and those sweeping pipes emitted just enough growl to give this Dog both bark and bite when you twist the rubber-ribbed throttle grip. Thwack the throttle in any gear—even sixth—and you'll be rewarded with a surge of acceleration.
That SS engine motors you down the road with minimal vibration, which will make you pleasantly surprised when you glance at those custom-like mirrors and are actually able to see clearly what's behind you.
Still most of your attention will be focused on the road ahead as you peer over the Bulldog's abbreviated windscreen. Negotiating turns is easy, requiring only a slight tug on the split pullback handlebar and only minimal effort to the handgrips once you bank in for a turn. The Dog easily bends into the turn, but don't lean it too much because you'll scrape some of its hidden hardware, the biggest culprit being the exhaust pipe.
Straight-line stability remains rock-steady, so you can tour with authority over the interstate or on gently winding country roads.
There's little drama in slowing down and stopping the Dog. A pair of four-piston Performance Machine brake calipers modulate 13-inch front and 11-inch rear rotors, and while the braking force won't yank your eyeballs out of their sockets, the brakes do an effective job of keeping the Bulldog obedient at any speed.
The Bulldog chassis and drivetrain are packaged with a new batwing-style handlebar fairing that does a good job of shielding the rider from the wind. There's little helmet buffeting at freeway speeds as most of the air is directed around you. But don't get too excited about the two-speaker sound system; it's only good for listening while riding around town because engine and exhaust noise, coupled with the wind blast, overwhelms any tunes you might want to sing along to while at speed.
For the record, the Alpine system has a detachable face, and is AM/FM, MP2/XM/iPod capable. There's also a pair of accessory power outlets bracketing either side of the iPod holder.
For the most part the remainder of the Bulldog's fit and finish is what we've come to expect from Big Dog Motorcycles, which is to say of high pedigree. I was, however, disappointed in the saddlebags' cheesy locking mechanism, but I'm told that will be rectified with later models, and a more user-friendly luggage rack is in the works, as well. Otherwise, workmanship is top-notch and it's all backed by Big Dog's two-year, unlimited-mileage warranty.
The bike's most stunning feature, though, is its paint job. Big Dog Motorcycles prides itself on offering quality paint jobs in a wide variety of colors and schemes, so seldom do two Dogs look the same. The buffed and polished paint adds extra depth to the Bulldog's groomed appearance, and no doubt more than one of these custom baggers will be rewarded with a Best of Show at bike nights this coming riding season.
Potential Bulldog customers shouldn't buy this bike for that reason, though. Instead, the motivating force to plop $39,900 on the table should be based on the bike's ability to handle moderate distances both comfortably and in style. To that end the Bulldog shouldn't disappoint.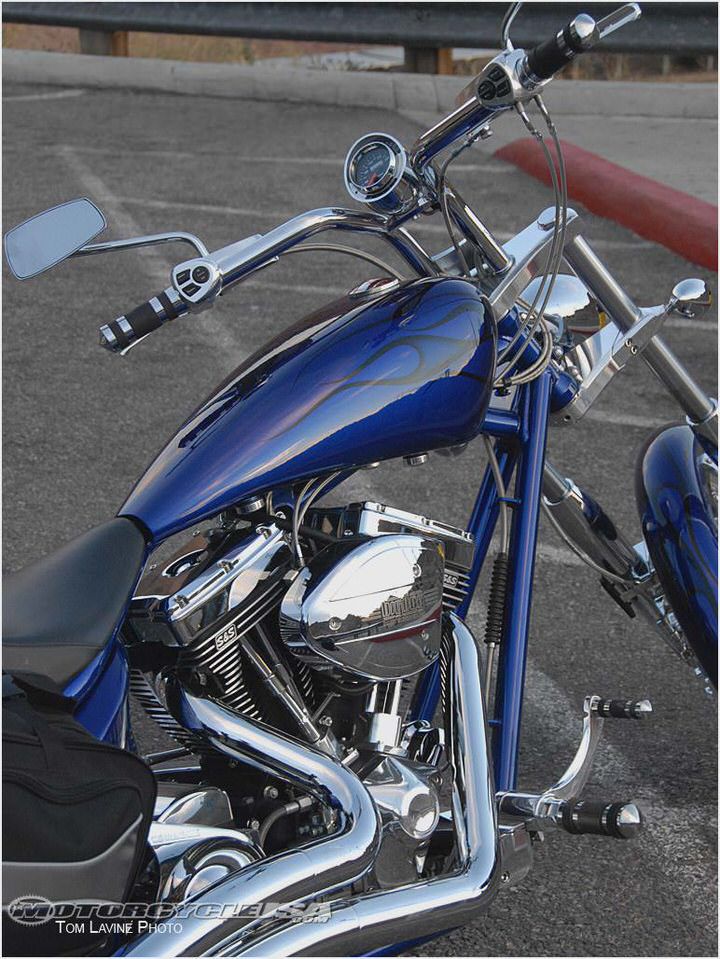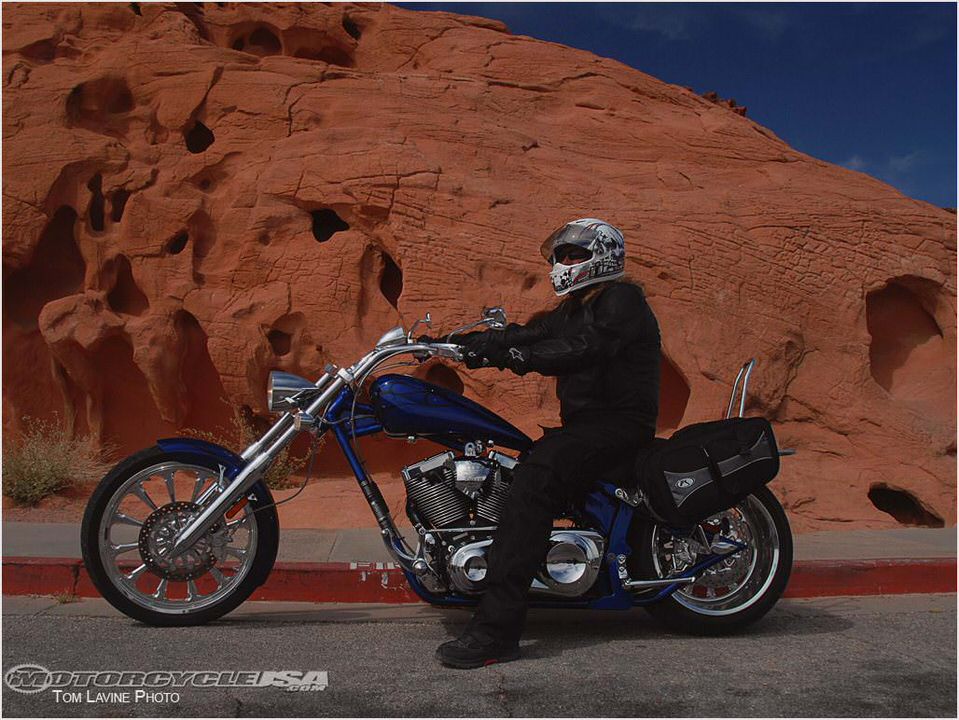 Used 2006 Big Dog K-9 – Reviews, Prices and Specs at Motorcyclist Magazine
200-Hp Voxan Wattman is world's most powerful electric cruiser
Mastiff Dog Breed Information
Big Dog Motorcycles Introduces 2010 Chopper – Motorcycle USA
Temecula Police K9 Teams