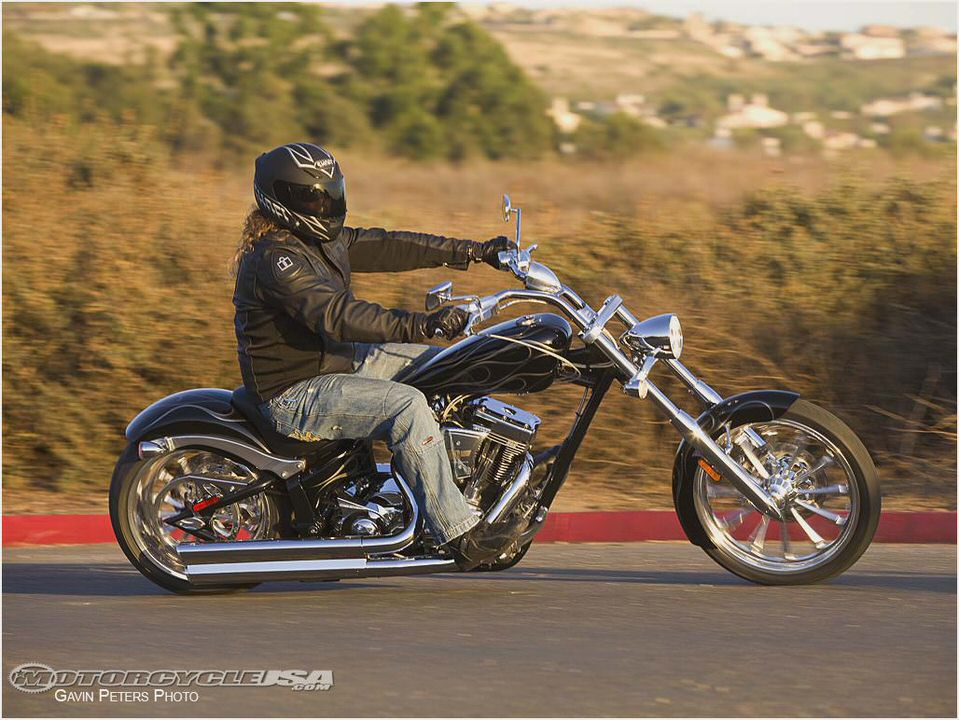 Riding Impression: 2009 Big Dog Wolf Stunning style and a 121-cubic-inch SS X-Wedge.
Photography By Brian Blades
The cruiser landscape has changed a lot since Big Dog Motorcycles opened its doors in 1994. Back then, it was almost impossible to get a Harley-Davidson without your name first being at the end of a long list at the local dealer, and so there were many so-called "clone" makers that popped up to help fill the demand.
Big Dog was to some extent one of these builders, but with the help and enthusiasm of founder and rider Sheldon Coleman (his family of camping-gear fame), Big Dog has evolved into a genuine Original Equipment Manufacturer while most other small "custom" makers have failed.
Certainly the product blueprint is from Milwaukee for many of BDM's 45-degree V-Twin bikes, but the latest machines—based on aesthetics alone—are like none other in production. And, in fact, with the Wolf shown here, power comes from the SS X-Wedge, EPA- and CARB-legal like all of Big Dog's engines.
Despite our technical interest in this Wisconsin-designed-and-built, 56-degree V-Twin, it is tempting to talk only about the styling and finish of the Wolf. Pictures do not do this motorcycle justice. The quality of the paint and chrome is amazing, the fit and finish equally stunning, and the overall impact and presentation—thanks to the contoured swingarm, huge (23-inch front and 20-inch rear) wheels and flowing bodywork—is that of a show bike.
Yet the base price is $35,900; or $39,300 for the one we rode, which included $2650 in optional paint, plus a $750 California emissions kit.
No doubt this is a Large Sum of Money, but if you are after this kind of thing, there really aren't any cheaper options. And you are highly unlikely to get as refined a riding experience from a similar aesthetic exercise built up of aftermarket parts from a custom builder.
Riding the Wolf was perhaps the biggest surprise of all. We've ridden a number of Big Dogs over the years, and the Wichita-based bike-builder's products have always gotten praise for being above average in their market niche, the machines feeling like "real" motorcycles rather than cobbled-together parts bikes.
So the first time you hit the starter button, the fuel-injected 121-cubic-inch engine fires right up and settles into a nice idle, ready to ride after a short warm-up. The stock exhaust is good-sounding and quiet. Pull in the medium-effort clutch, click into gear and ride away.
It all feels of-a-piece and the bike's parts work together nicely. Power is stout (the Wolf was too long for our dyno!), but you get the feeling that there are plenty of ponies to be unleashed with the freer-flowing exhaust pipes and intake pieces available from the accessory catalog.
The visual impact of this 770-pound-dry machine and its eighty-freakin'-three-and-a-half-inch wheelbase is B-I-G. The huge wheels further this impression, and the 45-degree rake (40 in the frame, 5 in the triple-clamps) seals the deal, resulting in a 9-foot-4-inch-long super-shiny motorcycle.
Which is what makes the pleasant road manners so surprising. The Wolf really steers nicely, and even feet-up U-turns on wider streets aren't much trouble, although you'll never forget the bike's length! Cruising isn't much fun above 75 mph or so, simply because of the riding position and the effects of wind.
Also, vibration at higher revs makes the pegs tingle a bit. Slow it down and the X-Wedge is a very pleasant, soulful engine with acceptable vibration levels and much lower mechanical noise than that of the early engine we rode for our "Ridin' the Wedge," exclusive ( CW . September, 2007).
After our time spent on the Wolf, Big Dog's survival doesn't seem that surprising. It's hard to go wrong with show-bike aesthetics and a production-bike riding experience.
BIG BAD WOLF BUSTED!! MIKE-MAR PUPPY MILL SHUT DOWN, MICHAEL WOLF ARRESTED
Dog Bike Attachment Springer,K9 Bike Jogger,K9 Cruiser eBay
Buy Big Dog Wolf 2010 on 2040motos
GTCV
2009 Big Dog Wolf