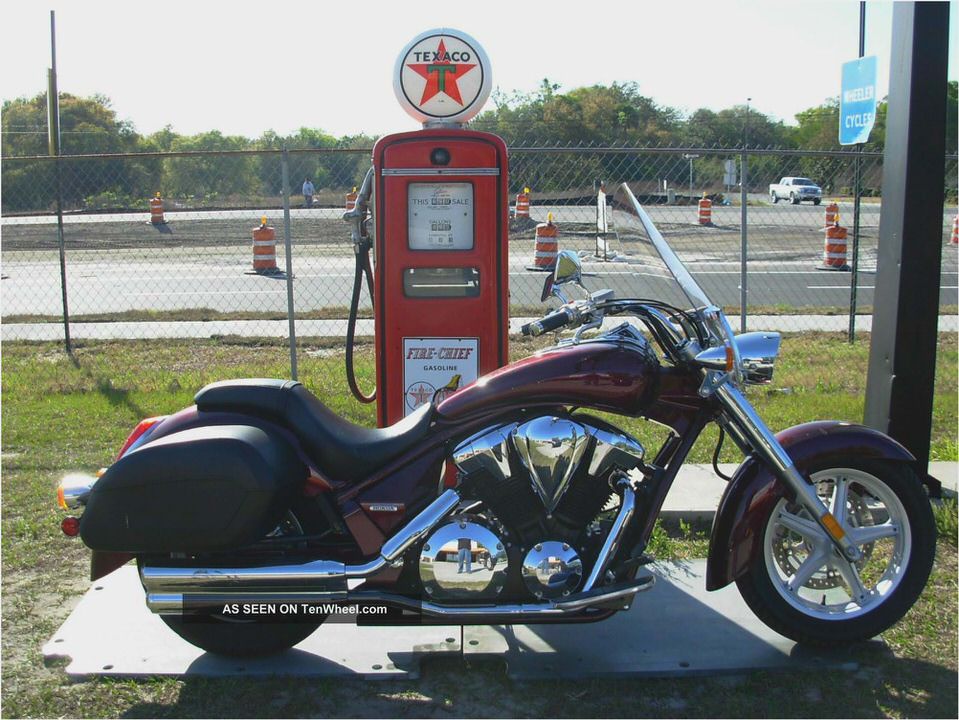 Your message has been sent!
I'm a sportbike gal at heart but when I heard about Honda's newest custom cruisers, the VT1300 line, I had to check them out. There are three bikes based on the same platform: The Sabre differs from the other two with its muscular styling, skinnier front tire and chromed engine; the Stateline and Interstate have blacked-out engines and a retro look with their deeply valanced fenders and wider handlebars.
The Interstate is outfitted for touring with a windshield, leather-covered hard saddlebags, rider floorboards and a heel-toe shifter. Since I like to put on miles and carry stuff, I gravitated toward the Interstate. Curiously—actually, it was to keep it priced under $13,000; the Interstate is the only model not offered an ABS option for 2010, however, it is an option for 2011 but pushes the price over that 13 grand mark.
The Interstate looks long because it is long, but don't let the length intimidate. This bike has a very low center of gravity making it a breeze to whip around corners or when moving it around in parking lots.
These three Honda motorcycles came about because of the well-received 2010 Honda Fury, an affordable "custom chopper" with its raked fork and bare backbone frame. The Fury has a long 71.2-inch wheelbase, and these newer cruisers follow along in Daddy's big footsteps with their stretched tanks, 70.1-inch wheelbases and 33-degree fork rakes. That's long, and when I laid eyes on the Interstate for the first time I raised an eyebrow when I pictured lifting it off the sidestand or going around a tight corner.
It turns out that my skepticism was unfounded though yes, the Interstate is hefty, tipping the scale at nearly 700 pounds ready to ride. Weight is carried low, the bike is narrower than you'd expect considering its length, and the seat is just 26.7 inches off the ground. My hands are placed wide, hanging onto large-in-circumference grips (small hands take note), and my feet are slightly forward on big floorboards.
I'm 5 feet 9.5 inches and the Interstate has me sitting upright with my body curved slightly forward, shoulders relaxed and arms out like I'm going to hug someone. A rider who is significantly shorter would have her arms and legs outstretched farther and would have to put more effort into turning.
Reader Comments
Thursday, March 22, 2012
I've ridden the Honda Stateline for two full seasons, and since I have ridden in a variety of conditions, I now have a very good appreciation for the pros and cons of this machine.
Pros
The engine is very smooth, even at very low revs. Very much smoother than the Harley. I've ridden the Stateline for hours and I have none of the shakes that I get with the Harley.
The engine has a lot of power and performs flawlessly, even when I am in the wrong gear.
The transmission is just great. Perfect gear spacing, smooth shifting, and it is easy to power-shift. The drive shaft requires zero maintenance. Just get on and ride. There is no lash from the shaft.
I like the looks of the Stateline. It has a very modern gas tank and a sleek look. The fenders are a bit too retro for me but overall it looks good. The blacked-out cylinders look good too. The instrument panel is located in the gas tank.
This adds to the sleek look. The instrument panel is easy to see, even with a full-face helmet. There is no glare on the instrument panel, even on very sunny days. The only gauge is the speedometer. This is augmented with the standard set of idiot lights.
I personally like more gauges (particularly a tachometer and a temperature gauge) but this is consistent with the current style of cruisers.
The footpegs are forward of the centerline. Well out of the way when putting my feet on the ground, and in a comfortable position when riding. The seat is low, which is the current style.
It makes planting my feet on the ground very easy.
The Stateline is very well balanced. I can ride the Stateline easily at very low speeds. It is so well balanced that I can come to a full stop at a stop sign and go again without putting my feet down.
Cons
The front brake is very good, but the rear brake is ineffective. This causes a serious nose-dives when braking. Honda should have improved the rear brake, included an anti-dive front end (as they have on other bikes) or both.
The turning radius is much larger than I expected both at low speeds and high speeds. This makes it difficult to negotiate parking lots and other tight spaces. Plan to do the back-and-forth shuffle in parking lots.
At higher speeds, I scrape the footpegs early, so I have to take intersections much slower than I am used to.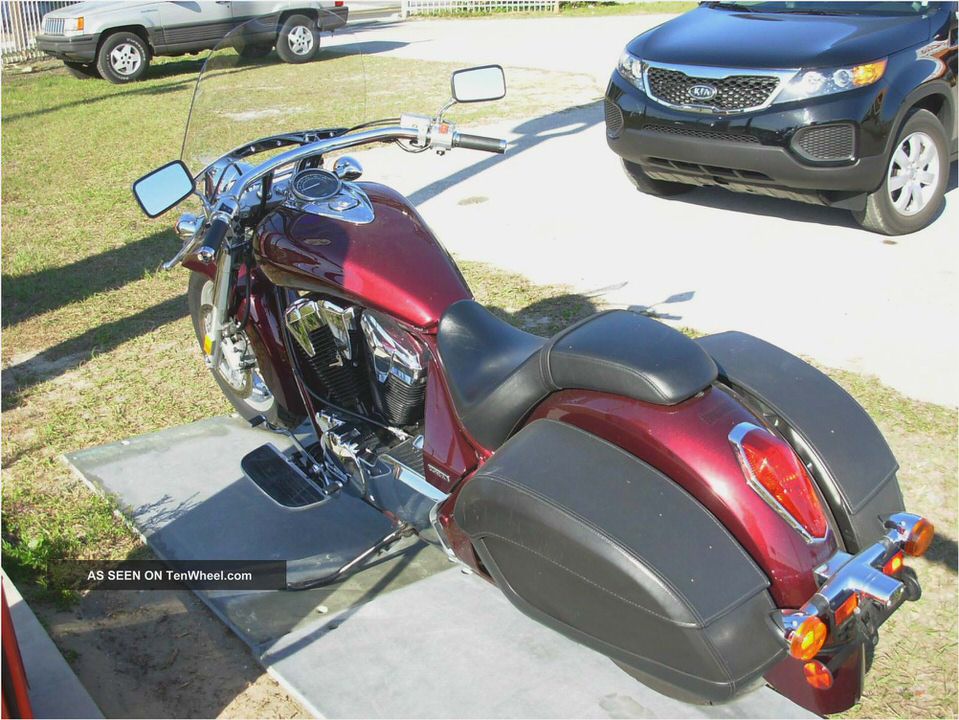 The Stateline has a single shock in the rear that is too stiff for use with a single rider. It gives a punishing ride on rough roads and causes an unintended dismount whenever I hit a bump. Yes, there is an adjustment to soften the ride; and yes, it is worthless.
The air cleaner is an oversized medallion on the right side that interferes with my right knee. I've returned from many rides with a bruised right knee. Honda should issue kneepads to all Stateline buyers.
The handlebars are very low (within an inch of the tank when turned to one side). This is the opposite of the chopper look with very high handlebars. The handlebars are spaced too far apart and are too far forward.
I have very long arms, and I can barely sit in an upright position. Any normal person will find these handlebars too far forward. Let's face it.
If you wanted to be leaning that far forward on the motorcycle, you would have bought a sport bike, not a cruiser.
The exhaust note is OK. At low throttle speeds it is very quiet, which is very good for going through sleepy suburban areas. When the throttle is opened up, it creates a deep, flapping, noise.
It is not annoying, but it will not be confused with a Harley.
This may sound picky, but the horn sounds like something that I would use on a kids tricycle. It was easy to fix. I just replaced it with one of many horns that can be found on the aftermarket.
Summary
Overall, the Honda Stateline is a mixed bag. It doesn't have any major flaws, but It has enough annoyances that I will not keep it another year.
Lars Bowiski
Washington, NJ
Tuesday, October 11, 2011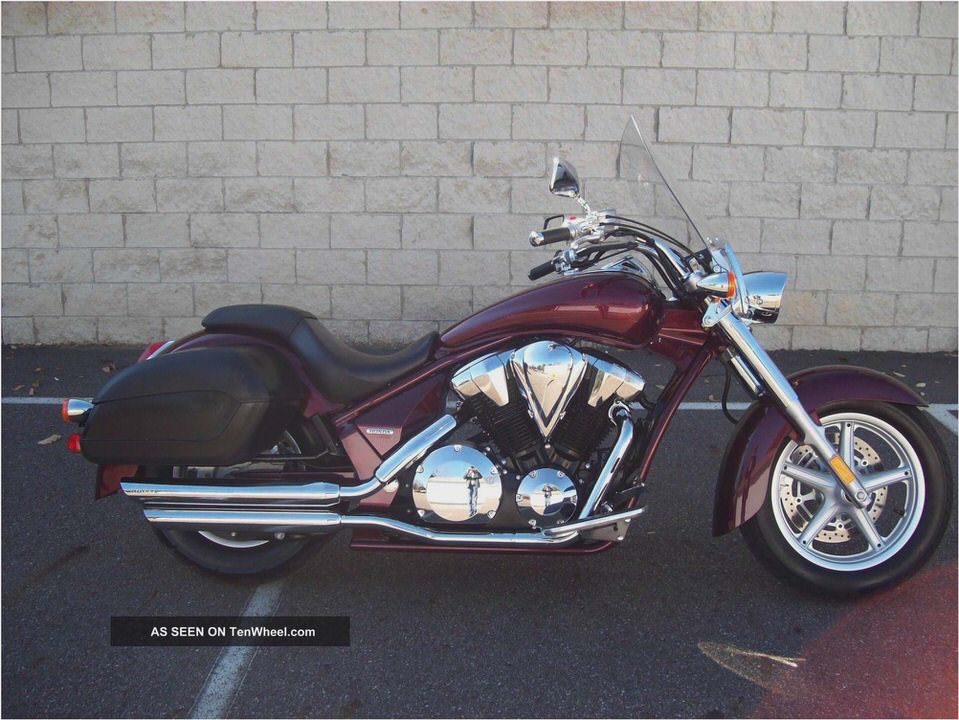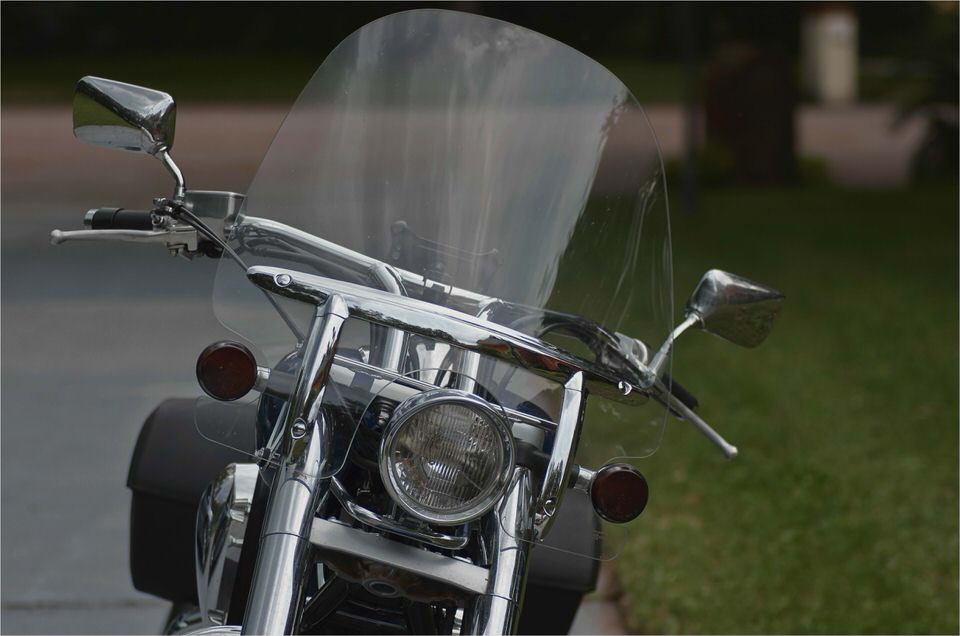 Honda Media Newsroom – Development – Honda VTX: The V-twin Performance…
Honda NC700D Integra – Wikipedia, the free encyclopedia
Sneak Peek: Loren Healy's Ultra4 Unlimited Truck
Honda FourTrax Foreman 4×4: Honda's Workhorse ATV
Honda Pacific Coast – Wikipedia, the free encyclopedia