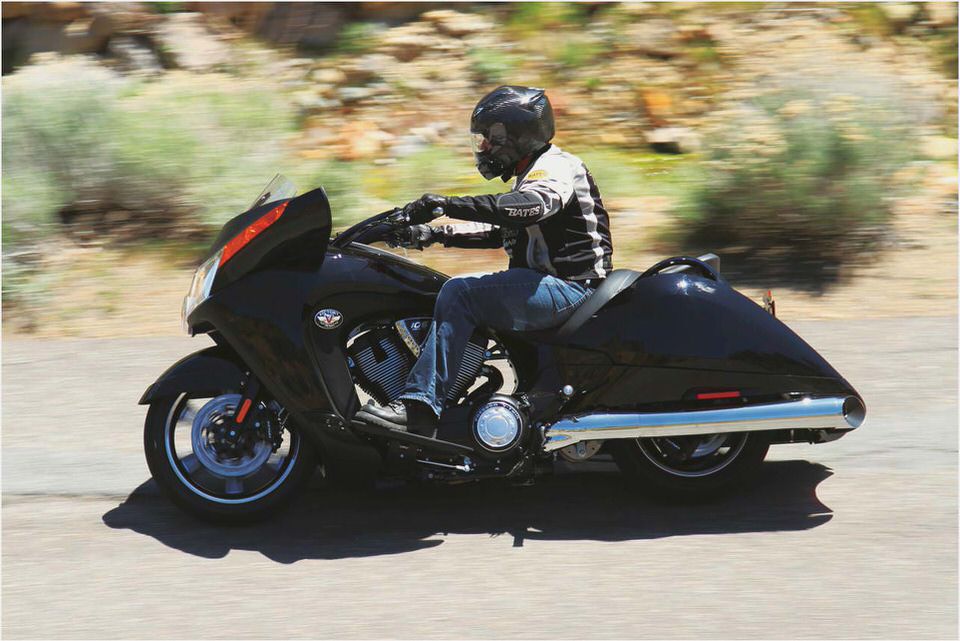 Specifications:
year: 2010 make: Victory Model: Vision price: $17,999 Engine: 4-stroke 50° V-Twin Transmission: 6-speed constant mesh Horsepower @ RPM: 92 hp / 97 hp Torque @ RPM: 109 ft-lbs of torque / 113 ft-lb of torque Energy: Electronic Fuel Injection with dual 45mm throttle body Displacement: 1,731 L Top Speed: 130 mph
Filed under:
Posted on 03.22.2010 12:00 by Maxx Biker 2
Writing about the 2009 Victory Vision. I didn't had enough fingers on one hand to count the number of models available, but their 2010 lineup simplifies things at least from that point of view. Instead of having the Victory Vision Street/Premium/Tour/Tour Comfort/Tour Premium and a very beautiful 10th Anniversary Vision Tour, they've simply kept the Victory Vision Tour and created an all-new Vision 8-Ball model for 2010.
Introduction
Ever since Victory introduced the Vision a couple of years ago, the futuristic looking touring bike turned out being built for the open road and it brought luxury out where riders couldn't stop thanking themselves for buying that optional windshield. Now, the 2010 Victory Vision Tour can brag about plush 2-up touring seats, optional heated seats grips, MP3-compatible stereo, 29 gallons of storage and a wind-blocking fairing just to mention a few of its goodies.
92-hp fuel injected V-twin engine
2010 also brings optional ABS for the Victory Vision Tour, a machine which is still powered by the now consecrated 106ci/1731cc, 4-stroke 50 V-Twin engine called Freedom. Indeed, 92 horsepower and 109 ft-lbs of torque can translate in a lot of freedom moments, especially considering the passing power that this powerplant provides virtually at all rpm levels. Also, the six-speed overdrive transmission is there to drop the rpm level, reduce vibration and fuel consumption without sacrificing passing power.
Touring bikes are all about comfort and, apart from the foamy adjustable seats, the Vision Tour brags about 5.1 inches of front wheel travel and 4.7 inches at the rear. Now that's a great thing to have for a bike with such a low center of gravity and a seat positioned only 26.5 inches from the ground, but that's what makes it worth the while. We also keep hearing riders bragging about the fact that their Vision's weight (852 lbs dry and 869 lbs dry on the ABS Vision) disappears with a simple twist of the throttle, but we'll see about that.
The 2010 Victory Vision Tour stays true to its name and offers 29 gallons of trunk and saddlebag capacity for those infinite rides.
Those who enjoy a little bit more power and torque, less weight and an even lower seat height can start thinking about the all-new, 2010 Victory Vision 8-Ball. This bike's blacked-out 106 cubic-inch Freedom V-Twin engine develops a more than decent 97 horsepower and 113 ft-lb of torque, while weighing in at a 800 lbs dry weight and positioning the rider an impressive 2 inches lower than on the Tour model.
The 8-Ball also comes with a sleek, low windshield and no trunk, so it's more of a simpler approach towards the same concept. Not necessarily an advantage in this bike's case is the fact that it comes with only 3.65 inches of wheel travel at the rear.
Competition
Victory is out there to get a piece of Harley-Davidson's pie in every single segment they can and 2010's Vision models go against bikes such as the 2010 HD FLHTCU Ultra Classic Electra Glide and 2010 HD FLTRX Road Glide Custom. Both touring bikes are powered by the same air-cooled, Twin Cam 96 V-Twin engine and follow pretty much the same recipe: the Electra Glide is all about plenty of storage space, comfort and good passing power, while the Road Glide Custom is a much lighter, lower and easier to handle motorcycle. We've wrote about them, so click on the links to read more about these Harleys.
Exterior
The Victory Vision is still a relatively new entry in the touring motorcycle market, but it is definitely one that stands apart from the crowd thanks to its own unique design characteristics. Let's take the 2010 Vision Tour for example. This bike remains in strict visual accordance with the original Victory Vision look.
It features the full-coverage frame-fairing and the fairly large windscreen, but this doesn't mean it shouldn't be stylish and that's where the headlight and signal lights come in to give a nice and refined look to a very imposing nose if we think at the fact this is still a motorcycle that we're talking about. The bike is designed to look like it's made from a single piece and so we have a 6-gallon tank that is hard to spot, a rider and passenger seat that dominates the rear half's upper side. I don't know why, but I always tend to compare the Vision rear end with that on an old Cadillac. Maybe it's because of the sidebags, which look like reversed Caddy fins, but there's the imposing trunk t
o confuse my thoughts again. Also at the back, you get a V-shaped taillight and an exhaust that looks like having been designed by a Ram bo fan. The 2010 color schemes (Solid Black, Solid Pearl White and Two Tone Ocean Blue Sandstone Metallic) are meant to enhance the already refined look of the bike and make it even easier to recognize.
The 8-Ball model looks rather simple, but we shouldn't forget that it competes with a veritable custom. So while you'll have troubles spotting a trunk and a large windshield, this bike comes with custom-styled "Roulette" wheels, blacked-out bars and engine as well as with a low and sleek windshield, while retaining the sidebags. Those with a trained eye will spot the lower seat and find this a rather sportier (if the term is allowed, considering the class) approach towards the same futuristic look.
Press Reviews
The Vision-8 is powered by the same big 106 cubic inch Freedom V-Twin found on all the Victory tourers this year, as well as the new Vegas LE introduced just a few weeks ago. You've seen the counterbalanced 50-degree V-Twin time and time again, but what you haven't seen is simplicity like this in a touring cruiser. motorcycle
"Get it into its meaty midrange and the surge is even better. With six gears at the disposal of its constant mesh transmission, by the time it hits sixth gear, the Victory Vision settles sweetly into overdrive for plenty of comfortable, low-vibe highway miles." motorcycle-usa
Top-gear roll-on felt good, but for quick passes it was best to dip into fifth. Fuel delivery was excellent and economy ran in the 40-mpg range, which with the 6-gallon fuel capacity makes for an easy 200 miles between fill-ups. cycleworld
"Along the Mississippi river there are a few corners that allowed us to test the handling abilities better than on the motorway. It really is fun to throw the gigantic Vision Tour from side to side. Not just to defy gravity, but also because it handles damn well for such a mammoth motorcycle." motorcycledaily
Of course, the suspension also contributes to the vision's steady, confident handling. The vision Tour we tested is a heavy bike at about 900 pounds (depending on options) full of fuel, but you don't feel that weight as much at low speed as you might expect. motorcyclecruiser
We spent most of our time on the highway super-sizing the speed limit, so I suspect that at more modest velocities the bike will be even more pleasant. The rider's seat is cushyI liked it even on the longest, warmest dayand those long floorboards are an innovation every luxo-tourer should have. ridermagazine
Price
While the MSRP for the 2010 Victory Vision Tour is of $23,199 ($24,699 for the Vision Tour ABS), we're happy to say the all-new Victory Vision 8-Ball comes with a $17,999 starting price, significantly less than what you'd pay on the HD Road Glide Custom: Solids $18,999, Two-Tones $19,479.
Conclusion
Although having suffered a significant loss of members, Victory's 2010 Touring lineup is now more popular than ever before and this new 8-Ball cruiser derived from the Vision is here to keep things interesting for an even larger category of riders.
SPECIFICATIONS
Engine and Transmission
Engine Type: 4-stroke 50 V-Twin
Cooling Type: Air / Oil
Displacement: 106 ci / 1,731 cc
Bore x Stroke: 101 x 108 mm
Compression Ratio: 9.4:1
Valve Train: Single overhead camshafts with 4 valves per cylinder, self-adjusting cam chains, hydraulic lifters
Fuel System: Electronic Fuel Injection with dual 45mm throttle body
Fuel Capacity: 6.0 gal / 22.7 ltr.
Exhaust: Split dual exhaust with crossover
Oil Capacity: 5.0 qts / 4.75 ltr
Charging System: 50 amps max output
Battery: 12 volts / 18 amp hours
Primary Drive: Gear drive with torque compensator
Clutch: Wet, multi-plate
Transmission: 6-speed constant mesh
Final Drive: Carbon Fiber Reinforced Belt
Chassis and Dimensions
Front Suspension: Conventional telescopic fork, 46 mm diameter, 5.1 in 130 mm travel
Rear Suspension: Single, mono-tube gas, cast aluminum with constant rate linkage, 4.7 in/120 mm travel (3.65 in/92.7 on the 8-Ball), air adjustable spring
Front Brake: Dual 300mm floating rotor with 3-piston caliper
Rear Brake: 300mm floating rotor with 2-piston caliper
Front Wheel: 18 x 3.0 in
Rear Wheel: 16 x 5.0 in
Front Tire: 130/70R18 Dunlop Elite 3
Rear Tire: 180/60R16 Dunlop Elite 3
Length: 104.9 in / 2,665 mm; 103.5 in / 2,629 mm on the 8-Ball
Wheelbase: 65.7 in / 1,670 mm
Seat Height: 26.5 in / 673 mm; 24.5 in / 622 mm on the 8-Ball
Ground Clearance: 5.8 in / 148 mm; 4.8 in / 122 mm on the 8-Ball
Rake/Trail: 29.0 / 5.4 in / 137 mm
Dry Weight: 852 lbs / 387 kg (869 lbs / 395 kg on ABS Vision); 800 lbs / 364 kg on the 8-Ball
GVWR: 1,414 lbs / 643 kg
Other
Solid Colors: Solid Black (also the only color available or the 8-Ball), Solid Pearl White
Multiple Colors: Two Tone Ocean Blue Sandstone Metallic
Features Benefits (Victory Vision Tour)
106-Cubic-Inch Freedom V-Twin
This 106ci/1731cc engine produces 92 HP and 109 ft-lbs of torque, which is ample power for acceleration on-demand and highway cruising with one or two riders and cargo.
6 Speed Overdrive Transmission
There's smooth shifting through the greats, and in 6th – which is a true overdrive – the RPMs drop for smooth, efficient highway cruising. Plus, there's still power for passing without downshifting.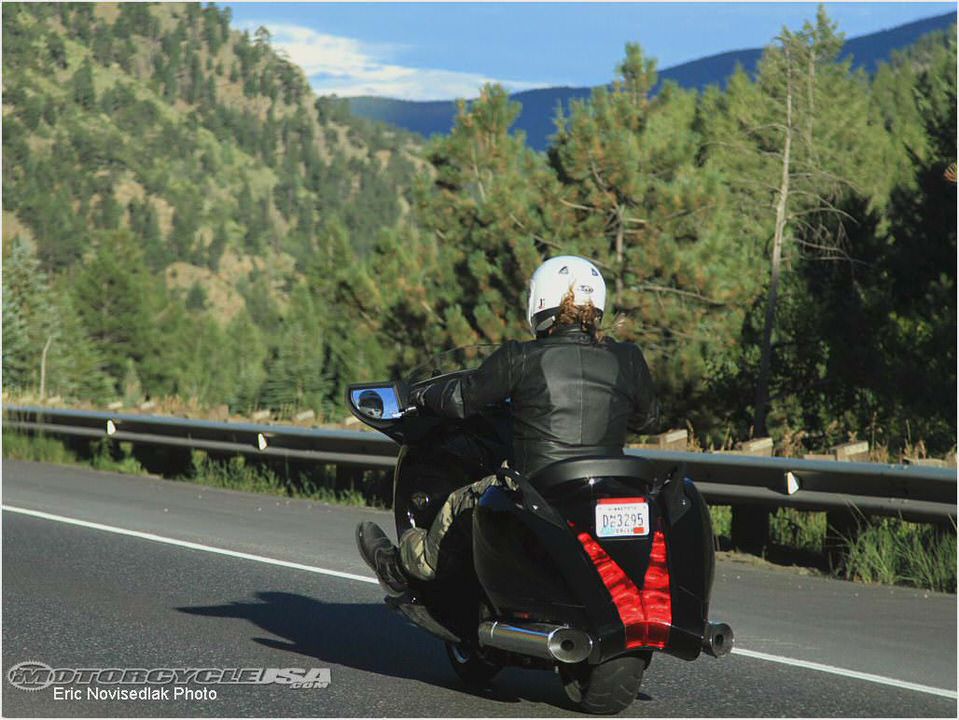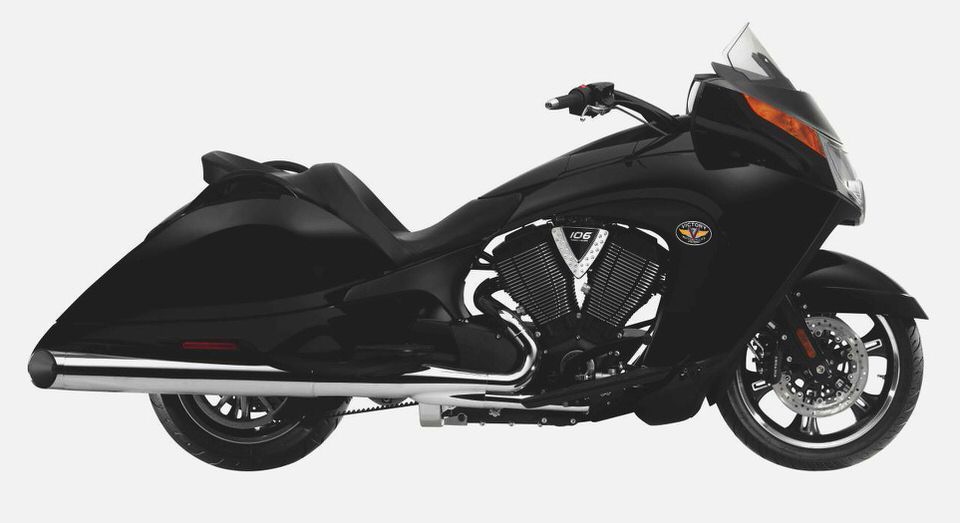 Cruise Control
The automotive-style Cruise Control is easy to operate and allows a rider to relax the throttle hand during extended highway cruising. It is easy to activate and to disengage.
Easy-Access Control Panel
Controls for the integrated audio system are conveniently located on the bridge console in front of the rider. There are also audio system controls by the left handgrip.
MP3 Compatible AM/FM Stereo
An AM/FM radio is standard with the integrated audio system, and audio can also be fed into the audio system from an MP3 player. The upgraded audio display panel shows what is playing.
XM Radio (Optional)
An accessory XM satellite radio system can be played through the bike's audio system. The upgraded audio display panel provides details about the station being played and much more.
Multi-Function Instrumentation
The resettable instrumentation provides: Odometer, two trip meters, clock, trip riding time, air temperature, average speed, current MPG, average MPG, and fuel range remaining.
Power Windshield (Optional)
With push-button ease a rider can manage the airflow reaching the seating area. Lower the windshield for increased airflow, raise it to block wind, rain and minimize buffeting.
6-Gallon Fuel Capacity
The efficient Freedom Engine maximizes the range from the 6-gallon fuel capacity, and the electronic fuel gauge keeps a rider apprised of the fuel level.
Full-Coverage Frame-Fairing
The fairing is highly effective at blocking wind, rain and road debris and provides convenient, close-at-hand positions for instrumention and several controls.
New ABS brakes (Optional)
The Anti-Lock Brake System (ABS) monitors wheel speed under braking and manages the braking when there is slippage or wheel lock. It provides proven, reliable and confidence-inspiring braking.
Dual-Zone Heated Seats and Heated Handgrips (Optional)
The driver and passenger heated seats have separate controls with Hi/Lo heat settings. The heated handgrips also provide the driver with a choice of Hi/Lo settings.
29 Gallons of Truck and Saddlebag Capacity
The rear storage compartment can hold two full-face helmets and when its capacity is combinded with the dual side compartments, the bike holds plenty of gear for a couple enjoying a long trip.
Features Benefits (Victory Vision 8-Ball)
Blacked-Out 106 Cubic-Inch Freedom V-Twin
This stealthy-looking 106ci/1731cc engine delivers 97 horsepower and 113 ft-lb of torque, ample power for city sprints and highway cruising. Electronic Fuel Injection keeps it smooth and efficient.
6 Speed Overdrive Transmission
There's smooth shifting through the greats, and in 6th – which is a true overdrive – the RPMs drop for smooth, efficient highway cruising. Plus, there's still power for passing without downshifting.
New, Lowered Seat (2 Lower)
The lowered seat and new, rearward positioning of the hand and foot controls put a rider in a comfortable position to enjoy the ride and confidently stay in command on the open road.
Dual Front-Disc brakes
Enjoy consistently outstanding braking with these dual 300mm floating rotors equipped with 3-piston calipers. They provide sure stopping that inspires confident riding.
Black Roulette Wheels
Smart, custom-styled Roulette wheels give the bike a great look and roll smooth and true. Their primarily black finish complements the bike's styling.
Blacked-Out Bars
These handlebars are blacked-out to complement the 8-Ball styling treatment, and their design gives a rider natural leverage for easy steering.
Sleek, Low Windshield
From the less is more school of style, this low windshield gives the bike a clean, sporty look. Higher windshields are available as accessories and are easy to install or remove.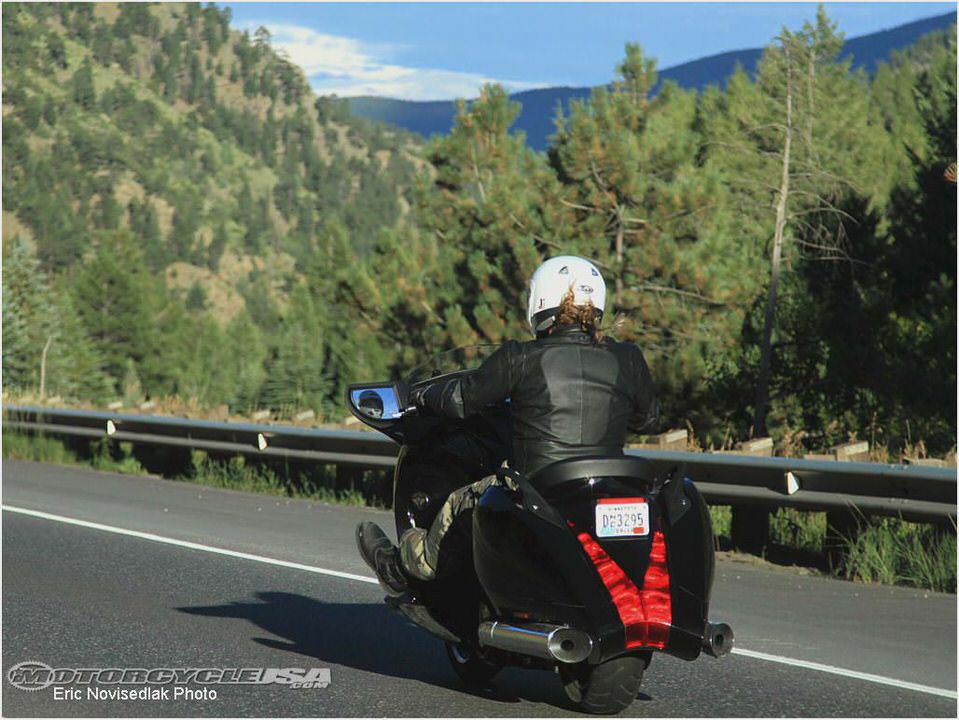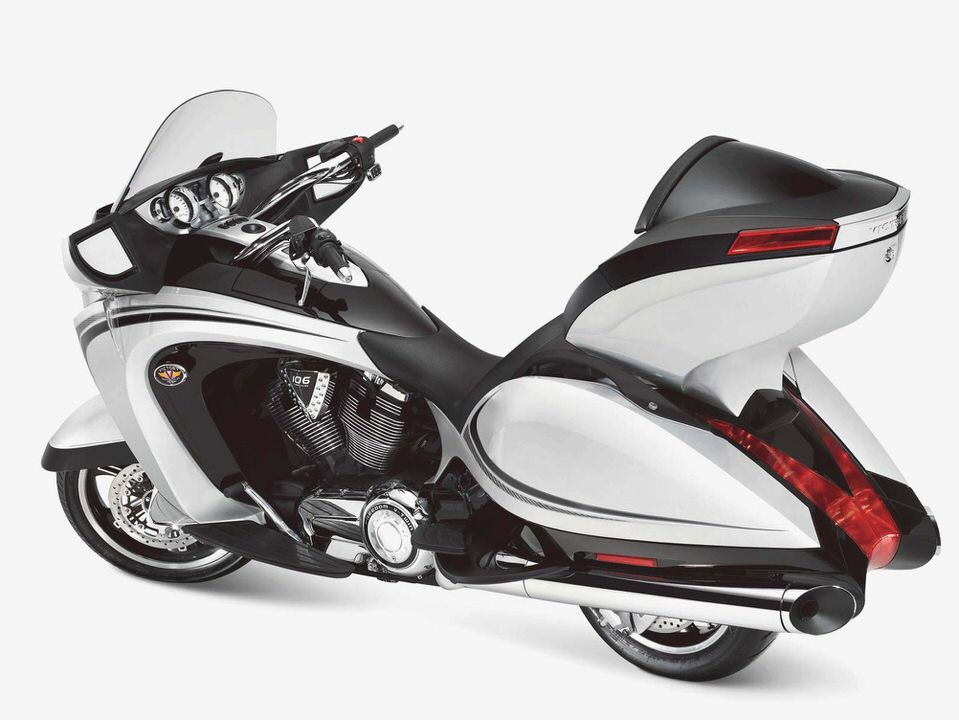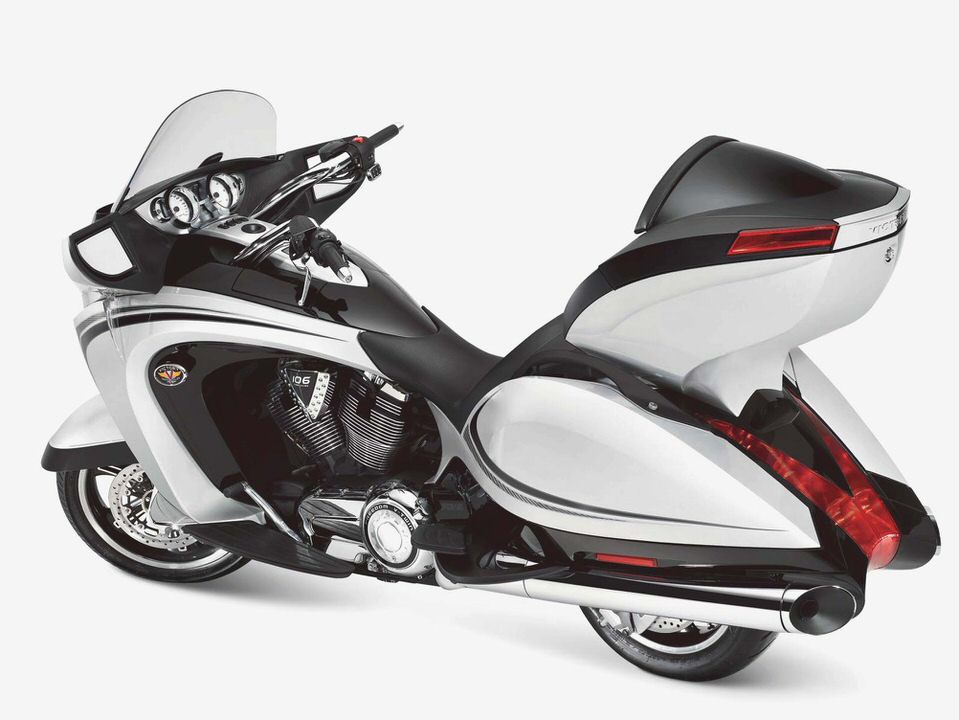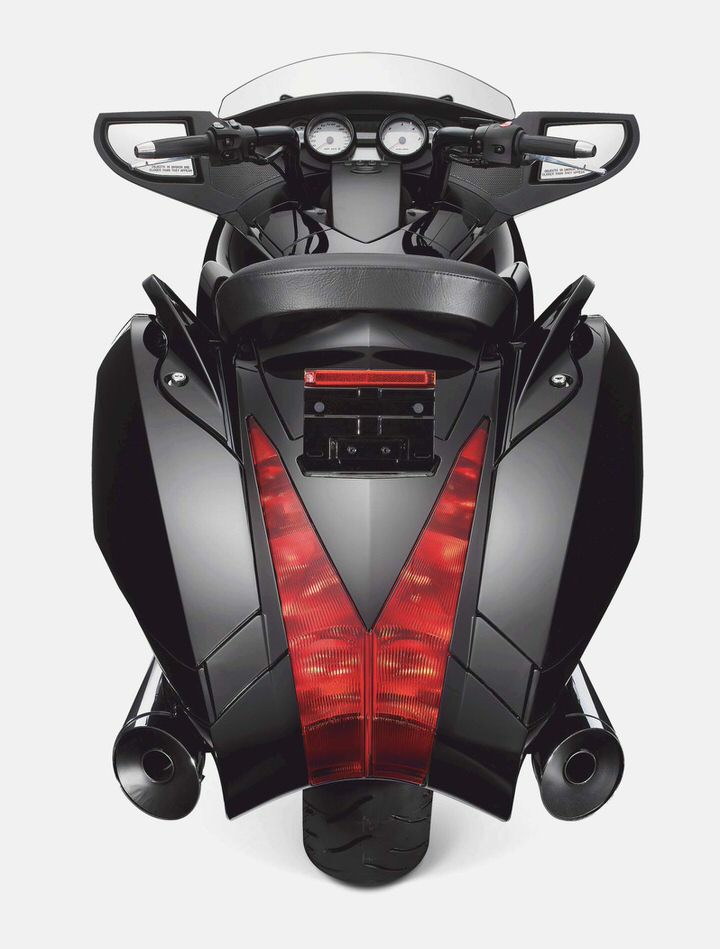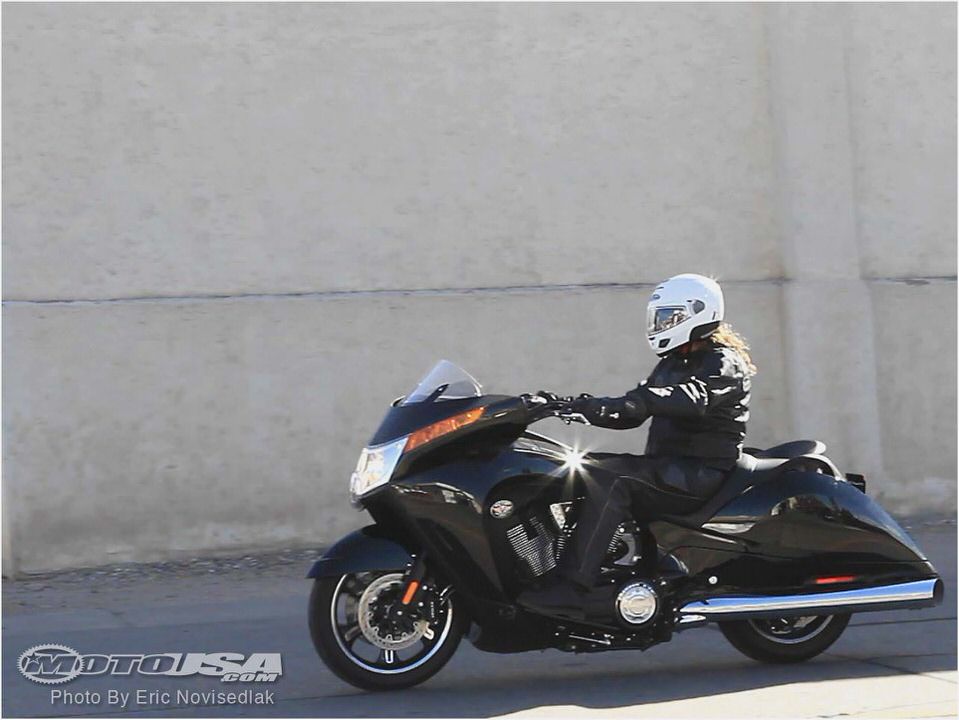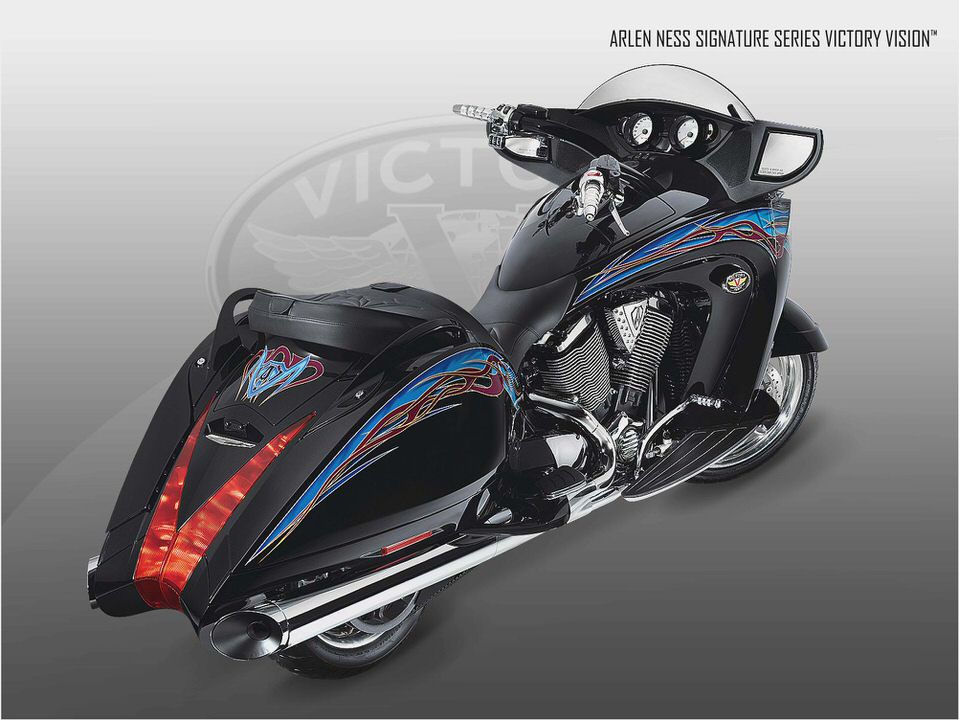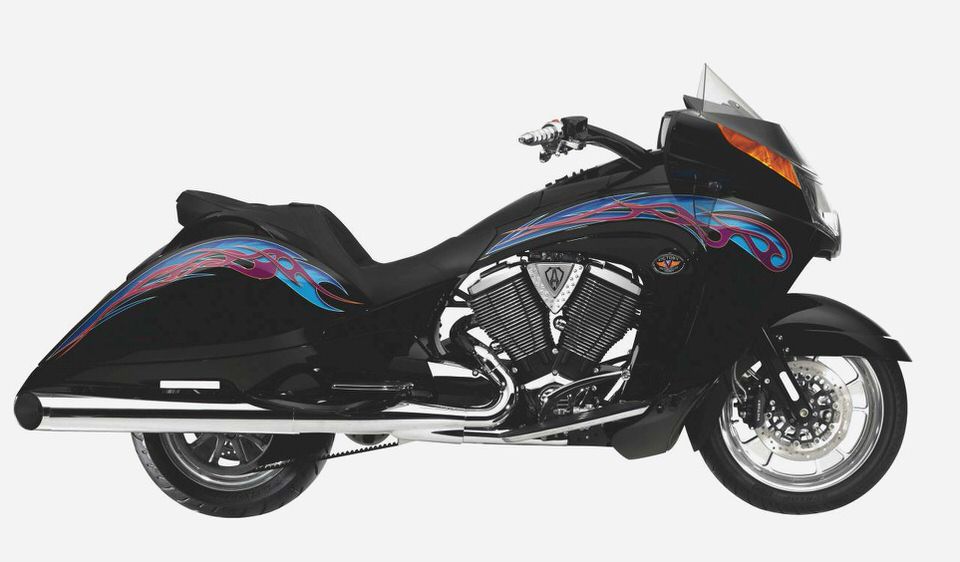 2012 Victory Cross Country Tour Review- Victory Cross Country Tour
MeanVic's 2011 Victory Vision Street – Pictures, Ratings, Specs, & Modifications…
Judging The New Victory Judge Model And Zach Ness Custom Version at Cyril…
Complete test – Victory Vision Bikes Catalog
2006 Victory Kingpin Deluxe Road Test Rider Magazine Reviews