Specifications:
Introduction
If you take a look at the overall bodywork, the WR250X looks very much like any quarter liter dirt or of-road bike, but the street rubber sets it not far from the dust, but just enough to keep it clean. So is the supermoto track more appropriate for it? Yes and No.
On one side, the 17-inch standard spoked wheels with road tires are the ideal solution for most supermoto bikes, but with a 35.2 inches high seat, the WR250X will need a pretty tall rider to touch the asphalt with his heels. Also, the dirt section will put no problems to it so this doesn't help us clear things out, but immerse even more into this dilemma.
And yet, the 250cc liquid-cooled DOHC four-stroke; four-valves, single-cylinder engine is more than capable to make a very good impression in both situations as it is fuel-injected. Characteristic to Yamaha. the system features intake air pressure sensor and throttle position sensor for great throttle response as well as fuel economy. Actually, since last year, Yamaha answers to everyone's questions regarding fuel consumption by claiming that their WR250X can go 71 miles with a single gallon.
The chassis is the centerpiece creating this controversy so we'll start by mentioning that the frame isn't your regular unit, but a motocross derived aluminum semi-double-cradle one. This offers great resistance and together with the asymmetrical aluminum swingarm, fully adjustable 46mm fork and rear shock, ensures sharp cornering and stability.
So I guess we'll have to call it either a dual purpose motorcycle or a supermoto one even though I prefer calling it versatility itself.
History
Competition
Yamaha achieved quite a unique combination with their WR250X motorcycle and if they plan to beat the Honda CRF230M. success is guaranteed. For starters, the engine powering Honda's motard is only a 223cc air-cooled SOHC four-stroke; two-valves, single-cylinder which is indeed fed through a 30mm CV carburetor, but at least mates to a six-speed gearbox in an attempt to even up the scales.
Also, Honda uses Showa suspensions and both front and rear disc brakes while the seat is positioned 31.7 inches above the ground. With a base MSRP of just $5,399, the CRF230M won't miss customers at all.
Kawasaki is definitely in for a piece of the action with their 2010 KLX250SF. a motorcycle which is more aggressively styled than the Honda and even features a more potent engine. The MSRP is also bigger $5,599 but there's plenty more to this bike than style.
With a 249cc liquid-cooled, DOHC, four-valves; single-cylinder engine which might not get fuel injection, but feels very well with its Keihin CVK34 carburetor especially when all that power is transmitted through a six-speed gearbox. The seat is found at 33.9 inches from the ground.
Exterior
Although the 2010 Yamaha WR250X won't find its place among the "Top Ten Most Beautiful Motorcycles" ever made, the thing looks just like it needs to in order to meet the purposes of its creation. For example, the steel fuel tank is designed to offer the proper knee grip while the seat is narrow and yet not harsh like in the case of this bike's motocross siblings. The seat cover is made out of a grippy material so that if you're still positioned at 35.2 inches from the ground, at least to be well "glued" to the bike.
The handlebars bolt on the supermoto fork completed with mudguards and a blacked-out surface. At the other end rolls a spoked 17-inch supermoto wheel supporting a 298mm waved disc brake. The back end rolls on an identical wheel only, which in this case features a 230mm brake disc and a sprocket while being bolted on to an asymmetrical and matte black painted swingarm.
The same color is used for the frame.
But if you want to become aware of this motorcycle's supermoto capabilities, it is enough to get a glance of the outrageously high positioned front and rear fenders. These too are designed to be simple and light while still protecting the rider from mud. A small part of that task also goes to the side panels, but their main goal is to look like they hug the gas tank and blend perfectly in with the seat.
The graphics aren't that great though, but certainly the appropriate think for 2010's White/Red color scheme.
Press Reviews
"The Yamaha WR250X is certainly perky enough given its small capacity the modern water-cooled engine is derived from the YZ-F motocross range. Even a rider stepping up from a 125 would tire of the lack of speed little more than 80mph is available. Stick to town and the short gearing is handy for slicing through traffic. Open roads are a bore though." MCN
While power is adequately sprightly at urban speeds, I was initially worried the mini motor would run out of breath at a California speedway er, freeway pace. However, it runs just fine at 70-75 mph, using its sixth gear to bring down revs and vibration to levels that aren't objectionable motorcycle
The WR250X's frame is without a doubt the most successfully designed part of the machine. This semi-double-cradle frame is based on the famous WR250Fs; it includes three cast-aluminum sections and an asymmetrical rocker arm with crossmembers, also cast-aluminum. moto123
Steering geometry felt spot on and never wanted to tuck the front while remaining stable at the end of the straightaway. Clamping down on the oversized front brake gave excellent stopping power and we were still braking deeper into the corners by the time our day was finished. motorcycle-usa
Compared to the WR-R, it has a beefier front brake, 17-inch wheels and slightly street-oriented suspension settings. Although it has the travel, handling, weight, riding position and ergonomics to work OK off-road, the tires definitely make it more suited for the pavement. amadirectlink
Price
Yamaha certainly knows to put value on its products, especially when these introduce one-off features turning them into class leaders. This is also the case with the 2010 WR250X as the bike is the only one in its class to feature fuel injection and comes with a base MSRP of $6,490.
Conclusion
For those who are just starting in supermoto, the Yamaha WR250X is the machine they aim for as it represents progress through technology, versatility and comfort, all at a price that doesn't require more than the scholarship on a few months. And experienced riders are offered a fun and easy to live with alternative that can put an end to their search for a commuting mean and open a new chapter in their motorcycling days.
Engine and Transmission
Type: 250cc liquid-cooled DOHC 4-stroke; 4 valves
Bore x Stroke: 77.0 x 53.6mm
Compression Ratio: 11.8:1
Fuel Delivery: Fuel injection
Ignition: Direct ignition coil
Transmission: Constant-mesh 6-speed; multiplate wet clutch
Final Drive: Chain
Chassis and Dimensions
Other
Features Benefits
Key Features:
Directly descended from our YZ motocrossers and WR off-road machineseven the original Yamaha YA-1 of 1955the WR250X is here to make Yamaha's off-road prowess street accessible.
Not exactly an enduro, a supermoto or a sportbike, the WR250X is for riders who ride mostly paved surfaces. Its sibling, the off-road inspired WR250R, is for riders who spend more time in the dirt.
Engine:
250cc liquid-cooled, DOHC engine with two titanium intake valves and two steel exhausts, forged piston and plated cylinder for outstanding durability.
Pentroof combustion chamber with downdraft-type straight intake helps make excellent power across the rev band, with maximum power at 10,000 rpm.
First use of fuel injection on a 250 Yamaha on/off-road bike. The system relies on input from a crank sensor, intake air pressure sensor and throttle position sensor feeding a compact ECU to provide optimum combustion.
An ECU-controlled EXUP® exhaust valve, along with an electronic intake control valve, broadens the powerband.
High lift cams have WPC surface treatment in which the surface is sprayed with fine powder at over 100 meters per second to increase surface hardness.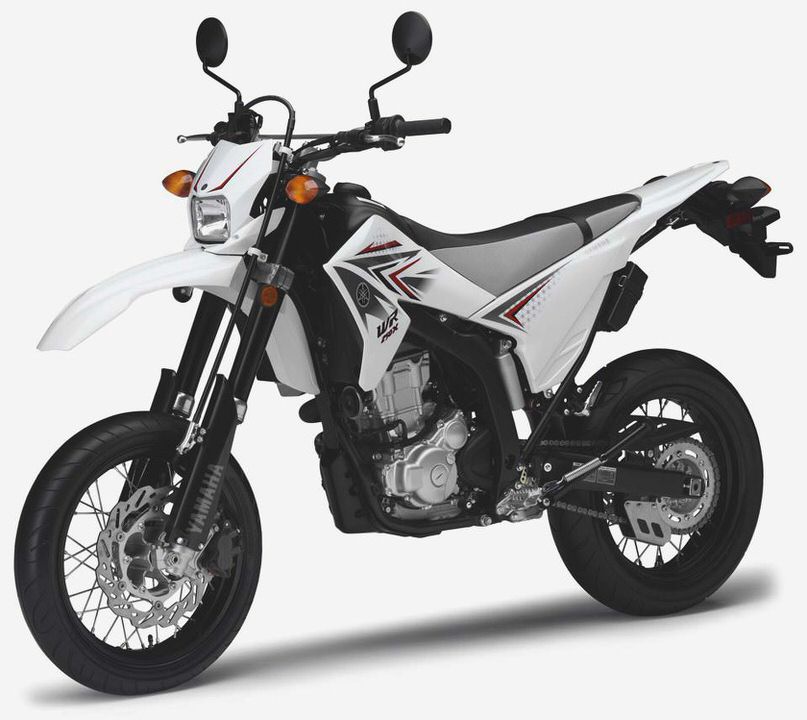 Three-axis engine layout keeps the engine compact. Wet sump tucks between frame rails to keep the engine height down.
Rare earth-type ACM alternator keeps the weight down while providing all the current needed to run the FI and lighting systems.
Direct ignition coil sits atop the spark pluganother first on a Yamaha on/off-road model.
Six-speed gearbox provides a wide spread of ratios, with shower-type lubrication for reliability. Special, light-action clutch makes shifting a snap.
Tucked-in, three-chamber muffler helps keep mass centralized and the bike quiet.
Electric start only: Leaving off the kickstarter keeps it light and simple.
Chassis/Suspension:
17-inch wheels mount radial street rubber in 110 front and 140mm rear widths and help lower the seat approximately 1.4 inch compared to the WR250R.
One-tooth smaller rear sprocket (13/42) works with the smaller-diameter tires to bring out the WR250X's strong accelerating character.
Stiffer springs front and rear and street-oriented damping settings reduce pitch compared to the WR250R for excellent pavement performance.
YZ/WR250-inspired semi-double-cradle frame uses a main frame of cast and forged aluminum sections, with high-strength steel downtube for excellent strength and rigidity characteristics.
Asymmetrical swingarm provides excellent strength/rigidity balance and a dynamic look. Cast aluminum crossmembers, extruded arms and a 22mm rear axle are carefully tuned for optimum handling.
Fully adjustable 46mm fork provides 10.6 inches of wheel travel. A forged lower triple clamp and a cast upper one help give outstanding front-end feel. An aluminum steering stem reduces weight.
Linkage-mounted rear shock provides 10.4 inches of travel with adjusters for compression damping, rebound damping and spring preloadand features a 14mm rod and 46mm cylinder for excellent damping and fade resistance.
Wave brake rotors front and rear, including a large, 298mm front disc, reduce unsprung weight and provide excellent performance. Rear pedal is forged aluminum.
Additional Features:
A slim, steel fuel tank is shaped with knee grip in mind, and the entire ergonomic layout is designed to make the rider feel like part of the bike.
Narrow, YZ-inspired seat features gripper-type cover for great seat-of-the-pants feel. Seat height is 35.2 inches.
WR enduro-style instrument panel provides excellent visibility in spite of the compact size. Basic mode provides speed, clock, tripmeter and self-diagnostic function. Measurement mode includes stopwatch, distance-compensating tripmeter, etc.
Minimalist front and rear fenders are designed for function, simplicity and lightness.
Bodywork with separate radiator heat outlet helps keep engine and rider cool.
Lightweight headlight and LED taillight maximize visibility and draw less current.
Separate clutch cover means easier serviceability.
One-screw air filter serviceability.
Adjustable front brake lever.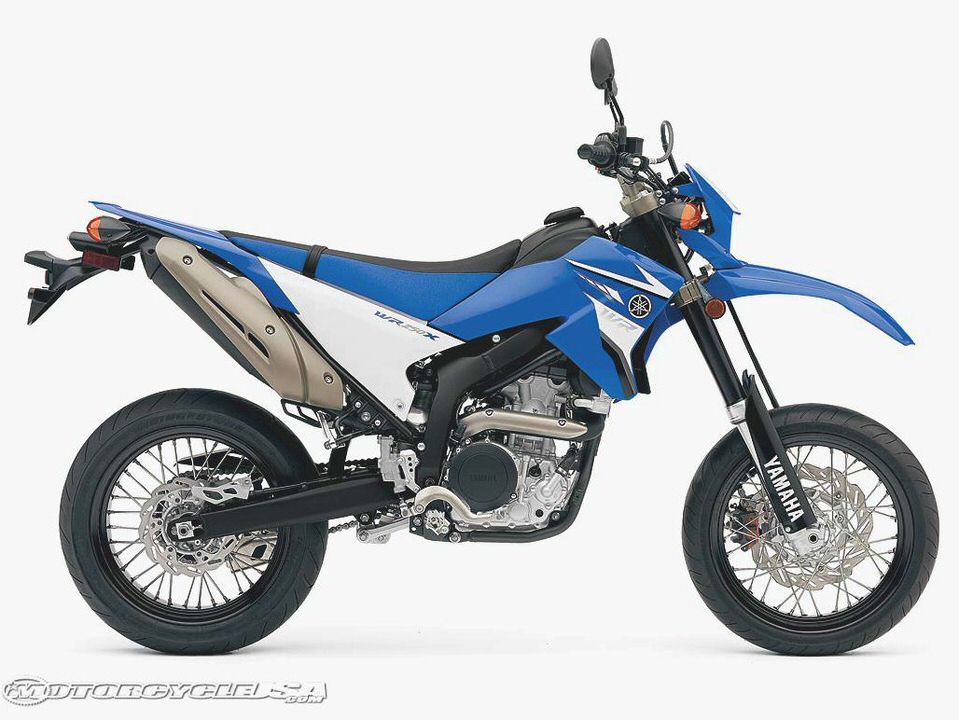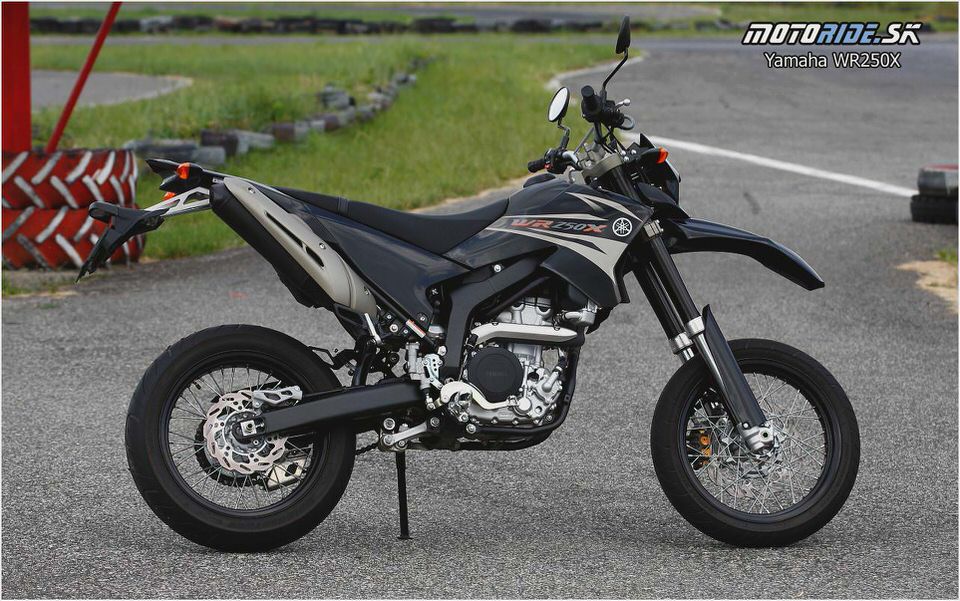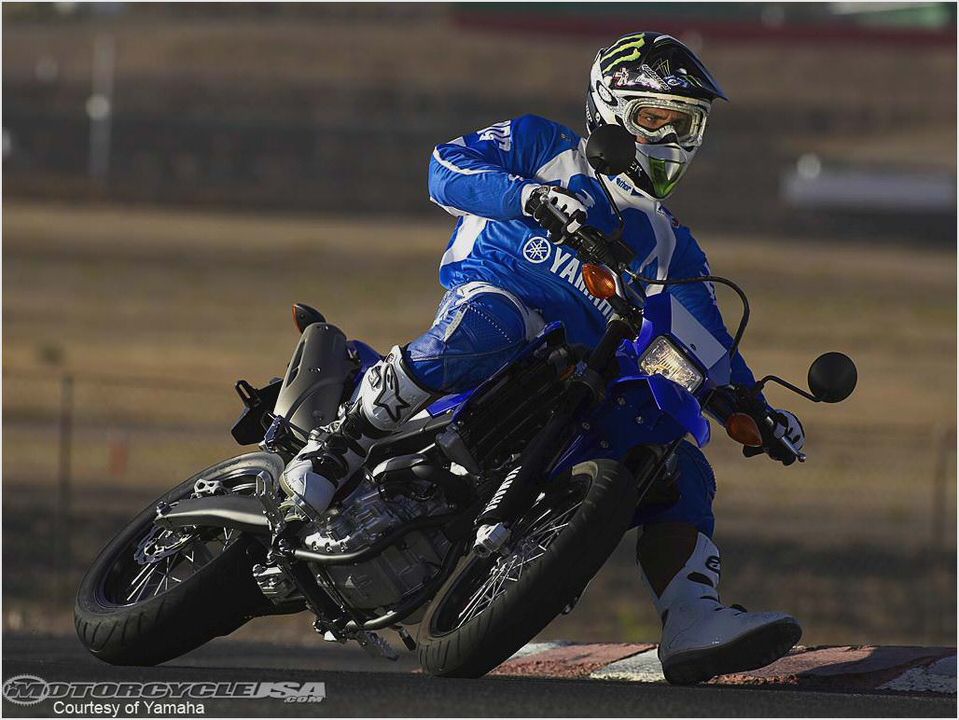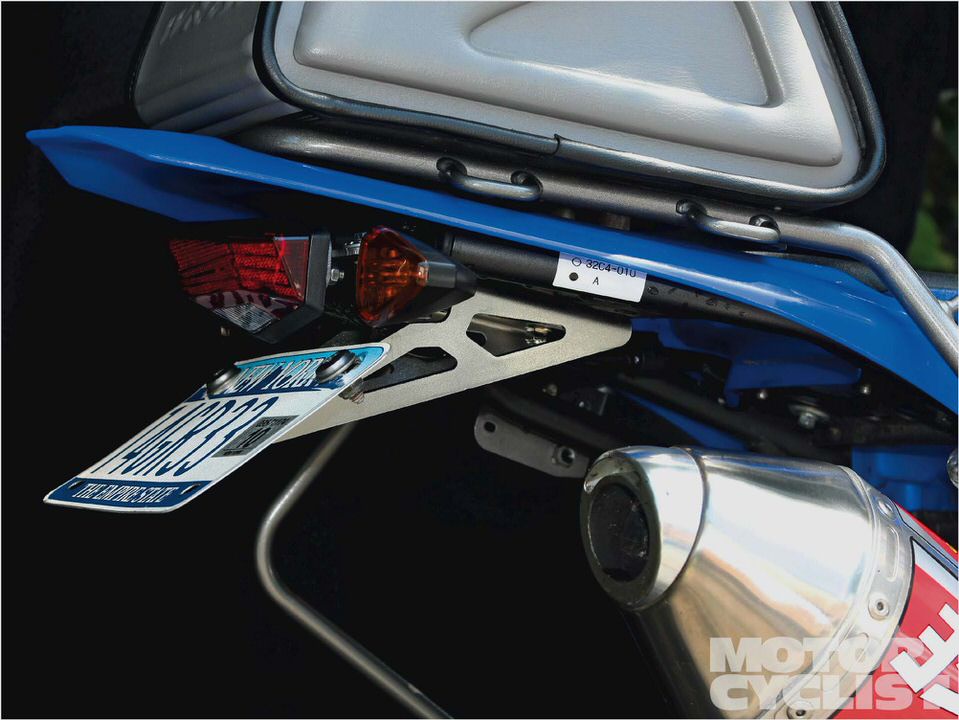 Yamaha FZ8 and Fazer8: Slayers Z 750?
YAMAHA RD 500 LCDennis Noyes Tribute Classic 80s Motorbikes
Yamaha BW350 Specs eHow
Yamaha Shows New Three-Cylinder Engine
Yamaha FZ-1N motorbike review