A lot more to the updated roadster than just a rerouted exhaust
Photos by Triumph
Triumph 's Street Triple platform is one of our favorite motorcycles because of its playfully sporting character that appeals to all sorts of riders. In fact, the up-spec R version took our Motorcycle of the Year honors in 2009 . So when we learned about an updated version for 2013, we were hoping Triumph didn't do anything to diminish its eminently likeable qualities.
Measured by the sum of their parts, the 2013 Triumph Street Triple and Street Triple R are more than warmed up 2012 leftovers. The lauded 675cc inline three-cylinder returns unchanged, but the obvious relocation of its exhaust system is only the tip of the proverbial iceberg. From frame to wheels nearly everything besides the motor powering these naked hooligans must be preempted with the word "new."
Also contributing to the Street Triple R's newfound agility is a redesigned frame constructed from three fewer parts. The new frame decreases the R's rake by 0.5˚ (from 23.9˚ to 23.4˚) and adds 2.6 mm of trail (from 92.4 mm to 95mm). There's also a more forward weight bias, from last year's 49% front, 51% rear, to 2013's 52% front, 48% rear balance.
Steering radius increases from 28 degrees to 31 degrees to make it more maneuverable in tight spaces. An adjustable swingarm pivot is a feature of only the R model.
Impressive as all these changes may sound (and they are), any rider of novice credentials considering the Street Triple or Street Triple R shouldn't feel overwhelmed by the bike's changed geometry. On the contrary, the new Street Triple exhibits such composed, neutral handling it's docile by supersport standards. But when piloted aggressively the Street Triple – especially the R model with its fully adjustable Kayaba suspension components – dices a tight canyon road with the acumen of a Masamoto sushi knife.
To augment the new model's improved versatility Triumph invited us to Almeria, Spain, to sample the 2013 Street Triple R on a variety of southern Spain's finest two-laners. Whether we were climbing up the tight side of the mountain to our lunch destination or descending the other side with its series of high-speed sweepers, the S3R impressed all in attendance.
Its blade is sharper, but the bike maintains an easy-to-ride persona that made the original Street Triple so endearing to so many riders. In fact, with 50,000 Street Triples sold worldwide during the last five years, it is Triumph's best-selling model.
The Street Trip's taller first gear lessens the amount of upshifts required when riding short distances between stoplights. And the bike's fueling, whether at moderate in-town speeds or screaming up the side of a mountain, delivers an uninterrupted flow of gas and air with no hiccups or dips in power.
Diameter of the front brake rotors increases 2mm, from 308mm to 310mm, but more importantly the 2013 Street Triples come equipped with switchable ABS. An option in other countries, North American models are all ABS equipped. Boasting an overall reduction in curb weight, from 416 to 403, the 3.3-pound ABS system increases that claim to 406.3 pounds.
No ABS models were available during our Spanish press intro, so we possess no insight into their function, but Triumph's other ABS models have tested flawlessly and we have no reason to believe the Street Triple's will perform otherwise.
Braking performance from the R's four-pot Nissins is substantial and easily modulated. The shorty levers attached to our demo model stretched the extent of my reach even when adjusted to their minimal setting.
Because the rear subframe no longer supports the weight of the exhaust, Triumph was able to redesign the component using new high-pressure die-casting that shaves 1.8 pounds of weight. The redesign also allowed for increased storage room beneath the seat, enough to conveniently fit a U-lock. All R models feature a red subframe, matching red radiator cowls and red pinstripe wheels, while the optional-on-the-standard-model rear hugger fender is standard equipment on the R.
Beyond cosmetics, what separates the standard Street Triple from its R brethren is non-adjustable suspension, 2-piston front calipers (vs. 4-piston radially mounted calipers) rake and trail figures of 24.1˚/ 99.6 mm (vs 23.4˚/ 95.0 mm due to suspension differences) and a lower seat height of 31.5 in (vs. 32.3 in due to suspension differences).
But what about pricing? At $9,399 for the standard Street Triple and $9,999 for the R, it seems almost a no-brainer to step up to the better equipped R. Adding $600 to a bike payment over a four-year period is a monthly increase of only $13 (maybe $20 after taxes and freight). You'll never be able to add those brake and suspension components aftermarket for the same price.
Both models are scheduled to arrive in January. Color selections for the standard model are Phantom Black, Crystal White and Caribbean Blue, while the R model offers Matte Graphite in place of Caribbean Blue.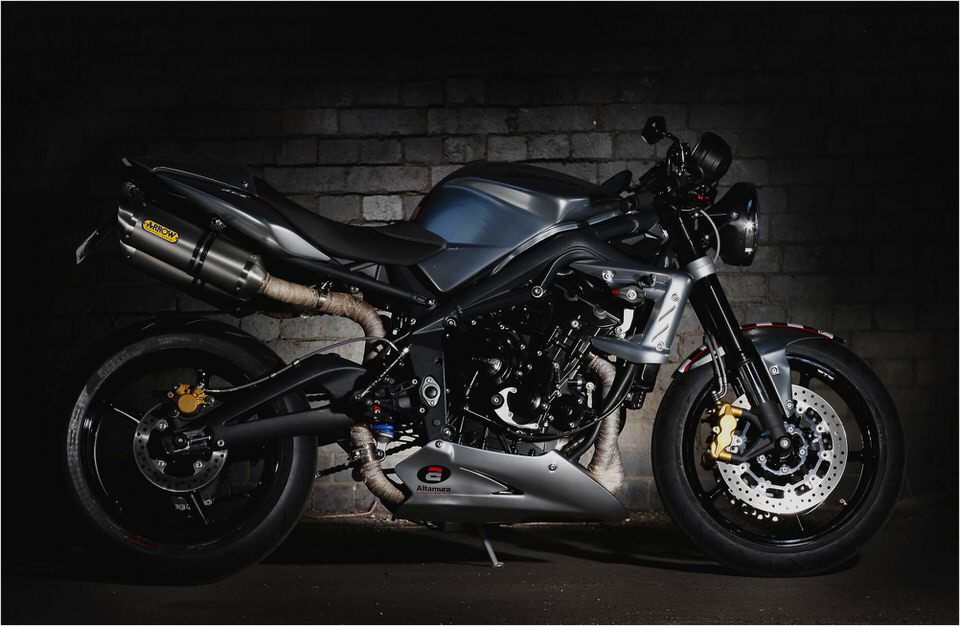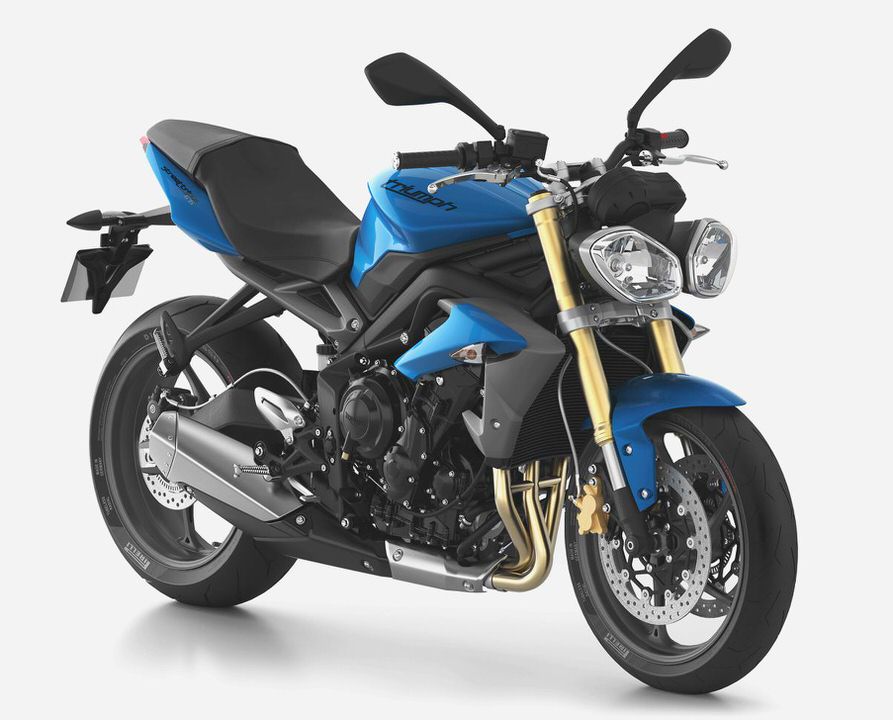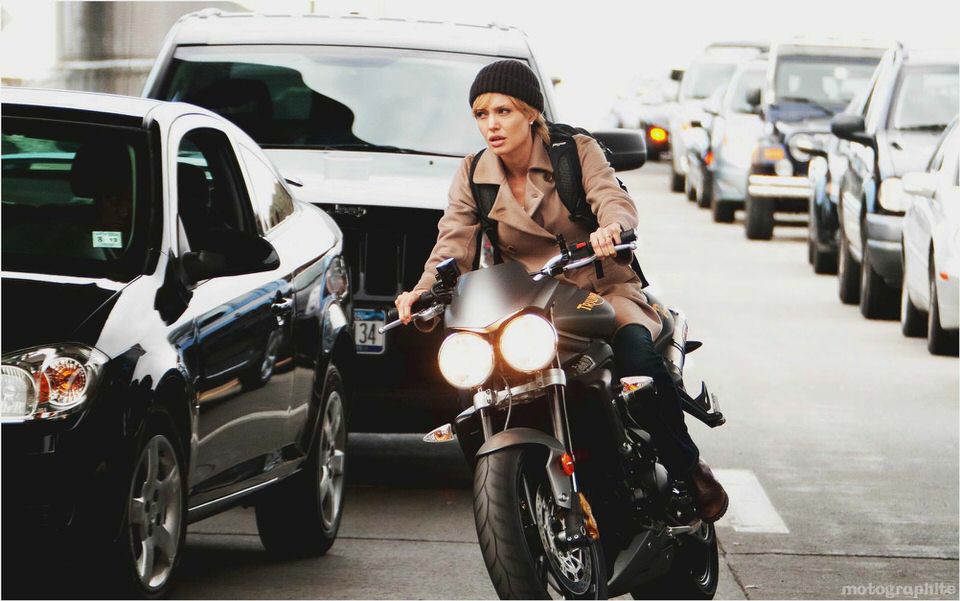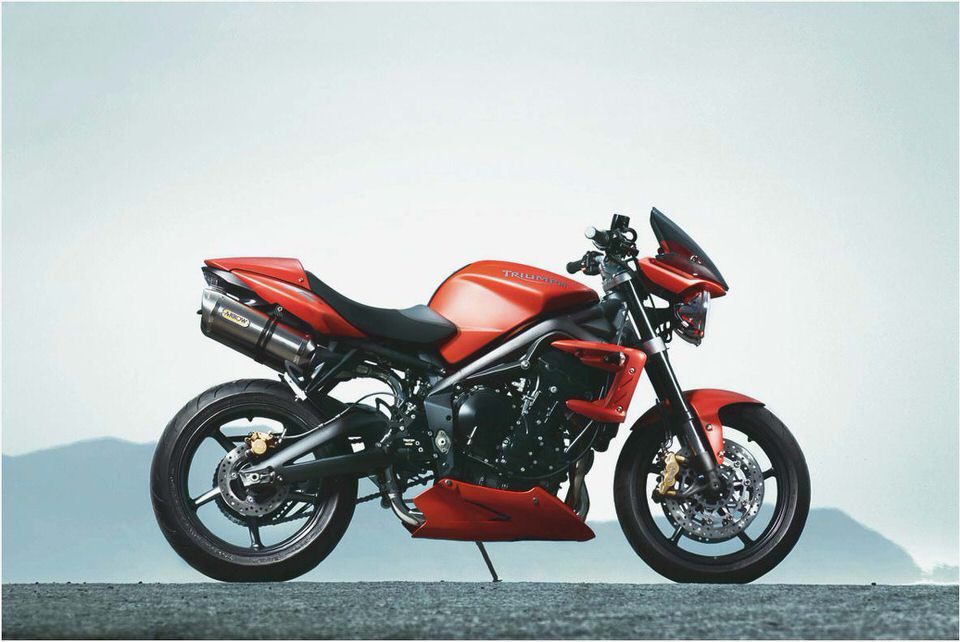 2010 Triumph Bonneville SE Review – Ultimate MotorCycling
2011 Triumph Sprint GT Comparison – Motorcycle USA
2011 Triumph Sprint GT 1050 First Look – Motorcycle USA
Triumph Bonneville SE Review – webBikeWorld
Triumph Bonneville America