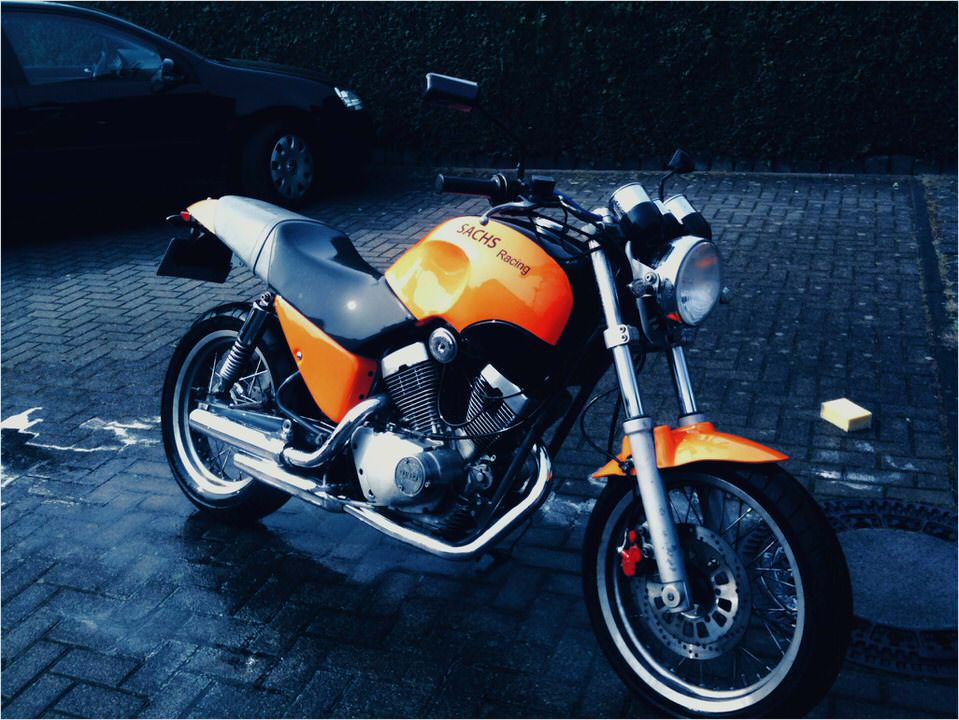 ANT Light Roadster
This post is a friendly challenge to Mike Flanigan.  Goes like this.
Mike builds bicycles which are beautiful and useful.  We're lucky enough to care for three.  Two of them have been in shows.
 One was at Interbike in 2006 for the Shimano Alfine builders contest where it took 3rd.  Now it caries home vegetables from the community garden in high style.
Another was at NAHBS in 2009.  Now it carries Lacey all around town.
The third, a Light Roadster, carries me around town when I feel like being simple and quiet.
Sad thing is, though, this super competent and beautiful bicycle feels kinda left out having never been in a show.  What's that?  Could it be true?
 Is there a way to remedy this terrible oversight?  There is!
Mike posted a request for buyers of three to be built bicycles that should end up in a show this spring at the Museum of Arts Design in NYC.  A museum show!  One of the bicycles Mike wants to build is a black Light Roadster with a D Rack!  Sounds familiar!
The perfect way for my Light Roadster to feel vindicated.
So I offer Mike a loan of mine for the show.  It's perfect for the show, says I anyway.  Sadly, Mike says no.  In his words, he wants the museum bicycles to be the best that he can display.
 What does that make my Light Roadster–the Mike Flanigan equivalent of chopped liver?  Fine chopped liver, I'll tell you!  If Richard Sachs can bring a muddy cross bike to NAHBS, why can't Mike bring a used Light Roadster to a Museum?
 You want that I should ride it through a puddle?
Needs red rims?  Just say the word and I'll gladly pay to have you powdercoat and build a pair.  I even ordered a pair of White Industries platform pedals to grace my Light Roadster.  After I placed the order, I called them to change the order from black to silver, since I read you wanted all silver parts!
 What more can a rabid supporter do?
Mike's bikes are about utility and mine has been utilized!  Museums are filled with used stuff, right?  My Light Roadster has even been hit by a car and survived unscathed!  It should be sainted!
 It should be in the center of the exhibit with a sign exclaiming Mike's mad skills and offering as proof the bike with two lives anyway.
So here is the challenge.  Build a Light Roadster for the show more beautiful than mine.  I dare you.  Double dog dare, even.  If you do, you and everyone in your ANT colony benefits by having your exhibit look so super rad, especially the lucky owner of that special bicycle.
 I'll forgive you for not making my Light Roadster famous as a bonus.  If you don't, well, I know where you live.  Actually, I don't.  I don't even know where your workshop is anymore.  What the?!
OK.  If you don't, I will be forced to take your frame building class and then, after 30 years of practice and a good measure of divine intervention, I will show you how it is done.  I'll lay the OCD hammer down!
Good luck, Mike!  We are all rooting for you!
Eastman made in India Classic Roadster Bicycles from Yellow Jersey
Funny Cars
Wakan 100 Roadster – Motorcyclist Magazine
2013 Husqvarna TR 650 Strada motorcycle review @ Top Speed
2014 Can-Am Spyder Roadster RT Limited