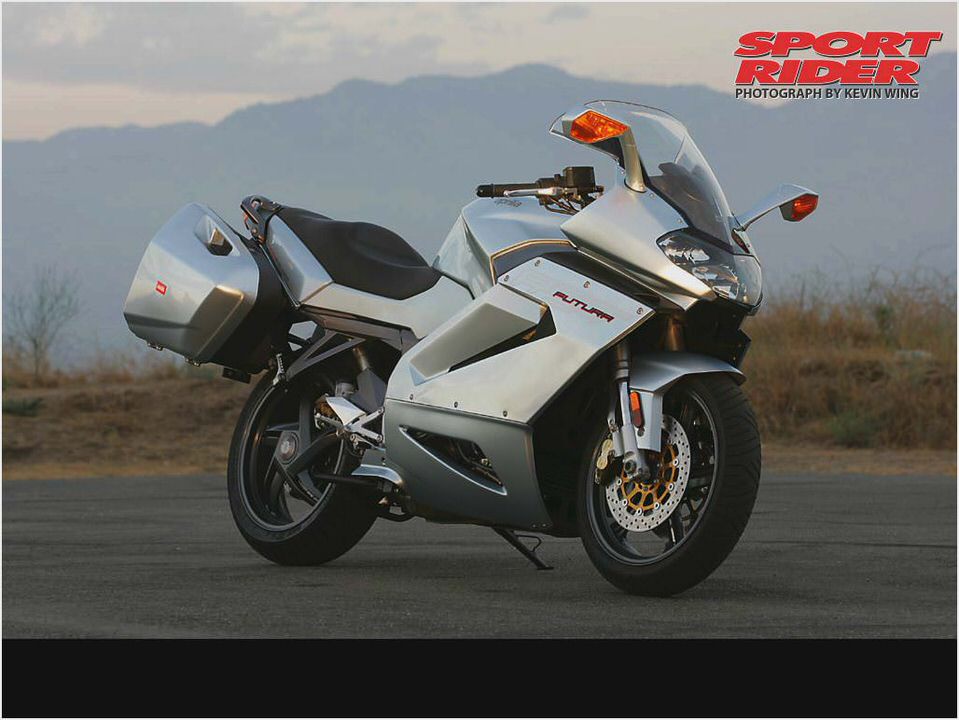 If Aprilia doesn't cut this out, it's in serious danger of becoming our favorite motorcycle manufacturer.
We sat by the phone, roving reporter T. Carrithers and me, for as long as we could. Scott Russell was out for a while (with damaged extremities) and Aaron Slight had opted to drive British Touring Cars instead of AMA Superbikes, leaving at least two Ducati rides open. The call could come at any time.
Listen, Chili's 36 (good one, Pierfrancesco) and, as a matter of fact, Russell himself is no spring chicken. I, for one, am still approaching my peak (Carrithers, on the other hand, is showing signs of dementia). And yet, dreams of GP glory are beginning to fade–not that there's not still time to win a World Superbike title or two before the pension kicks in.
What pension? Never mind.
That's right, I rode Foggy's Superbike once and didn't fall off it even once. Damnit, get off the phone so Signore Tardozzi can get through! Alas, the call did not come. Once again I found myself broken and couchbound.
What'll we do to relieve the pain? Same thing we do every time that dark cloud of ignominious anonymity rolls overhead, Pinky: Have a Paxil and go for a ride for a couple days. What have we got to test this month? GSX-R2000?
Yoshimura Hayabusa? Aprilia RST1000 Futura? Isn't that some sort of touring bike?
Near as we can figure it's like this: Sport-touring is when you're paying the tab yourself, grand-touring is when you ride somebody else's motorcycle on the company nickel, and sport riding is what we do all the time anyway, regardless of the motorcycle. One thing we have learned is that motorcycles need have only two wheels and an engine. Once more into the breach, and pack a toothbrush.
It's our own version of the California rolling blackout.
Well, there's the first thing we like very much about Aprilia's new Futura–luggage. Hard bags. The kind you won't do without once you've done with, and though Aprilia wants a lot of cake for the Futura, that $12,999 price tag includes them.
Our pilot-production tester didn't have them at presstime, but in photos they look slick and integrate very nicely with the rest of the bike, depending on whether you think the rest of the bike is nicely integrated or not. For some, Futura styling revives unpleasant memories of blocky Japanese cars of the '80s. It grew on all of us after minimal exposure.
What we can say for certain is that all of the Futura's pieces fit very well together, with no tacky bits or unfinished details poking out. As a matter of fact, the thing is pretty much delicious, with pieces of polished alloy frame peeking through, distinctive wheels, a cool single-sided swingarm (with an ergal nut holding the wheel on), understated graphics and a beautifully wrought stainless exhaust system that's also nice and quiet, at least until you give a big yank on the throttle–then it's even more delicious.
Naturally, there's a full-service instrument panel that lights up a suave dark blue and red after dark (excellent headlights, too) with outstandingly easy-to-perceive pie-chart LCD gauges for engine temp and fuel, or even ambient temperature, once you learn not to reset the clock. It's all very modern and expensive-car-like, and makes you wonder how you ever derived anything like pleasure from riding 'round on an '82 GS550 with an erratic tachometer that wandered like a glass eye. Shudder to think.
The reason you're able to achieve such penetrating rumination is simply that the ergonomics of the thing are so completely transparent that you spend no time at all thinking about your butt or your wrists, even if it's your job. California rolling blackout. It's a tall motorcycle, if that bothers you, but it matters not once your feet are retracted.
And if you're more than six-feet long, you'll love this one. We don't know if it's the shape or the foam, but the broad seat approximates the consistency of the back of Rosie O' Donnell's thighs, and is excruciatingly comfortable. The riser-mounted handlebars ascend up into an angle that nobody complains about, and slightly rearset footpegs are in a spot that gives all-day touring comfort as well as aggressive back-road control.
The wraparound windscreen is nearly a windshield for five-foot-seven people, though six-foot-two Tim (who'd complain if he were hung with fresh rope) felt slight turbulence under his receding chin. Aprilia says the Futura was tested extensively in a wind tunnel, though it didn't say whether it was the famous Moto Guzzi tunnel, a company it now owns.
You've got your hydraulic preload adjuster for the rear shock, which you can grab with your hand (on the fly if you so desire) and thereby twist rear ride height just where you want it, whether it's you and the toothbrush or you and the missus, several blowdryers, many shoes and just enough room left for your toothbrush. The rear portion of the seat–resculpted for production vs. the wide-body design that debuted at Munich last year–is generous too, with enough broad support for a good-sized broad. Oh, lighten up.
That rear shock is a Sachs, which Aprilia uses on all its bikes except the upscale Mille R. And, along with the 43mm Showa fork, it provides a comfortable yet firmly damped ride, working through broken pavement like an expensive German car, aided by its most excellent throne. There's no compression adjustment at either end, but you can dial in enough rebound damping out back to positively pack the rear end down. There's plenty of adjustment range, in other words.
Yep, there is an engine; and what an engine it is. It's the same 60-degree, dual-counterbalanced V-twin young Troy Corser spanked everybody with at the opening round of the World Superbike Championship–almost. Aprilia revised it for sport-touring duty (grand-touring in our case) with the addition of Sagem engine-control electronics and fuel injection, which Aprilia says is the most advanced on the market.
This one reads crank position every 10 degrees of rotation, and has a throttle-position/rate-of-throttle-opening sensor, etc. for precise injection and ignition timing. Many, if not most, high-performance twins can be a little snatchy at low revs, but Aprilia's goal with the RST was to make it seamless from off-idle all the way up. The RST engine uses different 51mm throttle bodies than the ones on the RSV Mille, and they feed modified intake ports designed for optimum low-rev power.
A larger generator adds flywheel mass, which also smooths power delivery while providing more juice for lights and accessories.
It works. You can burble down to 2500 rpm in top gear, twist the throttle wide open, and the Futura pulls smoothly away. By 2750 rpm, there are already 52 foot-pounds of torque at work, and from there acceleration is linear, highly tractable and more impressive than it looks on the dyno chart.
Once past the 65-foot-pound torque peak, at 7250 rpm, the twin rips hard and loudish right up to redline.
It's not a small bike, but then it's not exactly a big one, either. And once past the aforementioned tallness of the thing, the Futura's nice and thin between the thighs and fits most humans like an Italian suit. It's slimming. At 535 pounds with the 5.5-gallon tank fully fueled, the Futura notches right in amongst things like the Honda VFR800F (515 lbs.), BMW R1100S (545 lbs.) and Triumph Sprint ST (530 lbs.). It's a good size for a sport-touring bike, really.
Anything lighter gets bumped around more by the road and the atmosphere, and anything heavier begins to be less sporty. On the superslab, this one's as nice as anything short of a full-on tourer, with very little engine vibration trickling through the grips at normal American cruising speeds. At highly illegal American cruising speeds, like over 100, it begins to get a little buzzy.
Being the Euro-built travel device it is, though, the Futura lives for those long, winding two lanes, where you can swoop along at 80 or 90 mph, rolling the throttle off and on and letting the CHPs fall where they may. Keep rolling above approximately 60 mph and there's no need to use any gear but sixth, which is a good thing because about the only bone of contention is that the Futura's gearbox isn't the sharpest pencil in the box, needing more pressure than some to find the next gear. Otherwise, it's very difficult to be depressed aboard the Futura on a nice spring day in the California outback, rolling through orange groves and green fields of wildflowers, and scattering wild turkeys on our favorite cow-trail back roads.
Only in that sort of really tight second- or third-gear bumpy stuff does the Futura's size make itself felt, especially ridden alongside the Honda VFR800F. The VFR feels way low and mass-centralized next to the Aprilia, which has to travel further to get to full lean, has a heavier crankshaft and just, in general, more of everything to heave around–and, of course, ridden next to a bigger bike the Futura would feel like the VFR.
Anyway, the Aprilia can keep up with the VFR in tight confines but you have to work harder to do it, you have to plan a bit more. With its smaller, revvier engine and ridiculously buttery transmission, you can just whistle into corners on the Honda, blipping down gears with or without the clutch and hard on the very nicely linked brakes, and then you can just yank the VFR throttle open again.
The Futura, with its boomier motor and balkier gearbox, makes the decision to shift or not to shift harder. And though its injection works very well, the bike's extra torque down low gives the impression you might not want to whack the throttle back open lest you experience days of Futura past.
The Aprilia's suspension maintains its composure, though, even over roads that haven't seen fresh pavement since Teddy Roosevelt. Prodigious Brembos, 300mm stainless jobs in front, have enough fade-free power for us, the rear's nice and modulative, the suspension handles hard braking without going all to pieces, and the standard Michelin Pilot Sports are excellent tires. When the tachometer gets back to the little seven, the Futura reels in whatever gap the nimbler VFR pulled, both bikes cranking out heavenly motoracket, and it occurs to you that you're having more fun than you would on an all-out sportbike because your body doesn't hurt anywhere–and on to the next road.
The verdict, then, is that we all like the newest Aprilia very much. It seems to settle into a vacant niche in the sport-tourer range. It's not quite as sporting as a Honda VFR (yet very close), but then the more compact VFR isn't nearly the traveler the Futura is, with its hard bags and posh seat–especially if you're carrying a passenger. No BMW has the Futura's combination of horsepower and handling.
The Triumph Sprint ST and Ducati ST4 are in the performance ballpark, but neither of them approach the Aprilia's interesting architecture and daring design.
This one truly wants to make you set out on the road for a while, possibly with the one you love. heck, maybe even with your wife. Unplug the coffee pot but leave the answering machine on–just in case.
RS125 Rare SportBikes For Sale
Aprilia Mojito 50 & 150 Motor Scooter Guide
2010 Aprilia RSV4 Factory
Aprilia Dorsoduro 1200 First Ride- 2012 Aprilia Dorsoduro 1200 V-Twin
2009 Aprilia Shiver 750 GT ABS performance picture comparison news