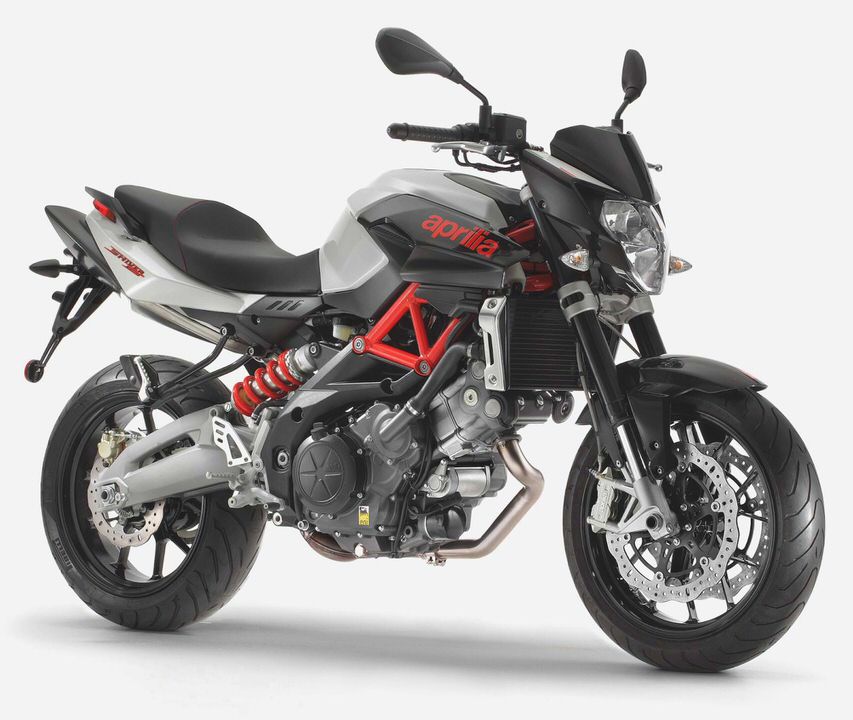 Staffers' Rides
Mods: Akrapovic exhaust, Hyperpro suspension
A fully adjustable Hyperpro shock, combined with the Dutch company's progressively wound fork springs, gave the Shiver a much firmer ride.
A fully adjustable Hyperpro shock, combined with the Dutch company's progressively wound f
Having awakened from winter hibernation, the Aprilia Shiver 750 has happily rolled on.
Everyday riding makes bare the V-twin's sub-par low-speed fueling. Its softly sprung, harshly valved suspension gasps at New York State's ripply, potholed pavement. Thankfully, the motor smoothes out and runs strong when the revs rise above 4000 rpm.
Track-day coaching with Absolute Cycle Experience (www.absolutecycle.com ) on both of New Jersey Motorsports Park's mostly smooth road courses highlighted the suspension's shortcomings.
In this installment, we set out to improve the Aprilia's suspenders, find better bottom-end acceleration, make a few more ponies and slice poundage off the 473-lb. (wet) naked bike.
First up was a Hyperpro 467 series shock ($1009 from www.epmperformance.com ). This boasts individual high- and low-speed compression-damping adjustability, in addition to rebound damping and spring preload, all easily accessed on the Aprilia's side-mounted damper. Unfortunately, the shock's piggyback reservoir negates use of the right-side passenger footpeg because its mounting bracket no longer fits. Up front, Hyperpro progressive springs ($159) and oil were dropped into the non-adjustable fork.
Not anticipating track-day antics, we had the suspension set-up for the sporty side of sport-touring. Nonetheless, on this first go-round, both ends are too stiff and need some refinement.
Hoping to unleash a bit of power and possibly move the dyno curves enough to mask the fueling issues, we bolted on a set of Akrapovic slip-ons ($1350) from the Aprilia accessory catalog. This beautiful titanium/carbon-fiber system, which is street-sensible with its baffles installed, rid the Shiver of more than 12 high-up pounds.
Peak horsepower and torque numbers are both within one tick, but more significantly, the aftermarket slip-ons make up to 4 more ponies from 4000 to 6200 rpm, alleviating some of the Shiver's low-speed stumbles. Another 4 bhp are realized just before the 10,000-rpm redline in (intolerable) un-baffled form, but the stock muffler surpasses the Akro cans from 6300 to 8100 rpm.
Round two of tuning is in the works, but this long-term project is definitely on the right track.
Aprilia Tuareg 600 Wind – CycleChaos
Ridden: Aprilia RSV4 FactoryLaunchControl.co.za LaunchControl.co.za
2003 Cadillac Escalade EXT awd Fremont, Nebraska Siemer Auto Center
Aprilia steals the show – Telegraph
AE14: Piaggio's Vespa, Moto Guzzi and Aprilia Updates from Auto Expo 2014