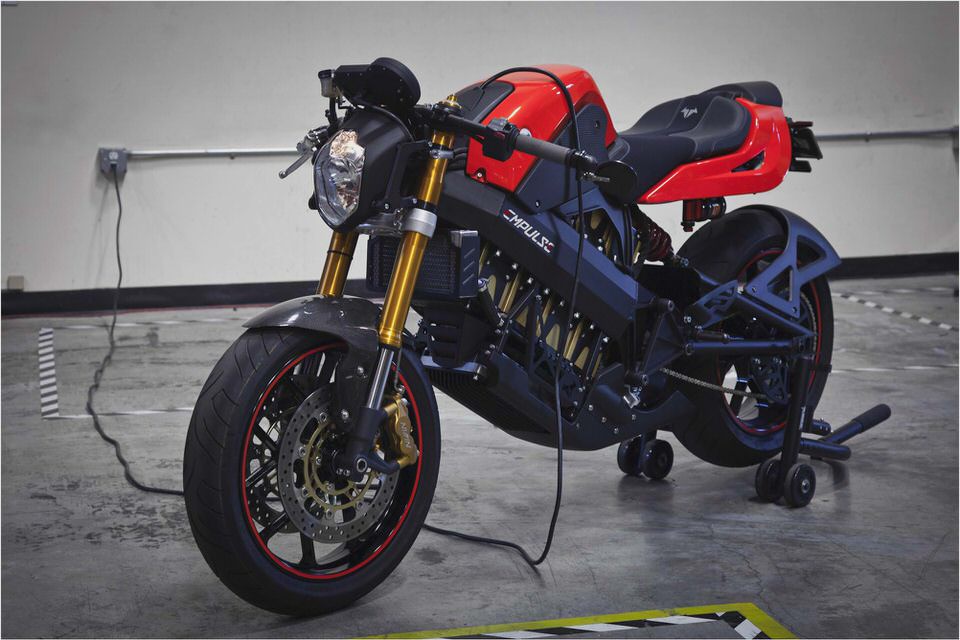 Brammo Releases Empulse R Specs
Brammo Inc has teased the specs for its upcoming Empulse electric motorcycle. The Ashland, Oregon-based company will go for the full reveal on May 8th. Until then riders are left to mull over the detailed specifications, which include power claims of 54 horsepower and 46 lb-ft of torque.
Two versions of the Empulse are promised from Brammo at the May 8th unveiling. The standard Empulse will presumably be a non-faired version, similar to the prototype first announced in July 2010. The R-spec figures to be a fully-faired sportbike development based off Brammo's TTXGP North America-winning Empulse RR piloted by MotoUSA contributing editor Steve Atlas (Read more in Electric Superbike Racing ).
The powertrain on both models will source a water-cooled permanent magnet AC motor. Brammo touts its BPM 15/90 battery packs. The lithium-ion batteries are comprised of a NCM (nickel cobalt manganese) chemistry and have a capacity up to 10.2 kWh. (Brammo originally planned a three-model Empulse line with graduated battery densities with corresponding model names: 6.0, 8.0 and 10.0.) Brammo claims a battery life of 1500 cycles.
One critical addition touted in the Empulse specs is a J1772 Level II charging system. This allows Empulse riders to tap into faster charges via charging stations that are popping up in larger metro areas. Brammo claims the new charging system makes for a 3.5-hour full recharge, with the traditional Level I on-board charger requiring eight hours.
The J1772 Level II claims to add five miles of range for every 10 minutes of charge, a significant improvement for commuters or urban errand runners.
Related Brammo Empulse Articles
Speaking of range, Brammo cites a City range as 121 miles, qualifying that claim at variable speeds with a 19 mph average. A more realistic Highway range, measured at a constant 70 mph, is 56 miles. A Combined range (.5 City and .5 Highway) is pegged at 77 miles.
The six-speed IET (Integrated Electric Transmission) transmission, Brammo's big news story last summer. remains in the Empulse specs. It will be operated via hydraulic wet clutch. Brammo founder and CEO Craig Bramscher identified the traditional clutch and gear shifter as a critical component to reaching American riders, when the transmission plans were revealed in May, 2011.
The six-speed gearbox is a notable divergence from Brammo's chief rivals, including Zero, which maintains a single-speed design.
Brammo cites a 440-pound weight for its new mount. Rolling chassis is an aluminum frame, credited to Italian firm Accossato. The Italians also lend the wheels, Marchesini, and 43mm Marzocchi fork.
The front suspension will be fully adjustable, as will the Sachs shock. Brembo delivers the braking components.
"The Empulse and Empulse R are a milestone for Brammo and the new electric benchmark for the motorcycling industry. I know when I reveal the bikes on May 8th people are going to be blown away by the integrity of the design and the focused presence this motorcycle commands," said Bramscher in a company press statement. "When we first revealed the Empulse prototype, our customers had some very clear feedback for us and that feedback has inspired much of what you will see in the production version."
The most critical spec on the forthcoming Brammo is prominent in its absence MSRP. Bramscher has promised the company's partnership with Flextronics should bring an economy of scale that will keep pricing competitive. Expect pricing and production dates at the May 8th reveal.
Brammo Emplulse R Specifications
Motor Type: Permanent Magnet AC (PMAC) – Water Cooled
Motor Controller: Sevcon Gen 4
Peak Motor Power: 54 horsepower @ 8200 rpm
Peak Continuous Current: 270 amps
Final Drive: Chain (14/48) 520 O-ring chain
Transmission: IET 6 speed gearbox with multi-plate, hydraulic activated wet clutch
Max Motor Torque: 46.5 lb-ft
Battery Type: Brammo Power BPM15/90 Lithium-Ion (NCM Chemistry)
Battery Pack Capacity: 9.31 kWh (nominal), 10.2 kWh (max)
Battery Pack Voltage: 103.6 V (nominal)
Battery Life: 1500 cycles to 80% capacity (100% DOD)
Recharge Time: Level I maximum charging time: 8 Hours. (0 99% SOC, no cell imbalances)
Level II maximum charging time: 3.5 Hours. (0 99% SOC, no cell imbalances)
Every 10 minutes of Level II charging adds up to 5 miles of range
Empulse R Performance: 100 + mph (160 + km/h)
Driving Range: City: 121 miles* (195 km)
Highway: 56 miles** (90 km)
Combined: 77 miles*** (124 km)
*SAE City Riding Range Test Procedure for Electric Motorcycles (variable speed, 19 mph / 30km/h average)
**SAE Highway / Constant Speed Riding Range Test Procedure for Electric Motorcycles (70 mph / 113 km/h sustained)
*** SAE Highway Commuting Cycle (.5 City weighting. 5 Highway weighting)
Operating Modes: 2 Operating Modes selectable through the handlebar switch:
1. inchNormal inch – limits acceleration by reducing maximum current delivered to the motor through the motor controller in order to maximize driving range.
2. inchSport inch – provides maximum performance in both acceleration and top speed.
Regenerative Braking: Under deceleration, energy is returned to the battery system to both extend driving range and provide familiar rider feedback.
Operating Cost: Assuming 13 cents /kWh for electricity:
1 cent per mile around town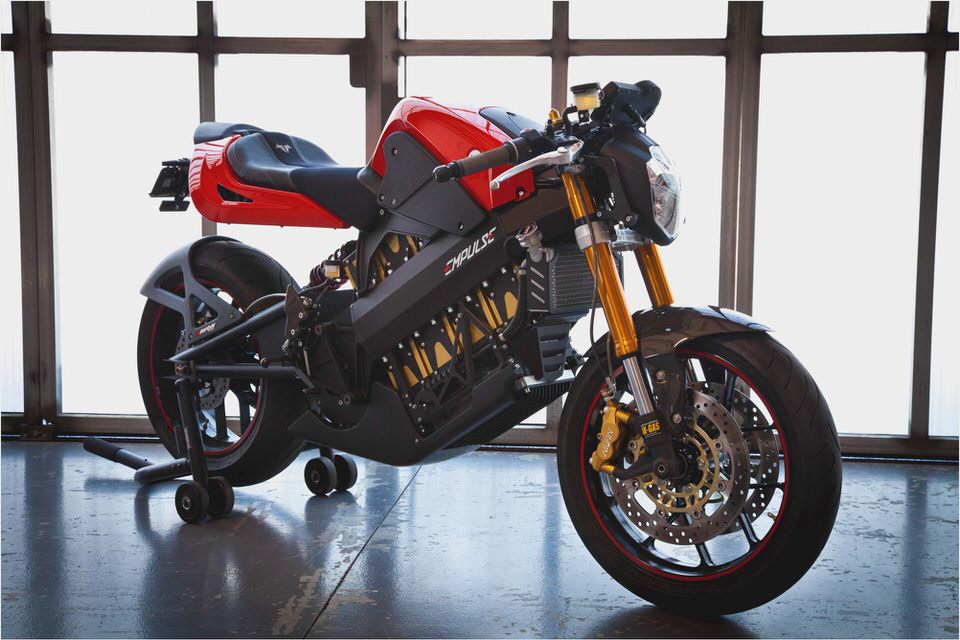 2 cents per mile on the highway
Data Collection: Brammo DDC™ (Dynamic Data Collection) records key motorcycle parameters at 1Hz (1 sample/second) for analysis and service support.
Weight: 440 pounds / 200kg
Seat Height: 31.5 inch
Width: 31.8 inch (bar end-to-bar end)
Height: 42.6 inch (highest portion of the dash)
Length: 81.3 inch
Ground Clearance: 7.3 inch
Storage Capacity: Optional Brammo hard saddle bags and top trunk.
Fuel Economy: 485 mpg-e
Carrying Capacity: Cargo Capacity 365 pounds (805 pounds total combined motorcycle, rider, passenger and cargo)
Wheelbase: 58.0 inch
Warranty: 2 Years (Limited Factory Warranty) 1 year Fender-to-Fender Limited Warranty, 2 year Limited Powertrain Warranty (Batteries and Motor)
Colors: True Blood Red, Eclipsed Black, White Noise
Frame: Brammo E-Beam™ Aluminum, Fabricated by Accossato in Italy
Suspension Front: Fully Adjustable 43mm Marzocchi Forks
Suspension – Rear: Fully Adjustable Sachs Shock
Brakes – Front: Dual 310mm Brembo floating disk with twin four piston Hydraulic Brembo Brake Calipers, Radial Mount.
Brakes – Rear: Brembo single disk with dual piston Hydraulic Brembo Brake Caliper
Wheels (Front/Back): 17 inchx 3.5 inch Marchesini / 17 inch x 5.5 inch Marchesini
Tires (Front/Back): 120/70-17 AVON AV79 / 180/55-17 AVON AV80
Instrumentation: LCD display; speed, tach, odometer, gear position, energy consumption, battery status, estimated range and system status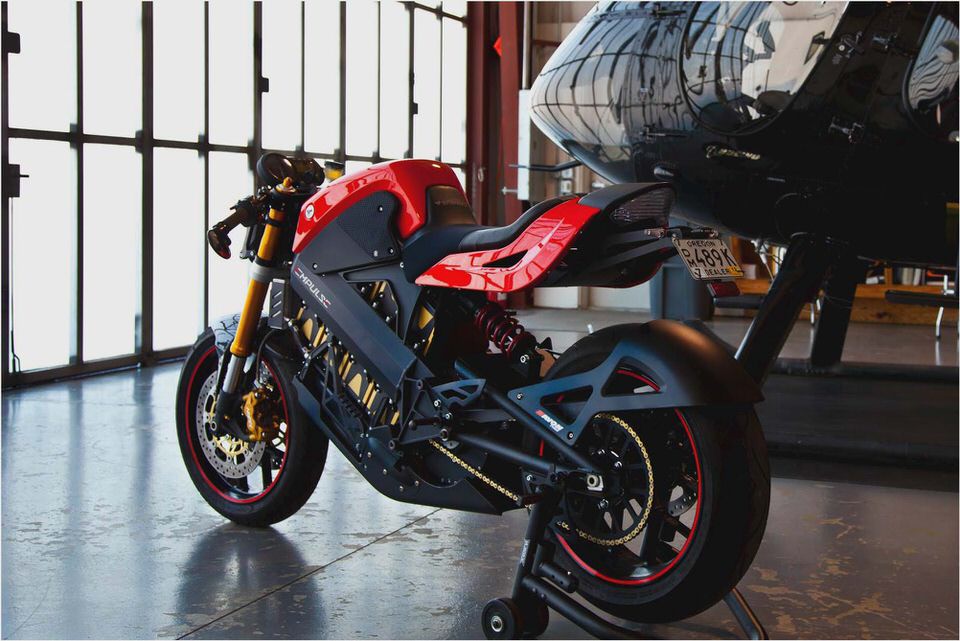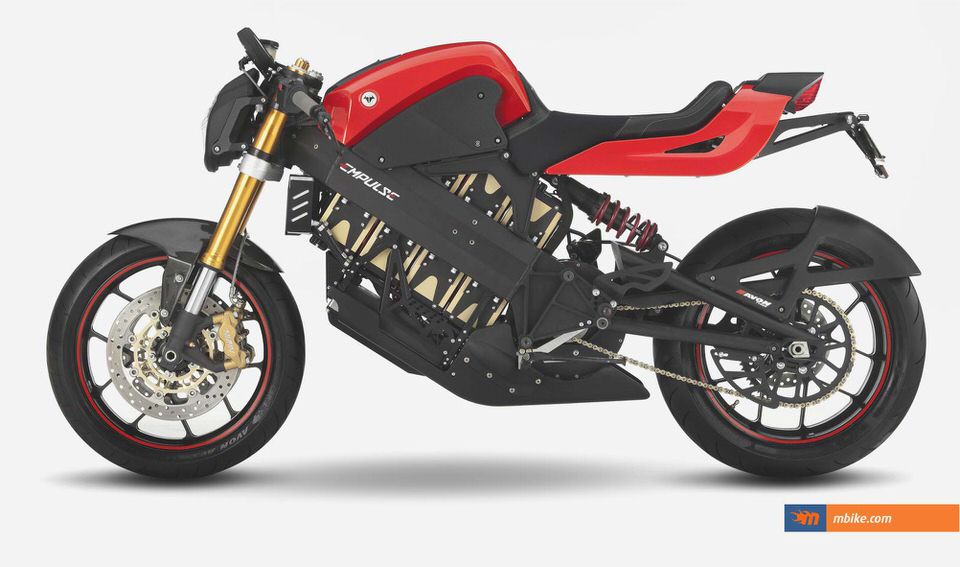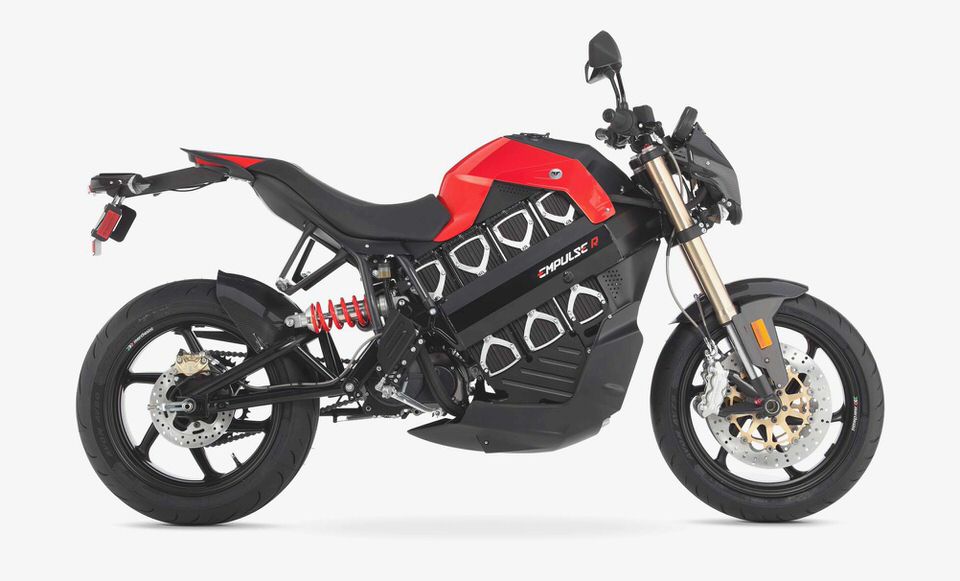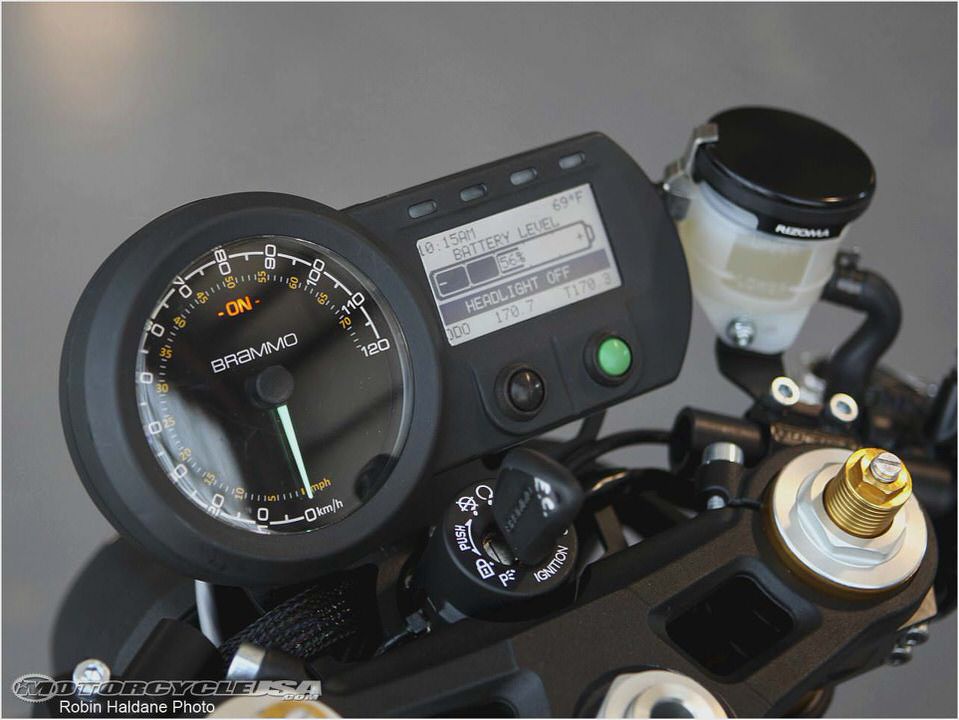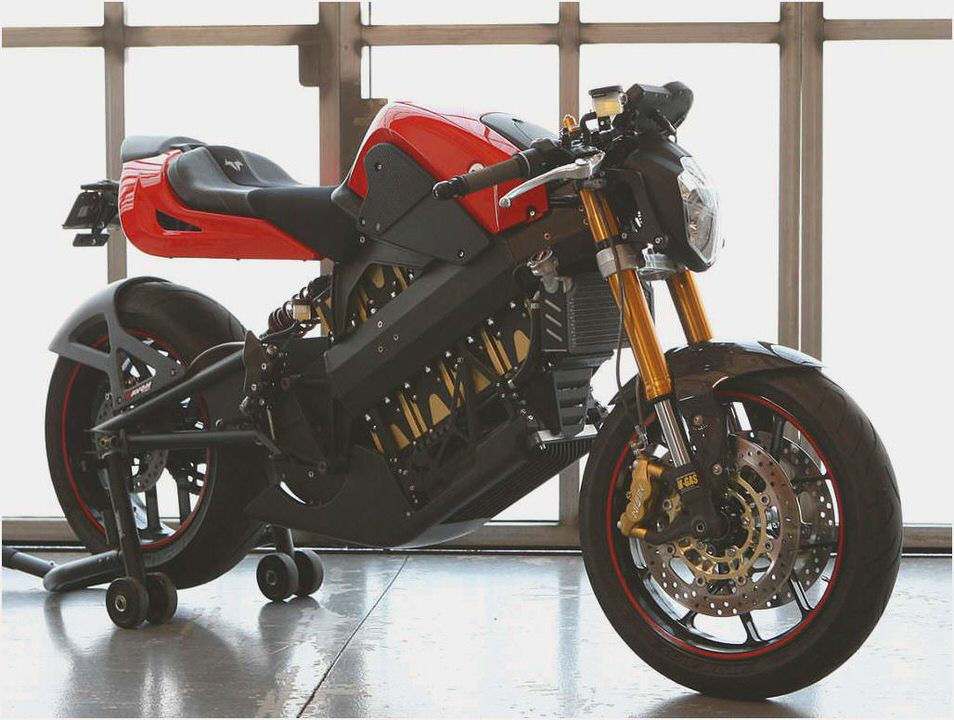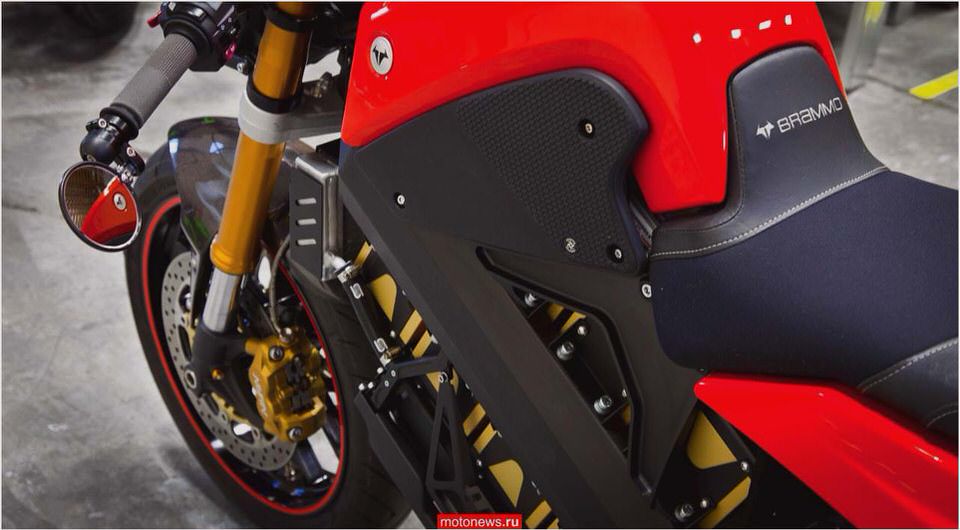 Brammo's 2nd-gen electric motorcycle: the Empulse 10.0 streetfighter
Feeling Impulsive? Take Brammo's Empulse Electric Motorcycle For…
Introducing A Trio of Brammo Empulse Sportbike Prototypes PlugBike.com
New Brammo Electric Motorcycle Is Fast Enough for Trouble Autopia Wired.com
PlugBike.com Electric Motorcycle News Blog – Part 6