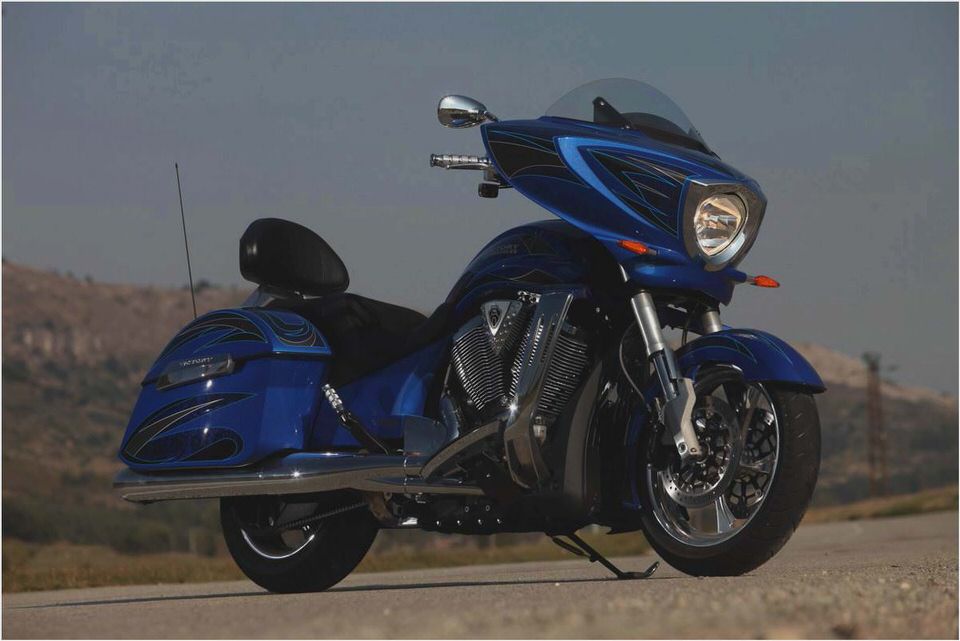 Cory Ness – Victory Sturgis Buffalo Chip Bike
We talk to custom builder Cory Ness and owner of the Sturgis Buffalo Chip, Rod 'Woody' Woodruff, about this year's Sturgis Rider Sweepstakes bike, a custom Victory Cross Country. Hear Cory run down the customization process in our 2013 Sturgis Rider Sweepstakes – Victory Cross Country video.
To what extreme would you go to own a one-off motorcycle customized by none other than Cory Ness. Sacrifice a finger, donate an internal organ, sell a sibling? What if we said you could indeed own a Victory Cross Country with bodywork fabricated by Cory and the Ness crew without going to such extremes?
It's true, courtesy of Rod "Woody" Woodruff and the good people at the Sturgis Buffalo Chip. because one lucky visitor to The Chip during the Sturgis Rally 2013 will win this bike as part of the annual Sturgis Rider Sweepstakes.
"We always want to do the best. We started giving motorcycles away because, hey, we're a motorcycle place. All the people here are very enthusiastic about it and it's a killer motorcycle.
American-made, it's absolutely gorgeous, and Cory Ness customized it. It just doesn't get any better than that," said Woody in our recent interview.
The prize this year has been sweetened even more with the inclusion of a matching Epiphone Les Paul Studio guitar. Music and motorcycles are what The Chip's all about because nobody comes close to putting out a concert line-up during Sturgis like the Legendary Buffalo Chip. They've already locked in the likes of ZZ Top, Kid Rock, Mastodon,
When it came time to choose a custom builder for the 2013 Sturgis Rider Sweepstakes bike, Woody from The Chip said selecting Cory was a no-brainer.
The Sturgis Rider Sweepstakes Bike, presented by the Sturgis Buffalo Chip, comes complete with an Epiphone Les Paul Studio Guitar and a Kicker amp to play it through built-in to the saddlebag of a Victory Cross Country.
A Ness Flip Windshield has a little lip to help divert wind around riders and is smoked just for it's good looks.
Halestorm, Toby Keith, Brantley Gilbert for this summer with plenty more still to come. So having a matching Epiphone guitar that plugs into a Kicker amp built into the right saddlebag of the Sturgis Rider Sweepstakes bike only seems fitting. Plug in, grab your guitar, and be the life of every party you park your bike at. Or maybe the bane, considering who you're camped next to.
Regardless, it's just further evidence that this bike is like no other. When asked where this idea came from, Cory attributed it to the guys over at Victory Motorcycles.
"I think Robert (Pandya) had the idea that this would be a cool deal to tie in the guitar to this thing, which works perfectly for the theme of the Buffalo Chip. We took it to the Long Beach show and it was a big hit." The bike made its public debut back in December at the Long Beach International Motorcycle Show when local musician Jared James Nichols plugged in and demonstrated its capacity to rock the party.
Last year Brian Klock and the team at Klock Werks Kustom Cycles got the nod to build the bike, so we asked Woody how he decided on this year's custom builder for the project.
"We had the opportunity just to work with the best and I consider the Nesses the best. The integrity of the family and their reputation. They're so easy to work, so dependable, and so many people love their work, so it just seemed like a natural."
A natural fit indeed. Though Arlen spearheaded the Ness immersion into the world of custom motorcycles, there are currently three generations of Nesses building custom bikes. When we had an opportunity to sit down and ask Cory about this year's featured model, the Victory Cross Country, we were curious as to why he chose this particular model and how he approached the project.
"Of course, the Buffalo Chip has a strong alliance with Victory Motorcycles, so right now the Cross Country is the hottest model they've got going. So we started with that. I think it was a good choice.
"The first thing we do with a project like this is, you've got to figure someone is going to own this motorcycle eventually when the raffle is done, so you want to make something that's really rideable, but you still want to put some creative flair into it as well so people can see what you can do. You can showcase, since we're in the business of making parts, things that a guy can check out on the bike and maybe put on his bike as well," explained Cory.
Cory has plenty of experience working with the Victory Cross Country and has used the platform as his Victory Ness Signature Series Victory bike in 2011 and 2012. So to take the project to the next level, he first had to step away to gain insight for his approach to the version he created for the Buffalo Chip Sturgis Riders Sweepstakes bike.
"When it came to the design of the motorcycle, as far as the fab work I wasn't sure exactly what I wanted to do, so I had to kind of get away, get out of the office a little bit and just keep looking, keep looking, keep staring at it a little bit to see what could be done. And before you know it, I picked a path
Would you expect anything less from a bike customized by Cory Ness than a motorcycle that's clean and classy?
and this is what I came up with," he said.
What he came up with is a pearl of a motorcycle that's going to make one lucky Buffalo Chip fan feel like they've hit the lottery. As Woody said, winning is enough to make "grown men jump up and down like children. The fellow last year, I'll bet he's still jumping!"
They're not the only ones jumping. When presented with the opportunity to build this year's Sturgis Rider Sweepstakes bike, Cory didn't hesitate to step up to the task and got cranking on the project right away.
"I thought it was pretty cool when I got a call from the Buffalo Chip to see if I was interested in being part of the 2013 concert series for the raffle giveaway," Cory said.
After deciding on the design direction, it was full steam ahead for Cory as the window to complete the project was narrow. While we had him cornered, he was kind enough to run down what all's been done to make this Victory Cross Country like no other.
"Starting at the front of the motorcycle, I put one of our 23-inch front wheels on it and one of our 23-inch front fenders for the Cross Country, along with our six-degree rake triple trees. If you're going to put that big of a wheel in front of a motorcycle you need to kick it out. So we got it where there's a lot of trail and handles really nice.
So we did that, polished up the front end. On the fairing, we added a couple of our Power LED lights which the company makes for the Cross Country now. We also make the Flip Windshield, a nice tinted short windshield with a little bit of a lip that will take some of the wind off you and works really well.
"Going up to the handlebars, we're making modular handlebars, so whoever wins this motorcycle, you can pull them in, put them out, you can pull them closer to you so you can make it almost uniquely custom fitted to just about anybody. Then we added our grips and mirrors, staple items that we've done for years.
A new gas cap from the Arlen Ness catalog dresses up the tank of the custom Cory Ness Cross Country, a tank that has been both stretched and lowered.
Now that's an attractive cockpit!
La Pera stepped up to make the seat for the Cory Ness customized Cross Country. This one happens to be made of stingray skin.
"Moving on to the gas tank. We cut out an inch-and-a-half out of the height of the gas tank, stretched it about seven or eight inches and it flows nicely into the seat. We also have one of our new gas caps on there that looks really nice and clean.
La Pera did a seat for us that's made of actual stingray. The rear fender, when you look at that, we added to the sides of the fender, fillers in between the bags and the rear fender. It's all cleaned up and hides the gaps. Also the rear fender was actually extended forward because the stock fender has a large hole in there when you have a two-up seat. By doing that, as it raises higher, it actually makes a real nice back support.
So if you look at the seat, you have a lot of really nice back support that's really clean with a low profile.
"Going over to the saddlebags, we dropped in some Kicker speakers into the lids, and of course, inside the bags is where you can plug in your guitar. So you can pull up and if someone has the talent to play, which I don't, you can plug into there and have some fun. We've got LEDs on the rear as well and one of our billet rear wheels as well.
The floorboards, the foot controls, all machined aluminum, all are items you can buy out of our catalog that are made for Victory Motorcycles. Our exhaust tips, and then the paint. We did a pearl white one, something that's really clean.
We wanted to show off all the fabrication and bodywork so instead of having a really loud paint job, we went with white and candy red which is a nice, clean combination," Cory concluded.
When asked what he thought of the end result, Woody said "Oh man, it's so beautiful. I mean, it really is beautiful. I'm watching the people looking at it just ogle over it.
This thing is just perfect. It's phenomenal."
We know Woody to be a magnanimous man, evident by the hundreds of thousands he has donated to local charities and the Sturgis Motorcycle Museum and Hall of Fame through funds raised at the annual Sturgis Legends Ride, but we still wondered why he gives away such an incredible custom motorcycle for free.
"We have all these folks that come to the Buffalo Chip year-after-year and it's a way to let them to stay in touch during the year and then have something really to look forward to once they get there. Somebody's going to get one of the best raffle bikes ever made, anywhere," Woody said.
He also mentioned how excited he is about this year's rally at the Sturgis Buffalo Chip, saying "We've never had stuff going on like we have this coming year." This includes an improved CrossRoads area, the free "gathering area" and pit stop for bikers The Chip opened up last year that has plenty of entertainment going on in its own right, from fire-eating performers in the Illuminations Fire Troupe to rockabilly shows by The Living Deads to The Rat's Hole Custom Bike Show. Woody said that this year they've doubled the size of the building, improved the stage, and have added more enclosed permanent vendor spaces. They've also paved much of the access roads so there should be a whole lot less dust.
Inside the natural amphitheater and on the Wolfman Jack Main Stage, it promises to be a blockbuster year at The Chip. Though contracts are still being signed and final plans are continuing to be negotiated, we'll let you know Woody said they'll have at least five world records attempted this year and the entertainment will verge on Evel Knievel epic-ness.
Until then, sign up for your chance to win a custom Victory Cross Country customized by Cory Ness at the Sturgis Buffalo Chip website. And start counting the days because Sturgis 2013 will be here before you know it.
Victory Cross Country Tour Review How To Save Money And Do It Yourself!
Victory Motorcycles Dealernews Blog
Customizing The Victory Cross Roads Victory Custom Bagger The Biker's…
2012 Victory Cross Country Tour motorcycle review @ Top Speed
2014 Victory Cross Roads Classic Specs And Feature 2013 2014 Motorcycle…