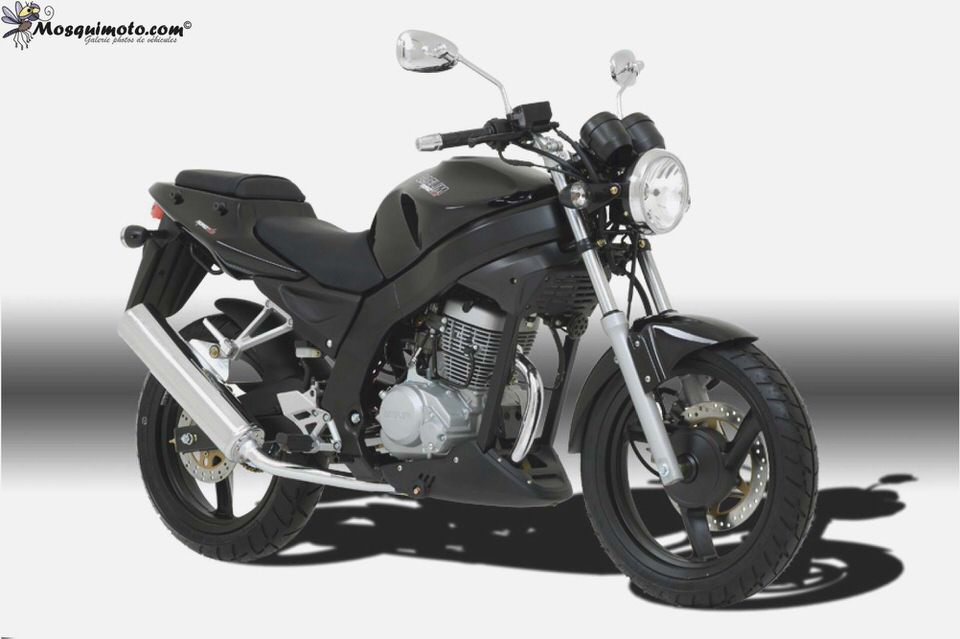 Brand Search
I have to tell you that I wasn't the most excited motorcycle reviewer in the world when the Daelim distributor called up and said "we have a 250cc Daelim Motorbike for you to try out" you see I have by some unfortunate (??) twist of fate become the Motorcycle Review go to guy for "learner bikes"  and I have always seen Daelim as a scooter manufacturer (good scoots by the way!) so it was with some trepidation that I followed Dionne into the warehouse to take a look at the Daelim "Roadwin F4". Yes, that's right Roadwin. winner of roads?
Winner on the road? F4. like some sort of Fighter Jet. Whatever the case, and as passé as "name gags" are. the name is just too easy to exploit and I was eagerly anticipating the good natured roasting to come.
However the sight that greeted me was very much a surprise, a narrow, low seated sports bike was sitting there amid the 50cc 2-smokers. Complete with race style paint and full fairings. well that isn't what I was expecting. hmm. Then I got yet another shock, the price. a fully featured learner style sport bike for under six grand(in our "down under" currency (Apparently to hit the US at around $3200))! Ok this is a pretty good start. so I jumped on, fired up the little guy and took off. well eventually (more shortly)
The first thing that you notice mounting the Roadwin is the physical size, it is nice and small. unlike some other 250cc sport style bikes which aim to give the impression of a 600cc supersport  the Daelim has been built with sport style but more learner (and at the risk of sounding sexist) female friendly dimensions. The seat is nice and low, the tank is reasonably narrow and everything is easily accessible with the pegs and controls in a not too extreme location.
The only thing that doesn't fit this compact prerequisite is the clutch lever. which caused me some initial consternation. You see I have massive hands and I couldn't get the bike to move. I thought I was out of practice and had forgotten to put the thing in gear or something equally foolish, then I stalled.
It turns out the clutch doesn't engage until the lever is nearly all the way out. Hollywood found that he had to use the lever half way along (toward the bars) so he could operate it with his smaller hands. this lack of travel would make controlling the bike (including using the engine for braking) difficult for learner riders who are likely to be the main market. I'm not sure if this is a standard feature of if the adjustment of the clutch on the test bike was less than perfect but I had to mention it as although you get used to it, it is a less than ideal trait.
The second thing that you notice is an easy to read, modern looking dash cluster with a neat blue glow. There is a good, visible speed and rev readout along with a fuel gauge and clock although it is missing a gear indicator which has become something of a standard feature of most new bikes.
Riding the Roadwin is where it comes into its own. is it fast? Well. no, but then reasonably priced 4 stroke 250cc bikes seldom are! Acceleration is at least adequate and it will hold its own on suburban streets or the freeway.
The handling however is the real positive of this machine, I was expecting (considering the price) to tell you negative things about soft shocks and no stopping. however I am happy to report that the light weight and low narrow bearing of the Roadwin make it a joy to throw around. I have to admit having an absolute blast in tight windy corners and the day to day traffic samba.
Suspension is up to the job and although there is a bit of dive under breaking as expected, overall it works well and doesn't demand too much of the rider. Breaking is handled admirably by the twin front discs and I always had faith that it would drag my bulk to a standstill in plenty of time. or at least in plenty of time to flick the featherweight around any obstacle in my path.
The overall impression of this machine, contrary to my initial concerns is of a well built, solid performer that looks absolutely fantastic. For essentially pocket change you get a responsive engine, clean gearbox (that is admittedly a bit twitchy about finding neutral) smile inducing handling all in a package that is well suited (clutch notwithstanding) to beginner riders and those who are of a less gigantic persuasion (and my massive frame was more than comfortable on it too!).
On top of that you get a good looking fully faired bike, with good quality fairing materials, which looks like a bike and not something the postman would ride! Oh and I must mention that there are two color schemes available, the pearl white which was the one tested and photographed and a matte black and orange one which looks (in my not so humble opinion) like a Rocket-powered Stealth-Cheetah!
If you are in the market for a learner bike, consider forgoing the second hand dross available and take the Roadwin for a ride. on the road. dare I say it, it really does "win".
Manufacturer Specifications
Daelim Daystar VL125L VL 125 L manual, review
Scooter Review: Daelim S3 125 – Twist & Go Magazine
Daelim S-five parts
Daelim VJF250 Roadwin –
Daelim S-Five 50 Review Scooter News and Reviews Scootersales