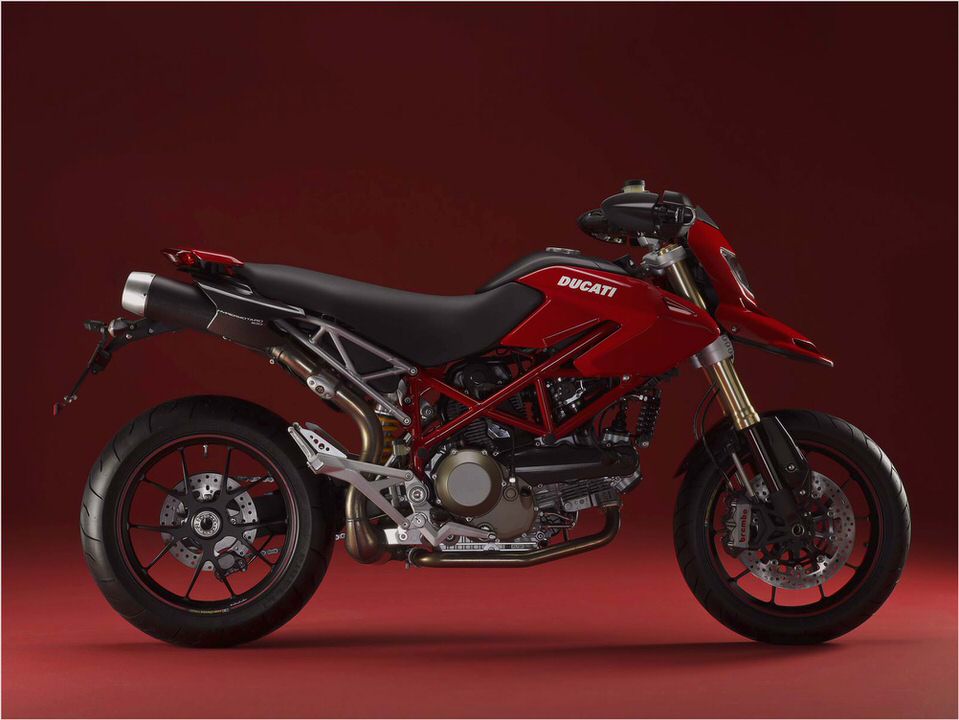 "The Ducati Hypermotard will rip any other bike apart, with the front wheel in the air, and a chick on the back."
Remember the kid that was always faster, fitter and stronger than you in school? He was the same kid who got good grades even though he spent all his time chasing girls, and getting them. Well the Ducati Hypermotard is the motorcycle that kid would ride now that he's grown up. It's slicker, faster stronger and better looking than almost anything else on the road, and it does it effortlessly.
You may be sitting there on your Suzuki GSX1400 beast or your brand new Honda Fireblade . but the Ducati Hypermotard will still rip you apart, with the front wheel in the air, and a chick on the back.
The Ducati Hypermotard is in fact hyper, and a wheelie monster but with that upright motocross seating position, it's nimble and easy to handle. It makes you wonder why there aren't more bikes like the Ducati Hypermotard on the market, oh, that's right, because it will f*c*ing destroy you if you aren't careful. The main negative points with the Ducati Hypermotard which crop up in most reviews, concern the small size of the tank.
But I can't help but think that the small range is more than worth the amount of fun available due to it's light weight. The other "issue" being that it's obviously based on motocross bikes. You wouldn't really want to go off road with the Ducati Hypermotard . as it's not really a motocross bike (as if you didn't know that already), but so what.
You look so damn good on the road, why would you want to go off-road where people can't see you.  I mean come on!
The Ducati Hypermotard 796 produces an impressive 81hp (59.6kW) @ 8,000rpm and 55.7lb-ft (75.5Nm) of torque @ 6,250rpm, don't forget this bike weighs less than your Grandmother!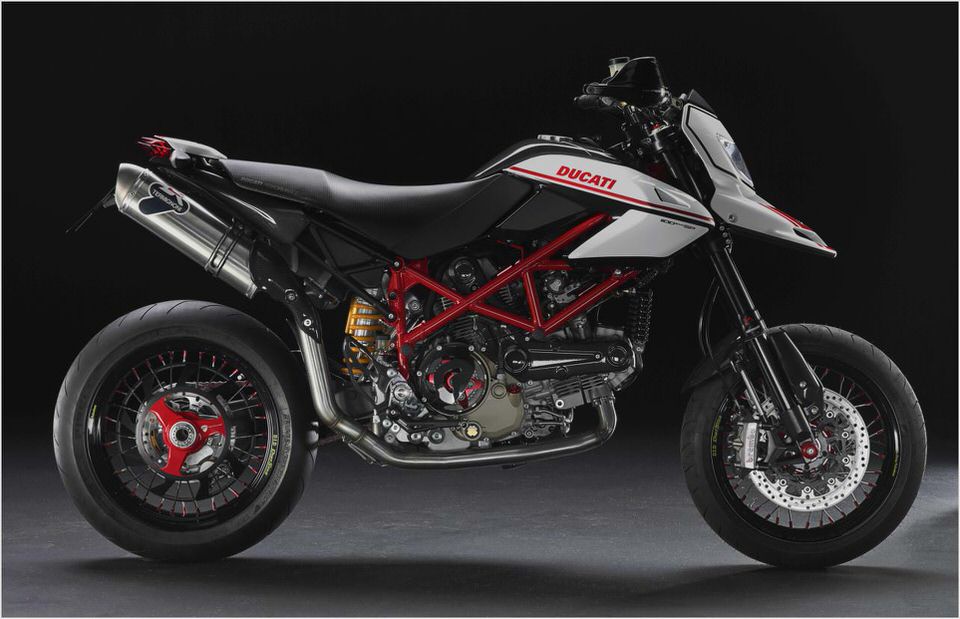 The Ducati Hypermotard 1100 EVO is said to weigh 5.3kg (11.7lb) less than the standard 796 Hypermotard . and with 95hp (69.9kW) @ 7500rpm and 75.9lb-ft 10.5kgm @ 5750rpm of Torque, things get a little bit scary and by the way, it weighs 172kg (379lb).
The first time I became aware of the Ducati Hypermotard was when I watched Jim Carrey in YES MAN . Much like the first time I saw the Ducati Diavel Super Cruiser. I wasn't too excited about it at first, but I think it's because it was such a drastic change from what I had come to expect from D ucati. Now of course, it's everything we expect from Ducati . Ducati seem to have put alot of money into product placements.
A heavily modified Ducati Hypermotard is featured in the Terminator Salvation movie, the motorcycle of choice in the recent Wall street movie, Money never sleeps is the beautiful Ducati Streetfighter . and one of my personal favourites, Tron Legacy . features the Ducati Sport Classic 1000. Tom Cruise also has a clear penchant for Ducati motorcycles . and the recent film " Knight and Day " also subscribes to the Ducatis are the sexiest bikes out . ethos!
So, the Ducati Hypermotard . too much to handle for most riders and perhaps more to the taste of younger Ducati fanatics (such as myself). It's fast, powerful, light, sexy and basically just better than anything that has ever rolled on two (or one depending on how hard you accelerate) wheels!
If you have one, please leave a comment and let us know how it is to actually live with this bike, is it as glamorous as we believe it to be?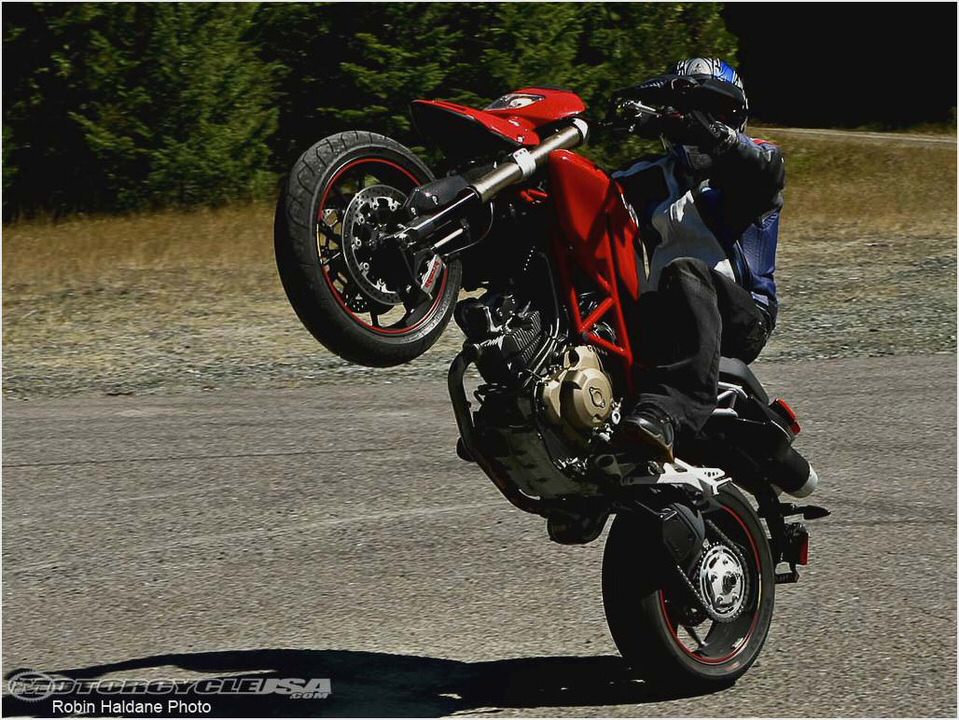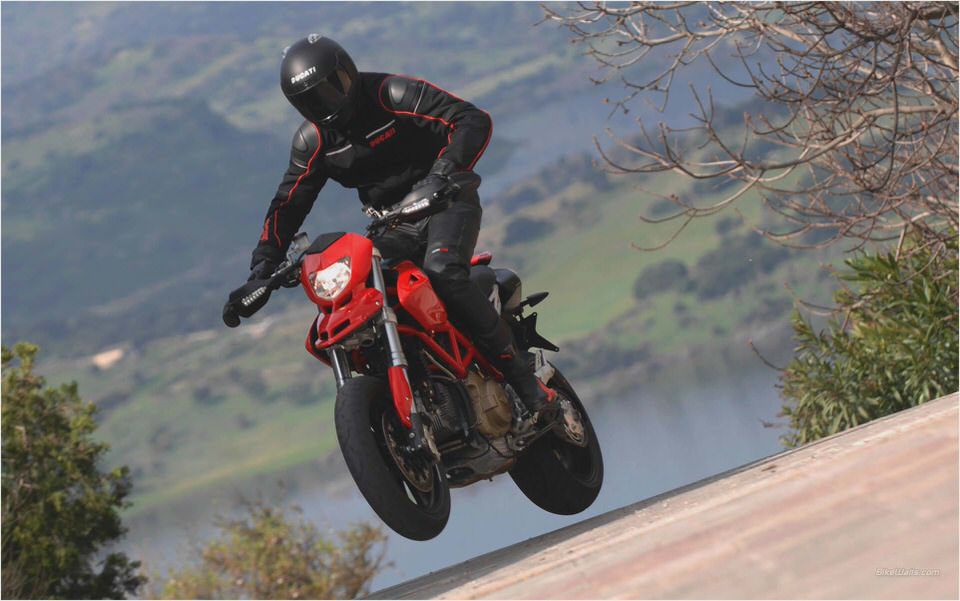 Ducati Desmosedici RR vs. 1098R – Motorcyclist Magazine
2000 Ducati 750 Monster Dark – PNW Riders
Cross Zone
The Ducati 860, 900 and Mille Bible (Bible), Ian Falloon – Shop Online…
Oakley Ducati SCALPEL Casey Stoner Edition Official Oakley Store