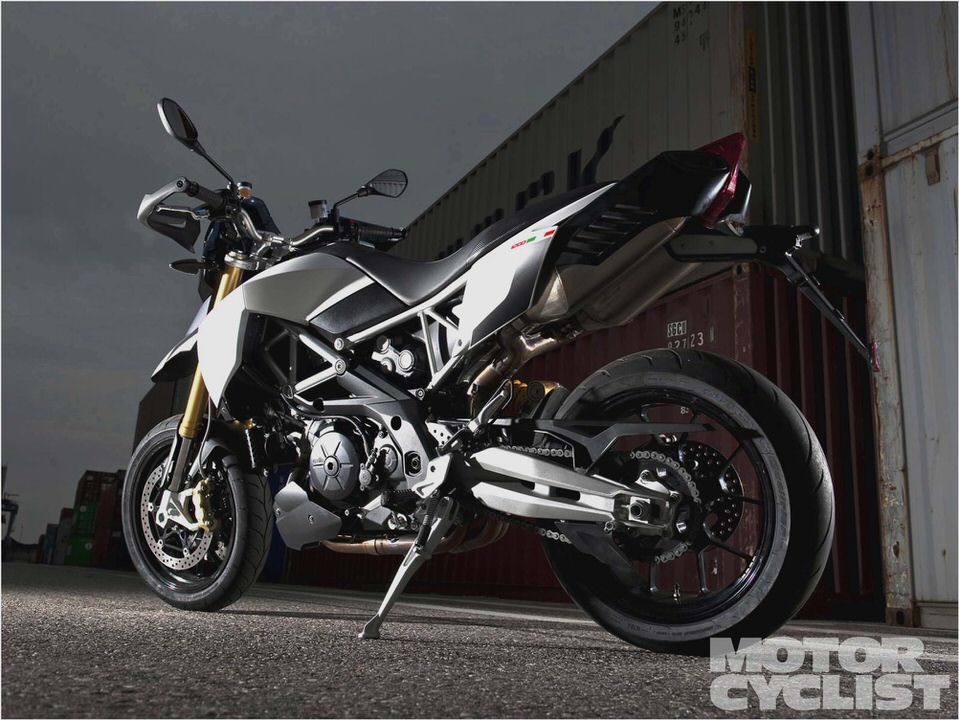 First impressions of the Aprilia Dorsoduro 1200
When I found out the Dorsoduro was coming in a 1200 I had an idea that it could finally supersede my Buell XB12X, a bike I have owned,  loved and ridden daily for the last 4 years.
The Buell XB12x (known as the Ulysses, a terrible name) is a great bike but something new had to be on the horizon and there is not exactly a massive rangevin the market for large super motard style bikes. There is the Ducati Hypermotard 1100. there is a the KTM Super Duke 990R (more a naked streetfighter), the KTM 990 Supermoto and until now not really much else. They are all great bikes in their own rights but for one reason or another haven't grabbed me.
I like big road bikes that feel like dirt bikes, is that a problem? I like sitting up straight, I like big wide bars, I like tucking up and into the tank scooched up into the seat, and I like POWER.
I don't necessarily want SPEED, like a Hyabusa doing 300+kms down the freeway, because I just don't want to do that really, so the choices had been far and few between until Aprilia have stepped into the spotlight with the new 1200 Dorsoduro .
Based on the fun but underpowered 750 by the same name, when I first read about this bike it wasn't going to be brought into Australia, so when A1 motorcycles rang me and said they finally had one, and a demo to test ride, well let's just say I couldn't get there quick enough.
First impressions were good. The bike sits up straight has a fairly high seat position which is perfect for me at 6'2″ and all arms and legs. It certainly looks tough in my eyes, aggressive and just like a big overpowered dirt bike with street wheels and bits of fairing that make it look menacing but respectable enough.
Great looking instrument dash which once the bike is turned on does the Logo thing while it sets itself up then has a really wide range of information available on quick glance. A shift light, gear indicator, temp gauges, digital speedo and all the normal hazard and indicator lights you'd expect from a road going streetfighter.Very minimal screen just covering the headlight but hey, I ride a Ulysses, i'm used to naked.
Once on I immediately felt comfortable, the bike feels light has an excellent steering full lock of the bars so you could potentially full cross it up in the dirt, not that I'll be going there this time. The first bug bear was the location of the Aprilia 'Menu' system, a left and right slider that gives you further access to menu's and advanced settings on the digital dash like Lap Timers and Diagnostics, no time to play with that shit right now, I wanna go fast.
All good, locked in and I am off. Into shitty traffic. I got the front of the lights and they changed so I gave it a gentle twist out of first into second and I was blasting down the freeway doing 80kms at 4500RPM in nano seconds, the front wheel wanted to come up and I had to tap the back break and drop the throttle before I knew what was happening.
The friggen tthing is way faster than I imagined.
Being accustomed to fairly serious torque from the Buell and my love of big V Twins I wasn't expecting that big four feeling and face shredding speed. And the bike I was on had a 6RPM rev limiter on it and not even 300kms on the clock. I was in heaven.
And shaken just a little bit.
I did it again from the lights and this time just gave intermittent massive twists of throttle and quick shifts through to fourth and by the time I could make out what the digital display was even doing I was way over all speed limits and heading straight into full loss of license, lock me up and throw away the key territory.
I decided to chuck a u-turn and head down the beach freeway to see how it turned and was surprised again at just how nimble and light it felt for a 1200. Weight is no issue. Turns really sharp and feels amazingly reassuring to ride, in fact it is very easy to ride and ride fast.
Here's a great video from a YouTube user taking one out in the streets. Look how that front wheel just keeps on popping up. Did someone say fun?
Ok so things that were annoying me so far are that I can't get it into Neutral at the lights for love nor money. I am later told that the Aprilia boxes are tight when new so maybe it would ease up, but having to turn it off to release pressure on the box to flick it into neutral is not really an option at every intersection.
The seat is as thin as a KTM 540 EXC and feels really quite hard yet soft enough. I am seriously trying hard to find big things wrong with it so far. The shrouds around the tank kind of force you into position on the seat but you can push back and sit up higher or slide up the seat onto the tank a wee bit and then the slip stream kind of pushes you into a pocket.
The suspension feels amazing, I flew over a speed hump and it barely noticed it, chewed up some rough shitty surfaces down back streets and is soft yet fully reassuring that you can tip into a roundabout at ridiculous speeds and feel quite sure that you are going to have the travel and oomph to just fang right out the other side without a worry. I dont know much about mechanics and bike setups, what I do know is that this bike makes me feel confident and has the power in all the right places.
And what a great note they have squeezed out of the stock pipes. Hard and tight sounding but cracking and fierce without being all Harley like and not barky raspy like it's KTM rival.
Listing in Australia for a retail of $17,999 plus on roads and just starting to hit our shores now for test rides, if you are into this kind of bike, or have never ridden a big super motard before, I urge you to go and check this wicked machine out. It's a stack cheaper than the Ducati and way better to look at and ride that the KTM and goes like absolute stink.
I know one thing for sure.
I totally want one.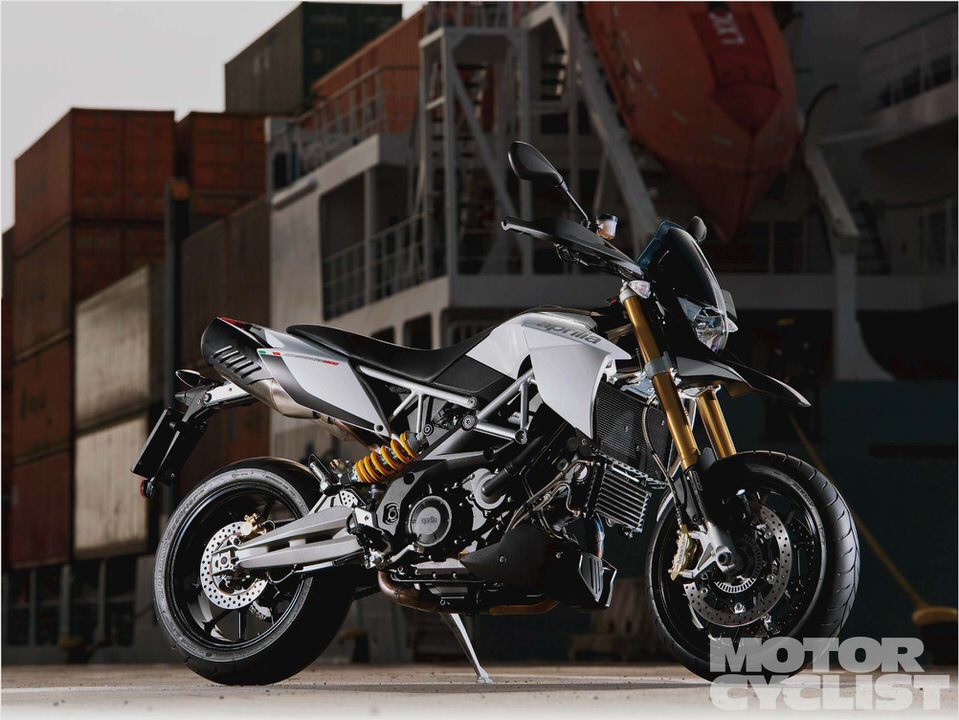 The most significant characteristics of the Aprilia Dorsoduro 1200 in detail:
• New 90° V-twin engine with four valves per cylinder, double overhead camshaft, liquid cooling and twin spark ignition;
• Triple map Ride by Wire technology (with Sport, Touring and Rain maps)
• Electronic fuel injection;
• Mixed gear/chain valve timing system;
• Exhaust system with three-way catalytic converter and oxygen sensor;
• Ultralight modular frame made from tubular steel trellis/aluminium castings offering outstanding torsional stiffness;
• Aluminium saddle mounting;
• Aluminium swingarm with lateral shock absorber;
• Fully adjustable 43 mm upside-down front fork and piggy-back design rear monoshock;
• Brembo racing brake system with radial callipers.
I am not a professional motorcycle journo and this is a blog post and just my opinion, not an official sponsored review of any kind.
HID projector KT-MT5
Rs aprilia 125: rs 125 aprilia aprilia rs 125 frizione
2013 Aprilia RSV 4 ABS Factory- First Ride Review- Photos
Scarabeo History Scooter News and Reviews Scootersales
2012 Aprilia Dorsoduro 750 Motorcycle Fans Blog – Motorcycle Fans Blog