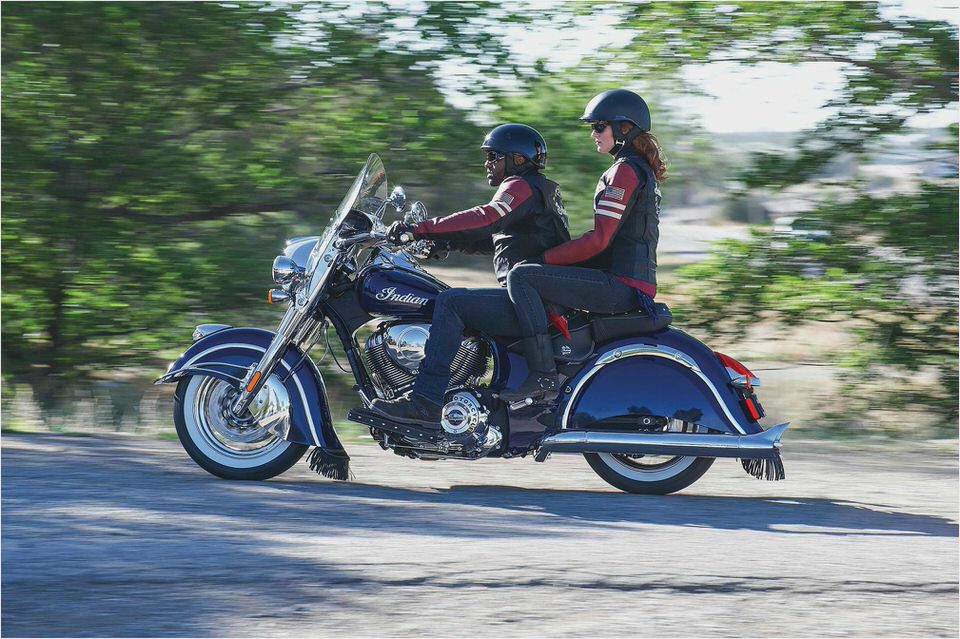 Motorcycle Marc's Blog
Indian Chieftain Ride. Can you say WOW!
Hello Motorcycle Riders Adventurers…Here's my take on the 2014 Indian Chieftain.
San Diego, CA   – I ride on down to the new Indian Motorcycle Dealership on Kettner Blvd with my heart set on trying out the new Indian Chieftain. Several of my Harley-Davidson Electra Glide riding friends had recently plunked down $25,000 for this Indian bike and just could not say enough good things about it. As usual, I needed to find out for myself if all their hoopla was warranted.
Upon arrival at the dealership, I registered for my test rides and spent the next several hours admiring the mechanical design and artwork that comes standard with these new Indian motorcycles. From all I saw, all three of the new 2014 motorcycles – the Indian Chief Classic, Indian Chief Vintage and the Indian Chieftain, looked traditional vintage cool with plenty of Indian styling. But today, my focus was on riding the Chieftain bagger.
San Diego Indian Motorcycle test ride weekend. A huge success.
Over 100 riders tested one or all three of these iconic Indian motorcycles on Saturday. Sunday test rides were also in high demand. Fact is, there's no better way to find out which motorcycle model is right for you.
I always recommend that you test ride a variety of motorcycles before putting down your hard-earned money.
Here's my official assessment…the truth…nothin' but the truth!
To those of you who know me and follow my blog, you know that I've been a Harley man for the past 30 years so the following evaluation may surprise and/or even shock you. I suggest you all get a cold beer or some Jack Daniels on the rocks and relax as you read on. Bottom line, I gotta give credit where credit is due.
The Feel. The Experience.
The Thunder Stroke 111 Motor. WOW! Click on image to see this beautiful engine come alive.
I found the 2014 Indian Chieftain to be one good looker, a super smooth rider and offering real kickass power.
The power from that Thunder Stroke 111ci counter-balanced V-twin engine was simply awesome. In fact, the 119.2 ft-lbs of torque it puts out is just darn right breathtaking. Very impressive get up and go from this big, state-of-the-art 1811 cc engine.
My Indian Chieftain had amazing acceleration. The 6-speed transmission and the easy-clutch made for quick distribution of power as I needed it. The exhaust sound…well, it sounded like a cool bike should sound…strong, throaty and "get-outa-my-way" powerful.
The Look. The Comfort.
The Chieftain truly shows off Indian's classic styling, beautiful lines and vintage look. The riding position was comfortable. Seat to tank to footrest distance was good for me as a 6 footer.
Seat height at 26 inches was just right. Seat design and quality felt good and comfortable for my butt size and shape. The electronically-controlled windshield and well-designed fairing provided good wind protection as I cruised on southern California's sunny Interstate 5.
Hard saddle bags round out the rear look. They come with remote locks and quick release anchors. The Chieftain comes with the basic high-end technology features including, Bluetooth Connectivity.
The 25 degree rake and trail made for excellent stability and steering at high highway speeds.
I must say, this is one impressive looking, feeling and handling motorcycle.
Features That Need Minor Attention.
Nice vintage console. Great tank look. Handling and riding feel was superb. One of the best baggers I've ever ridden. — Motorcycle Marc –
Gas tank holds only 5.5 gallons for all that big engine thirst. Suggest a 6.5 to 7.0 gallon tank option for long distance riders like me.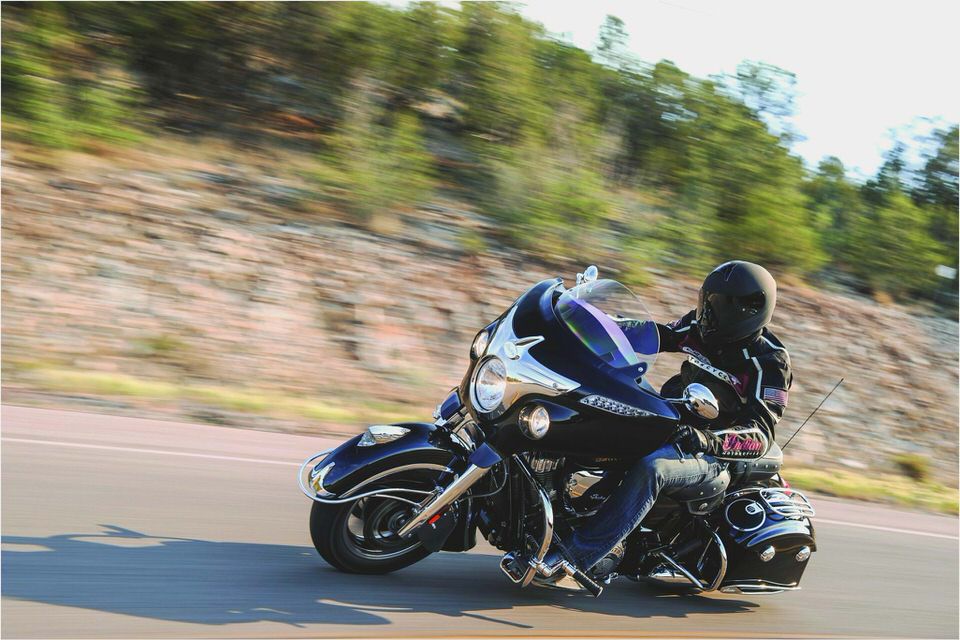 The Chieftain felt a little heavy on slower, tight turns. It seemed to want to follow its own direction line rather than where I wanted it to go. Bike weighs 815 pounds so not a light-weight.
It actually felt heavier to me.
At this writing, dealership service on long distance riding adventures is a question for me.
Getting your bike fixed quicky while on the road is key to keeping a great ride going. I'm a long distance rider so I wonder about the availability of roadside dealership support as I explore the byways and highways of North America. There were only 130 Indian Motorcycle Dealers at the end of 2013, according to Forbes .
This said, any problem that one does experience on the road is unlikely to come from the Thunder Stroke 111 Engine as it went through 2 million plus miles of dyno and road testing before being introduced to the motorcycle world.
The 2014 Indian Chieftain…a most impressive motorcycle.
Military Heroes Incentive = $1,000 4U!
Hey, I'm just a motorcycle nut who happens to know a great motorcycle when I ride one. After all, I've been riding, building, fixin' and even crashing motorcycles for over 40 years. This Indian Chieftain, in my opinion, is one "spectacular" motorcycle.
The hard fairing, hard saddlebags and super-smooth lines are matched up with comfort and the bike handles really well.
Digital instruments, include tire pressure monitoring, an audio system with high output speakers and an integrated Bluetooth smart phone connection, bring it all up to date. This bike comes with extensive chrome, keyless ignition, ABS brakes, cruise control, and a tightly designed aluminum frame.
Now, at $25,000, give or take a few thousand dollars out the dealership door in California, it is not a cheap toy. This said, it may well just offer the best combination of price to power-ride ratio on the bagger market today.
Ride Safe Out There,
P.S. All three of the 2014 Indian Motorcycle models are available in San Diego.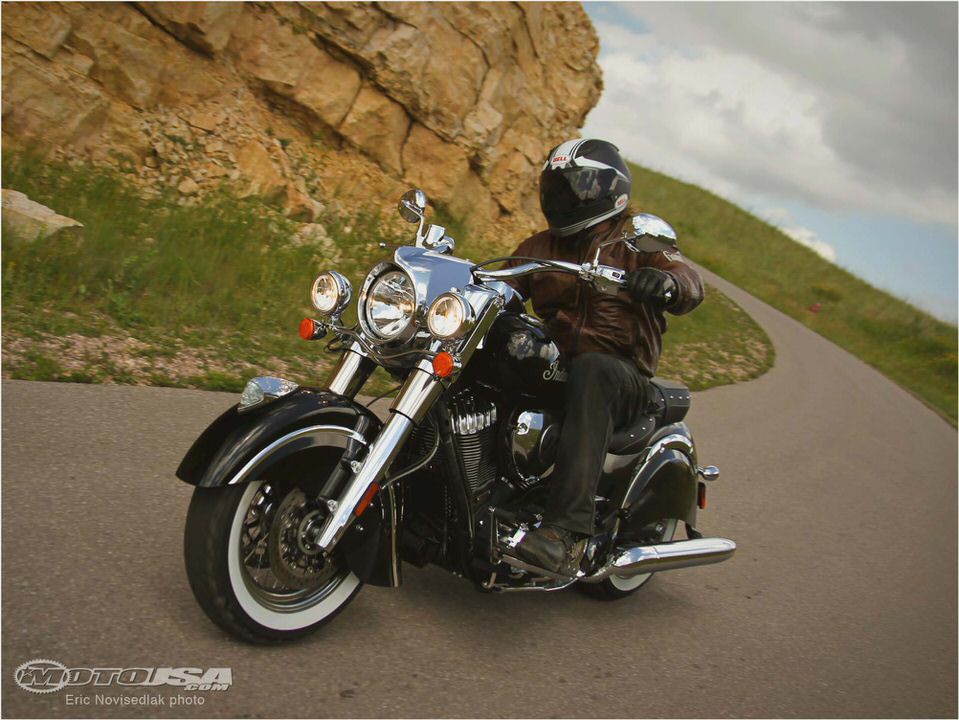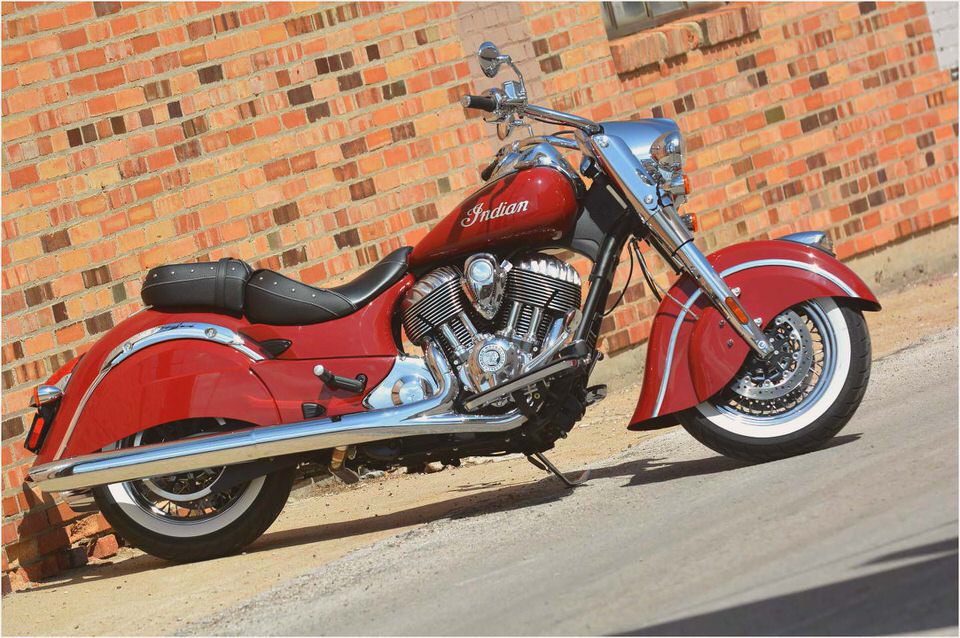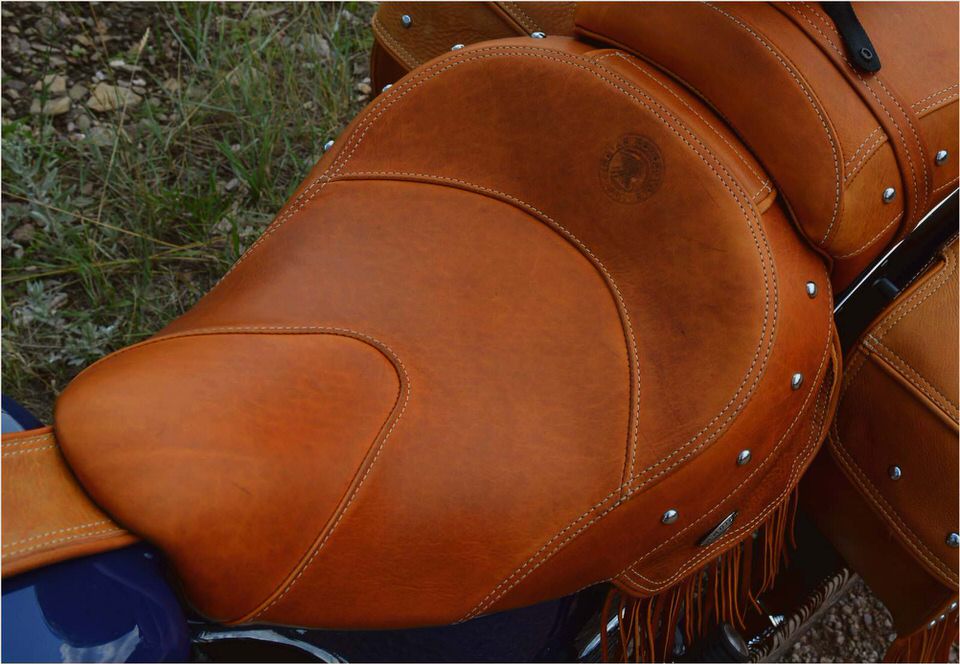 Indian Motorcycle Looks for a Different Breed – CraveOnline
Motorcycle legend Indian rides again – The Orange County Register
Polaris reintroduces Indian motorcycles – Los Angeles Times
RoadRUNNER's Motorcycle of the Year: The Indian Chieftain – RoadRUNNER…
2014 Indian Chieftain FIRST RIDE – Motorcyclist Magazine Up To Speed – Page 1