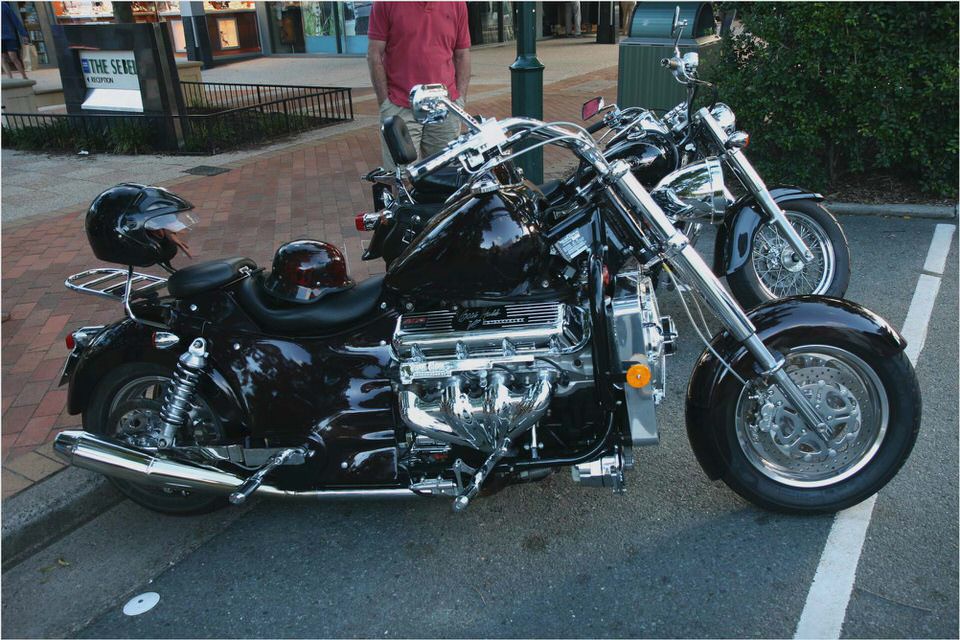 Article take from February 2005 issue of Ryders Magazine
His name is Tony Reynolds. He has a Boss Hoss Dealership located in Shepherdsville, Kentucky. The name of the dealership is Kentuckiana Boss Hoss LLC. Before becoming a Boss Hoss dealer he built drag racing boats. Since that market began to dry up, he moved to exotic motorcycles.
Tony has been a Boss Hoss dealer for only 9 months. In this short time, they have brought the Boss Hoss to a new level of style.
Tony realized that most other Boss Hoss dealerships who offered "customized" "boss Hoss" bikes simply added a bigger engine, more chrome and wild, exotic paint jobs and a price tag of nearly $100,000. None of them changed the style or shape of the bike to keep up with the more popular "Pro Street" bikes built by Roger Bourget, Dave Periqitz, Big Dog, American Ironhorse, and many others.
Tony felt he could dramatically improve the styling of the bike, so the crew tore apart a new Boss Hoss and started over from scratch. We tossed the short fat original gas tank and built a new tank to allow a much larger intake system to be installed on top of the engine. We designed and molded a removable hood scoop to fit on the gas tank to allow access to the carb and fuel system.
This hood scoop is a functional, and quite sexy air grabber style hood scoop, very similar to the scoop on a new Dodge Viper. We then cut the frame in half and built a new rear section with a very low drop seat. This required total re-engineering of every aspect of the bike.
This drop seat will allow the rider to sit more comfortably in the bike with the legs bent at the knees, rather than on top of the bike.
The frame modifications required building new body side panels, a new seat frame pan, and new fenders. All of theses parts were prototyped, smoothed and massaged, then finished into final parts made of clay. We then had to build molds from the clay plugs. Now we produce the parts from hand laid fiberglass in our molds. Upon revealing the bike at Biketoberfest, we have been bombarded with other Boss Hoss owners who want us to perform these modifications to their bike.
All of them just really went nuts over the current cool styling of our Pro Boss Bike. Everything we needed to build this bike had to be created from scratch. There are plenty of aftermarket parts for the Hardly-Davidson's and V-Twin Custom bikes, but nothing is big enough for a Boss.
We built handle bars to match the more popular styling of the Drag bars used on most custom bikes today. we needed to build them ourselves, because none were available for the Boss Hoss.
The standard engine in a Boss Hoss is a 350 CI 355 HP small block Chevrolet motor with a cast iron block. Tony custom built an all aluminum 434 CI motor that produces 524 HP. That is over 500 HP on two wheels.
For thrills, when riding with a group, Tony has done 100+ mph burnouts that leave a black mark over a quarter of a mile long.
When the employees of Boss Hoss at Biketoberfest, saw our custom bike, they were shocked at how slick the Pro Boss looks. Owners of other big name Boss Hoss Dealerships came to see and sit on the bike, and it was very obvious to see how much they appreciated the transformation of the Boss Hoss. Also, the current general manager, Mr.
Rad Hunsley of Boss Hoss saw the pictures of the bike as well. He just could not believe how we (such a small dealer) took on the challenge of re-designing and re-engineering the bike to a level that typically would only be attempted by a manufacturer. That first Pro Boss, we refer to it as the "Blue Bike," was entered into the Rat's Hole show in Daytona, Florida in late October at Biketoberfest.
We ultimately won the first place prize.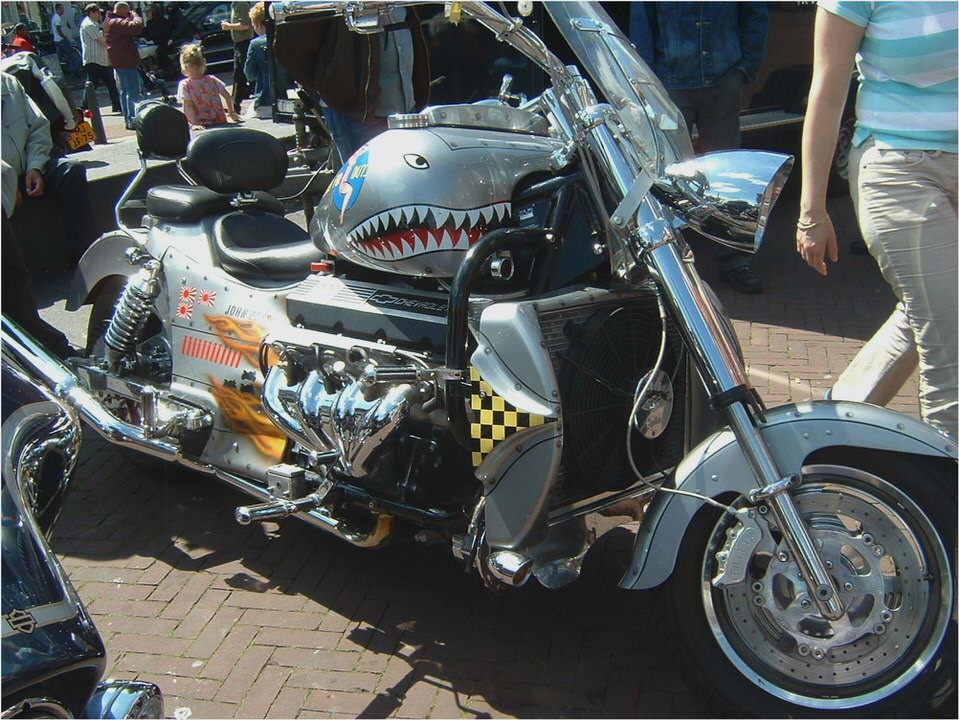 We are now tearing apart and re-designing a big block Boss Hoss, to look even sexier and wilder than the small block powered, Blue Bike. This big block bike will be finished in time for the Daytona BIke Week Rat's Hole Show. We are completely re-designing the exhaust system on the big block to closely mimic the sound of a Nextel Cup Racecar. This bike will sound like four Harleys tied together!
Tony is also currently in negotiations with a Owner of a Dodge dealership to build a Boss Hoss for him, with a Dodge Viper V-10 engine in it. It is true that Chrysler has already designed one, but their bike is not practical for the typical motorcyclist, as it has four wheels, does not turn well, and costs nearly $500,000 from the Neiman Marcus fantasy catalog. The Viper bike Tony will build is to be a real two wheeled riding bike.
WHEN TOO MUCH IS NOT ENOUGH
A Boss Hoss with a Viper Motor?
Article take from January 2006 issue of American Motorcyclist
Tony Reynolds is the type of guy who can look at a V-eight-powered Boss Hoss motor cycle and say: "That's cool, but it needs more mo."
He's also, as the owner of a Kentucky Boss Hoss dealership the type of guy who can do something about that. Specifically, build a Boss Hoss powered by an 8.3 liter V-10 motor out of a Dodge Viper.
"I just knew it was the bike I had to build." Reynolds says of his machine, which puts out 580 horsepower and 630 foot-pounds of torque.
As it turns out, shoehorning the motor into a modified Boss Hoss frame was the easy part. The tough part? Convincing the Dodge Motor Company to sell one of its V-10 motors without the car.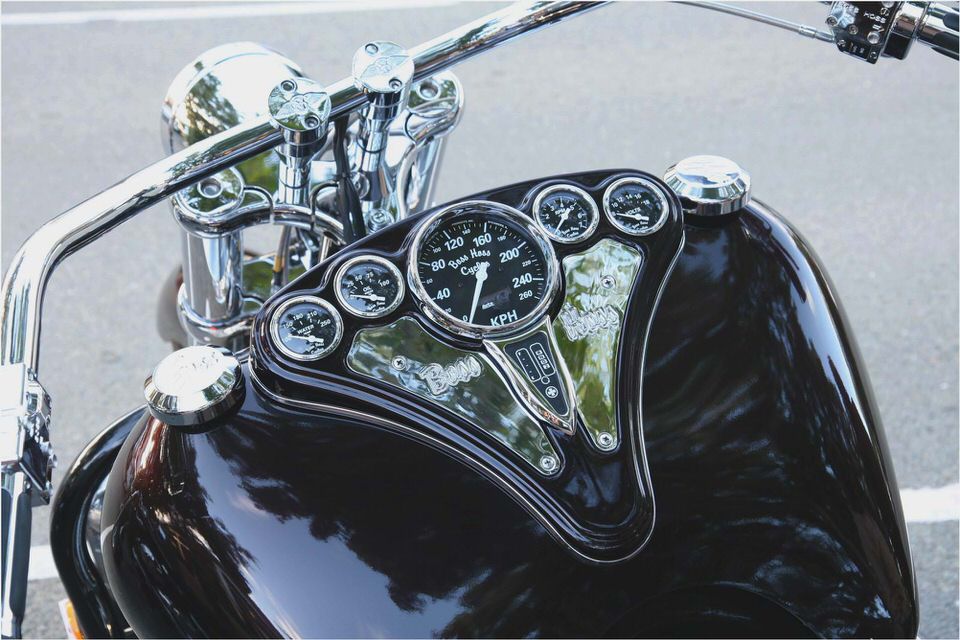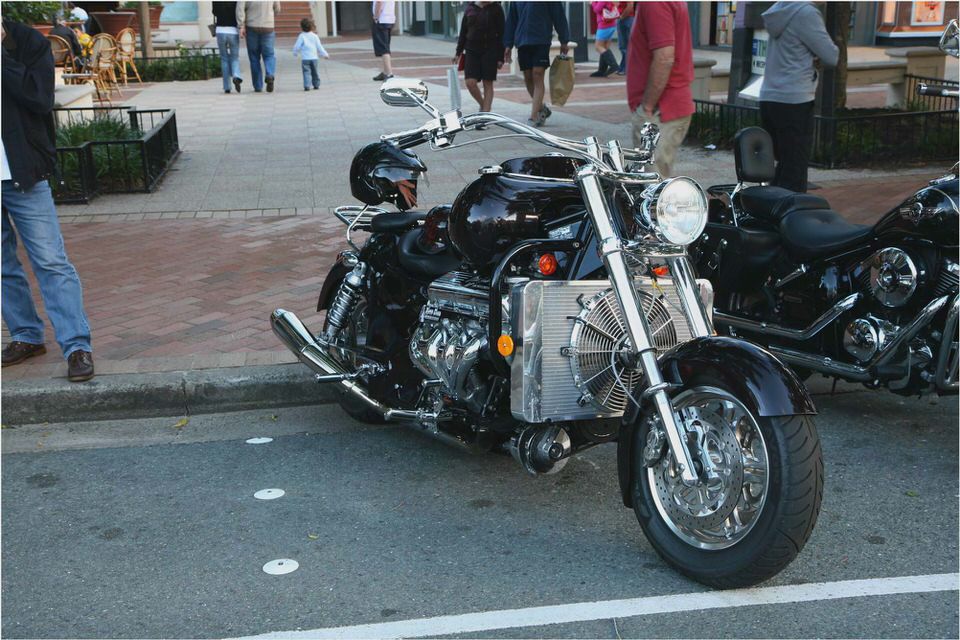 Nothing Exceeds Like Excess: Boss Hoss
Trikin': Boss Hoss '57 Chevy and Ridley Auto-Glide Thunder Press
What's A Boss Hoss? 1 Fast Bike – Orlando Sentinel
Wildrose Boss Hoss
2013 Boss Hoss Motorcycle Classified – 2013 Boss Hoss V8 Coupe Trike