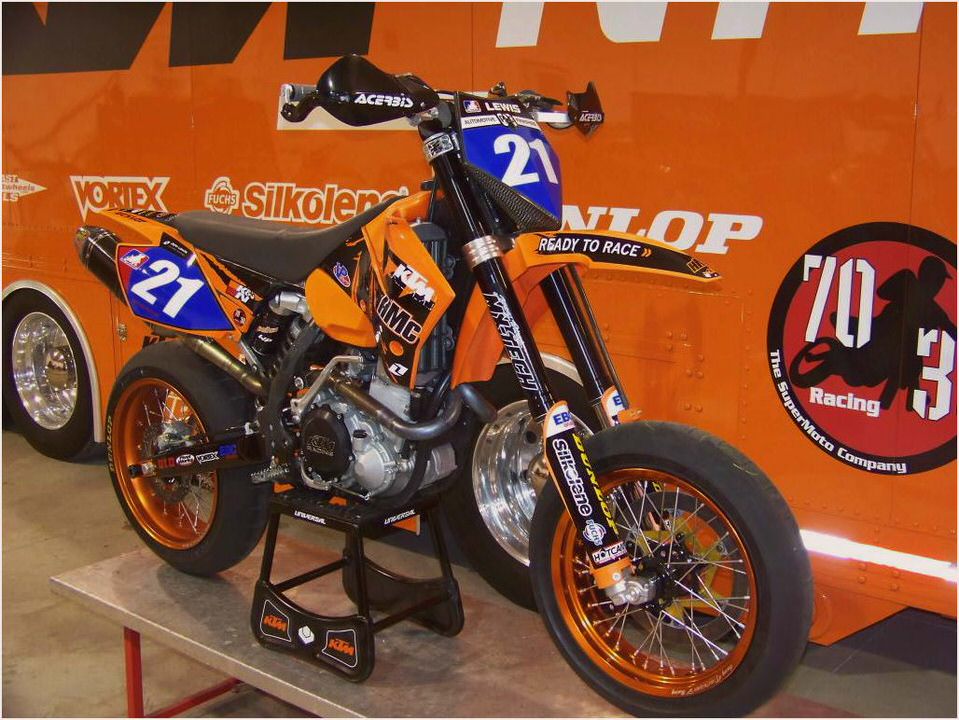 Thread: KTM 560 SMR street legal plated in NY
KTM 560 SMR street legal plated in NY
im not sure if anyone would be intristed in this but you have all been so supportive in the past that I figured I wpuld post to see if anyone would be intristed SO. up for sale is my 2006 KTM 560SMR. It is street legal in NYS and is currently plated registered and insured.
All the lighting is from sicass and it is the real basic kit I didn't want to change the flywheel so the bike revved like it was intended to. The bike is kick start only. All the plastics are OEM Ktm and so is the light it has a smc tank so it has a petcock with reserve.
This bike comes with all the OEM SX stuff also including the tank, number plates, exhaust, and seat, anything else I can find.
It also has a full ti Akrapovic exhaust, powder coated swing arm, scotts damper, KN filter kit, scary fast bell mouth and powershot, new o ring chain, silicone hoses, sicass LED signals front and rear,UNIBIKER rad guards, IMS pegs, Vapor computer, Chain guide like the factory smr one, carbon hard parts skid plate, not on the bike but you get it. You also get a bunch of oil filters, and a vented side cover.
This bike also comes with a box of extra stuff axel sliders extra plastic ext. I don't remember all the stuff in the boxes just that I kept everything I took off and any extra things I got for the bike and put them in the attic.
The bike has some scratches on the front rim from when I got it I have picks as you can see. I got the bike from another owner so I'm the second, he bought it for a practice bike and rode it 2 times (he said) and it was too much for him so He sold it. I have no idea about anything else except that he was in his mid-50's so I'm guessing he was not lying about it.
As for me I got the bike, got real lucky and got it tagged and titled in NYS did all the work you see here I am also posting a pic of the day I received it out of the dilervary truck so you can see what I got it like. I also made a sprocket spacer so the chain didn't hit the rear tire, I wouldn't have needed it if I had bought SM tires but I didn't understand that the tires were sized differently. Anyway I'm an engineering technology teacher and I teach machining so I made a billet 6061 spacer on the CNC and it works perfectly the only thing I had to change was longer sprocket bolts.
I have put 1200mi on the bike in 3 years and they have been back and forth to work IM sure I have forgotten things but anything that goes with the KTM you get when you buy it. I have included the dyno sheet for the tuning/jetting session and you can see that that made a huge difference in the bike as you can see! From 49.7hp 33.5 torque to 58.4hp and 40.4 torque
It has been a great bike I'm selling it so I can finance my next school project which I fund out of my pocket at the HS I work at. I build bikes with a small group of at-risk kids and since I haven't been able to sell our last project yet I figured I would sell my personal bike so I can jump on a new project bike I found for the kids. So anyway I am asking $5000.00 firm. I can help with delivery up to 100mi
drop me a line at rdesimony@niskyschools.org or pm me here. Pics on photo bucket are at the top of the page
The Dirt Bike Guy: 2013 KTM 250 SX-F TwoWheelMania
2009 KTM 450 & 505 SX Review
KTM 990 SM T ABS Ash On Bikes
Faster and Faster: KTM 690 Duke R riding impression
KTM: 2011 KTM 250 EXC-F Sixdays Enduro Motorcycle