Most Popular at Baggers
About my Vision Street
Written by Victory Motorcycles:
Know this: Alex Suares is a quality freak. He loves quality, precision, things that work right and deliver premium performance.
Which is why a Victory was the ideal bike for him.
A mechanical engineering student who lives in La Mesa, California, he works as a Quality Engineering intern at Precision Engine Controls Corp.
"Quality has always been a passion for me," he said. "Growing up, I've learned to put quality into anything I do. When I work on things, such as woodworking, mechanical, art, etc. I always make sure it's done right.
"So when I went to look for a new motorcycle at MotoWorld of El Cajon, I looked into a Victory. I heard Victory would let you test ride their bikes. No other brand would.
So I took the challenge and signed up to ride.
"The first bike I rode was the Victory Vision 8-Ball, the one I currently own. I loved it. The power, the ride, the maneuverability, the styling – the quality. I could feel the quality built into this bike and with the highest customer satisfaction, I would agree with that."
He also test rode a Victory Cross Country but favored the Victory Vision 8-Ball and quickly purchased it and sold his Suzuki M50 custom. Among the Suzuki's custom features were hand-formed leather bags, which Alex used to carry cargo such as his school books. He received a pacemaker at age 21, which prevents him from wearing a backpack while riding.
The Victory Vision 8-Ball, with its integrated side storage compartments and room for cargo at the rear of the bike, was perfect for his needs.
The bike also suited his father well.
"I loved the bike so much I mentioned it to my dad, who test rode the Victory Vision with me again at the Arlen Ness dealership in Dublin [California]. A week later he had one too, a Victory Vision Tour."
The Customizing Begins
With Alex, things such as a new motorcycle don't remain stock for long.
"If you know me, I am an eager one to customize what I have," he said. "I looked into customizing one-off pieces on the Victory Vision body, but I loved all the lines so much that I had nothing to do. So right away I proceeded to buy Arlen Ness Big Honker exhaust baffles, a Power Commander 5 and Arlen Ness double flow intake. This combination really brought out the power of the bike.
"I then added bar-end helmet locks, a windshield motor, I made a windshield out of smoked polycarbonate, installed speakers and a 150-watt amp, and welded together a custom bolt-on/off sissy bar for the ball and chain. Then I wanted to throw some paint on the bike."
He didn't really just throw on the custom paint. He had it applied by Wess, a legendary California artist.
"I found Wess from Studio Wess," Alex said. "He is a master with the airbrush arts… I started off with the front of the bike. I love the green and black combination, which I had on my last bike. I designed the front as you see it now and had Wess paint it. I loved it."
Photos and video of the bike were soon featured in "Clint's Babes and Bikes" (episode 27) on the website of 101 KGB-FM, a popular San Diego radio station.
In each episode, Clint August of KGB interviews a bike owner and a bikini-clad model is featured with the bike. Alex's girlfriend Allison Moreno not only gave Clint her permission to feature Alex and his bike with a model, she appeared in the video with Clint and Alex.
"Now I have a full airbrush paint job that I designed and Wess painted," Alex said. "Next, I plan on adding a 23" front wheel and custom fender, then I'll go for a cam kit. I enjoy how this bike rides so much that I like to ride old Hwy. 94.
That is where all the sport bikes ride incredibly fast around the twists and turns and I am able to keep up with them for the most part.
"This is my first Victory but not my last. I would like to get a High-Ball next to coincide with my Victory Vision."
Comments On MeanVic's Vision Street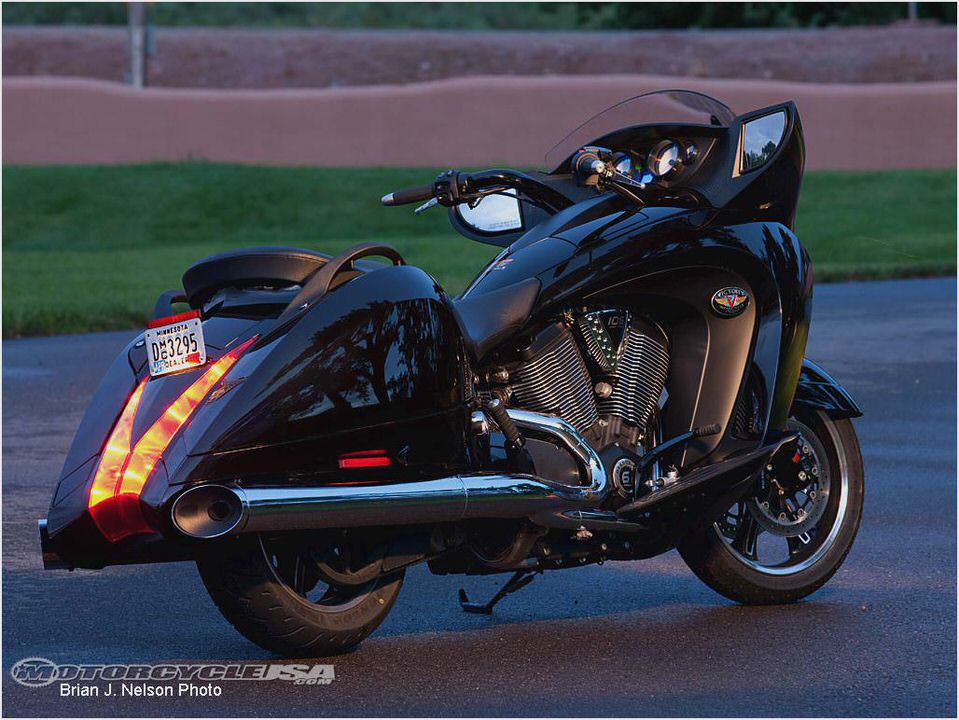 Judging The New Victory Judge Model And Zach Ness Custom Version at Cyril…
Complete test – Victory Vision Bikes Catalog
2006 Victory Kingpin Deluxe Road Test Rider Magazine Reviews
Road Test: Victory Hammer – Road Tests: First Rides – Visordown
First Ride 2007 Victory Hammer S –