Moto Guzzi Griso 1200 8V
WHAT WE LIKE
• Lovely engine/power delivery
• Great finish
• Surprisingly sporty
NOT SO MUCH
• Limited legroom for taller riders
• Smallish fuel tank
With its own unique, Italian take on the naked musclebike theme, Moto Guzzi's Griso 1200 8V comes bristling with attitude and Latin machismo. A stablemate for the bikini-faired 1200 Sport, the Griso is simply naked aggression from every angle, but it packs a performance punch to match the bad boy image.
First released in an eight-valve format towards the end of 2007, the Griso was the first of the new breed of Guzzis to sport the 1151cc, four-valve-per-cylinder V-twin – the unit replacing the older 1064cc two-valves-per-cylinder unit. While not boasting anywhere near the performance stats of the current crop of rev-hungry, in-line four-cylinder sports fare, and even appreciably off the outputs of performance V-twins, the up-spec engine promises much for lovers of sporting Guzzi roadsters.
PRICE AND EQUIPMENT
At first glance the Griso can appear to be all engine with a couple of wheels for good measure, and in truth this – for many – is a big part of its appeal. Its lack of bodywork and the high tensile tubular steel twin cradle frame show that eight-valve, air/oil-cooled, transverse 90-degree V-twin off to full effect; there's no doubting it's the star of the show.
However, dig a little deeper and you'll find the Griso has plenty of high-spec goodies that hint at a lot more than straight-line performance. The suspension – an inverted 43mm fork and a rear monoshock – are fully adjustable both front and rear, while the braking package sees twin 320mm wave discs up front gripped by four-piston, radial-mount Brembo calipers, backed up by a twin-piston Brembo caliper/282mm disc down the back. Both come fitted with braided steel lines, for extra power and feel.
The engine gets its power down via a hydraulic clutch, six-speed gearbox and shaft final drive, while the fuelling is handled by a Weber/Magneti Marelli electronic fuel injection system equipped with two 50mm throttle bodies.
Above the classic single round headlight you'll find the Griso's minimalist instrumentation. Here a black-faced analogue tacho sits alongside a digital display showing speed, time, ambient temperature, odometer and one of either two tripmeters or battery output. Smoke-lens indicators and an LED taillight round out the Griso's lighting package.
Available in either black or white, the Griso rolls on black three-spoke Marchesini alloy rims fitted with Battlax BT015 tyres, and comes with a range of optional factory accessories, the latter including various carbon fibre parts (front guard, exhaust heat shield, dash cover and starter cover), luggage (soft panniers, tailbag and small/large tankbags), alarm, luggage rack, touring screen, fly screen, bike cover, performance Termignoni exhaust and bike stand. The Griso 1200 8V retails for $23,990 plus ORC.
ON THE ROAD
Even from a distance, Moto Guzzi's Griso seethes with angry, anti-social intent. The black bodywork (what little there is), combined with the black fork sliders, Marchesini rims and blacked-out engine and shaft drive, all add up to a thoroughly thug-like brute of a motorcycle, and the decent running gear hints at the nirvana of tyre-torturing paradise. Thrown into the mix on our test bike was Moto Guzzi's performance Griso exhaust, made by Termignoni and said to boost performance, while offering a 40 per cent weight saving. This was going to be fun…
Five minutes after slinging a leg over and stabbing the starter, I was hurtling up Victoria's Black Spur – a sinewy thread of tarmac that twists and turns in a serpentine manner up into the Yarra Ranges, around 70km to Melbourne's east. It was mid winter, but today we were in luck – no moss, no traffic, and a dry surface. On a press day organised by Moto Guzzi importer John Sample Automotive for Melbourne-based bike hacks, I'd been having a ball for hours already – but now I was revelling in what was, for me at least, the run's highlight.
Having just hopped off the marque's sizeable and thoroughly competent adventure tourer, the Stelvio. the Griso appeared quite compact. This was backed up by actually hopping on the thing, and finding it to have limited leg room (well, at least limited for my lanky 6ft 2in self) and an aggressive, let's-not-muck-around forward stance. Fanging up Black Spur, I was throwing the Griso around with the enthusiasm of one of the World Wrestling Federation's finest, and climbing around the bike like a kid on a jungle gym.
Surprisingly, however, a later check of the bike's specs revealed a couple of surprises. Firstly, at a claimed 222kg (dry), the Griso is actually 8kg heavier than the Stelvio. Secondly, its wheelbase is longer too – 1554mm versus the Stelvio's 1475mm – so it really goes to show how your approach to riding a certain bike can be influenced by its appearance.
In any case, as the road snaked its way through the mountains, it was all I could do to keep my grin in my helmet, because even though the Griso's new eight-valve V-twin doesn't exactly redefine the word 'performance', the way it kicks out its power is eminently enjoyable, and this is allied to a decent frame and suspension package that allows you to make the most of what it's got.
This isn't a lightweight machine, but it'll still carve up a winding road in fine style, with a chunky midrange that, once past 6000rpm, bleeds into a towering top end of fun that doesn't let up until you've smacked into its rev limiter, a little past an indicated 8000rpm.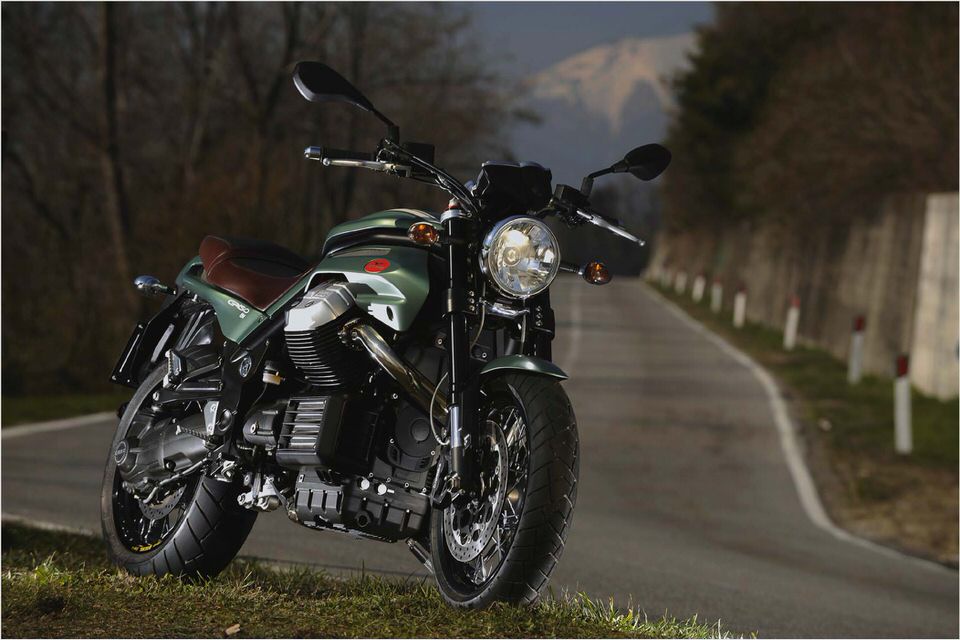 The fully adjustable suspension comes to the party too, doing a good job of handling the bumps, while its steering geometry seemed to me to afford the perfect blend of stability and agility. Wide 'bars allow you to effectively push it around with gusto, and excellent ground clearance should see you using all the rear tyre's width before anything starts touching down.
However, while it can be all fire and brimstone when you're up it for the rent, the Griso also has a softer side. The engine vibes are really quite muted – certainly it was less vibey than on the Stelvio – and in top of its six-speed gearbox at 100km/h it's only pulling a lazy 3500rpm. You can save that top gear for Germany's autobahns, because – track days aside – there won't be too many times when you'll be calling upon it here in Oz.
Speaking of gears, I found the gearbox to be slick and responsive – and, oddly, more so than the 'box on the Stelvio I'd just hopped off.
The ample midrange torque makes real world riding a delight, and all the charm that the Guzzi faithful get all misty-eyed about is here in this engine in abundance. The power is up 5hp compared to the retuned Stelvio, and I've no doubt that hot pipe was helping things too, but it's still incredibly easy to punt the Griso along at a sedate old pace, effectively taking it from sportsbike to cruiser in the blink of an eye.
The brakes, too, while looking all the world like razor-sharp sportsbike anchors, are a surprise package. There's good power, progression and feel here, but not much in the way of initial bite, if anything. Like on the Stelvio, I'd be playing around with pad compounds if sportier riding was going to regularly feature on the agenda.
At $23,990 plus ORC, the Griso won't be found in the bargain bin at your local Guzzi dealer – but with a classy finish, high-spec gear and such thoroughly enjoyable performance, nor should it be. This is a lot of motorcycle, and in true Guzzi style it's yet another case of a bike that's somehow more than the sum of its parts. If you're a Guzzi disciple, you'll love the Griso.
If you're not, you're almost guaranteed to love it anyway.
SPECS: Moto Guzzi Griso
Type: 1151cc, air/oil-cooled, eight-valve, OHC, four-stroke, transverse 90-degree V-twin
Bore x stroke: 95mm x 81.2mm
Compression ratio: 11.0:1
Fuel system: Weber Marelli electronic fuel injection
TRANSMISSION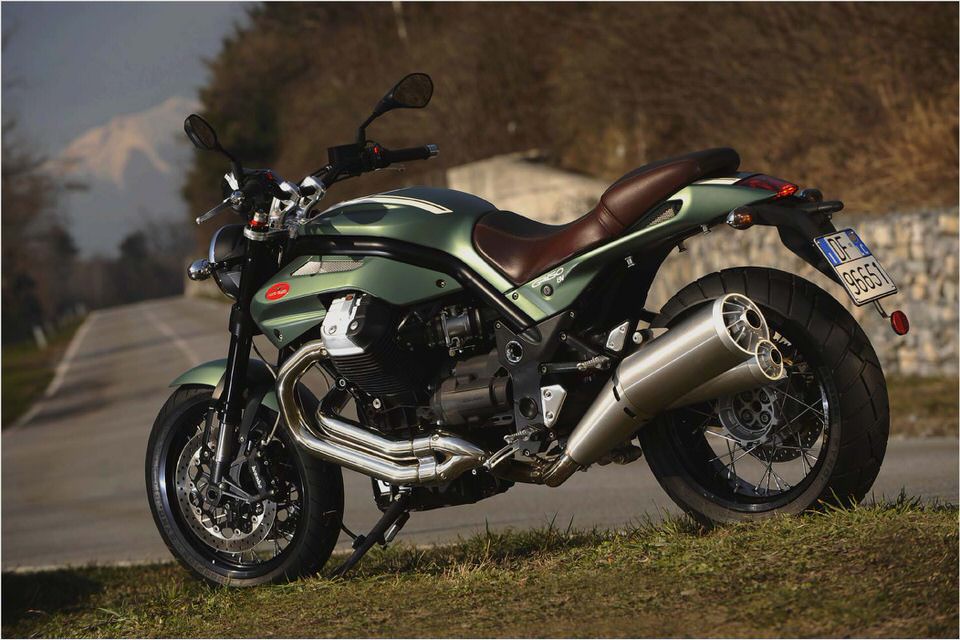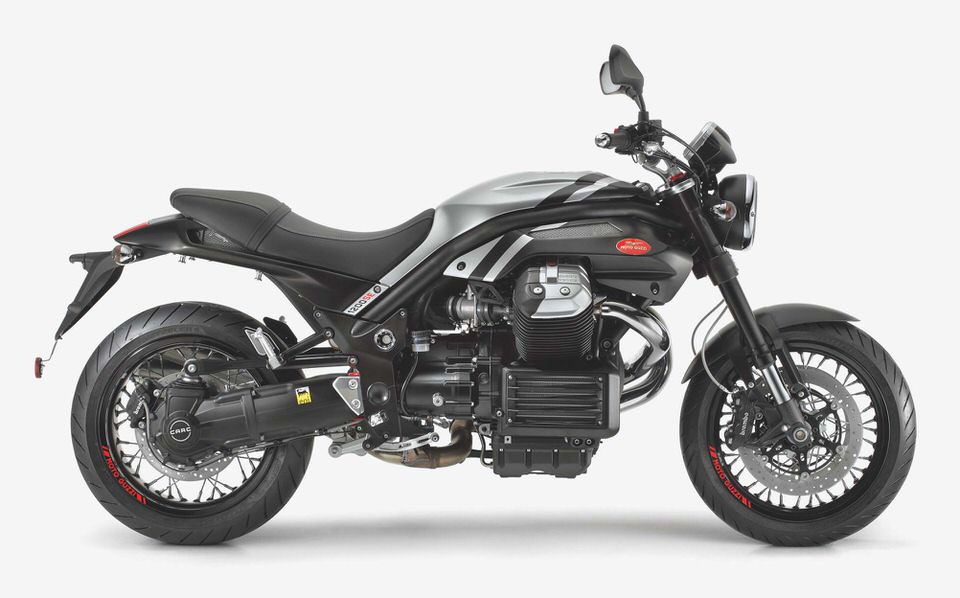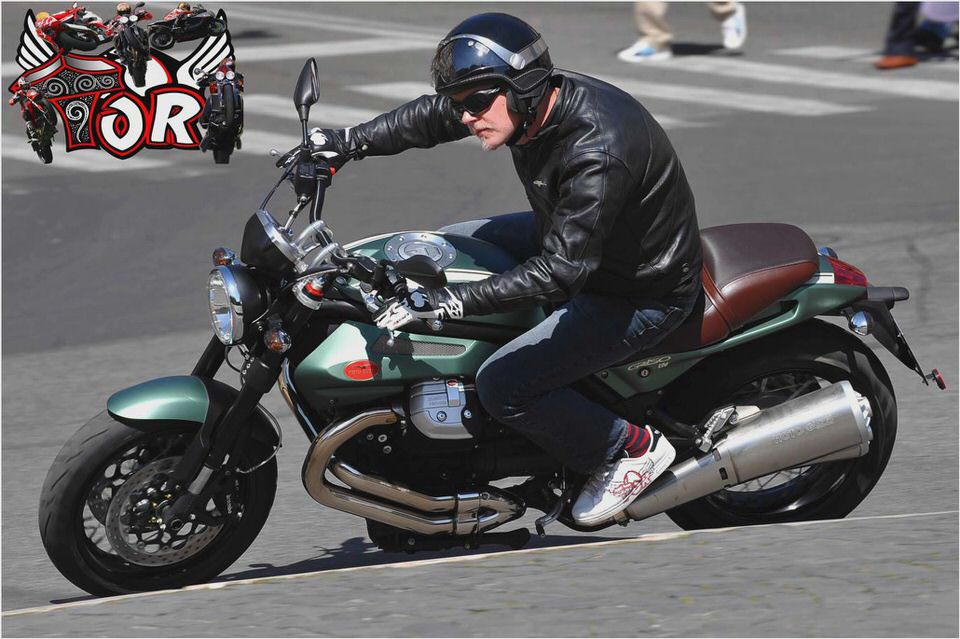 2009 Moto Guzzi California Vintage motorcycle review @ Top Speed
You Can't Do That!: Michael Barnes wins the AMA Pro XR1200 championship.
2011 Moto Guzzi California Black Eagle 2014 2015 New Motorcycles,Classic,Price,Pictures…
CarpiMoto – NGK DCPR8EIX Iridium Spark Plug – Triumph Tiger 1200 Explorer
Moto Guzzi Club Poland: It was a Jubilee – Moto Guzzi World Club