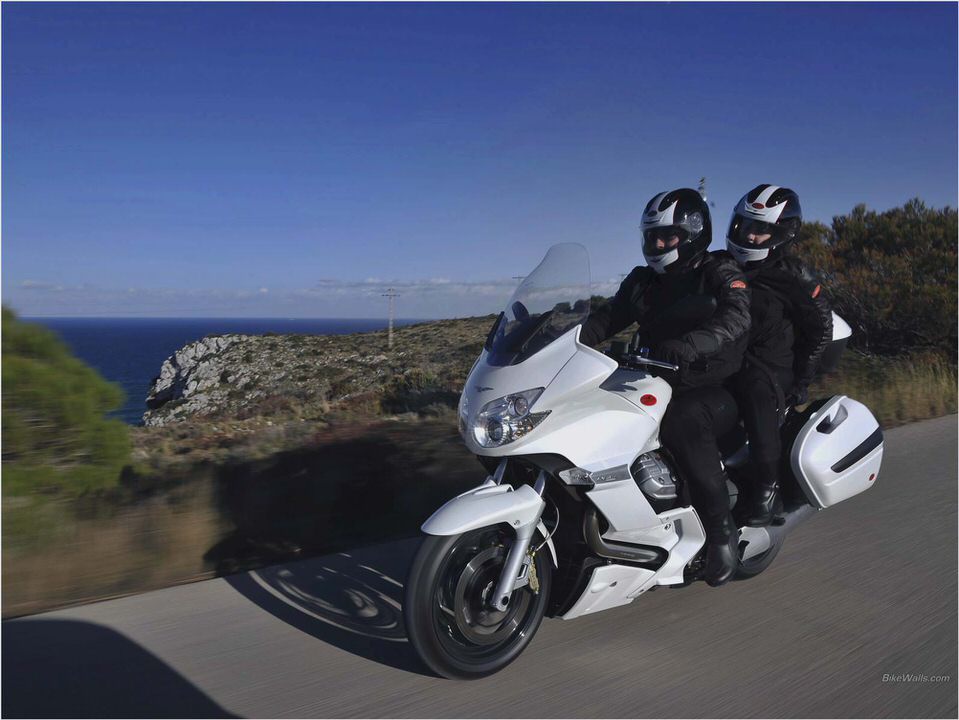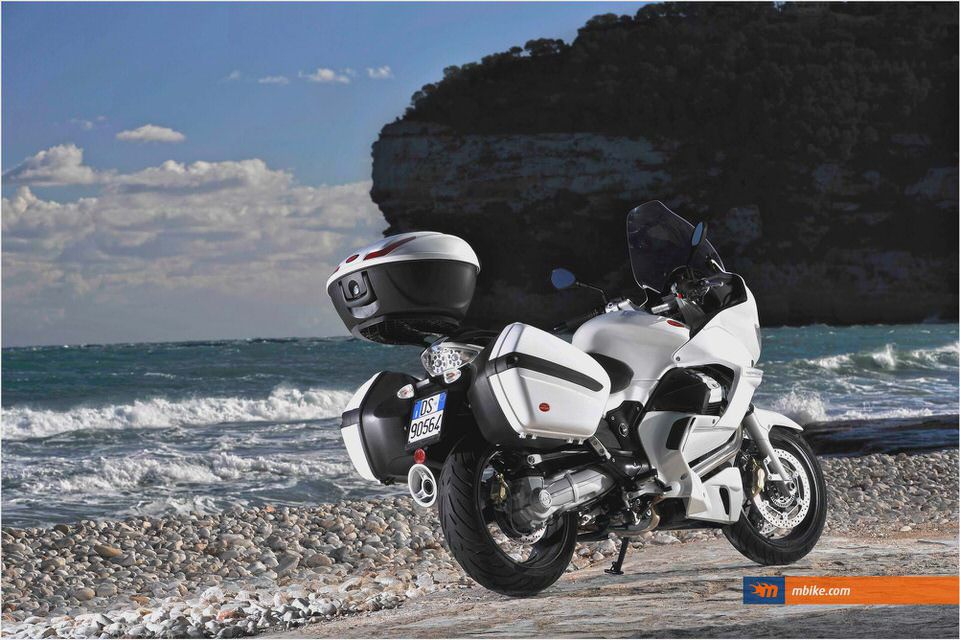 Moto Guzzi Norge GT 8V – Riding Impression What a long, strange trip…you'll enjoy.
Photographer. Chris Cantle
Any time I start riding a Moto Guzzi, I feel like my beard starts to grow faster. It's a phenomenon familiar to anybody who's been around Guzzis since, oh, the late 1970s, when the reputation of the bikes began changing from that of sporting Italian exotics like Ferraris to durable touring rigs for oddballs.
Guzzis never lost the sporting gene completely (not even with the California cruisers, which did the backroad shred better than most kicked-back bikes), but big bushy beards and B.O. became far more prevalent than dashing, clean-shaven Italians who look like they just stepped off their bike at Monza.
It's all the more amazing to consider Guzzi's current lineup when laid against the 1950s-era, dripping-with magnesium 500cc V8 Grand Prix racer the factory produced.
But Ingenere Giulio Carcano, designer of that eight-cylinder wonder, also was responsible for development of the longitudinally mounted V-Twin that has become Guzzi's trademark, the latest version of which powers the Norge GT 8V sport-tourer .
The Norge has come a long way since my first ride on one in 2006. Power and refinement from the eight-valve, 1151cc air/oil-cooled engine is mightily improved, as is overall running quality, thanks to new cams, higher compression and increased cooling capacity. Torque flows thick and full-bodied like an Amarone at a Veronese wedding.
Claimed output is 102 horsepower and 77 foot-pounds of torque, these peak numbers not giving a hint of how smoothly and ably the engine pulls from near-idle rpm. The 6.1-gallon fuel capacity makes it easy to surpass 200 miles on a tank. A good-shifting six-speed transmission (with shaft final drive) makes top-gear cruise a serene experience.
The chassis is a bigger improvement than the engine. A new, stiffer fork and shock lend this bike improved cornering poise while maintaining a pleasantly smooth ride quality. From the comfortable, 31.9-inch-high saddle, the weight feels low and the bike is quite manageable at parking lot speed.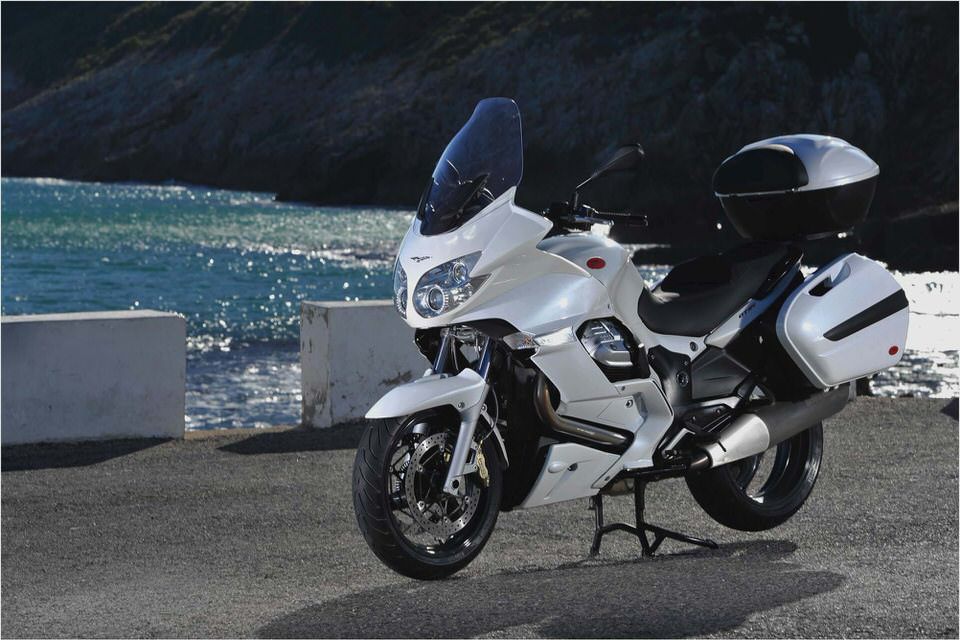 In fact, one of the bike's most attractive elements is its approachable size.
Flaws? Well, the electrically adjustable windscreen wasn't particularly effective in changing wind protection, and the buttons to control it were an afterthought. The up button is on the left switchpod, the down button on the right switchpod, neither one within thumb's reach with hands on grips.
The fairing was redesigned to reduce noise and heat flow from the engine. Aside from the odd high-and-forward footpeg placement (not very comfortable for me as a 6-foot-2 rider), the overall experience of riding the Norge is one of pleasant, competent comfort with strong undercurrents of Guzzi character.
After many days riding the Norge, what comes through most powerfully is the charming way it goes about its sport-toury business. It is far from being the fastest, best handling or most powerful bike in the class, particularly for its $15,990 MSRP. But it is a solid, personality-rich machine with a lot of utility and style.
I'll skip the B.O. but maybe it's time to let the beard grow.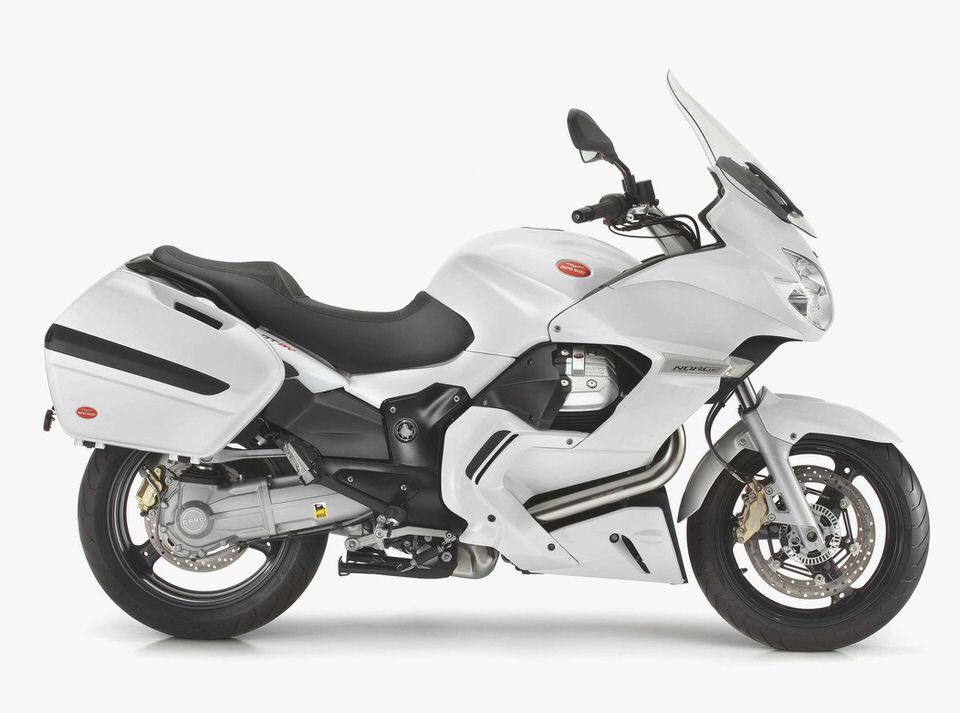 TY Exclusive: 1978 Moto Guzzi V50 Time Capsule
Moto Guzzi California and V7 Scrambler make surprise debut in Monte Carlo…
Moto Guzzi V7 Racer Top New Motorcycles
2013 Moto Guzzi V7 Stone: MD Ride Review -…
2013 Triumph Tiger Explorer XC Review Rider Magazine