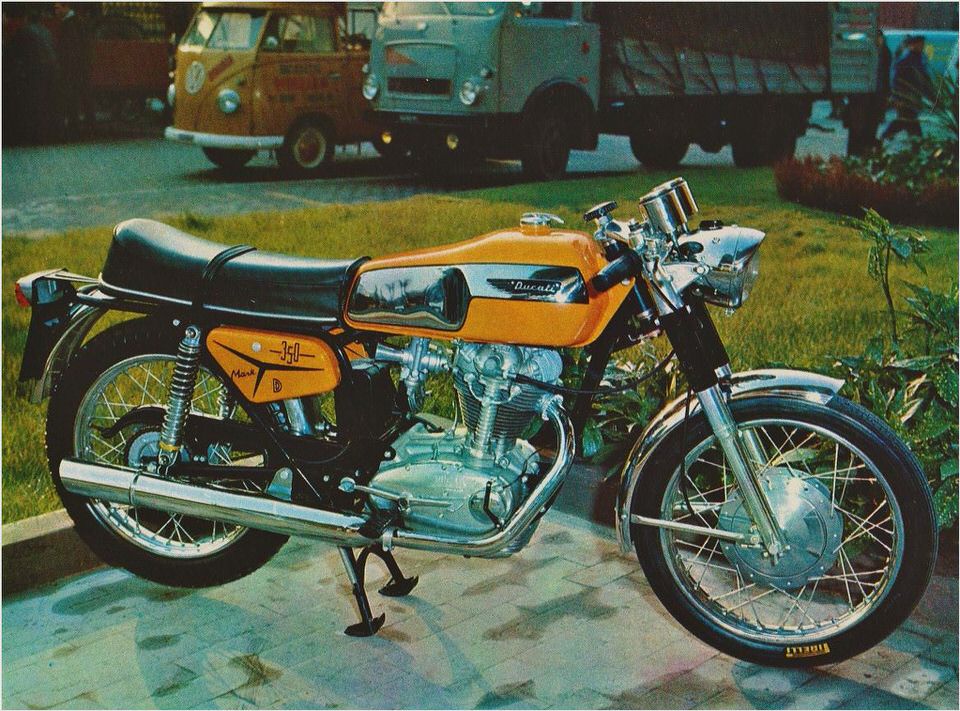 Click here for MCN's full story on the Desmo Flat-Tracker.
Here's a little story Guy Procter, the Senior Editor from Motorcycle News. wrote.
It's always nice when a project starts to take shape. Pencil lines become sheet metal. It starts to feel like you're getting somewhere…It's a good Friday. Time for a beer.
Blog 3 Next up is the tail section. We've left the tank unfinished as we want to make sure to match the tail sections lines as close as possible. We got our hands on a power hammer which makes shaping the aluminum bodywork much easier. Templates have been made taped together and cut in raw aluminum. We have maintained a nice seat line that is half desmo and half flat track.
We were lucky to have an original flat track tail and seat in the rafters to aid us with our lines. After much debate we decided the tail must be made of aluminum. It would have been so easy to of bolted the fiberglass unit on, but what's the fun in that. Much attention has been paid to making the seat area comfortable and with a nice radius to flow with the inner thigh area.
Sharp edges mean pinched skin and we are not fans of unneeded pain while throwing a bike into a slide at 100plus MPH.
Blog 2 The sub frame has been complete as well as the gas tank base/airbox cover, top and sides. We utilized many of the Desmo's original lines while giving it a large radius and lowering the tank considerably from the stock position. We machined a new fuel pump base and mounted it in the bottom of the tank above the exhaust exit and rear cylinder head at an aesthetically pleasing angle.
This will allow us to keep the sub frame area as open as possible as we plan on doing trellis bracing in that area and don't want to have a jumble of wires and hoses in that area.
_____________________________________________________________________________________________________
The Ducati Demosedici completely blew away the motorcycle world in its debut in 2008. The only true, street legal Moto GP race bike made available to the general public. With a limited production of 1,500 units worldwide, the 500 shipped to the US sold out in just 5 hours! This box-stock V4-powered machine cranks out 200 HP, redlines at 16,000 RPM and weighs in at a nimble 377 lb.
What more could you ask for?
Well, our good friend Justyn Amstutz (owner of 3 Desmo's) is not one to leave anything alone. We already did the teardown on his ZERO-mile bike in order to start converting it into our version of a street legal, "Street Tracker". All of the bodywork was preserved to allow him to use as spares in case he lays down one of his other Desmos. We started mock up of the project by putting it on some spoked wheels with flat track race tires.
We then fab'd up a subframe, and started on creating the tail section and aluminum gas tank to get that flat track inspired appearance.
Justyn Amstutz completing teardown on his own machine.
Cycle World Flashback: October 1993- Monster Story by John Burns
Ducati Streetfighter 848 Review " Conquest Carbon
Moto Ducati Multistrada 1200 S Sport Blog do Luxo
MotoGP Sepang (2) Test – Day 1 Summary: The Tire Pendulum Swings Against…
Silver Shotgun 350 Desmo SOLD to Australia [BFS-0006] – Ј9,075.00 : Lacey…