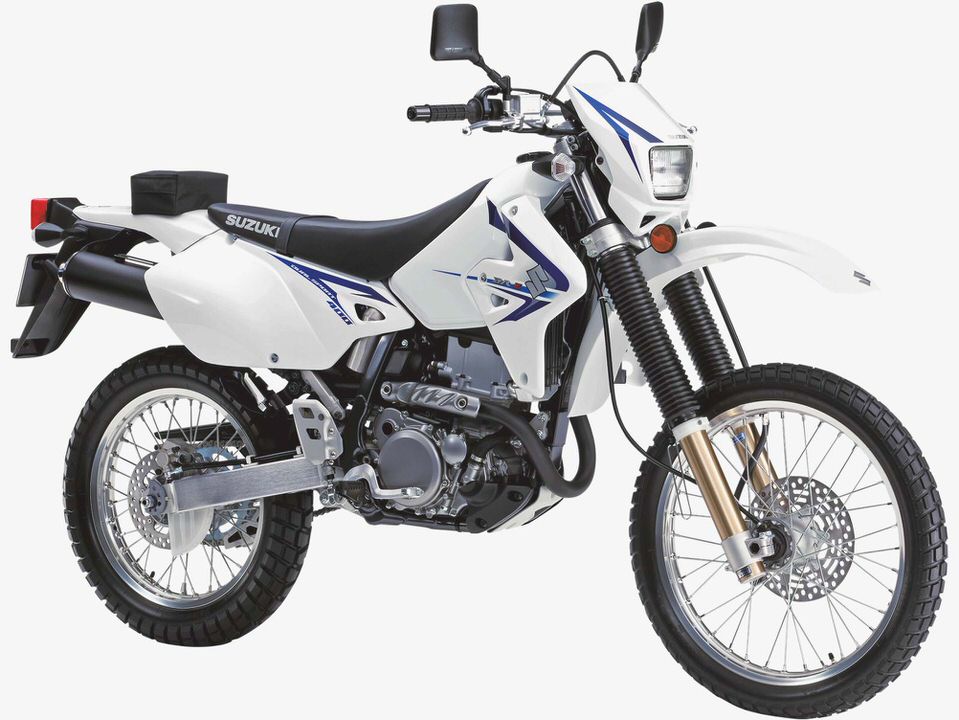 Suzuki Burgman 400
Advantages: Good weather protection, simplicity, storage
Disadvantages: plastic takes time to remove increasing service time and labour charges
Despite how much I loved My Kawasaki GPZ500 I bizarrely kept finding myself wanting a suzuki 400 burgman. I hadn't a clue why, well actually I did, I just wanted one. Anyway I found myself bidding on this AN400Y on ebay and got it for Ј1000 with 14k on the clock. Riding it home I was surprised at how well it rode, how fast it seemed to be, and how unbelievably noisy the roar of the wind was in my helmet.
So yep, your first port of call is to change the standard screen for a Givi item, this oddly comes in two parts. the windscreen 'plastic' and the fitting kit, which are ordered as separate items. Fitting is a doddle once you get past the poor instructions and the fact that the lower support bar mountings aren't shown on the instructions. still there's only two ways they can go on and one way they will fit properly so it soon becomes obvious. It still took less than an hour even with the poor instructions.
The difference. windblast gone, but an odd feeling like someone is pushing down on your crash helmet, something I suppose you get used to in time. The second thing that needed to be addressed was the lack of a topbox. On this 'early' an400 model I fitted a Givi Monokey rack, this meant drilling two 18mm holes in the plastic above the numberplate.
Givi do provide a template for the drilling and it is accurate. to drill the two 18mm holes I used a stepping drill bit from screwfix direct, which drilled the holes in no short order and job done. There is enough clearance behind the panel for drilling these holes with a stepping drill bit, so no need to remove the panel to do it, underneath the panel are two threaded bolt holes that are already part of the frame. The rest involved simply bolting the rack arms on and attaching the top plate, fairly simple.
The Early 400 burgman has a single carburettor so no faffing about balancing it against others, the later ones have fuel injection and I guess more to go wrong in that department. People speak of vibration, yes there is some, but then not any more than you would expect from a fairly large capacity single cylinder bike, if it was multi cylinder it'd be smoother, but also more complicated and that is not what the burgman was designed for.
The left hand brake lever operates linked brakes front and rear and the right hand lever operates the front brake alone. I've found the best braking to be by squeezing both levers.
People talk about being affected by crosswinds and yes again the Burgman is affected by crosswinds, but then in my experience most bikes are. let's face it if you put a sea of plastic on a bike you will give a greater area for wind to press on, but also you will give the rider a lot of weather protection. So it's either blasted by wind and rain and being miserable or nicely protected and the odd scary moment. Your choice.
So far the Burgman rides well, although currently the suspension is a bit hard, handles reasonably. Due to it's long wheelbase it does tend to under steer on sharp bends, but you just learn to set the bike up for such things and get used to it.
Early models problems, a thirst for oil some worse than others, check daily off stand on level ground until you know its consumption. as it does not have a wet clutch it does not require specific motorcycle oil. 10w 40 car oil will do ok.
Looks like the rear axle shaft bearings might suffer wear with the single sided wheel attachment. will keep you updated as to wear. Later models 2007 on seem to have additional support on the previously 'unsupported' side which I presume probably helps the bearings service life. However looking in the service manual it appears that it would be fairly simple to change out the bearings anyway, though it would require a visit to the tool hire shop for a 'blind' bearing puller.
The next update to this review will be the fitment of Oxford 'hotgrips' heated grips. I have ordered a set of hotgrips model No OF693 and will let you know how easily these fit. The oxford website lists only the different models of grips, not what bikes they fit, so buying these grips without that information is a bit of trial and error.
For those interested in the AN400 burgman as a commuter or as a kind of 'mini goldwing' The storage works out thus. The an400 X Y have the smallest underseat storage. You can fit a full face helmet and a few bits and bobs. this model has a rear backrest which curves backwards and is shaped like a tongue.
Do not take any notice of the year of the bike as some Y models took longer to sell. the next update was the K1 of 2001, this is given away by the wider and more forward backrest. I believe that this also had a larger storage area under the seat capable of taking two full face helmets. From K3/K4 models the carburettor was replaced with fuel injection, and from 2007 the engine capacity was increased from 385cc to 400cc.
Here's a link to basic information on the Suzuki Burgman an400 different model years.
http://www.suzukicycles.org/Burgman-series/AN400- Burgman.shtml
The site keeps putting in a space between the 'AN400-Burgman' in the link I cannot remove this space so you'll have to do it in the address bar, sorry.
Ray.
OK this is an update of a year or so of ownership, this is probably long overdue. The oxford grips I bought fitted just right and since the battery is in the front panel it was a doddle to wire up, only requiring some cable ties to strap the wiring under the handlebar cowling. The control switch I mounted just above the front storage, but you could effectively mount it where you like.
I used superglue to attach it to the panel with no problems and hid the other wiring and electronics away in the small cubby hole in the front fairing as it was not really big enough for anything else useful. The left heated grip just slid on, but the right hand one required sanding of the raised ribs on the plastic twistgrip after removing the grip rubber to get the new hotgrip to fit. Both sides are then just superglued into place and job done.
There has not been any further deterioration in the play in the rear shaft bearing, so this is again not a worry.
The bike does use oil regardless of mileage and it is useful to check it and keep a small funnel for top up purposes.
As a commuter bike the burgman is as close to perfection as it gets, so much so that I have decided reluctantly (lol) to part exchange it for a 2009 AN400 Burgman which has even more storage.
Us so called hardened bikers look down on scooters, but i'm damned if this scooter didn't win me over in five minutes flat. In all the years I have been riding I have never come across a bike that ticked as many boxes as the burgman.
And bikers. you should take note, this scooter will make you completely re-evaluate how you feel about 'grandad's bike'.
Nothing more to be said. (I lie)
Suzuki Burgman AN400 K8 2009 model review.
I sold the AN400Y for more than I paid for it in the first place, which is always good. I had been waiting for one of the newer models to get a bit cheaper. I was looking for the K8 onwards firstly because the K7 models had a penchant for burning out their clutches and secondly because of the hard luggage available for the late models, which sadly are no longer made for the earlier ones.
To the bike itself: There's no getting away from it the latest model 400 Burgman is big, REALLY BIG. look under that seat. you could get a football team in there. sold lol.
Seriously though, it is a big bike, the underseat storage is fab. But the hydraulic strut to hold the seat up is quick wear rubbish and I will replace it before too long with an aftermarket unit as after 8300 miles and three years it is worn out and can no longer hold the seat up. hardly a deal breaker though.
I'd talk about the up front storage, and yes there is some, useful for gloves, bits and pieces, what can I say, its a hole and you can put a few bits in it lol.
Suzuki have done their homework, the latest Burgman is a looker, some scooters are pig ugly, but not this one.
As before replace the windscreen, the standard one is not good enough. usefully my one came with a Givi screen already fitted.
So whats different to the earlier bike other than the sheer size.
This bike rides so much better and is even more comfortable with a wider seat and adjustable backrest. Instrumentation is comprehensive and although it cant quite make a latte yet, tells you everything you need to know.
It has smoother, faster acceleration and quicker uptake of power.
It looks great.
Modifications so far. Givi top box rack, easy enough to fit, small panel to remove and drill, but panel already marked for drilling and frame already threaded for rack bolts. Givi 52 litre topcase, passenger backrest. Fehling hardcase pannier racks.
A pain to fit and expect to curse a lot, these take monokey boxes. I have a pair of Givi E21 cases for them, they work well, easy off and on.
Flies in the ointment and fixes:
No1 most annoying fault with the latest burgman is that in standard form before you are at maximum speed the bike is in the redline area on the rev counter. Suzuki this is just not good enough. I need to keep up with traffic on UK motorways and do not want to kill my engine to do so. (the earlier model had no rev counter, but still did not seem to rev so high for given road speed)
The cure and absolutely recommended for any Burgman 400 is Dr pulley slider weights. Here a link to a youtube video of DR pulley Sliders effect https://www.youtube.com/watch?v=VgOQe_hBGuk
The effect is to lower the engine revs after a certain point (variable by weight of slider itself) while road speed continues to increase. So better initial acceleration, lower revs at cruising speed (better economy as a result) and longer engine life from the lower engine speeds.
Fitting. Yep, a pain. Not because the sliders are difficult in themselves to fit but because 1 you need the right tools to do it and 2, a design fault in the scooter makes it harder.
The right tools I used were: two bolts from Halfords Code No HFX303 size 8mm x 55. To deal with the design fault which is: There are some tabs that will bend inside the case as you take it off (clutch bearing tabs). Normally the bearing is housed inside the case, but more often than not it will be stuck on the end of the clutch shaft from the heat of operation. It is this that prevents taking the cover off easily. (Bearing stuck on shaft, bearing tab screwed to cover.
Once you get the cover off just snap the tabs off with pliers (they are not needed anyway and will be ruined by taking the cover off). the only time they might be needed is if you at any point change the bearing and then just get some new ones at that time. When reassembling a smear of grease, just a smear mind round the bearing housing helps and buy a rubber mallet to help persuade it back on.
Expect the metal cover gasket to be a pain in the arse and use the cover screws to hold it in place as you put the cover on. You will swear (a lot) but it will go back on. As an aside you will need tools if you choose to disassemble the variator and/or clutch.
I used a mains powered impact wrench with 24mm impact socket and both 90 and 110Nm torque sticks.
The two nuts one securing the pulley halves and the other securing the clutch need to be removed and put back on at the right torque (pressure) you cant easily use a torque wrench because you cant easily hold the pulleys still while you tighten them. you can tighten them with an impact gun, but an impact gun will overtighten them and strip the threads. The torque sticks are like a socket drive extension but will twist along their length when their specified torque is reached, preventing the nut from tightening further and stripping or causing damage.
First part. remove near side rear lower plastic bodywork (easy just some press studs)
Remove plastic transmission filter cover, then outer casing,
Undo all Transmission bolts (these are variable in their length so keep them in order or you will be unhappy when you come to reassemble)
I wouldn't use pliers. I used a socket drive to tighten the two halfords bolts against the clutch bell and force the cover off. here in this video you see where the bolts go. but these bolts I've specified are long enough to just tighten and force the cover off without too much tugging https://www.youtube.com/watch?v=aUfbQTN4CUM
when you finally get the variator apart, clean it and before fitting the weights use a good PTFE or Teflon dry lube.
Fitting Dr pulley slider weights. https://www.youtube.com/watch?v=oQczm1IPLv4
I know its a lot of work but it is so worth it.
Summary: It's a good bike and a nice ride, there's much to say that's good about the burgman.
2001 Suzuki DR-Z250 –
The Suzuki GS550 – Classic Japanese Motorcycles – Motorcycle Classics
2001 Suzuki GSX-R 750 Troubleshooting, Repair, Maintenance & Tune Ups – Fixya
Motorcycle Repair: My Suzuki GS 450 L, suzuki gs 450, brass pipes
Suzuki GSX 1400 Roadtest