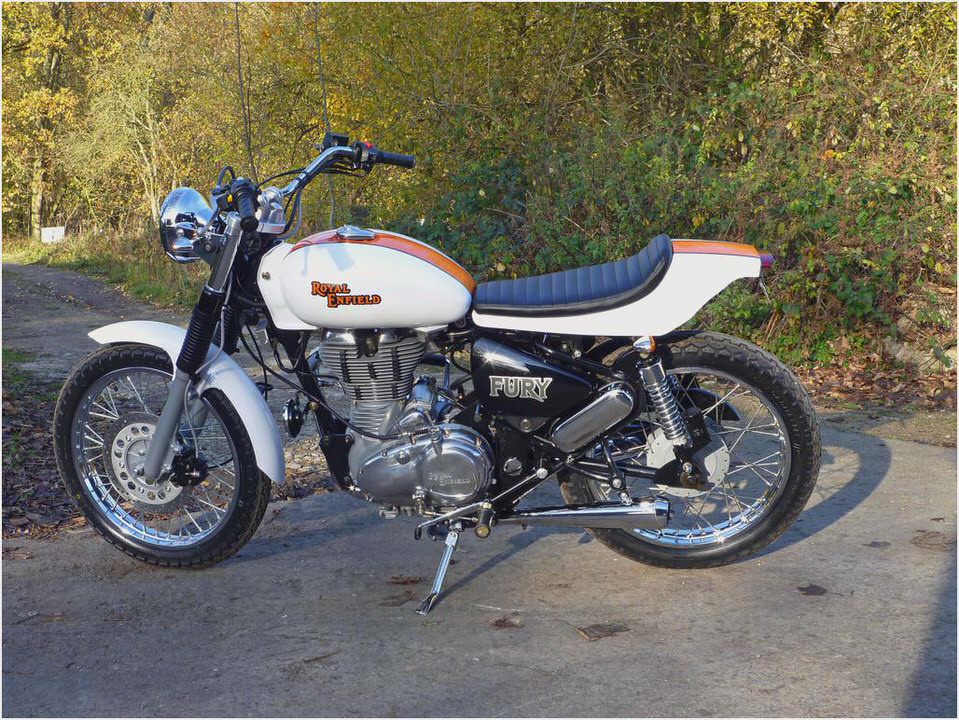 Related Content
Santa and the bike shop
This clever bit just came to us from vintage bike collector and friend of the magazine Burt Richmond.
1947 AJS Model 16
A 1947 AJS Model 16 on display with other classic motorcycles at the Barber Vintage Motorsports Muse.
Found on eBay: 1957 Ariel Red Hunter
We see a lot of nice Triumphs and BSAs on eBay every week, but it's been a long time since we've see.
Vintage Motorcycle Club Nepal Shares Photos of Classic Motor Bike Exhibition
Royal Enfield Bullet 500
Years produced: 1952-62
Claimed power: 25hp @ 5,750rpm
Top Speed : 78mph
Engine type:  499cc air-cooled OHV single
Transmission:  4-speed
Weight: 420lbs (wet)
MPG:  45-65 (est.)
Price then/now: £214-£250 ($600-$700)/$2,500-$6,000
Royal Enfield is one of the oldest of all motorcycle manufacturers. The company incorporated as a bicycle maker in 1890, and produced its first vehicle, a De Dion-powered quadricycle in 1898. And in spite of its famous slogan, "Made Like a Gun," the company never actually made munitions: the "Royal Enfield" name was adopted after the company won contracts to supply gun parts to the Royal Small Arms Factory in Enfield, near London.
RE pioneered many motorcycle innovations, offering a three-speed countershaft gearbox in 1911 and a pressurized automatic recirculating engine lubrication system in 1914. The first Bullets were sporting variants of RE's overhead-valve four-stroke 150cc, 350cc and 500cc singles in the 1930s. The 500cc Bullet was particularly innovative, employing both three- and four-valve cylinder heads with pent roof combustion chambers.
Innovation went on hold for six years from 1939, while RE supplied the British Army with the solid and slogging side-valve 350cc model C and overhead-valve model CO.
After hostilities, Royal Enfield's big single models G and J (350cc and 500cc) appeared looking like the wartime singles in civvies that they were. A brand new 350cc Bullet arrived in 1948 with several important innovations. The long-stroke 70mm x 90mm overhead-valve engine carried its oil supply in a cast-in compartment behind the crankcase, the iron cylinder was topped with an all new light alloy head, and the gearbox bolted directly to the engine in "semi-unit" construction.
A new frame carried a telescopic front fork, and at the rear a swingarm with telescopic spring/damper units. Also surprising was the use of light alloy in the forks, primary cases, cylinder head and (later) hubs.
The new Bullet quickly proved highly competitive in motorcycle trials, with works riders Vic Britain and Charlie Rogers both winning Gold Medals in the 1948 International Six Day Trial as part of the victorious British team. RE went on to win three more ISDT makers' trophies in the next five years. The Bullet, along with the Ariel HT and Matchless G3, became the trials bike to beat, while the street version sold well, too — though new 500 and 650 twins from other makers somewhat overshadowed it.
The company responded with a bigger 500cc engine of 84mm bore in 1952. This raised the output from 18hp to 25hp with little weight gain, giving a lively performance for the time. And in 1954 the famous RE "casquette" headlight enclosure with its distinctive side running lights was fitted.
1955 models featured a new open-loop diamond frame, which lost the previous frame's seat tube, making room for a central toolbox/air cleaner housing.
The Bullet 500 continued largely unchanged until production ended around 1962. Along the way, though, the 500cc engine gained bigger cooling fins to become the "big head" Bullet; the Fury was a tuned road-race version intended to compete with the flat-track BSA Gold Stars and Triumph T100s that were mopping up in flat track.
Meanwhile, the basic Bullet gained a reputation for durability and toughness almost unparalleled at the time. That — and its trials success — attracted the attention of the Indian government as a motorcycle that might be suited to the rugged terrain of rural India, especially in its Himalayan north. Import restrictions meant that RE's Indian agent, Madras Motor Company, was required to assemble — and subsequently fully manufacture — Enfield Bullets in Madras (now Chennai).
The design, based on the 1954 350cc model with its old-style frame, continued essentially unchanged for almost 50 years.
However, the U.K. bikes were always better built than their Indian counterparts (mostly because of better metallurgy), and British Bullets — if you can find one — are built to last. They do have their weaknesses, though: Bullets, like most Enfields, use a twin-piston oil pump that needs to be checked regularly for wear. The oil scavenge line is cast inside the cases and is easily blocked, so regular oil and filter changes are a must.
Also ensure the cork (on early bikes) or neoprene seal on the big end oil feed "quill" is in good condition. It's behind the big nut in the center of the timing case. Parts are still readily available, making English-built Bullets a nice option for singles fans looking for something familiar, but different.
Contenders: Single cylinder rivals to the Bullet 500
AJS Model 18/Matchless G80
Years produced: 1946-1966
Claimed power: 23-28hp @ 5,600rpm/84mph
Engine type: 497cc air-cooled OHV single
Transmission: 4-speed, drum brakes front and rear
Weight: 394lbs (dry)

MPG: 45-65mpg (est.)
Price now:  $4,000-$8,000
A. J. Stevens Co. was acquired by Matchless Motorcycles in 1931 to form Associated Motor Cycles Ltd. AJS had the greater sporting reputation, however, and brand differentiation was maintained until 1946, when the model ranges were effectively merged. A smaller company than most of its rivals, AMC nevertheless outlived many by building a reputation for innovation and quality.
One of the best Allied Forces motorcycles of WWII was the 350cc Matchless G3/L, a lightweight version of the pre-war G3 and fitted with parent company AMC's new Teledraulic front fork. For 1946, AMC produced civilian versions of the G3/L with both AJS (model 16) and Matchless (G3/L) badges as well as 500cc (82.5 x 93mm) versions, the Model 18 and G80. The only difference?
The AJS carried its magneto in front of the cylinder, the Matchless behind.
A swingarm frame became an option in 1949 (G80S), and used the slender "Candlestick" spring/damper units, replaced in 1951 by the more robust "Jampot" type. 1951 also brought new light alloy cylinder heads. For 1952, the G80's magneto moved in front of the cylinder, making the engine indistinguishable from the AJS except for the badge.
Better brakes and a stock dual seat were announced for 1953 (as on our photo bike; turn to page 62 for a full feature on the 1953 18S), full width alloy hubs for 1954, and the new Amal monobloc carburetor for 1955. Essentially, the 18 and G80 always successfully blended traditional design with sound engineering and above-average quality. Their enduring value reflects this.
Ariel VH Red Hunter
Years produced: 1932-1959
Claimed power: 26hp @ 5,000rpm/84mph
Engine type: 497cc air-cooled OHV single
Transmission: 4-speed, drum brakes front and rear
Weight: 365lbs (dry)
MPG: 50-60mpg (est.)
Price now:  $4,000-$8,000
Like Royal Enfield, Ariel was early into motorcycles, building a trike, also De Dion powered, in 1898. Though famous for Edward Turner's Square Four, it was designer Val Page's line of sturdy side- and overhead-valve singles that was Ariel's bread and butter in the 1930s. Introduced in 1932, the 500cc VH Red Hunter was the company's flagship single, a luxury sporting version of the OHV VG model. A 350cc NH Red Hunter was also produced.
Both models got fully enclosed valve gear in 1939.
Most pre-WWII and some early post-war Red Hunters featured twin exhaust ports and dual silencers, though this option was dropped by 1950. A telescopic front fork arrived in 1946, and "Anstey link" (named for Ariel's former chief designer) plunger rear suspension was offered as an option. By now Ariel was part of the BSA group, and in 1954 the Red Hunter gained a BSA-style swingarm frame, while the engine finally received an alloy cylinder head.
The last year for Red Hunter production was 1959, when all the Ariel four-stroke models, including the Square Four, were dropped in favor of the new two-stroke Leader and Arrow range.
At least until the early 1950s, Red Hunters wore a distinctive color scheme of a red-over-chrome gas tank, with a red stripe around the center of the chrome wheel rims. Distinctively British and fairly rare in this country, Red Hunters are nonetheless fairly affordable in the U.S. with parts readily available from England. MC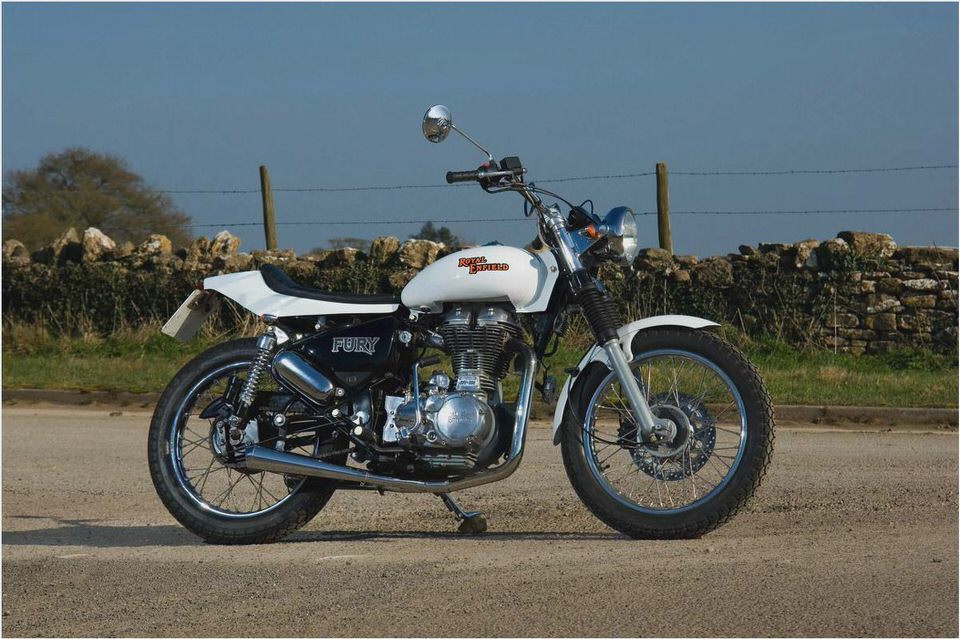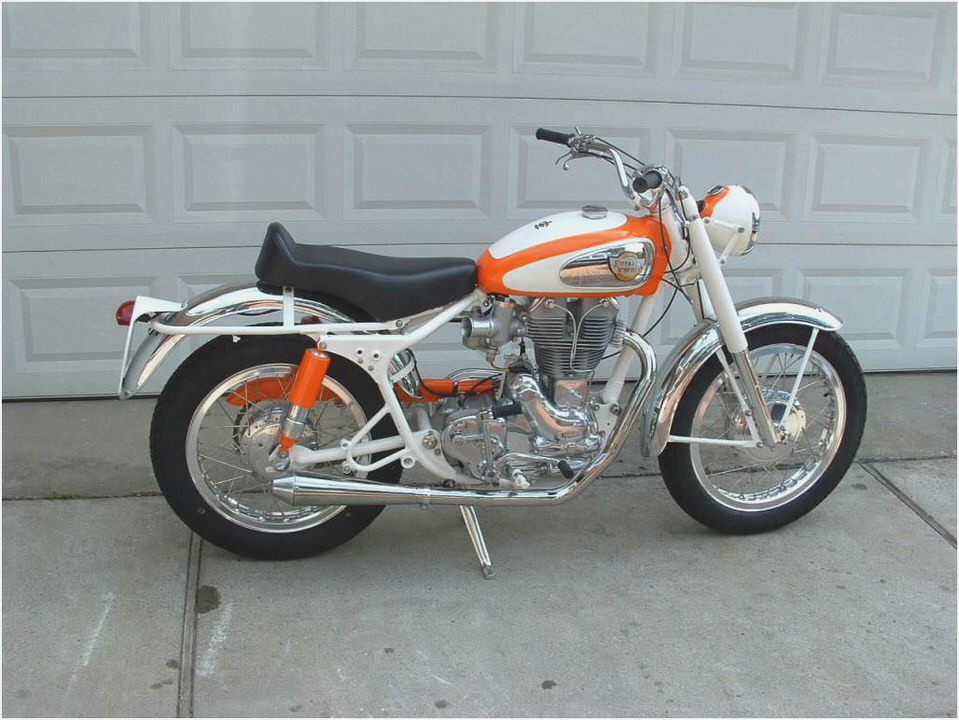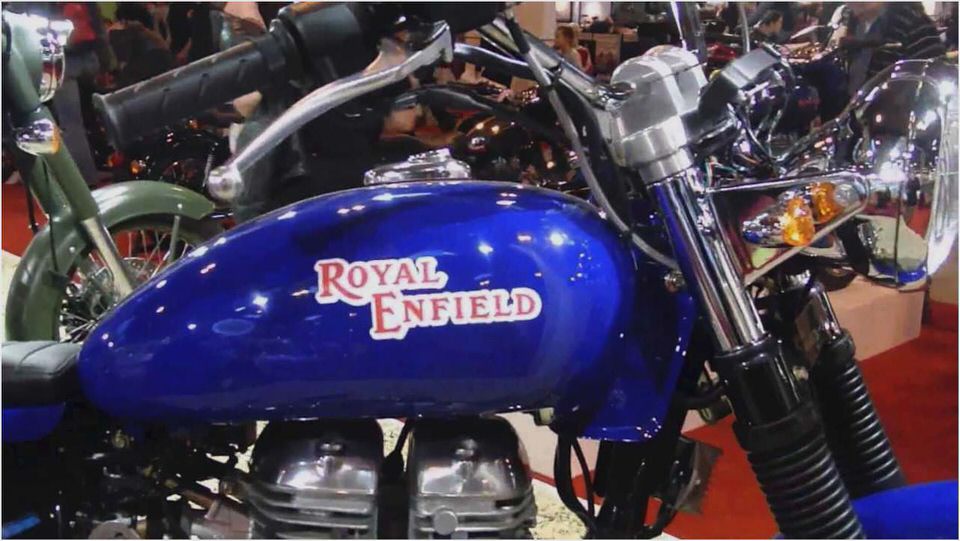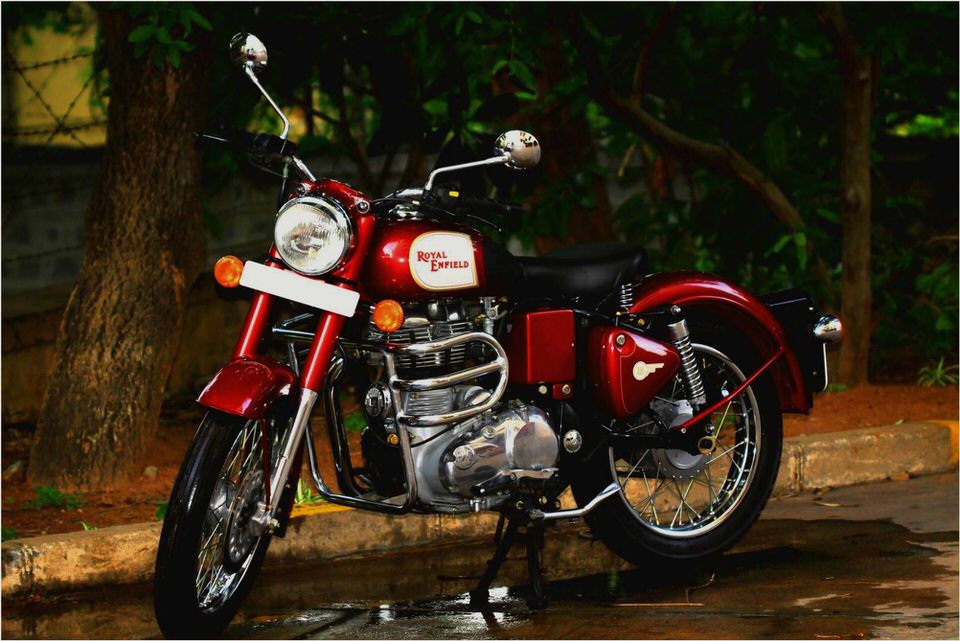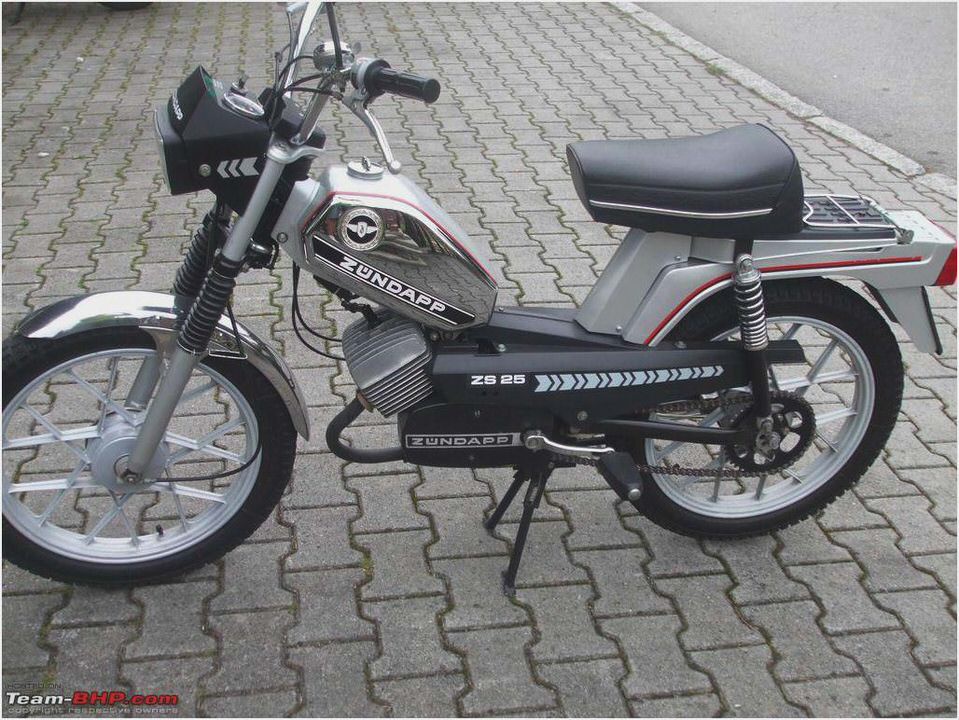 History of Royal Enfield Royal Enfield India Bikes – Sale-Buy Used Bullets…
The Royal Enfield Motorcycle Collectors' Blog
Auto Report 2013 – The New Royal Enfield Thunderbird 500 Review – Punbit
Royal Enfield Motorcycles: What's ahead for Royal Enfield in the U.S.?…
Royal Enfield Bullet Electra Deluxe price in India as on Mar 12, 2014…