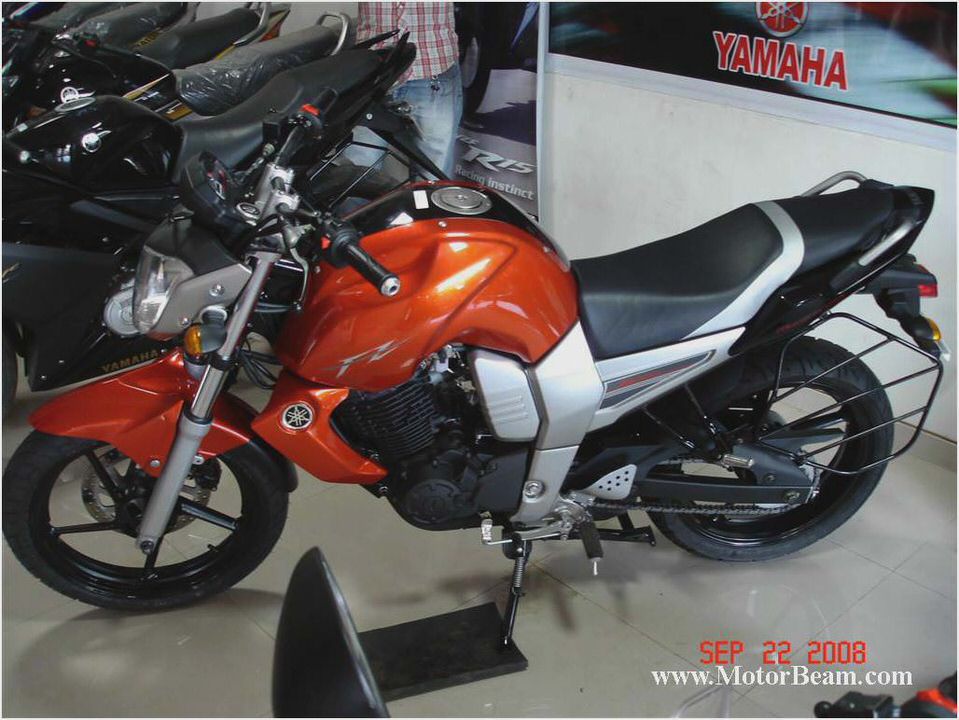 Yamaha FZ16 Review
Price OTR Mumbai: Rs. 75,000/-
To start off this bike has striking presence. The looks of this bike will be a major reason for its success. We all know that the Pulsar 150 isint as great a bike as its sales figure suggests, its engine is not as refined either compared to the Unicorn but it does sell and how! One of the main reasons for the Pulsar 150 to sell so well is, it looks the part and the FZ16 makes the Pulsar look like a bike from last generation.
After looking at the FZ16, i can confidently say that the bike is Definitely Male.
Just like the Yamaha R15, the FZ16 has been wind tunnel tested for better aerodynamics. The engine is air cooled and uses a carburetor. A FI version would have made this bike really more desirable but then Yamaha had to price it sanely too.
However the bike does ride pretty well.
There is good amount of low end grunt, something which is missing in the R15. Though power of 14PS doesn't speak much, its the torque which is worth talking about. 13.6NM @ 6000 RPM means this bike pulls very well from any RPM. There is very good throttle response and the bike will nudge 120kmph which is the norm in the 150cc segment. Yamaha claim an unrealistic mileage of 50kmpl.
Expect 40kmpl under normal riding conditions.
The fat front forks, mono cross suspension and the fat tires ensures that the FZ16 rides very well. You hardly feel a bump and is thus suited for our roads, which are well poorly made. Although the bike looks all muscles, it handles pretty well. Change of direction is quick and the wide handle bars makes the riding position almost spot on.
Braking is good and gear shifts are smooth but not as good as the R15, which is in another league.
We really didn't like the instrumentation on the FZ16. The tacho needle is small and makes it difficult to read. Otherwise too the instrument cluster is a wee bit small for our liking and for a bike which looks so big and butch, i really don't know why Yamaha compromised on better instrumentation. The bike also has no kick start (ala Pulsar 220), similar fuel tank capacity as the R15 (12 liters) and weighs just 127 kgs (dry)
To sum up the FZ16 is a fantastic machine, it is worth the money and is certainly our pick in the 150cc segment. However Yamaha could have made it better, all those fat tires and forks need a bigger engine, perhaps a FZ20 should be launched by Yamaha to quench the performance hunger in us.
Looks amazing
Rides very well
Engine has good grunt
Attention to detail
Fat tires
Good pricing
Unimpressive instrument cluster
Pillion seat too small for humans
Yamaha FZ16 Specifications –
Engine: 153CC air-cooled, four-stroke, single-cylinder, SOHC, 2 valves
Power: 14PS @ 7500rpm
Torque: 13.6Nm @ 6000rpm
Transmission: 1 down 4 up
Top Speed: 120kmph
Fuel Consumption: 35-40 kmpl (City), 40-45 kmpl (highway)
Fuel Tank Capacity: 12 litres
Fuel Type: Petrol Unleaded
Fuel System . 26mm CV Carb
Tires: 100/80/R17 (F), 140/60/R17 (R)
Brakes: 267mm single cross-drilled ventilated rotor with 2-pot calipers / 130mm drum
Yamaha FZ16 Dimensions –
Overall length x width x height: 1975mm X 770mm X 1045mm
Seat height: 790mm
Wheelbase: 1,335mm
Minimum ground clearance: 160mm
Dry weight / Curb weight: 127 kgs / 137 kgs
Yamaha launches 2014 Cygnus-X scooter — TalkVietnam
Yamaha Majesty 400 2009
Yamaha XS 650 – Wikipedia, the free encyclopedia
Motorcycle Buyers Guide – Yamaha XV1600 Road Star, XV1600 Road Star Silverado…
The Near Future at the Motor Show (WC Archive)