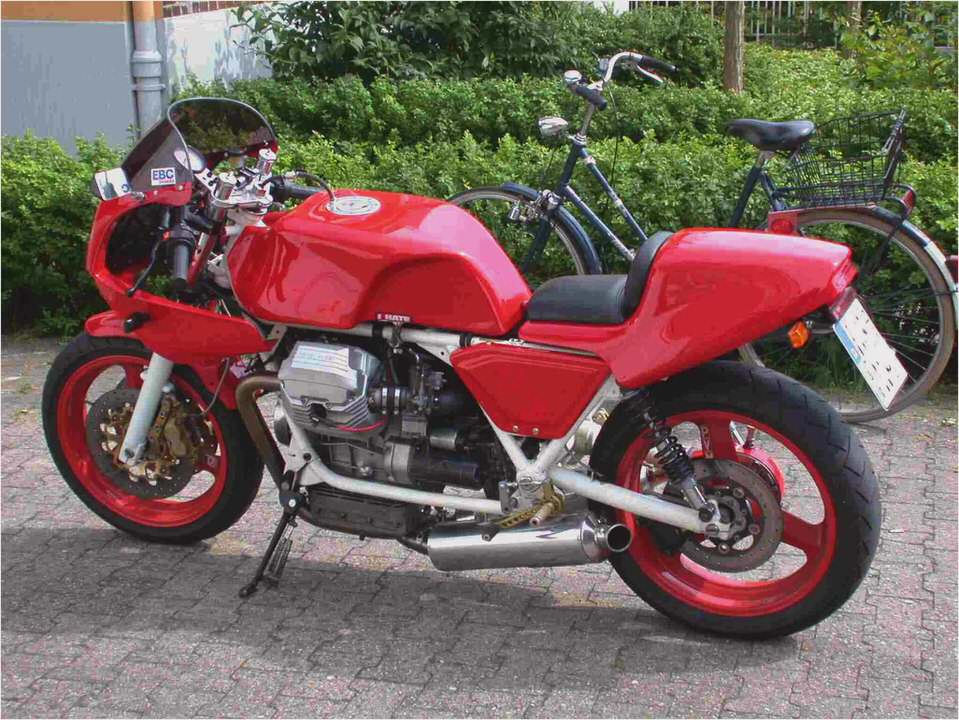 User Rating: Excellent
Reliability:
Comfort:
Handling And Control:
Quality and Craftsmanship:
Pros: Comfortable, fast, easy to work on.
Cons: Variable quality control, poor dealer prep.
The Bottom Line: This bike has rejuvinated my interest in motorcycling. The combination of sound, power, and sheer fun has made travel via motorcycle fun again!
I had gotten a new job a few years ago, something that paid me enough that I thought I could replace my old Honda V-65 Sabre, a large comfortable sport bike upon which I put almost 50,000 miles. That bike set the high water mark for the 4 that were to follow, and until the Guzzi, I simply wasn't satisfied.
The last motorcycle was a good case-in-point, a Triumph Trophy which has turned out to be a very un-reliable shop bike, albeit when running, extremely comfortable and extraordinarily fast. The word un-reliable became an issue, however; the bike forced me to re-think my motorcycling, my commuting. For as long as I ride it, I have to stay within 50 miles of home, or at least it felt that way.
The Guzzi came to the rescue. I decided that the biggest problem with the bikes that came after the Sabre was that I couldn't easily work on them myself. They were all buried in sheets of plastic, taking over an hour to do the simplest tasks, such as changing spark plugs.
I did some research and came up with the name Moto Guzzi as the motorcycle to own if I wanted something reliable that still offered me a chance to do my own work.
A test drive on a cruiser version of the bike and I was sold!
First off, it fulfills my maintenance needs very well, valve adjustments are less that 20 minutes, oil changes are a snap.
More importantly, it fills the hole left by the Sabre, it is fast, comfortable and fits me extremely well. It's reliability has never been questioned, and it has never left me shutdown by the side of the road, unlike the Trophy.
It is a unique cycle in a world of straight 4's- a 90 degree V-Twin, and a big one at that, has some differences from the typical offerings from the bigger sport bike makers. Blip the throttle and the bike pushes to the left, engine torque. It is only a twin and the engine is solidly mounted, so there is some vibration, but it is of a very pleasant nature, reminding me that the bike is running.
The sound evokes a feeling of power and makes me grin opening the (fuel injected!) throttles wide open.
Motorcycling is subjective in many ways. This is not the fastest 1100, it is not the fastest bike I've ever owned (that honor belonged to the CBR1100XX's) nor is it the most powerful, but the bike is light, then engine makes 90 horse, and corners as if it is on rails. Very controlable, lean-in and out is very, very precise.
The normal shaft-jacking is completely un-detectable on the V-11 Sport, the back end squats under full throttle, it pops up a bit on trail- just like one expects.
The brake lines are steel hoses. A nice touch that give the brakes a very firm and controlable feel, more so than the normal rubber fittings on other bikes.
Maintenance has been a breeze, and even the break-in maintenance took two hours, mostly because of the shaft drive taking a while to fill in the cold autumn air.
Moto Guzzi is trying to make inroads to the North American market, they are trying to get their name well known, and with good reason. This is a bike that I would recommend a friend. It was designed by people that quite obviously, like to ride!
Recommend this product? Yes
Amount Paid (US$): 9,999.00
Test Moto Guzzi V7 Racer kit "Record" Bikes Catalog
Moto Guzzi V7 Classic review carsguide.com.au
Moto Guzzi Breva V1100 review – Naked – Motorcycles – Visordown
Moto Guzzi V11 Le Mans
A-Z of historic classic vintage veteran motorcycles motorbikes Moto Guzzi Monza