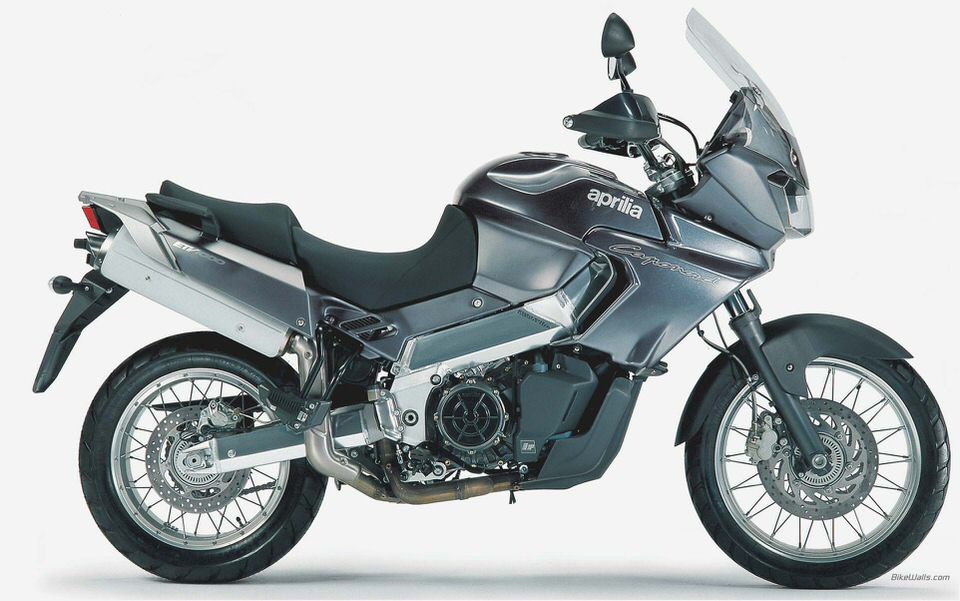 Specifications:
Never-ending roads and motorways, or dusty and lonely tracks, stretching to the edge of the world towards unknown landscapes and unknown sensations. with the ETV 1000 Caponord, the joy of travelling lasts for ever.
continue reading
Because the ETV 1000 Caponord means no limits power, comfort and reliability on any terrain and over any distance. The versatility and carrying capacity of a maxi enduro to accompany you on every trip with absolute freedom and independence.
But also sporty performance, a fun but safe ride and an elegant comfortable design. The ETV 1000 Caponord at last you can experience all the emotions, fascination and potential of total touring.
Enjoy a unique design and extraordinary comfort
Slim and streamlined, refined and functional, created to express the best possible interaction between machine, rider and passenger, wind tunnel tested to eliminate even the most minimal turbulence – the design of the ETV 1000 Caponord captivates and convinces right from the first glance, as happens only with something born to last and destined to go a very, very long way.
Its enveloping lines guarantee an ultra-high coefficient of aerodynamic penetration, even when riding in an upright position, while the large front fairing, built-in hand guards and tank design protect the body from the wind for absolute comfort at all speeds.
And the height of the saddle from the ground has been calculated to enable the feet to be rested steadily on the ground, because the ETV 1000 Caponord represents not just total touring, but also total comfort.
Achieve the maximum power and riding pleasure
Smooth, flexible, ever ready to deliver its full power (98 hp to the shaft) even at low revs and to give you the all the delight of a sporty but at the same time easy and safe ride. The ETV 1000 Caponord 60 V twin engine has been specifically designed for this original, multi-purpose and unique bike.
It is light and compact to fit in perfectly with the mechanics, guaranteeing optimum handling and stability. The specific design of the pistons, camshafts and throttle bodies, special intake and exhaust system and sophisticated electronic injection guarantee the highest possible torque at low revs.
The ETV 1000 Caponord engine also features two famous and exclusive Aprilia patents: the AVDC Anti Vibration Double Countershaft system for even more total riding comfort, even on long fast trips and the PPC Pneumatic Power Clutch to make the clutch lever lighter to operate and avoid rear wheel bounce during sudden deceleration for even better stability and handling.
Discover the most innovative and exclusive technology
The ETV 1000 Caponord is the first trail bike with variable geometry aluminium alloy double beam perimeter frame (Double Wave Aluminium Beam). Two characteristics which guarantee the highest torsional rigidity in its class.
But that's not all. The swingarm is also in aluminium and magnesium alloy. The central section is cold-cast and the arms and terminals forged to guarantee the best possible relationship between lightness and rigidity.
The front suspension with 50 mm diameter sleeves is the same as used in racing enduros, but the calibration has been optimised to guarantee maximum comfort both on roads and motorways and on tracks and trails.
The rear suspension is multi-adjustable with a convenient external knob to adapt the trim of the bike not just to all types of terrain, but also to all carrying conditions, whether alone or with a passenger, with or without bags.
The ETV 1000 Caponord is fitted as standard with innovative and exclusive Tubeless Spoke Rims, enabling tubeless tyres to be used, yet one more advantage in terms of safety. In addition, the particular spoke arrangement together with the exclusive hollow hubs and large diameter wheel spindles provide a high level of torsional rigidity and thus stability during cornering, even at high speeds.
Exclusive, complete and specially designed for the demands of touring, the dashboard has a multifunction digital panel indicating time, ambient temperature, the temperature of water in the cooling circuit and level of fuel. The word service also appears when the bike needs servicing.
Rim and wheel section
Free your desire to go wherever you want with whoever you want.
The ETV 1000 Caponord is the first choice for all those who want to travel and experience the most diverse of situations, for all those who never let themselves be swayed by fashion, following nothing but their own curiosity and vitality, their own desire for new landscapes, encounters and emotions. In all situations, the ETV 1000 Caponord gives of its best, not just in terms of performance, but also of functionality and versatility.
Its carrying capacity knows no limits, partly thanks to the possibility of removing the rear saddle to create a further, roomy compartment for luggage and to regulate both headlights independently depending on the weight and load distribution.
The tank capacity is also optimum for touring use – 25 litres, including a five litre reserve. So you can get wherever you want in complete freedom and autonomy, together with the person you love and the bike you love, the ETV 1000 Caponord.
Panniers, top box, tank bag – with Aprilia original accessories, your ETV 1000 Caponord is ready to take on any journey, while retaining perfect aerodynamics and weight distribution, together with an unmistakable look.
And with Aprilia helmets, technical garments and sportswear, you can experience practicality, freedom of movement, comfort and, of course, style, in body and soul.
SPECS
Engine: Longitudinal 60 V twin four stroke, with patented AVDC system (Anti-Vibration Double Countershaft)
Fuel: 95 RON lead-free
Cooling: Liquid cooling with three-way pressurised circuit.
Bore and stroke: 97 x 67.5 mm
Total displacement: 997.62 cc
Compression ratio: 10.4 :1
Valve Timing: Double overhead cam with mixed gear/chain timing drive, four valves per cylinder.
Maximum power at crankshaft: 98 HP (72 kW) at 8.250 r.p.m.
Maximum torque at crankshaft: 9.88 kgm (97 Nm) at 6250 r.p.m.
Fuel injection: Integrated electronic engine management system. Indirect multi-point electronic injection. 47 mm diameter throttle bodies.
Ignition: Digital electronic ignition with TSI (Twin Spark Ignition) with two spark plugs per cylinder. Ignition timing integrated in the injection control system. DIAC (Dynamic Ignition Advance Control) electronically controlled ignition timing.
Starter: Electric starter
Lubrication: Dry sump with separate oil reservoir. Double trochoidal pump with oil cooler.
Primary drive: Straight toothed gears. Transmission ratio: 60/31 (1.935)
Gearbox: 6 speed
Transmission ratios: 1st: 35/14 (2.5); 2nd: 28/16 (1.75); 3rd: 26/19 (1.368); 4th: 24/22 (1.091); 5th: 22/23 (0.957); 6th: 23/27 (0.852)
Secondary drive: Chain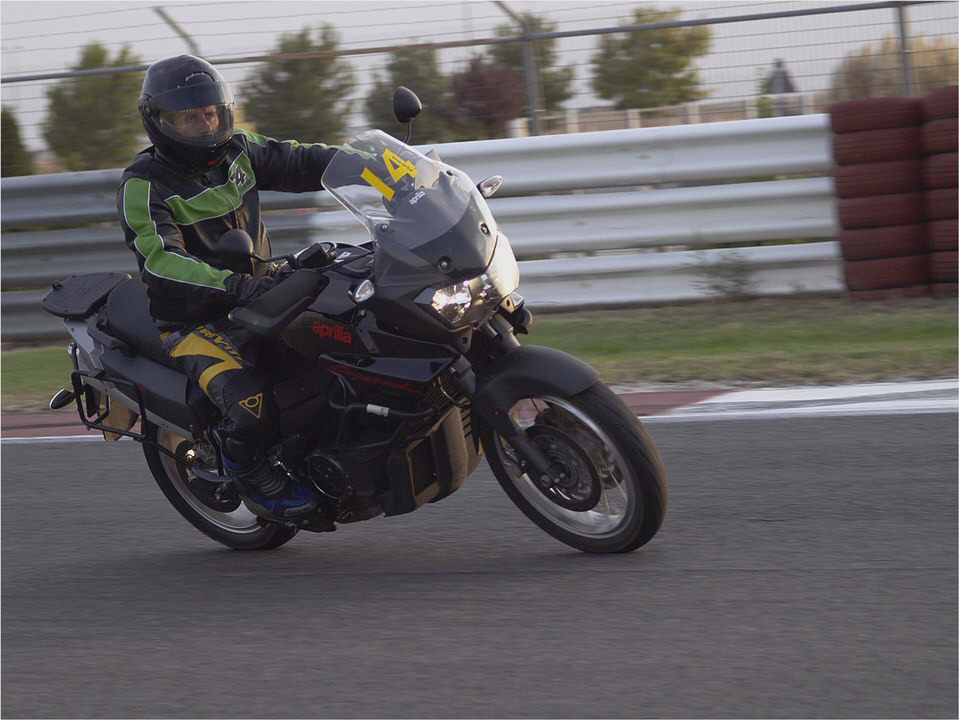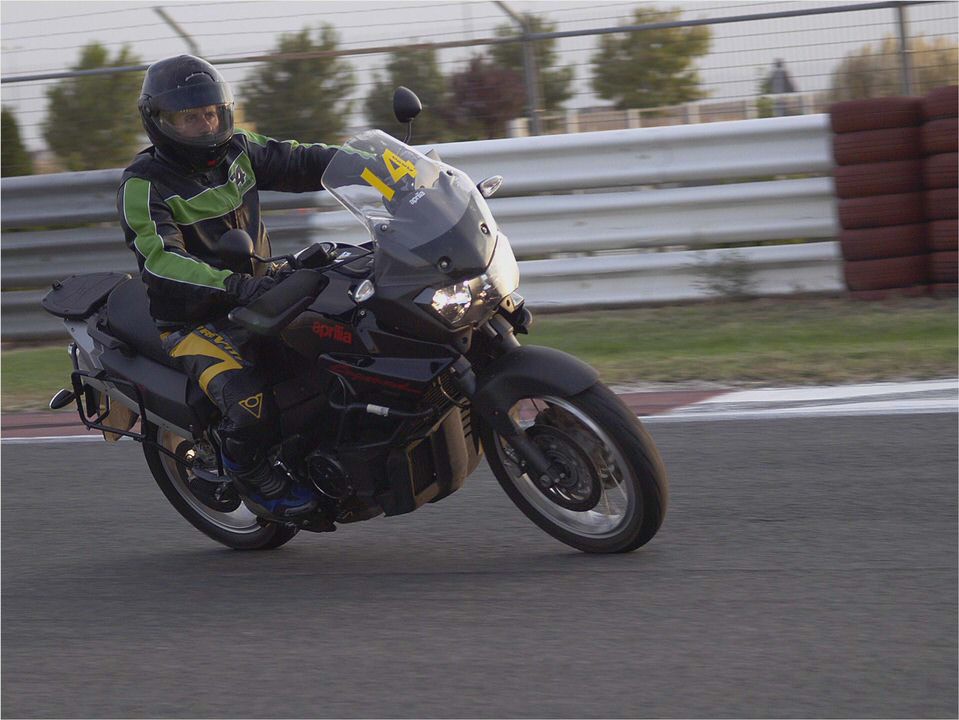 Transmission ratio: 45/17
Clutch: Multiple disk in oil bath with patented PPC power-assisted hydraulic control. Freudenberg clutch line.
Frame: Double Wave Twin Beam in aluminium-magnesium alloy; Removable high strength steel seat mount frame.
Maximum length: 2,290 mm
Maximum width: 876 mm (at handlebars)
Maximum height: 1436 mm (at windshield)
Seat height: 820 mm
Handlebar height: 1,115 mm
Wheelbase: 1,544 mm
Trail: 129 mm
Steering angle: 27.9
Front suspension: Marzocchi 50 mm hydraulic action telescopic fork. 175 mm wheel travel.
Rear suspension: Aluminium alloy swing-arm. APS (Aprilia Progressive System) linkage. Sachs hydraulic monoshock with adjustment for compression, preload and rebound dampening. Wheel travel 175 mm.
Front brake: Brembo double disk in stainless steel, Ø 300 mm. Floating calliper with two differential 32 and 30 mm pistons. Semi-metallic brake pads. Freudenberg brake lines.
Rear brakes: Stainless steel disk, Ø 270 mm. Calliper with two 34 mm pistons. Freudenberg brake lines.
Wheels: Patented Tubeless Spokes Rim for tubeless tires; Front: 2.50 X 19; Rear: 4.00 X 17
Tires: Radial tubeless; Front: 110 / 80 VR 19; Rear: 150 / 70 VR 17
Electrical system: 12 V
Battery: 12 V 14 Ah
Alternator: 470 W
Tank: Capacity 25 litres, including 5 litre reserve
Colors Available: Black
Accessories: ETV CAPONORD panniers complete with mounting rack, tank bag, centre stand, Aprilia Body-Guard armoured cable lock, lower seat.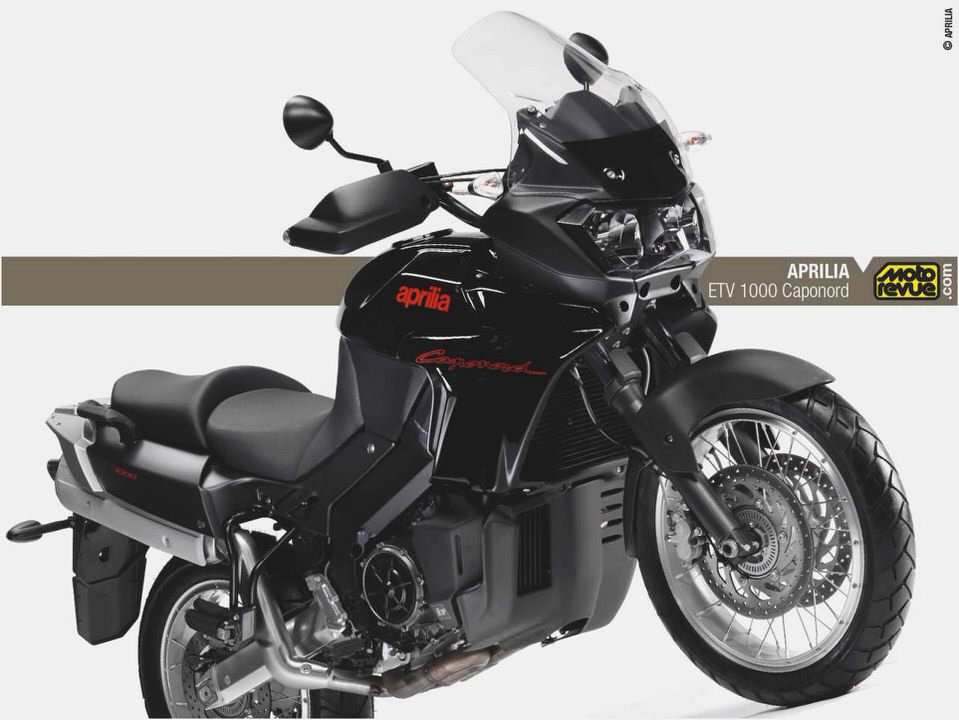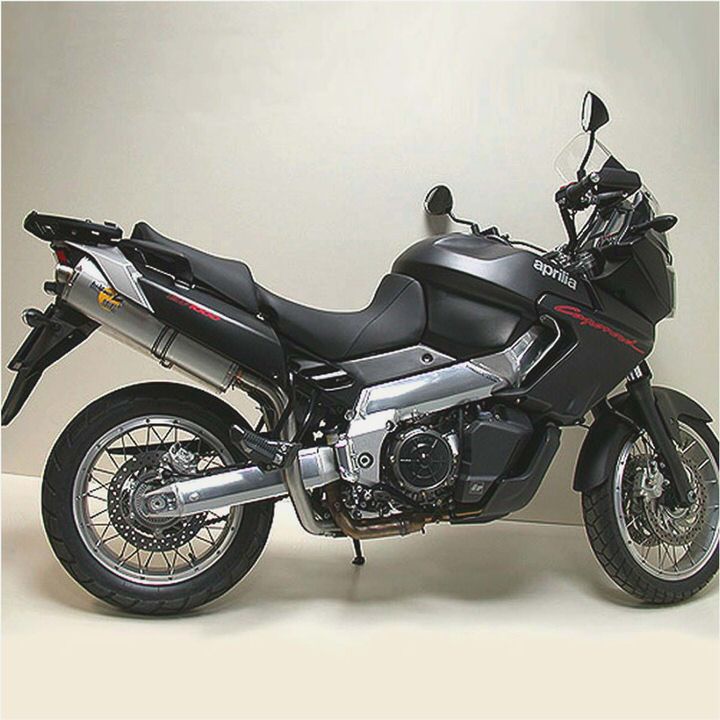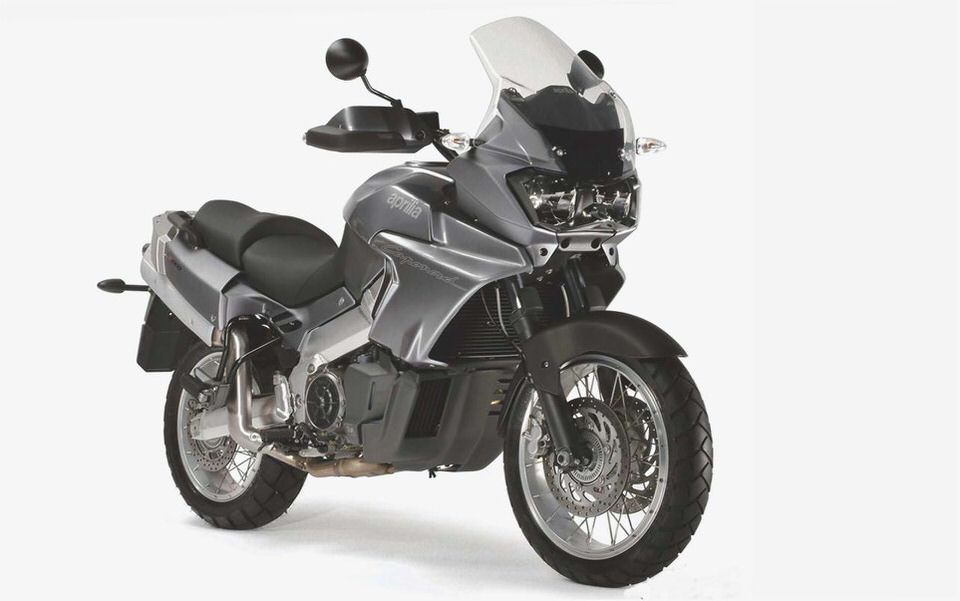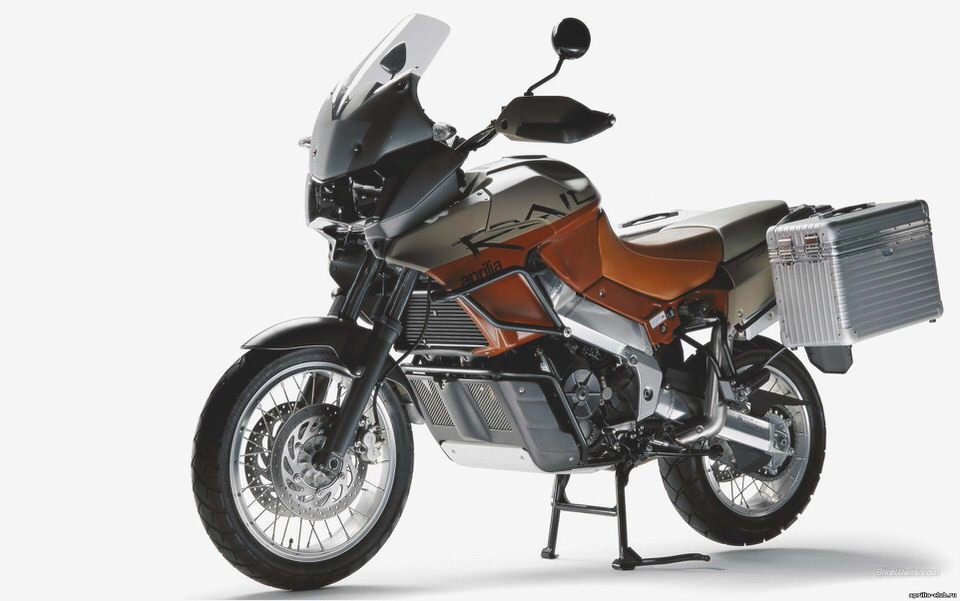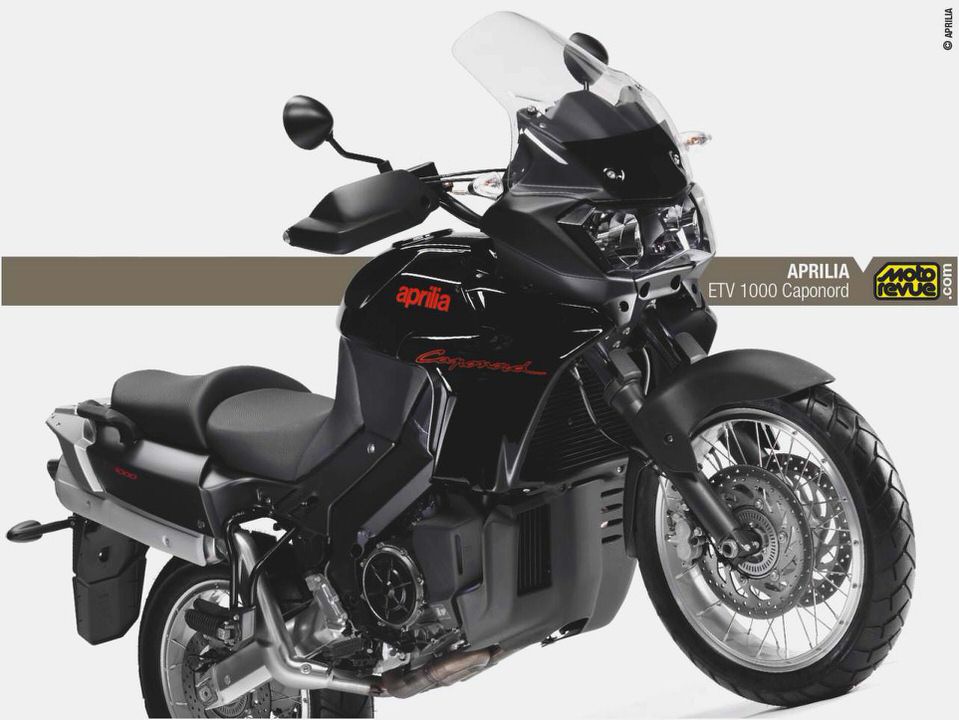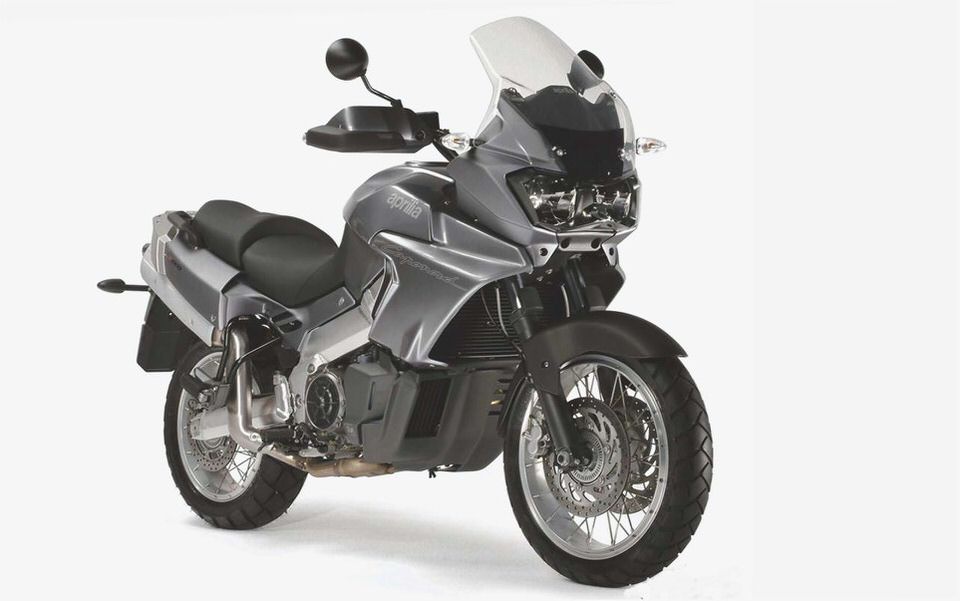 Aprilia RS250 – the LAST fire-breathing two-stroke roadster
First Ride: Aprilia Tuono 1000R – Road Tests: First Rides – Visordown
FS/FT: 2003 Aprilia Caponord WA – Expedition Portal
Aprilia Tuono – Wikipedia, the free encyclopedia
2013 Ecosse Iconoclast motorcycle review @ Top Speed