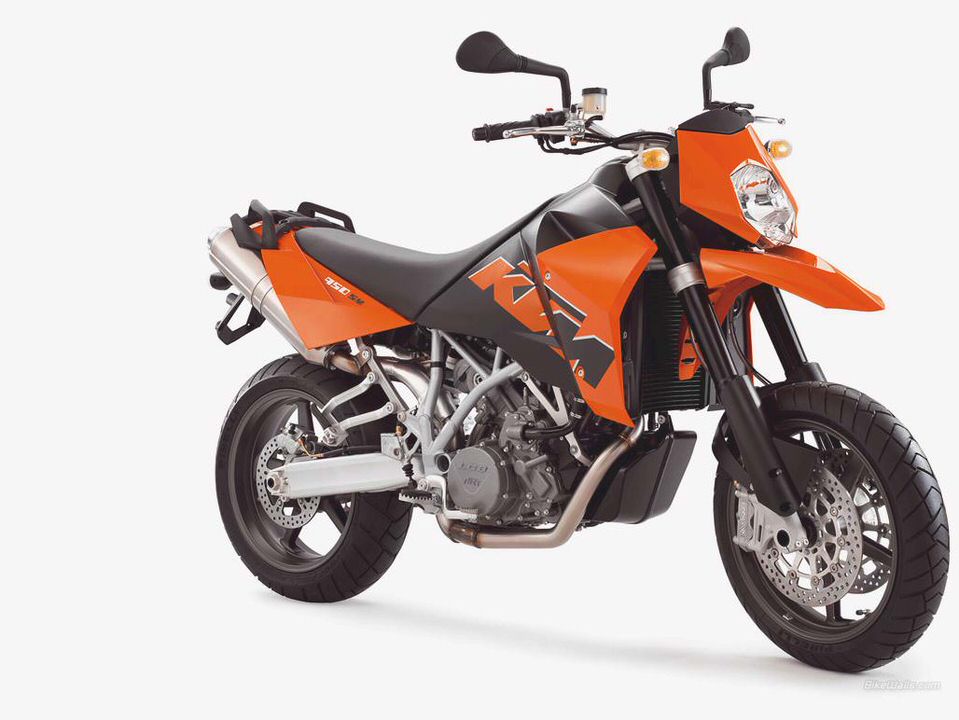 KTM continues its dramatic move from dirt to pavement with a 950 Adventure-based Supermoto machine. Alan Cathcart gets an early taste
One of THE most riveting displays at last fall's Intermot show was KTM's. The Austrian-tinged adrenaline was due primarily to the four distinct and highly trick street models the company displayed: The Super Duke 990 sport rod, which we previewed more than a year ago (December 2003), the RC8 superbike, a wild-looking stripped RC8 called the Venom and, lastly, a Supermoto version of the big-selling and highly popular 950 Adventure.
With the Super Duke entering production now (though not yet for the U.S.), and the Venom and RC8 being held until 2007, the Supermotoized Adventure–called the 950 Supermoto–will slot in between. As the only one of the four to be derived from an actual production model, this one seems a sure bet to enter production in '06.I rode the prototype at the company's Mattighofen RD center right after Intermot, and I can tell you this is a unique and hugely entertaining motorcycle, one that has no direct competitors; it's beyond bikes such as the Suzuki V-Strom, more hard-nosed than the Ducati Multistrada and more focused than even the Aprilia Tuono or Ducati S4R Monster. It can even do business in the dirt!
The man responsible is KTM chief Stefan Pierer, himself an enthusiastic dirt rider. This is my kind of streetbike, which combines the feel of an off-roader with sportbike performance, says the 47-year-old entrepreneur behind KTM's recent emergence as a coming force in world motorcycling. Pierer tasked youthful 990 Super Duke project leader Philipp Habsburg to head the Supermoto team.
When we began work [on it], the original idea was to build a Supermoto V-twin by simply stripping a 950 Adventure and fitting it with 17-inch wheels and a smaller fuel tank, he admits. But after just a couple months we realized this wasn't the right direction, because the steering geometry was wrong with the smaller wheels, and at anything over 75 mph it was very unstable. And besides, Habsburg added, It was so ugly we broke it up into pieces, and started all over again!
The new direction resulted in the prototype I rode, which retains a modified version of the Adventure frame, but fitted with a shorter swingarm and the smaller 17-inch wheels of the 990 Super Duke. Everything else is new to deliver a stable-handling package living up to designer Gerald Kisk's Supermotard styling.
The Supermoto's frame and engine are lifted directly from the 950 Adventure, though the shorter swingarm comes from the Super Duke 990. For now, 950 KTM twins use carburetors, but it will need fuel injection to pass European Union emissions regulations in '07.
The Supermoto's frame and engine are lifted directly from the 950 Adventure, though the sh
Despite being warned of dire consequences if I failed to return it in one piece, I rode it hard enough to appreciate what serious fun it will be. It's ideally suited to both paved and unpaved back roads, but it has a practical side, too. Its high stance lets you see over traffic and plan ahead, making it a brilliant bike for city work–especially with its light clutch, low footrests and zestful yet user-friendly engine.
Steering geometry and overall dimensions remain oriented more toward dirt than pavement, with a rangy 1510mm wheelbase and kicked-out 25.4-degree rake, featuring 110mm of trail. The whole bike sits just low enough to let a 6-footer throw a leg over the seat at rest. That seat is surprisingly soft and comfortable.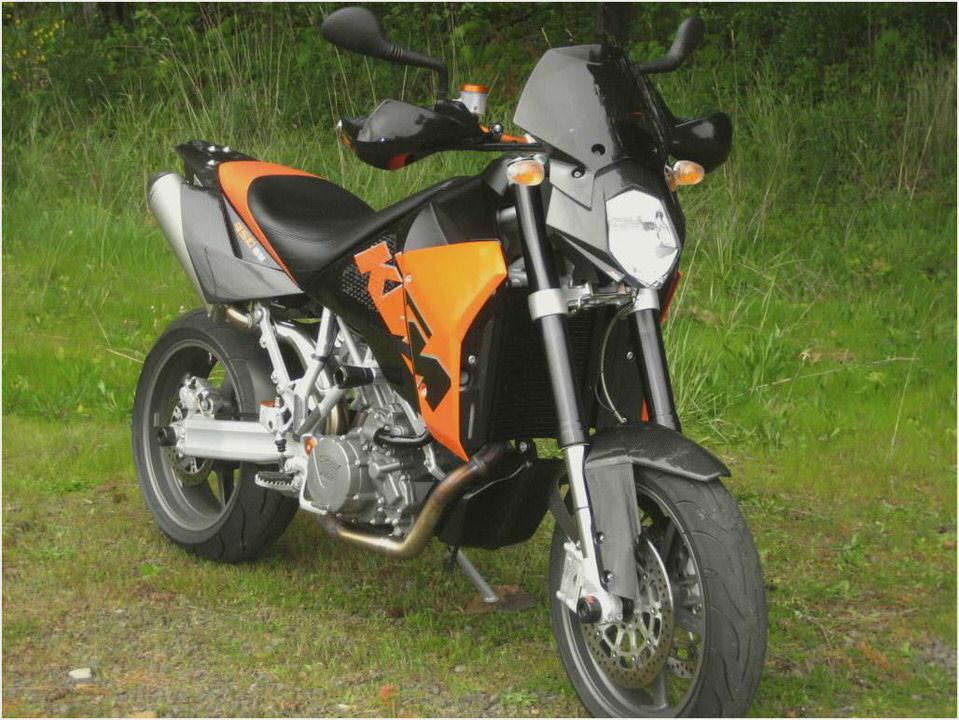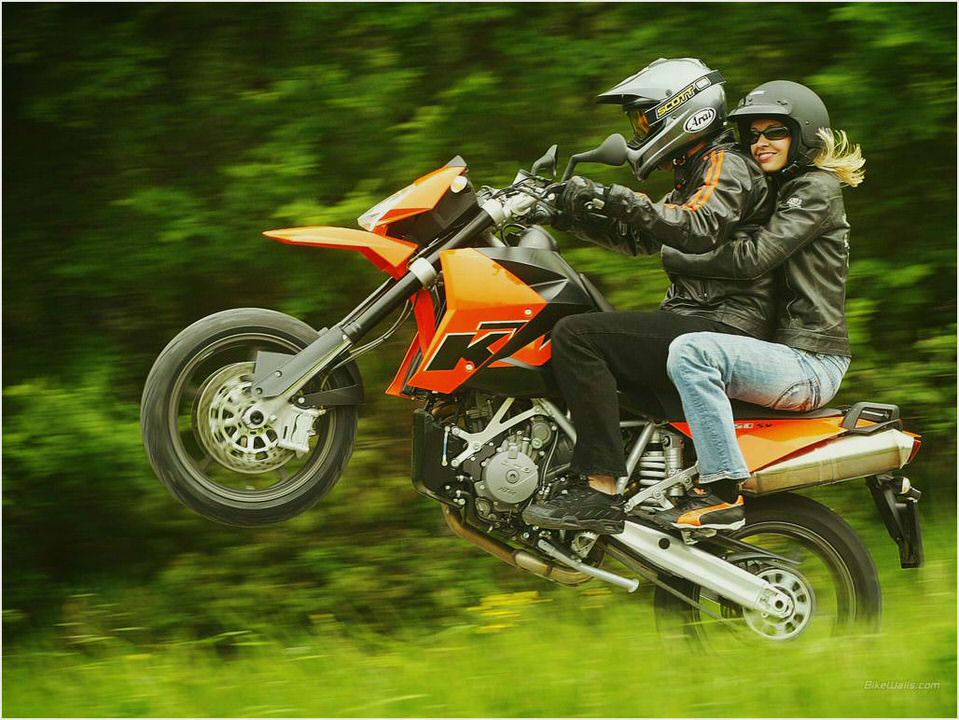 The one-piece handlebar looks flat, but is high enough to deliver an upright stance that's quite comfy for corner-carving your way through the wonderful roads of the Salzkammergut mountains. The bar provides plenty of leverage for controlling slides, too, and the Pirelli Skorpion Sync dual-purpose tires are ideally suited to the bike.
Up front, the Supermoto wears twin 305mm discs with radial calipers and master cylinder. These stop the bike brilliantly, with good initial bite but without the sense of impending front-wheel lockup. Riders who want to back the machine into corners will appreciate the stout 240mm rear disc and two-piston caliper.
The 98-horsepower 942cc engine pulls away easily, almost right off idle. There's no rev counter on the minimalist dash, but the V-twin feeds power quickly and progressively until about halfway through the powerband–I'm guessing the 5000-rpm mark. That's when the KTM really takes off, and there's a burst of extra acceleration up to what the spec sheet says is the 7000-rpm peak torque mark (where 66 pound-feet are on tap) and beyond.
The 950 Supermoto has a wide torque spread and it'll take almost any gear you choose, though in practice you'll end up short-shifting through the six-speed box's closely spaced ratios, getting quite a buzz as you keep throwing gears at it–a figurative buzz, that is, because unlike the prototype Super Dukes I've been riding for the past couple of years, there's no trace of undue vibration through the seat and footrests.
And that's the best way to ride this rewarding, easy-handling funbike. Doing it differently, in sporting style, is KTM's trademark, and the 950 Supermoto is a real-world sport motorcycle unlike any other. With the growing threat to conventional sportbikes posed by speed cameras and rocketing insurance costs, I foresee this V-twin Supermoto becoming KTM's best-selling streetbike right from the day it enters production.
It will also be a paradigm for a new generation of sporting motorcycles because other manufacturers will try to copy it. They'll need to if they want to keep pace with KTM–on the street as well as in the dirt. –Alan Cathcart
KTM X-Bow (crossbow) CONCEPT RACE CAR – KERETA DOT INFO
2010 KTM 300 XC-W Review –
Quick Test: 2008 KTM 690 Supermoto R CycleOnline.com.au
KTM 300 MXC Dirt Bike Refresh: Off-Road.com
2013 KTM 690 R Enduro question – Page 3 – LC4 400/610/640/690/950/990…