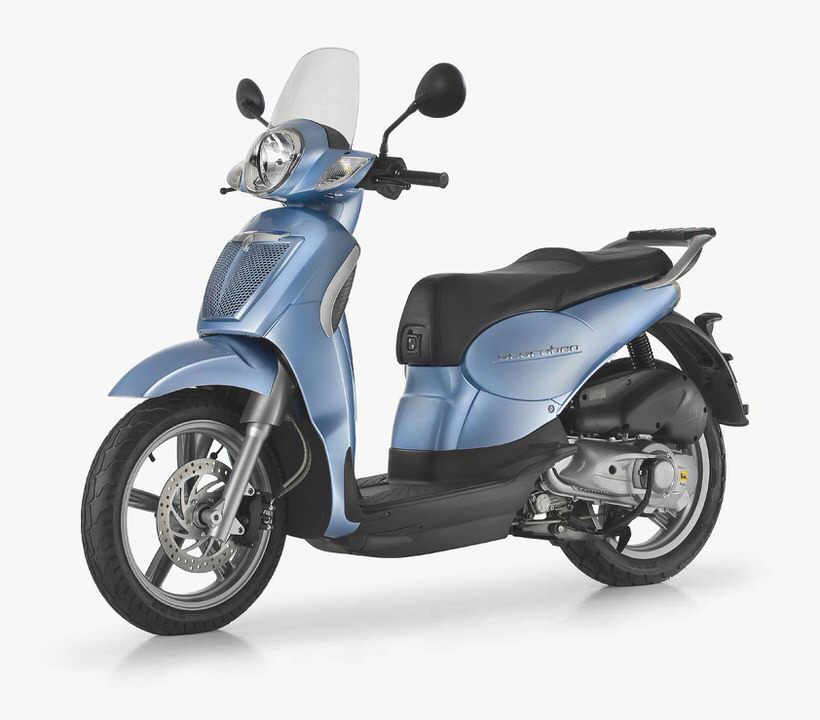 2008 Aprilia Scarabeo 200 Review
Simple, practical and beautiful, the Scarabeo is one of Aprilia's most successful scooter lines.
The Aprilia Scarabeo 200 embodies refined design, fifteen years of refinement as a matter of fact.
Even with her relative obscurity here in the USA, sales of the Aprilia Scarabeo have surpassed the three-quarter million mark since it was introduced back in 1993. The Scarabeo design is so successful, I can think of no other model with as many displacement options. In Europe the Scarabeo has been available as a 50cc 2-stroke, 50cc 4-stroke, 50cc Ditech, 100cc, 125cc, 150cc, 200cc, 250cc and a 500cc over the course of the last couple of decades.
Thankfully, in the United States, there are just three to choose from right now – 100cc, 200cc and 500cc.
The original and current designer, Giuseppe Ricciuti ( also responsible for the Aprilia's Tuono, RS250 and the RSV Mille ) shows that he can do more than road-torching sportbikes by producing an elegant style often imitated but rarely accomplished in other big-wheeled scooters. The Scarabeo is about as straight-laced as a scooter can be. Calm, polished, neat and clean; if a scooter was interviewing for a white collar job, it would want to look like a Scarabeo.
Some may even say the Scarabeo is a bit too conservative. Dare I say boring? Not at all, the Scarabeo's torquey 181cc engine makes sure of that. Check out how the scooter sounds and rides in the Aprilia Scarabeo 200 Video .
Acceleration may be a bit relaxed from a standstill, but once you've passed the 20-mph mark you might think you're on a 2-stroke. I was a bit surprised by the Scarabeo 200's performance, mostly because no other scooter is equipped with this particular engine. This specially-designed single-cylinder, 4-stroke is liquid-cooled with a four valve, double overhead cam that manages to stir up 19 horsepower.
It's enough to tote my 200-lb body from zero to 60 in an impressive 13 seconds.
The Scarabeo 200 has a triple piston caliper front disc linked to the rear hydraulic disc brake.
She's quicker than a lot of 250cc scooters and has front and rear discs to bring her to a satisfactory stop. Aprilia has employed a front-to-rear linked hydraulic braking system to distribute the braking force between both wheels with a triple-piston caliper on the front and a dual-piston caliper on the rear.
The Scarabeo sits on 16-inch wheels (modern scooter wheels don't get any bigger), giving her a ride more akin to a motorcycle than a traditional scooter. The big wheels offer a smooth and more forgiving ride, even at her top speed of around 71 or 72 mph. I'm sure she could run short distances on the highway, but I opted to keep off of California's 405 with this scooter after a local friend of mine deemed it "too gnarly" for scooters.
I couldn't argue with that since I had already risked life and limb on the 405 twice before (Vespa GTV 250 Aprilia SportCity 250). The Scarabeo 200 did perform rather nicely on the roads near Trump National Golf Club. As a matter of fact, she seems quite at home there.
The Scarabeo doesn't leave room for much storage. There's room under the seat for a half helmet, but that's about it.
One unfortunate drawback of having larger diameter wheels is the reduction of underseat storage. The Scarabeo leaves room for a half helmet, but not much more. A good top case is the best remedy and it would easily mount on the Scarabeo's aluminum luggage rack.
There are plenty styles and sizes to choose from. The only other built-in storage available is the shallow bin in the leg shields that offers room for your papers and maybe your cell phone, but not much else.
As long as we're on the subject of drawbacks, I will go ahead and vent on the other little things I found annoying. First, I had a problem with the key. It's hard to explain, but the Scarabeo has a strange shaped key (see photos).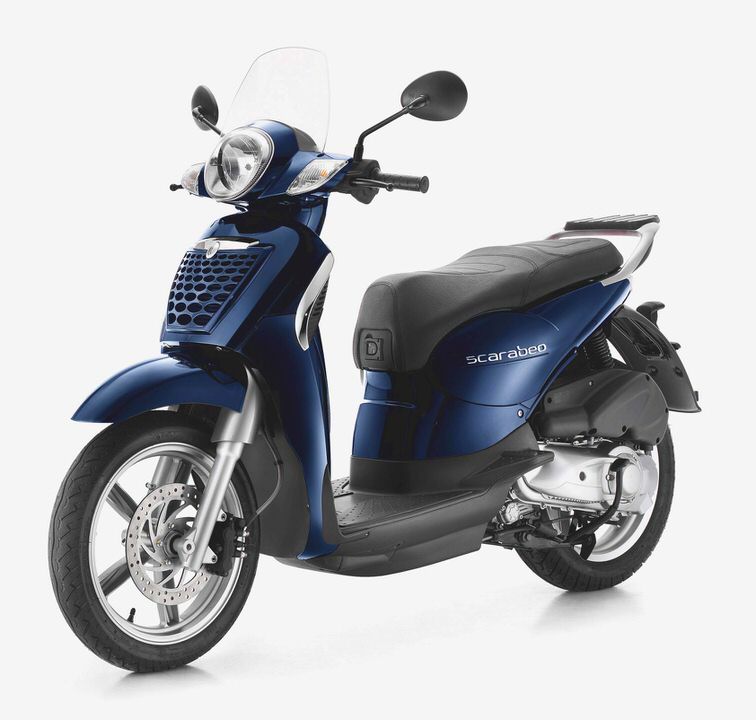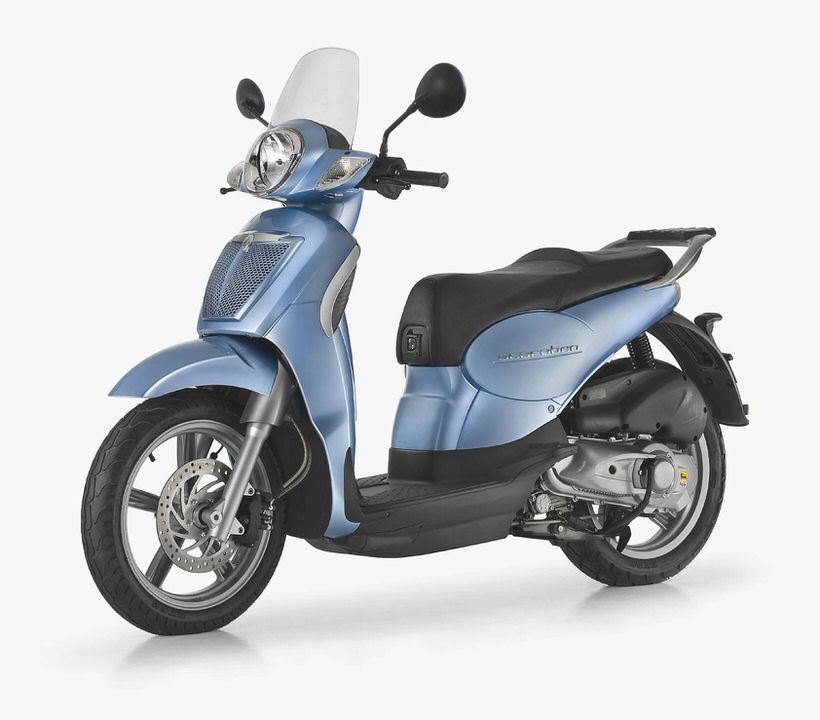 It looks great when the key is in the ignition, but having that odd key in your pocket is a bit like having a hedgehog in your pants. If you like your trousers tight then you might be forced to alter the shape with your choice of hacksaw or power tool.
Another thing I wasn't fond of was the analog speedometer. The gauges looked lovely over all, but no new scooter in America should have a predominant km/h readout. The MPH reading was there, but it didn't stand out and was more difficult to read. It could be an easy fix if you know a good graphic designer that could make a replacement speedo layout for you.
If you're going to go through all that trouble, you might as well customize it too, eh?
One of my nitpicks is this funky key. It looks great in the ignition, but doesn't feel so great in your pocket.
Last on my nitpicking list is the seat. It feels alright, maybe a bit thinly padded to keep the seat height down to 31.9 inches (still pretty tall), but some long-term owner's reports show that the seat's life expectancy is rather short. One owner said his seat lasted less than a year.
I'm not sure if this issue has been resolved in more recent production runs, but you might want to keep her out of the weather just to be safe.
If you can get over those nitpicky items, and you don't mind that she's a bit heavier than you might expect (339 lbs) you'll find a lot to love in a Scarabeo. Classic design, nice fit and finish, tasteful chrome embellishments, a pleasantly laid out headset with built-in blinkers and windshield and a comfortable MSRP of $3,399 ($100 more in 2009). If you still need some peace of mind, Aprilia includes a two-year factory warranty to help you out with that.
The clean-burning Scarabeo 200 averages 70 miles per gallon, so with her 2.1-gallon tank you'll get nearly 150 miles per fill up unless you ride to work and back uphill both ways, like grandpa used to do. With the proper stowage accessories, the Scarabeo makes a fine commuter scooter.
Bike Personality Profile
If this machine could have its own personality, summed up in one or two words, what would it be?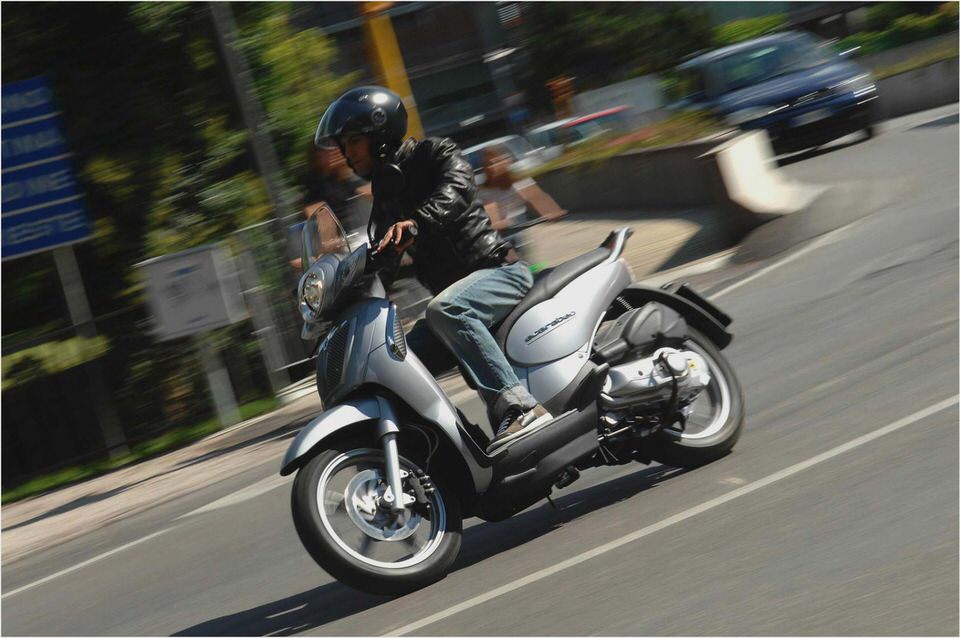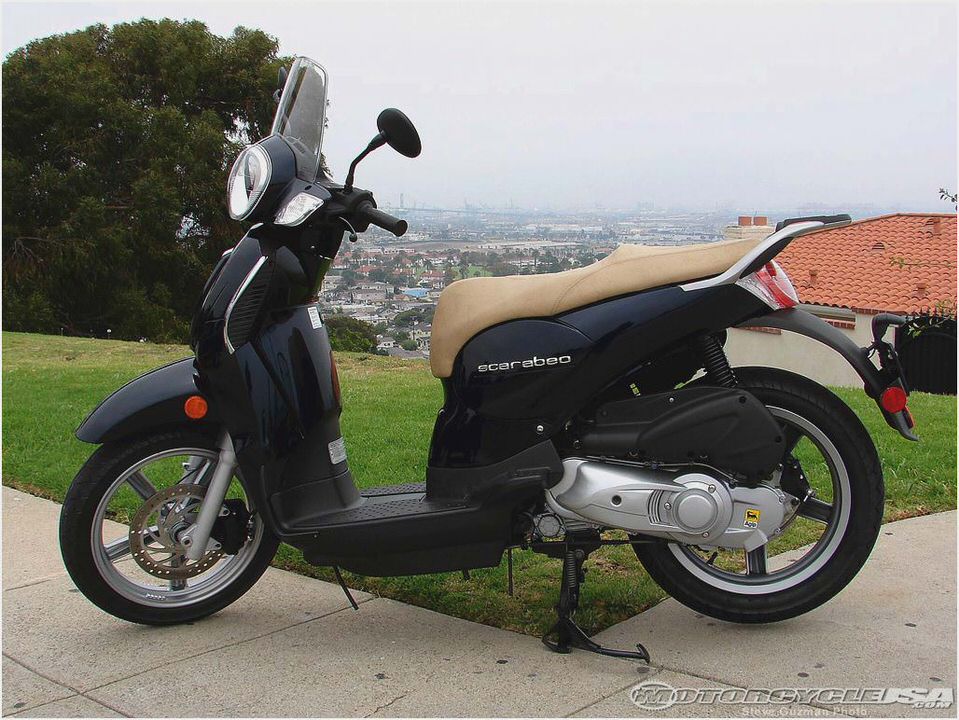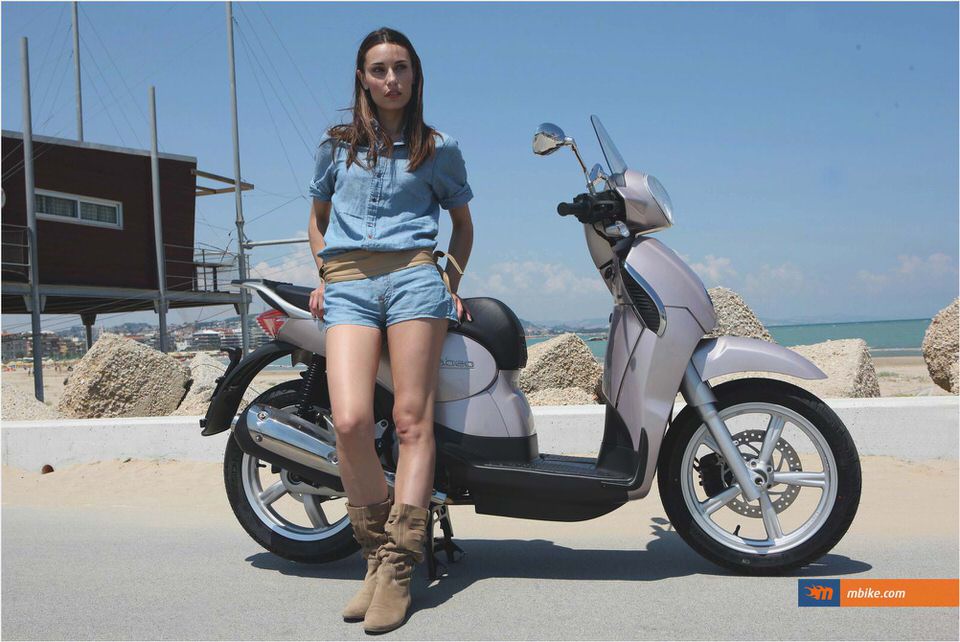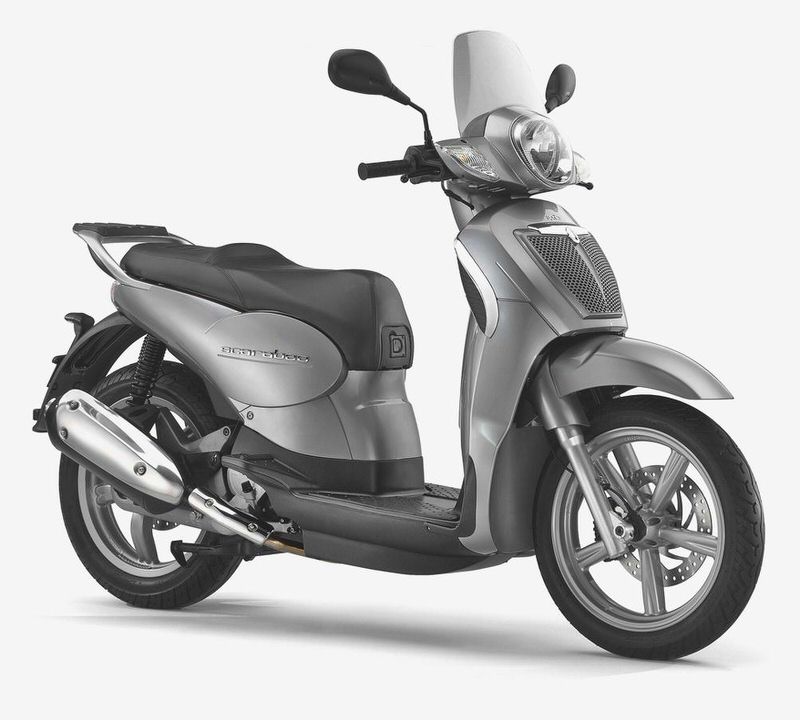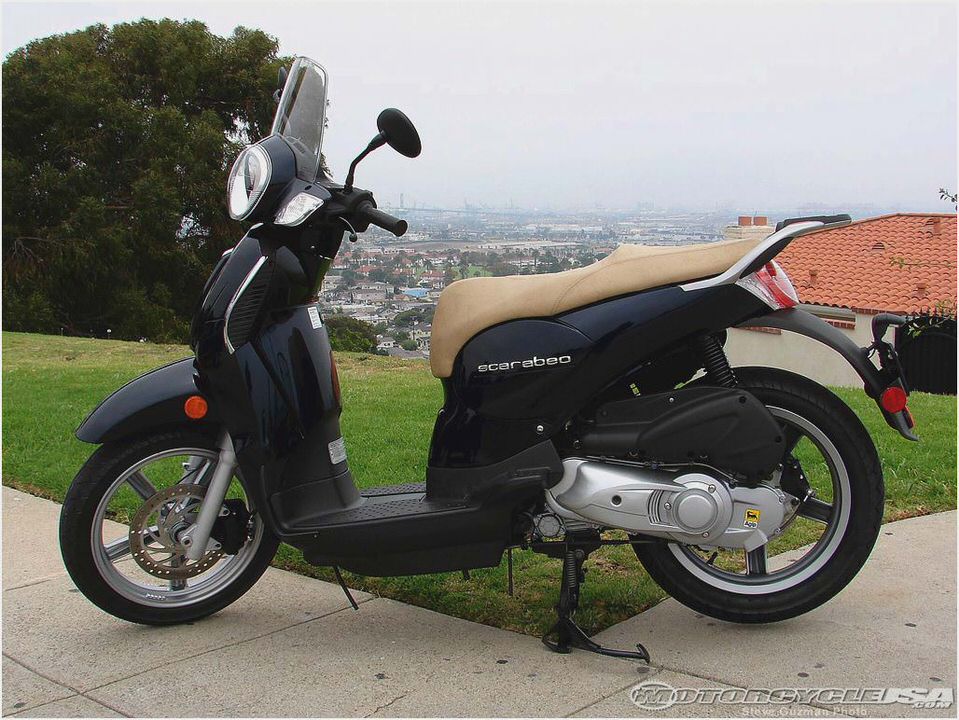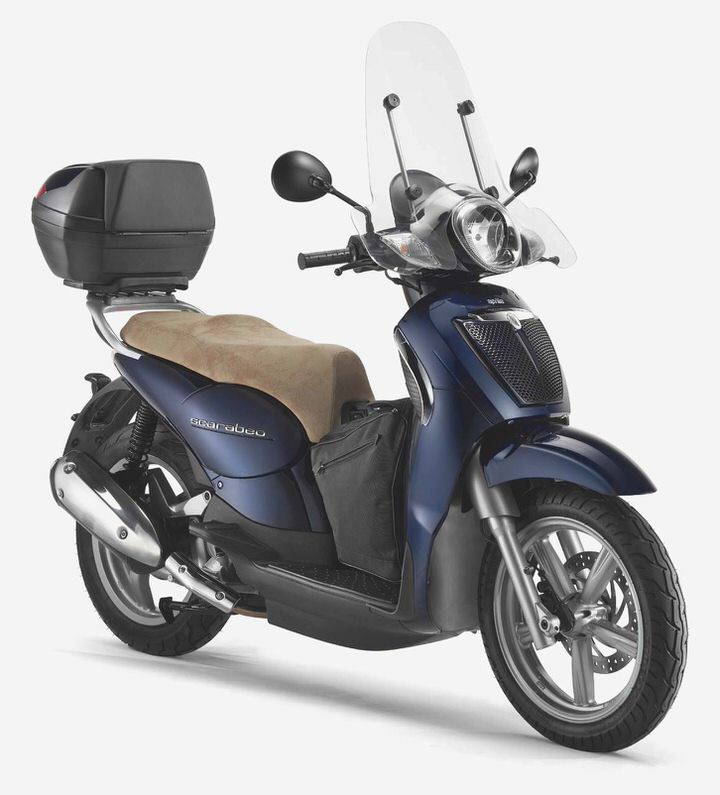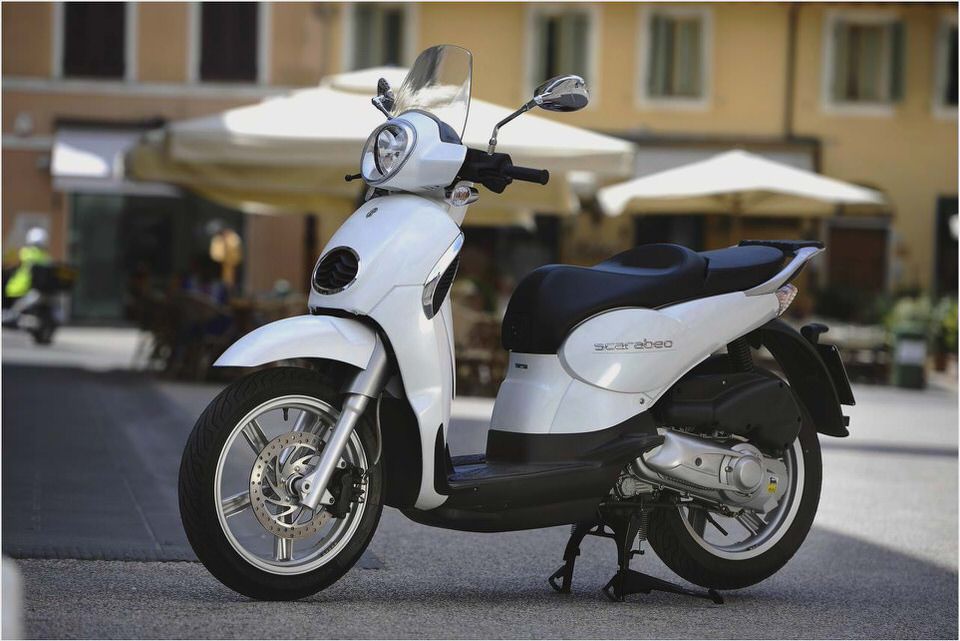 2007 Aprilia Scarabeo 50/100 motorcycle review @ Top Speed
Aprilia Tuono R: Moto-ST Star – Single Bike Test
Aprilia SMV 750 Dorsoduro Comes to the US
2006 Aprilia ETV 1000 Caponord
2011 Aprilia RSV4 Factory APRC SE Pure Onboard Jerez How To Save Money…