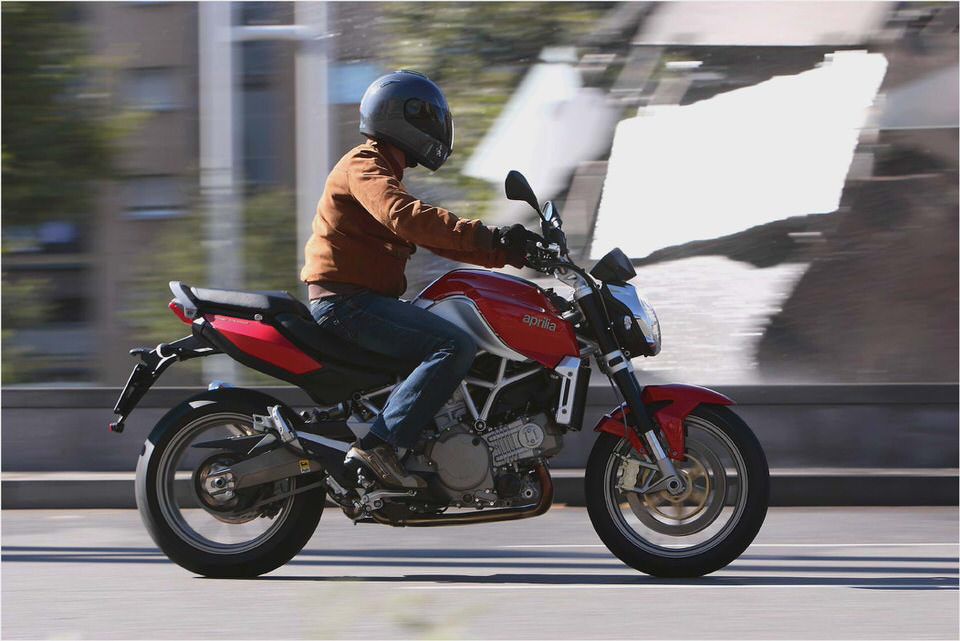 Click the picture above for video
Now I've been riding motorcycles for a long time to know that when I see a bike doesn't have a clutch lever usually something's gone terribly astray. Apparently Aprilia's RD department have proved me wrong as they've now produced a bike that's as easy to ride as a large scooter but also versatile and sporty enough to be classified as a motorcycle.
Aprilia was founded in 1962 (now part of the Piaggio Group as of December 2004) and the company designs and manufactures all types of motorcycles in Noale Italy, with production facilities in Scorzè. Over the years Aprilia has shown its technical prowess in engineering motorcycles that have won many championships. The latest incarnation of this knowledge is the 2009 Mana 850 which features such advanced engineering as its high-tech transmission, engine controls and useful storage system.
The first thing anyone notices about a motorcycle is its styling. There's no denying the fact that Italian designers have "it" when producing concepts on paper to full blown production motorcycles. The Mana embodies this philosophy by having a beautiful constructed trellis frame, sculpted headlight and a single sided exhaust system.
Hop aboard the Mana and you're presented with a dash that's clear, concise and has many features to keep us geeks busy for hours instead of playing MotoGP on XBOX.
The large analog speedometer is easy to read (tach duties are accomplished by three yellow lights with a red warning light) and the digital dash functions just like it should; non-intrusive yet conveying the information you need/want while riding. The Mana's dash is similar to its smaller sibling, the Shiver .
Getting underway is not as easy as it is on a typical motorcycle. There are a few steps to follow in order to cruise down your local highway. The most important is to release the parking brake. Yes, that's right, I said parking brake.
Since you can't put the Mana in a gear when parked you will need this to keep the bike from moving. Release the parking brake, turn the key (wait for the dash to cycle) hold the front brake, press the kill switch on the right clip-on which doubles as the starter button, select a mode (more on this later) and you're off.
The Mana's no lightweight at 550+ lbs (fully fueled) but it wears its weight well. If you want your trusty new steed to go on a diet ditching the two in one, 100% stainless steel exhaust system would be a good start. This isn't mandatory as the suspension really gives the illusion of a smaller motorcycle beneath you and the "flickability" factor is definitely there.
This is due in part to a 43mm upside-down fork up front and a rear shock absorber (mounted in line) adjustable in spring preload and rebound damping. Maximum wheel travel is 120mm and 125mm respectively.
With a length of just over 81" (6.8 ft. to be expect) and a wheelbase of 51.7" the Mana is a very stable motorcycle. The rake, set at 24° (trail: 4.05") is certainly far from radical which contributes to this stability. After spending a few hours riding in heavy rain I can definitely attest to the fact that the Mana was as easy to ride in the wet as it was in the dry.
Lending a helping hand in keeping you connected with the road are Dunlop's Sportmax tires mounted on 17" rims which work in perfect harmony with the characteristics of this motorcycle.
Being on the tall side I thought the Mana's rider triangle was just right since I didn't feel I was reaching for the bars nor having my knees in my chest like being at a Yoga class. Hey, some of the best riders do Yoga so don't knock it before you try it. Comfort was also enhanced by a well padded seat which is becoming scarcer on today's motorcycles.
If you do a lot of touring I'd look into obtaining a Corbin or Sargent seat though and definitely check out Aprilia's accessories, namely the addition of side cases and an adjustable windscreen. The latter will certainly aid in deflecting the wind during your highway travels.
The engine is Aprilia's 90° longitudinal V twin four stroke, liquid cooled, single overhead cam with chain drive and four valves per cylinder. Feeding this engine with air is one 38mm throttle body and Weber Marelli electronic fuel injection controls this mixture at a compression ratio of 10:1. Having 76 horsepower at 8,000 rpm and 54 ft-lbs at 5,000 rpm on tap doesn't scream Hayabusa killer but then again this isn't the type of motorcycle for that.
The power comes on strong when needed and depending on what mode you're in (what is this mode you keep talking about?) you'll have more or less oomph when you twist the throttle.
Braking duties are accomplished by four piston radial mounted calipers clamping down on 320mm stainless steel floating discs in the front and a single piston caliper pinching a 260mm stainless steel disc in the rear. If I were to take a guess I'd say Aprilia raided the parts bin of the Shiver since the brakes look and function identically to it. Like the Shiver, the Mana's brakes were adequate but nothing extraordinary.
Perhaps I'm too hard on manufacturers when it comes to braking technology but I've definitely noticed when brakes work really well and when they're so-so. The Mana's are middle of the road.
Now if you're like me you've filled your bike up with fuel thousands of times with the customary gas cap on the fuel tank which sits right in front of you. Not so with the Mana however. That fuel tank has been replaced and now houses a storage compartment capable of fitting a full face helmet.
It also has a 12V source outlet (I used this for my GPS) along with the tool kit. Finally the toolkit is within easy reach as opposed to being buried between your tail section and sub frame. Kudos to Aprilia for doing something so simple to make the riders life easier in case road side assistance is necessary.
So that begs the question: " How do I fill the damn thing up ?" Easy: Open up the rear seat and you'll notice the fuel filler cap. True, you can't fill your motorcycle up without getting off but there's always a give and take in design. Of course if you are adventurous you could always try but I'd advise against it.
If you're also wondering where exactly is the fuel tank that you're pumping precisely 4.2 gals worth of gasoline in, it's positioned under-the-seat which distributes weight more evenly and lowers the bike's center of gravity.
" Tell 'em what they've won Bob! A shiny new Sportgear transmission ." That's right ladies and gentlemen, this is where the magic happens. Remember that gear mode I kept talking about?
Well the Mana's transmission management system offers a choice of three Autodrive mappings plus a manual, seven-speed, sequential gearshift.
Let's talk about each one of the Mana's transmission options:
1. Autodrive mode . Provides optimum pickup and acceleration, as the onboard electronics keep the engine in its best operating range. This mode has three additional mappings:
a. Touring . Best gas mileage but less horsepower.
b. Sport . Best performance and acceleration but worst gas mileage.
c. Rain . Worst performance and acceleration. Should be used in wet weather or slippery roads.
2. Semi-Autodrive mode . Allows you to downshift but doesn't allow you to up shift. This is particularly useful for overtaking maneuvers.
3. Sportgear mode . While in "Sport" Autodrive mode this setting allows you to shift either using the conventional foot lever or paddle shifters mounted on the left handlebar.
I have to say that not shifting felt extremely foreign to me but after 5 minutes I was used to it. During stop-n-go traffic I didn't mind not having to shift at all. It was a relief not having to clutch-n-shift a half a million times (alright maybe it would've only been a few hundred but you get the point) and just concentrate on not being the meat in a sandwich between two semi's.
I consistently got 40mpg using the Autodrive mode with the Touring map and around 36mpg while using the Sport map in Sportgear mode. If you're like me then having the paddle shifters will make you feel like Michael Schumacher driving on the German Autobahn. You easily get used to having them and quite possibly might never go back to conventional shifting again.
Once more Aprilia shows that having options to suit the needs of its customer base is beneficial which in turn relates to either up sell opportunities for existing Aprilia owners or first time buyers purchasing an Aprilia motorcycle.
One caveat to this type of system is that if you're used to engine braking or dropping two gears before going into a turn there will be some adjustments needed to your riding style while riding the Mana. Using Sportgear mode you can achieve something close to traditional engine braking but in Autodrive mode you can't. So be aware of this when you're setting up your next corner entry.
Knowing that, riding the Mana was effortless and I didn't have to modify the suspension setup as the stock settings worked fine for my height and weight. Sure, you're not going to toss the Mana around like a super sport but again it's not made for that. Yes, it'll eat up as many twisty roads as you can throw at it but it does so in its own fashion.
I rather enjoyed my time with the Mana and there was a bit of sadness when I had to return it. If there are any negatives to be said it's that the Mana could use another 20 HP, fully adjustable suspension to harness those extra ponies correctly and that Aprilia might not produce enough of the Mana. I think if you don't want a large scooter or a typical naked bike than this will fill that niche flawlessly.
Aprilia has once again created a motorcycle that not only appeals to the purist of motorcyclists but also those just starting their journey of riding. Of course the sales figures and units sold will tell whether or not the buying public wants a motorcycle like this but if you asked me for my opinion I'd say Aprilia will not only see pleasing statistics but also a call to use this type of technology on other models they manufacture. Molto bello Aprilia!
The 2009 Mana 850 has a manufacturer's suggested retail price (MSRP) of $ 9,899 . Color choices for U.S. riders include Passion Red and Lead Gray.
Go to Aprilia ( http://www.apriliausa.com ) to learn more about the Mana 850 and other motorcycles they offer.
Engine
Aprilia 90° longitudinal V twin four stroke. Liquid cooled. Single overhead cam with chain drive, four valves per cylinder.
Aprilia Atlantic 400 vs 500 Sprint Scooter Scooters Mopeds
Aprilia Scarabeo 200 – Scooter Community, Everything about Scooters, Join…
Aprilia Scarabeo motorcycles, new and used.
2009 Aprilia RSV4 Bike ..
2011 Aprilia SXV 450-Aprili