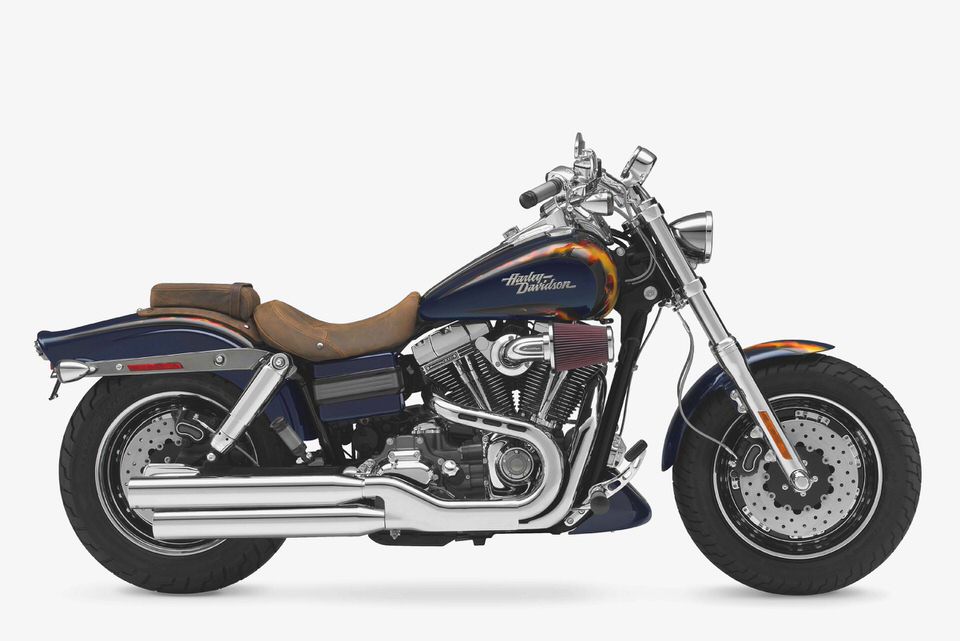 2009 Harley-Davidson FXDFSE CVO Dyna Fat Bob
2009 Harley-Davidson FXDFSE CVO Dyna Fat Bob
2009 Harley-Davidson FXDFSE CVO Dyna Fat Bob
– 2009 Harley-Davidson FXDFSE CVO Dyna Fat Bob
2009 Harley-Davidson FXDFSE CVO Dyna Fat Bob
Projecting pro-street presence, the new Harley-Davidson Custom Vehicle Operations (CVO) Fat Bob rolls with a high-performance rumble and the flash of custom chrome. From its beefy front tire to its twisted Tommy Gun exhaust to the arrogant flip of its Bobtail rear fender, the 2009 CVO Fat Bob will stake its claim to a wide stretch of asphalt.
The CVO Fat Bob is a limited-production motorcycle created by the Harley-Davidson CVO group, and based on the Harley-Davidson Dyna Fat Bob. Approximately 2,450 examples of the 2009 CVO Fat Bob will be produced by a team of highly skilled technicians in a special assembly area at the Harley-Davidson Kansas City Vehicle Operations facility. The suggested U.S. retail price for the 2009 CVO Fat Bob is $25,299 ($25,499 in California).
With a chunky 130 mm front tire and dual headlamps framed in thick, 49 mm fork legs, the original Fat Bob took Dyna styling in a new direction when it first appeared in 2008. For 2009, the CVO group gives the Fat Bob the CVO treatment – bold paint, brilliant chrome and a monster motor – to create a premium custom motorcycle loaded with exclusive features.
New 16-inch Fang wheels debut on the CVO Fat Bob. These cast-aluminum wheels feature a black powdercoated slotted center that contrasts with a chrome rim flange with bolt-on -fang- inserts clawing over each slot. The brake discs and sprockets are styled to complement the wheels. The front wheel carries a 130 mm tire with a distinctive, blocky tread pattern.
On the rear is a 180 mm tire. Premium suspension includes lowered front forks and chromed rear shocks that have been re-tuned for enhanced ride comfort.
Chromed from the axle covers to the triple clamps, the front end of the CVO Fat Bob is topped with a chrome pull-back riser, chrome 1.25-inch-diameter internally-wired handlebar, and chrome switch housing, hand levers, and clutch and brake master cylinders. Hand grips, forward-mounted footpegs, shifter peg and brake pedal pad are from the Ironside Collection. A new two-piece tank console is finished in chrome and then is color-matched with a special CVO medallion.
CVO debuts another new material on this motorcycle-s saddle, which features a seating surface covered in Alcantara, a high-tech engineered material that looks and feels like soft, natural suede but exceeds Harley-Davidson standards for durability and comfort. The remainder of the seat is smooth black leather, and it-s finished with a recessed chrome Harley-Davidson medallion. The seat rests over a wide Bobtail rear fender that holds a smoked LED tri-bar tail/brake light with a chrome slotted cover for a sinister look in the back.
Below the distinctive Fat Bob fuel tank that gives this model its name rests the largest engine produced by Harley-Davidson, the Screamin- Eagle Twin Cam 110. Available only on CVO models, the Electronic Sequential Port Fuel Injection (ESPFI) Twin Cam 110 produces 114 ft. lbs. of torque at 3500 rpm and features a heavy-duty, self-adjusting clutch with hydraulic actuation and the 6-speed Cruise Drive transmission.
The Heavy Breather intake with exposed high-flow conical filter features a special chrome end cap, a -110 SE- emblem and a sculpted trim ring. The CVO Fat Bob-exclusive Tommy Gun 2-1-2 exhaust snakes around the engine before exiting through chrome blunt-cut mufflers. The header pipes, which are exposed through the exhaust shield slots, are finished with a black coating.
The powertrain is finished in CVO-exclusive granite powdercoat with chrome covers, and features new a -110 Cubic Inch- badge on the chrome billet derby cover.
The CVO Fat Bob is available in three color combinations: Sunrise Yellow Pearl with Platinum Quartz, Black Diamond with Fire Quartz, and Denim Granite with Electric Blue Fade, CVO-s first ever combination of matte and gloss paint finishes. In each case, the frame, swingarm, battery cover, electrical panel cover and coil cover are color-matched to the main bodywork color. A security system with smart siren, a CVO indoor cover and unique Harley-Davidson CVO gold ignition key with display keepsake box are included.
There is simply no better way to cover big miles and ride great country roads than aboard the 2009 Custom Vehicle Operations (CVO) Ultra Classic Electra Glide from Harley-Davidson.
The CVO Ultra Classic Electra Glide melds custom paint, a potent powertrain and a well-chosen array of top line Harley-Davidson Genuine Motor Accessories to the all-new 2009 Harley-Davidson Touring chassis. The result is perhaps the most exciting touring motorcycle ever to roll over the horizon.
The skeletal structure of the CVO Ultra is all new from the front wheel to the wide rear tire. This new Touring line has a modular frame for enhanced maneuverability, a new 180 mm rear tire with a higher weight rating, a new 2-into-1-into-2 exhaust system and other enhancements that set a foundation for the next generation of Harley-Davidson Touring motorcycles. The CVO Ultra is powered by the CVO-exclusive granite coated Screamin- Eagle Twin Cam 110-cid (1800 cc) engine, the largest displacement production engine offered by Harley-Davidson, producing 113 ft. lbs. of torque at 3750 rpm, as well as the smooth shifting 6-speed Cruise Drive transmission.
As part of a most discerning and well-traveled group of motorcyclists, CVO Ultra riders will enjoy extra amenities for 2009 such as a Tour-Pak mounting rack with increased carrying capacity, mid-frame air deflectors, and lighting and electrical updates that include shorter antennas. These features complement and preserve the commanding Ultra design along with mechanical features like Electronic Sequential Port Fuel Injection (ESPFI), six-gallon fuel tank, Brembo brakes and Anti-lock Braking System (ABS).
While ABS is designed to help maintain control during emergency stopping situations, especially those that happen in less than ideal conditions, the CVO Ultra also features Brembo front and rear brakes for maximum performance, feel and look.
The 2009 CVO Ultra rides on new Roulette wheels with a 180 mm, 16-inch rear tire and 130 mm, 17-inch front tire. For that extra comfort, there is the new suspended, dual-heated seat with shark print leather inserts. Newly styled foot controls and heated hand grips are called by the name Rumble Collection, which includes windshield trim, mirrors and saddlebag latches.
Other new components on the 2009 CVO Ultra include a matching rider and passenger backrest, Tour-Pak inserts, CB pod inserts, chrome push-button fuel door with CVO logo, smooth air cleaner cover, Screamin- Eagle 110 air cleaner cover insert, two-inch backlit gauges, braided stainless steel clutch and brake lines, custom oil cooler with chrome cover and the Air Wing Tour-Pak luggage rack.
The Harley-Davidson CVO program creates limited-production, exclusive motorcycles produced by teams of technicians in a special assembly area at the Harley-Davidson plants in York, Pa. and Kansas City. Approximately 4,200 examples of the 2009 CVO Ultra will be assembled at the York Vehicle Operations facility. The suggested U.S. retail price for the 2009 CVO Ultra is $35,499 ($35,699 in California).
Based on the Harley-Davidson Ultra Classic Electra Glide, the CVO Ultra offers premium amenities from that model such as a 160-watt CD/AM/FM/WB/MP3 Advanced Audio System by Harman-Kardon, CB and intercom, and passenger audio with controls, cruise control, plus standard XM Radio and integrated navigation system. The bike is also protected by the Harley-Davidson Smart Security System with Smart Siren.
CVO Ultra features also include a power-locked saddlebags and Tour-Pak locking system with integrated key fob activation, internally wired handlebar with Electronic Throttle Control, oil filter mount with internal thermostat and chrome voltage regulator. The CVO Ultra rides on the Touring-exclusive air-adjustable rear suspension. Instruments with spun-aluminum metal faces are mounted below a custom black-leather inner fairing pad with chrome trim.
The CVO Ultra will be offered in three exclusive color combinations: Ruby Red and Typhoon Maroon with Forge-tone graphics, Autumn Haze and High Octane Orange with Forge-tone graphics and Stardust Silver and Twilight Blue with Forge-tone graphics. The vented lower fairings and inner fairing and switch panel are color-matched to the selected paint scheme. An indoor storage cover with CVO logo and a unique Harley-Davidson CVO key in a presentation box are also included.
Features of the 2009 CVO Fat Bob include:
Rubber-mounted, air-cooled, Screamin- Eagle Twin Cam 110 engine with granite and chrome finish
Electronic Sequential Port Fuel Injection (ESPFI)
6-Speed Cruise Drive transmission
High performance clutch with hydraulic actuation
Powdercoat and chrome cast Fang wheels with bolt-in inserts
Leather seat with Alcantara accents
Two-piece fuel tank console with chrome and color-matched finish
Premium suspension tuning
Two paint options with quartz graphics:
Sunrise Yellow Pearl with Platinum Quartz
Black Diamond with Fire Quartz
One paint option with the first-ever CVO combination of denim and gloss:
Denim Granite with Electric Blue Fade
Denim granite custom chin spoiler with chrome sideplates
Chrome dual headlamp housing with chrome trim ring and headlight mount
Tri-Bar LED tail light and chrome slotted tail light cover
Color matched frame, swingarm, electrical box cover, battery cover and coil cover, fender support covers and console cover.
Chrome front and rear axle nut covers
Chrome clutch line clamp
Chrome rear shocks with adjustable preload
Chrome upper shock stud covers
Profile custom mirrors with solid stem
Black solid floating brake rotors
Slotted chrome sprocket
Chrome wheel spacers
Chrome lowered fork sliders and dust covers
Chrome fork nut covers
Blunt-cut mufflers
Screamin- Eagle SYN3 synthetic motorcycle lubricant in engine, transmission and primary case
130 mm D427F front tire with -Big Block- tread pattern
180 mm D427 rear tire with -Big Block- tread pattern
Chrome handlebar clamp with integrated tachometer mount
Bullet style front and rear turn signals with smoked lenses
Unique Harley-Davidson CVO gold ignition key with keepsake box
Indoor storage cover with embroidered CVO logo
Key CVO Features
The pride and passion that define Harley-Davidson and its riders are prominent in the Motor Company-s Custom Vehicle Operations (CVO) line of motorcycles. As the upper echelon of the motorcycle world, CVO models are hand-built with detailed craftsmanship and stand as the most desirable custom motorcycles available.
The 2009 model year marks the 10th anniversary of the Harley-Davidson CVO program. An effort that began a decade ago as a response to rider requests for factory custom motorcycles has evolved into the top class of its industry, proving that production is really the only limit when it comes to making Harley-Davidson CVO motorcycles.
-Features like bigger engines, exclusive accessories and custom paint and colors, combined with limited production quantities make the Harley-Davidson CVO motorcycles truly unique and inspirational,- said Matt Levatich, Harley-Davidson Vice President and General Manager, Parts Accessories and CVO. -The CVO bikes were introduced to meet customer desires and they have fulfilled our riders- ultimate dreams with miles of memories and great riding for a decade. We expect the unique CVO experience to continue for years to come.-
The Harley-Davidson CVO line for 2009 includes the following four models:
CVO Fat Bob
CVO Road Glide
CVO Softail Springer
CVO Ultra Classic Electra Glide
The Fat Bob is a first-time CVO offering, while the Road Glide, Softail Springer and Ultra Classic Electra Glide all enjoy a storied history with the program. The CVO bikes are based on Harley-Davidson factory models, but are then taken to a new level of customization with an abundance of Harley-Davidson Genuine Motor Accessories. (Please see separate press releases on each model for more detail)
Highlights of the 2009 Harley-Davidson CVO motorcycles include a Screamin- Eagle Twin Cam 110 engine (1800 cc) finished in granite powdercoat on all models, integrated stop/turn/tail lights on the Road Glide rear section, new Fang cast wheels on the CVO Fat Bob, 240 mm wide rear tire and unique frame and oil tank on the Springer, and Roulette wheels and new 180 mm wide rear tire on the CVO Ultra Classic Electra Glide.
The launch of the CVO program began with the 1999 FXR2 and FXR3 models, and was so well-received that it was followed in 2000 by the FXR4. Also in 2000, the first edition of the FLTRSEI Road Glide was introduced, combining the latest touring design and Screamin- Eagle performance parts. While initial annual production of CVO models was limited to about 900 units per model, output has increased to current ranges of between 2,450 and 4,200 units for each model.
What followed during the last decade was a series of some of very memorable motorcycles, including CVO variations on the Dyna Wide Glide, Road King, Softail Deuce, Fat Boy and Electra Glide. In addition, the CVO program boasted the 2005 Screamin- Eagle V-Rod with its 60-degree, 1250 cc liquid cooled V-Twin engine and the 2006 Screamin- Eagle Destroyer, designed specifically for drag racing with a 1300cc Screamin- Eagle Revolution powertrain.
The Harley-Davidson CVO group consists of a select group of engineers, designers and supply management staff, who work together with Harley-Davidson Styling to create these limited-production, custom motorcycles. The CVO models are then produced by highly skilled technicians in special assembly areas at the Harley-Davidson plants in York, Pa. and Kansas City.
ALSO AVAILABLE
– 2009 Harley-Davidson FLHTCUSE4 CVO Ultra Classic Electra Glide
– 2009 Harley-Davidson FLTRSE3 CVO Road Glide
– 2009 Harley-Davidson FXDFSE CVO Dyna Fat Bob
– 2009 Harley-Davidson FXSTSSE3 CVO Softail Springer
2009 Harley-Davidson FXDFSE CVO Dyna Fat Bob – USA Specifications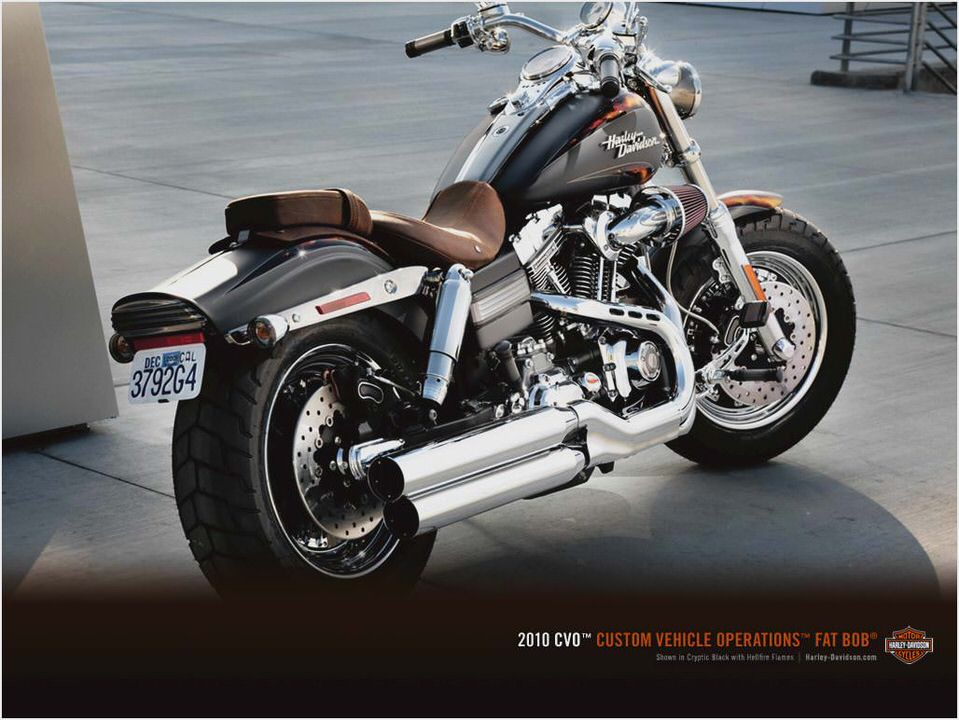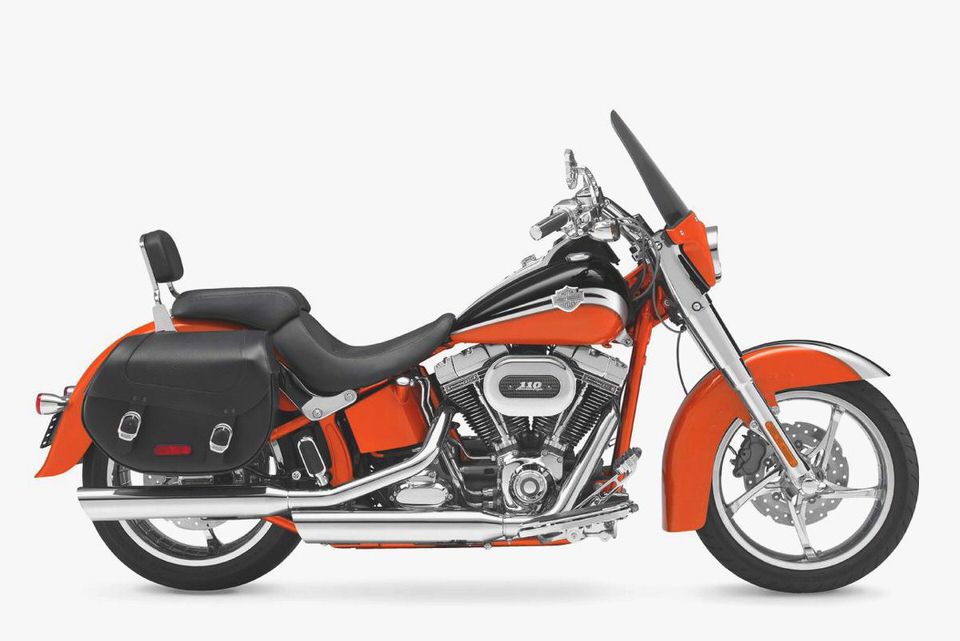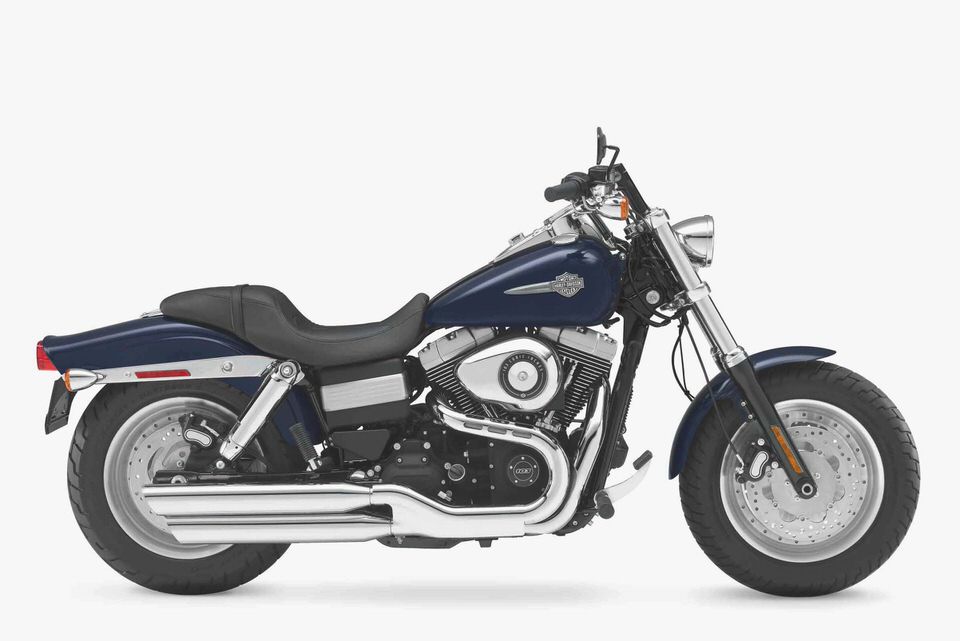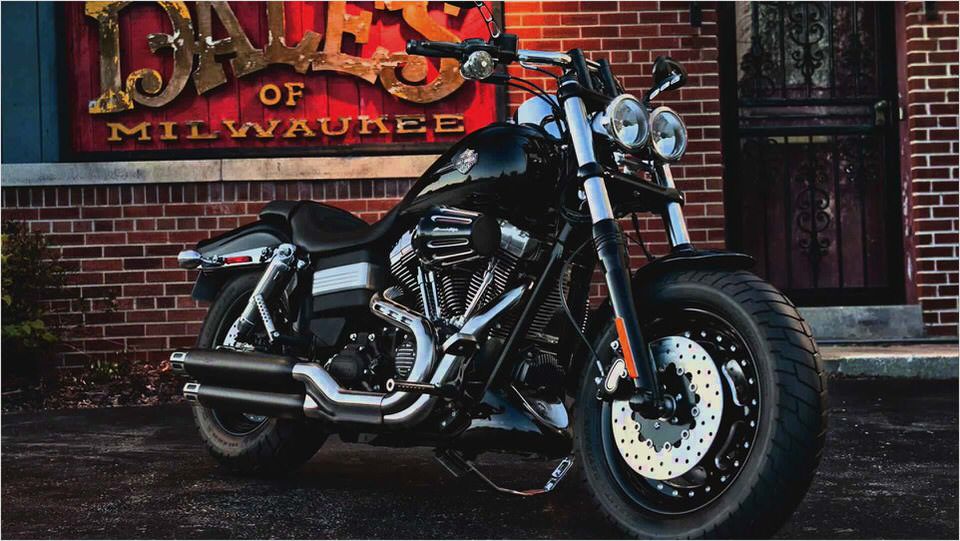 How to Change the Oil in a 2006 Harley Davidson Road Glide eHow
Harley Cross Bones by Warr's Bike EXIF
Demand For Harley-Davidson XR1200 Sparks American Debut – Riders Order…
Harley-Davidson 1979 FXS Low Rider 1200cc Shovelhead How To Make & Do…
Motorcycle Buyers Guide – Harley Davidson FLHT/FLHTI Electra Glide Standard…