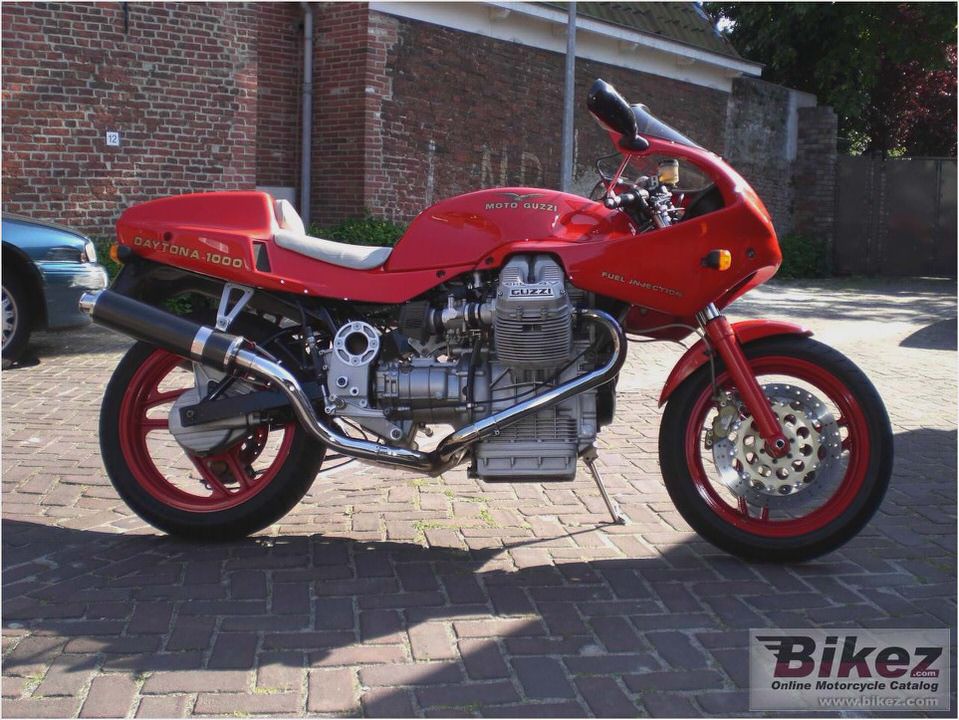 2009 Moto Guzzi 1200 Sport 4V
The distinctive transverse-mounted V-Twin powers the Moto Guzzi 1200 Sport, but this year the 1151cc motor in four-valve instead of two.
We're not used to Guzzi coming up with new models, so when the long established Italian firm unveils something fresh it's big news. But one development that's slipped under the radar has been its significantly reworked for 2009 1200 Sport.
The main difference, aside from some minor detail changes between this and the current model is the 1151cc V-Twin motor, which now has a four-valve head instead of two, which gives the 1200 Sport 4V a bit of extra shove. This is the engine that's also used in Moto Guzzi's Stelvio adventure bike and the Griso 8V cruiser (although why that's called an 8V and not a 4V is not clear).
With its extra valves, revised fuel-injection mapping and new exhaust, which features a new cat and a triangular-section end can, power is taken up 10 hp from 95 hp to 105 hp. Maximum torque is up too, from 74 lb-ft to 77 lb-ft, but it's produced 750rpm higher up the tacho.
Accelerate hard and the best thing about the Guzzi is the sound of thunder from the huge V-Twin engine. It's amplified beautifully by the acoustics of one of the many tunnels that litter our route near the factory on the banks of Lake Como; as the revs build the airbox growls and the exhaust pulses a deep, bass-laden soundtrack. This is music you'll never grow bored of.
Initial acceleration is urgent, but then the Guzzi hits a bit of a flat spot in the midrange until it gets going again above 5000rpm. As the tunnel lights flash by ever faster the Guzzi's speed is impressive and the whole sensation of acceleration and sound is very reminiscent of an early Ducati 916.
The new valve system for the 1200 Sport delivers a claimed 10 horsepower boost, with an extra 3 lb-ft of torque.
Compared to the two-valve Sport 1200, the 4V offers much more get up and go, if you're willing to work the engine hard. But for those who prefer more grunt and fewer revs, the two-valver is still the one to go for and has much more going on below 5000rpm. You'll still find the two-valve 1200 Sport in dealers, so if you want more grunt from your Guzzi, hurry up while stocks last, as they say.
The Guzzi hides its weight well when moving – and it has a lot to hide as it squashes the scales at a hefty 240kg (529 lbs). Flicking the 1200 Sport 4V from side to the takes minimal effort and is helped along by the leverage from its revised wide, upright bars, which wouldn't look out of place on something like a KTM Super Duke or Aprilia Tuono.
The tubular steel chassis and adjustable front and rear suspension give good feedback through the long sweeping bends and offer up plenty of stability. You're rarely troubled by the existence of the maintenance-free shaft drive system, unless you're pushing hard, at which point the Guzzi with pitch and weave on and off the throttle.
Brembo's Gold Series brakes give an impressive amount of bite and feel, especially when you consider the bike's weight. In an attempt to offset the cost of the more expensive engine the wavy brake discs of the two-valve model are replaced by basic round ones. It may have lost some bling in this department, but the 4V is no worse for it from a performance point of view.
Riding position of the Moto Guzzi 1200 Sport is roomy and comfortable, although this tester complained of a long reach to the bars.
Despite being a heavy bike, riding in heavy rain on roads so glassy you could have a shave in them, I'm actually still enjoying myself. What separates Moto Guzzi's idea of a sportbike from most others is that 'sport' in Guzzi speak doesn't mean a zillion horsepower and riding around at 180mph on hard suspension with your feet around your ears. Their idea of sport is altogether more gentile and well-rounded.
Think of Guzzis as the two-wheeled equivalent of the cool and classy Maserati.
The 1200 Sport's ample proportions make it a very roomy and comfortable place to be. One of the biggest criticisms leveled at the two-valve Sport was the bar position, there's too much of a stretch to reach them. New bars for the 4V see them moved backed towards the rider; it's better but they're still a bit too far away for them to be completely comfortable.
The seat is wide, long and plush for rider and pillion alike and is easily comfortable enough to go touring on. Guzzi will sell you the same panniers and top box etc as you'll find on the Stelvio and Norge, heated grips and there's a massive 23-liter (6-gallon) fuel tank for big mileages too. Lazy steering geometry means that straight-line motorway stability is epic, even on typical unbroken Italian surfaces.
The throttle response is perfect, so navigating this big V-Twin is simple and there's plenty of grip from the brilliant Metzeler Sportec M3 tires. Having the more 'top-endy' four-valve motor to use in our wet conditions is a blessing too, as there's less low-down grunt to unhook the rear tire when you get on the gas.
A sporty take on the classic Moto Guzzi style, the aptly named 1200 Sport adds to the classic marque's reputation under new Piaggio ownership.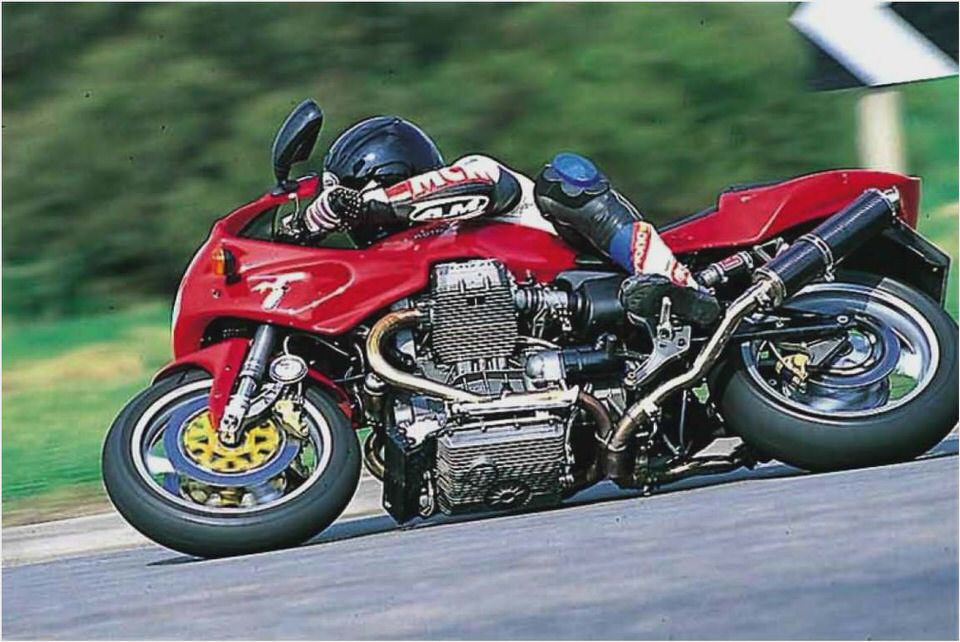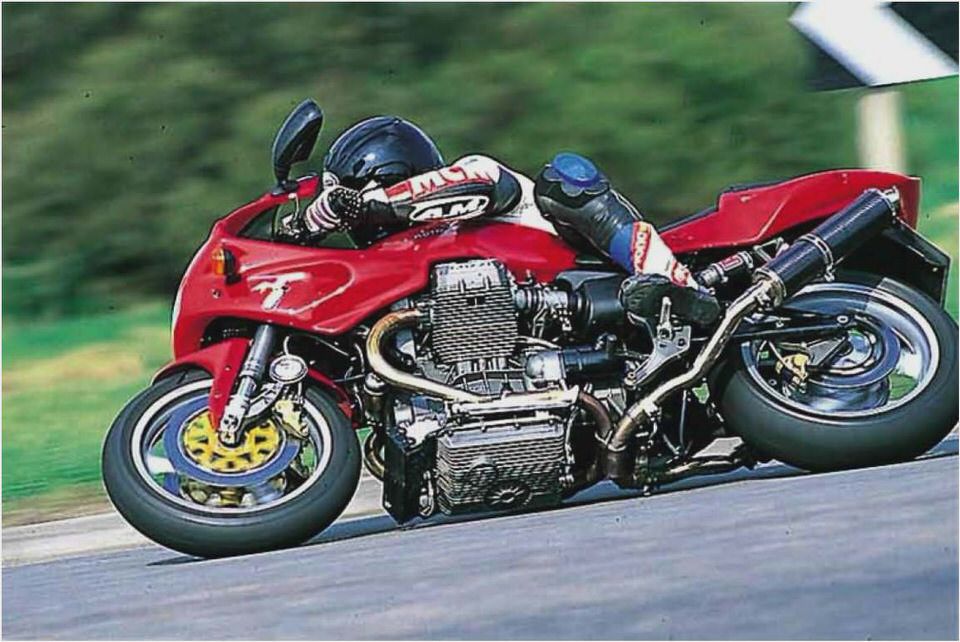 Thanks to parent company Piaggio's investment, build quality and reliability is vastly improved over Guzzis of old. The 1200 Sport 4V is a beautiful piece of kit, the paint finish is tip-top and the white number boards and Italian flag stripes lift the sultry glass black paintwork. The motor is smooth as is the new-generation gearbox.
Granted, the Guzzi can't slice seductively through its ratios like GSX-R, it likes to take its time a little more, but the gearbox is smooth and light and I never missed a gear all day.
Guzzi seem to be doing a lot right nowadays, and incredibly, the UK is the firm's the fourth-biggest market (behind Italy, Germany and the US). We seem to love Guzzis for their quirky Italian-ness and they seem to suit our roads, too. What better bike to cruise out on a Sunday morning blast on heavily-policed, bumpy roads than a swift, supple, great-sounding Italian sportsbike like the Moto Guzzi 1200 Sport 4V?
It's a superb, characterful all-round, soulful motorcycle with a sporty twist.
What's New?
-The biggest difference between this and the current model is its 1151cc transversely-mounted V-Twin engine, which now features four-valve heads instead of two. It's the same engine as you'll find in the Griso 8v and Stelvio. Power is up from 95 hp@7800rpm to 105 hp@7000rpm and torque up from 74 lb-ft@6000rpm to 77 lb-ft@6750rpm.
The 1200 Sport 4V also features different fuel-injection mapping.
-A new exhaust system features a new catalytic converter and triangular-section end can.
-Styling is identical except for a clear lens rear light cluster and Red, white and green Italian stripes on the white number boards.
-New handlebars are swept back more towards the rider.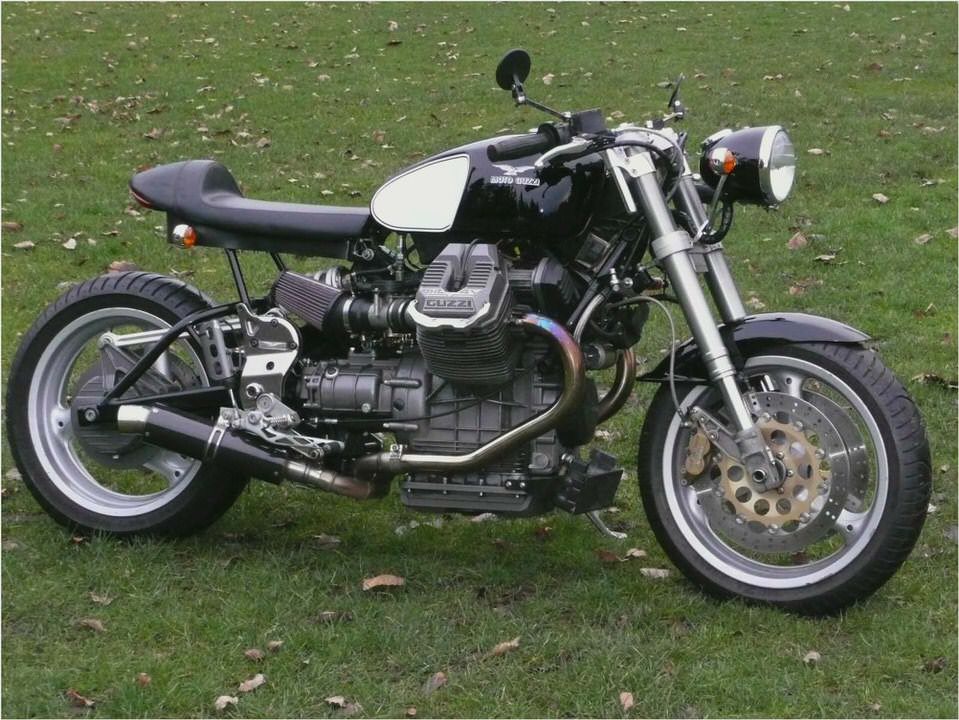 GMG Moto Guzzi Returns to Mandello del Lario – Motorcycle USA
BMW, Harley, Honda, Kawasaki, Moto Guzzi, Suzuki, Triumph, Yamaha Flagship…
Moto Guzzi Griso 1100 – Road Tests – Motoring – The Independent
For Sale Moto Guzzi Jackal /
The Guzzi shift lever we've been waiting for! Moto International