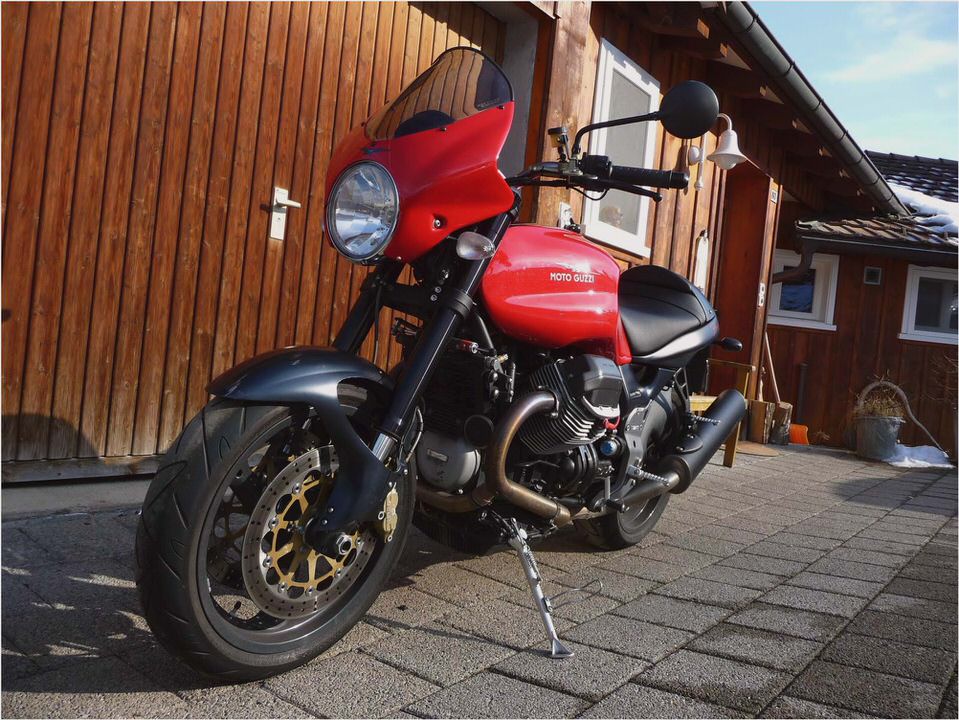 A Classic Italian Motorcycle
Many motorcyclists are looking for an Italian alternative to a four cylinder sports model and no bike is more Italian than a big V-twin Moto Guzzi.
Moto Guzzi offers three styles of machine the new 750cc Breva all-rounder, the 1100cc California cruisers and the V11 sports bikes. The latest incarnation of the latter is the V11 Café Sport, a real man's machine, which is fitted with Ohlins gold finished front forks, bronze fuel tank and seriously sporty looking chequered black carbon fibre parts.
Pressing the electric starter produced a rorty big twin bark from our test machine, which was fitted with the Moto Guzzi Titanium 'silencers'. These take about an hour to fit and come with a replacement ignition box that re-tunes the electronic fuel injection. They save weight and produce more power and torque, as well as a wonderful sound.
Power delivery is super smooth and I got well over 40mpg, despite some very hard riding.
The 6-speed gearbox is an improvement on the previous 5-speed one and is well matched to the thumping power of the big twin. Selecting first is particularly smooth and silent compared to many other bikes and it will have you checking that it's actually gone into gear, it's so quiet. If you're used to the frantic activity your left foot is normally involved in on a smaller capacity four cylinder bike, the Guzzi will surprise you with a less hectic, but equally rapid ride.
Pulling this big bike down from high speed is surprisingly easy. This is mostly down to the front brakes – high spec four piston Brembo calipers holding onto twin 320mm stainless floating discs. I have to admit to not using the back brake a lot, when riding a motorbike, but the Guzzi item did work well on the few occasions that I remembered to use it.
Certainly, it didn't lock up the back wheel easily, which is mostly all I ask of a rear brake on a bike.
View Slideshow
The Café Sport costs nearly a thousand pounds more than the standard V11 'Ballabio' model and this is mostly down to the top spec gold finished, 43mm Ohlins upside-down front forks and Ohlins monoshock rear suspension, all of which are fully adjustable for spring preload, compression and rebound damping. Topping this lot off, is the high spec Ohlins steering damper, so if you can't find a suspension setting to suit you, you're not trying hard enough.
If they're not careful, Café Sport owners could find themselves having more fun with suspension settings than riding. I found a combination of firm compression and a little less rebound damping suited me, although I cranked up the settings a little to compensate for my pillion passenger.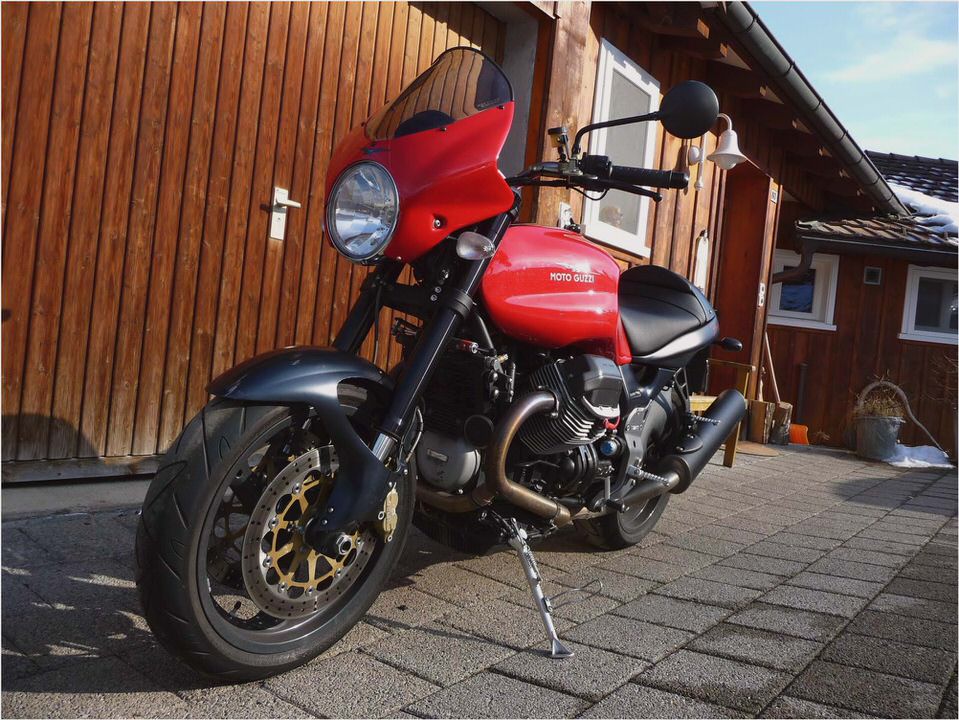 In keeping with the streetbike style, Guzzi has fitted the Café Sport and Ballabio with higher 'straight' handlebars, rather than the usual V11 Sport model clip-ons. The handlebars are finished in gold on the Café Sport and grey on the Ballabio. They do look good and they make the bike more controllable in traffic and are certainly more comfortable, being easier on the back and wrists.
The Moto Guzzi's bikini style fairing, although quite small, suits the handlebar position and is good up to 90 plus, although taller riders may have to crouch down a bit at faster speeds.
The Café Sport is not a hypersports machine and riders looking for 180mph, should look elsewhere. But, in real world riding for example on twisty A or B roads in the hands of a reasonably quick rider, this bike will stay with riders of faster machines and with those Titanium 'silencers' fitted, they'll always know you're there! The throttle response is quick, the power and torque are always available and the Brembo brakes are well up to the job.
It all adds up to one of the best rides that Moto Guzzi has produced in a long time. If you're looking for a fun and involving ride, from a bike that's different enough to draw attention wherever it goes, with an upright streetbike riding position, that's comfortable over a reasonable distance at speed, as well as in town and an unmistakable exhaust note that has you rolling the throttle on and off, just to hear it, I suggest you try one of these classic Italians.
The V11 Cafe Sport is available in Bronze and costs £8,579 on the road, the V11 Sport Ballabio comes in red or silver and costs £7,629 on the road. All new Moto Guzzi bikes come with 2 years unlimited mileage manufacturer's warranty and 2 years European roadside assistance and recovery. For product and dealer information call 01293 823890, or visit www.motoguzzi.it
Article by Moto Guzzi Press Office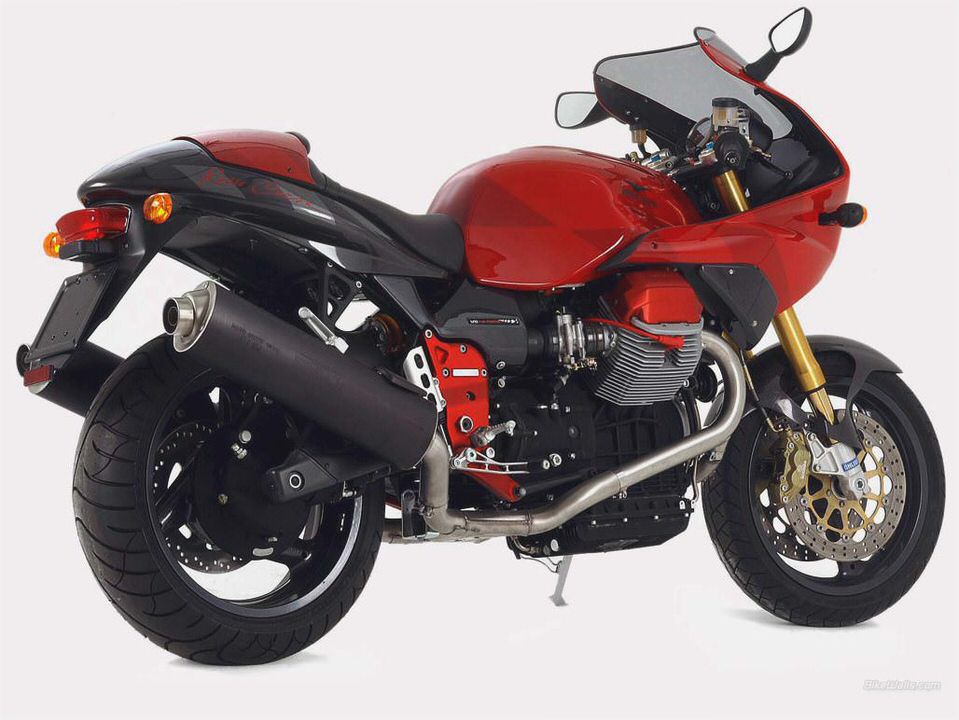 Guzzi California hydraulic tappet recall for 2003-2005 models : Moto Guzzi…
The Bike Shed Motonero Black Roadster
Moto Guzzi V7 Sport, Cafe and Telaio Rosso : The Moto Guzzi Guide
Total Motorcycle Website – 2005 Moto Guzzi MGS-01 Corsa
Motor Desktop Wallpaper: Moto Guzzi V12 LM