2009 Moto Morini Granpasso
The Moto Morini Granpasso can look a bit odd at first with its agressive adventure bike styling and tall stature.
Moto Morini is set to challenge the leaders in the Adventure-sports bike market with its growling Granpasso. With fierce competition from BMW 's R1200GS and KTM 's 990 Adventure, and with competitively priced bikes like Triumph 's Tiger in the frame, the Granpasso slots neatly into the nine grand price bracket (not US price, rumors place the Granpasso as a future American import, but for now Moto Morini is Euro-only – MCUSA ed) . But where does it fit in relation to performance?
It's an odd-looking beast, a beady-eyed cross between a long distance adventure bike and an aggressive athletic one. There's a quirky mix of angular bodywork, stylish trellis frame, twin spotlights and a rough-road-ready bash plate. And it's tall. As someone who's forced to trawl the internet for jeans that'll fit a 36-inch inside-legger, there are moments when I'm grateful for my elongated limbs.
Reaching the floor from the 870mm (34.25 inch) seat is hardly a stretch for me, but even I'd have to invest a bit of forethought before stopping on uneven ground. But if you'd struggle to top six foot on tip toes, read on, as there is a lower seat available.
It's this high, bulky appearance though, that gives it such a commanding stance, not unlike BMW's successful R1200GS. But where that bike would view circumnavigating the globe as a walk in the park, the Granpasso is less comfortable, albeit in the same way that an armchair might be less comfy than a sofa. Which is just as well considering the bike's probable top speed.
Germany's autobahns are the only place to ride at double the normal limit without fear of having to book a tattoo artist and plan a prison break. With such immediate acceleration on tap, high speed blasts are exhilarating and the bike handles the pressure well, with very little movement from the front end in straight line acceleration.
The Moto Morini Granpasso may not look like a sportbike on the outside but with plenty of torque at the twist of a writst its hard not to be tempted to ride it like one.
The riding position's relaxed and uncomplicated, with ample protection from the small but practical windscreen. It's an upright poise that extends the view ahead while you mile-munch your way forwards, gradually draining the sizeable 27-liter (7-gallon) tank. Of course, the bike's thirst will depend on the activity of your right hand, and I'll wager that after ten minutes on a twisty back road, the throttle will have seen more action than Mr.
Heffner's boudoir.
Containing a grin as 107 hp of motorcycle pierces the horizon is like trying to hold water in a sieve. The determined punch is enforced with an angry dark growl from Morini's familiar 1187cc V-Twin engine. It may be a detuned version of the Corsair's 124 hp lump, but there's nothing flat or casual about it and the engine has character without excessive vibrations.
If the GS is a long distance athlete, built for comfort and stamina, the Granpasso's a middle distance runner with enough reserves to attack at a moment's notice, and hold the pace. And its playful nature is not confined to keeping both wheels on the ground. With a maximum 74 lb-ft of torque at 9,600 rpm, a quick flick of the clutch in first has the front wheel floating gracefully towards the sky with a balance that seems overly gentle for such a big bike.
The Granpasso has plenty of power to lift the front of its 493-lb frame, upping the fun factor on the big traillie.
It's livelier and sportier than the German competition, and the suspension reflects that. The Marzocchi upside-down forks and adjustable Ohlins rear monoshock are on the firm side as standard, and together with the pendulous handling, my initial impressions of the bike's cornering ability were confused. Tipping into bends, there's an almost top-heavy-topple as the bike's height falls to its side.
It took a bit of getting used to, but once sussed, the bike's agility becomes startlingly obvious. At a respectable 210 kg (493 lbs) dry, the Granpasso is light and easy to maneuver in all situations. And once the road starts to resemble a ball of wool your kitten's just got hold of, it'll challenge not only the adventure bikes but the Fireblade riders too. In fact, it's like a super-tall sportbike.
With a steering lock.
The brakes are merely adequate. Nothing more, nothing less. Which is noticeable due to the bike's many other impressive attributes. The Granpasso is supposed to be an exciting rival for BMW's plush R1200GS and in many ways it is.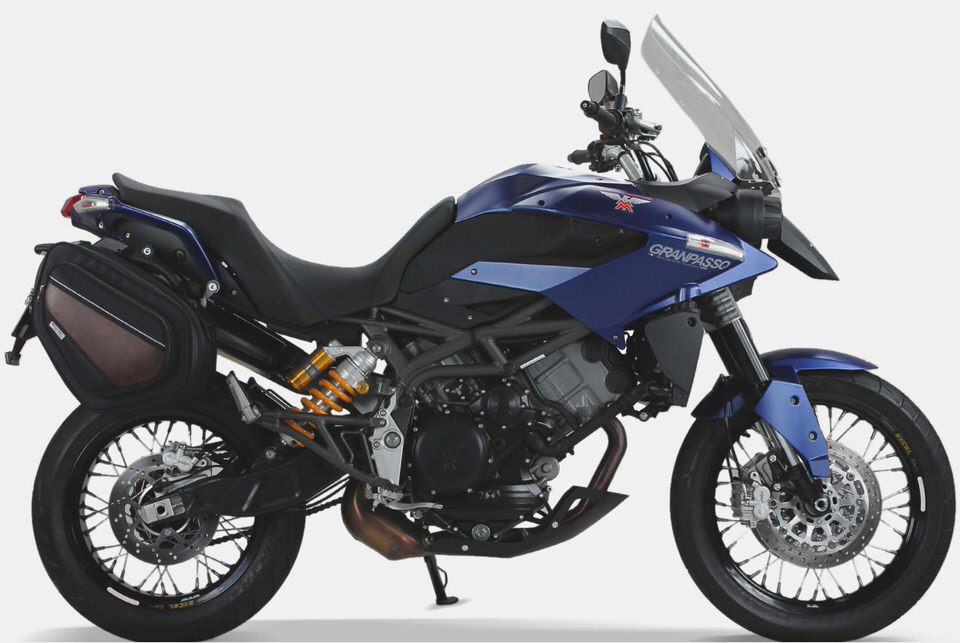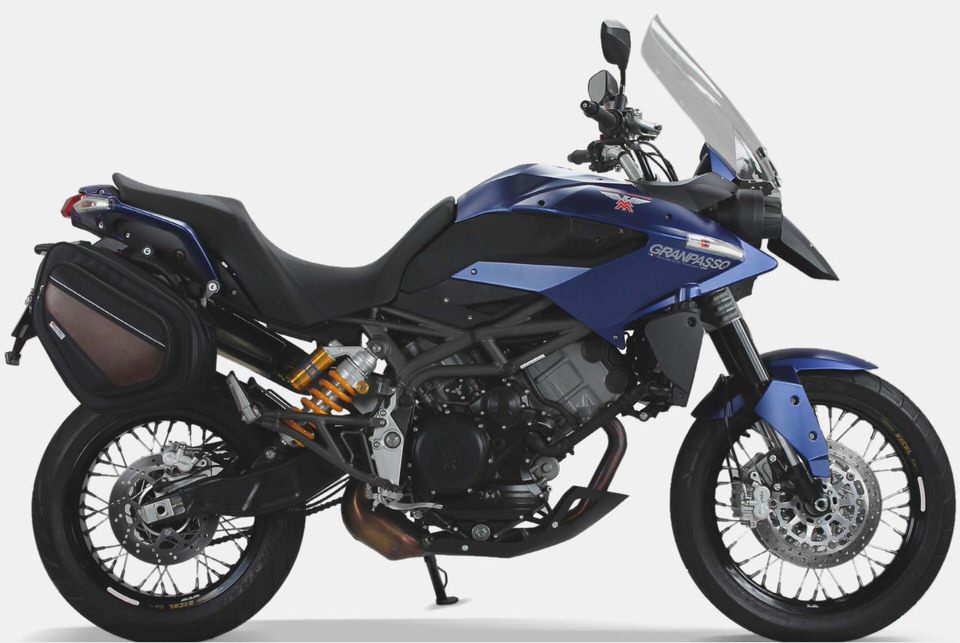 The Morini has less cushioned ride, but it feels stronger and more involving, and it straddles the adventure- sportbike divide with confidence.
Moto Morini Granpasso Specs
Engine: 1187cc 87 degree V-Twin
Power: 107 hp @ 8,600 rpm (claimed)
Torque: 74 lb-ft @ 9,600 rpm (claimed)
Transmission: 6-speed
Dry Weight: 210 kg (493 lbs)
Seat Height: 870mm (34.25 inch)
Fuel capacity: 27 liters (7 gallons)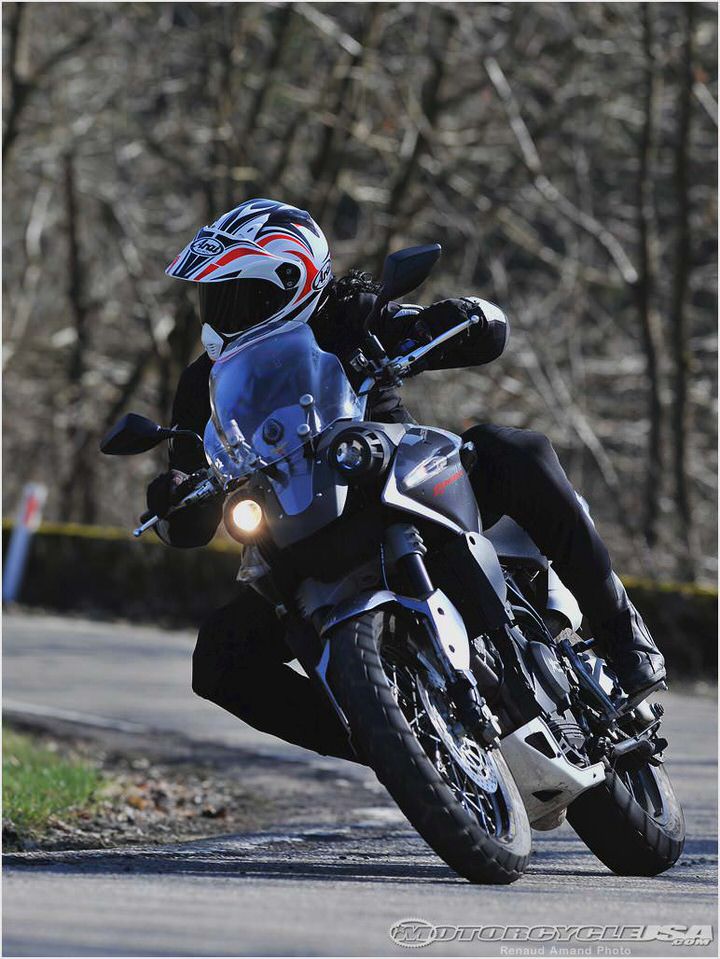 Jampot 1996
Moto Morini GearheadExchange Blog
The Moto Morini 3 1/2 Sport – Classic Italian Motorcycles – Motorcycle Classics
2010 Moto Morini Corsaro Veloce 1200 – Ultimate MotorCycling
K2 Moto X Free Links