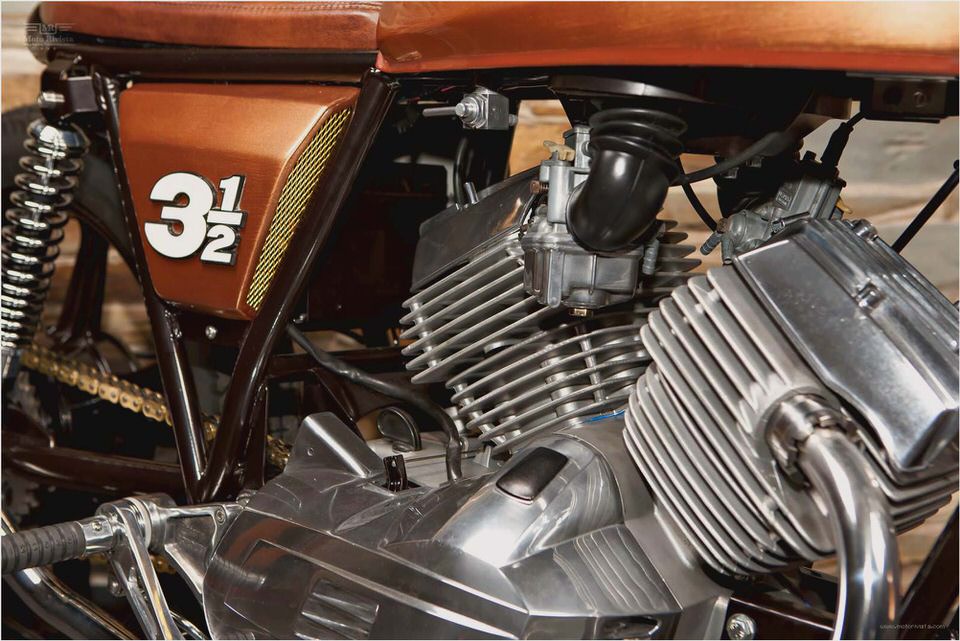 Related Content
BMW /5 Steering Head Bearing Service
We show you how to service the steering head bearings on a BMW R75/5.
Found on eBay: 1975 Moto Morini 3 1/2 Sport
This week we didn't have to go looking through eBay for a bike. Instead, a reader sent us one! This.
1953 NSU Sportmax
A 1953 NSU Max 250 on display with other classic motorcycles at the National Motorcycle Museum in An.
Christian Fisher's 1973 BMW R75 /5
Christian Fisher discusses owning and riding his 1973 BMW R75 /5.
Moto Morini 3 1/2 Sport
Claimed power: 39hp @ 8,500rpm (claimed)
Top speed: 100mph (claimed)
Engine type: 344cc, air-cooled 72-degree V-twin
Transmission: Six-speed
Weight (full): 145kg (320lb)
MPG: 60mpg (claimed)
Price then: $2,100
Price now: $3,000-$6,000
Call it the little V-twin that could. Call it expensive for its day, and maybe even unusual. You'd be right on all accounts.
The Moto Morini 3 1/2 Sport may not be for everyone, but for those with an affection (or an affliction, as the case may be) for Italian motorcycles, the Sport is a bike we've all coveted at one time or another.
Every Italian bike has its quirks and the naysayers who notice them, labeling the bikes as unreliable, problematic, finicky and sometimes downright lousy. But Italian bikes have a sound and a feel all their own, and, as Italian bikes go, the Morini is both coveted and forgotten at the same time.
Beginnings of the Moto Morini 3 1/2 Sport
By the end of the 1960s, Moto Morini had established itself as a quality motorcycle manufacturer, with good racing successes with their single-cylinder GP machines. Then in 1969, Alfonso Morini, the company's founder, passed away. The company continued on under the lead of Gabriella Morini, Alfonso's only daughter, and soon became known for their V-twins.
Franco Lambertini, an engineer from Modena who came to Morini from Ferrari, was the designer of Moto Morini's masterpiece V-twin. His first 350cc engine, a longitudinal 72-degree V-twin, featured a toothed belt driving the camshafts and a multi-disk dry clutch. The engine made its way into a new prototype motorcycle, which debuted at the Milan show in 1971.
The 3 1/2 Sport was born.
The Moto Morini 3 1/2 V-twin engine was unique in its use of "Heron" combustion cylinder heads, a first in the motorcycle industry. The Heron design principle uses cylinder heads with a flat face and parallel (as opposed to inclined) valves, with the combustion recess formed in the piston crown. The overhead-valve 3 1/2 used a toothed belt to the camshaft, a multi-plate dry clutch and electronic ignition.
The Moto Morini GT (or Strada) first went on sale in Italy in 1973, and received rave reviews for its performance, power output and low fuel consumption. In 1974, Morini launched the Sport version, which featured a shorter saddle, lower handlebars, an increase in maximum power from 36hp to 39hp @ 8,500rpm and a claimed maximum speed of 100mph. The Sport featured a 230mm (9in) single-leading-shoe front drum brake for 1974-1976, but from 1977 on the front wheel was slowed with a 260mm (10.2in) single Grimeca disc.
According to Cycle Guide's August 1976 issue, the Moto Morini 3 1/2 Strada /GT was just becoming available that summer in the U.S. No mention of the 3 1/2 Sport was made until an August 1977 article in Cycle World . which said the Sport they tested was the only one on the West Coast at the time of writing. It was an early example of a 1977 Moto Morini 3 1/2 Sport, and for some reason it featured the Strada pegs, which the testers complained about, crying for replacement rearsets.
Also, while a single disc brake was standard on the Sport by 1977, the bike Cycle World tested featured a dual-disc setup, which was optional.
Morini performance
Cycle World seemed impressed with the motorcycle's sporting prowess: "Acceleration is brisk, although not up to the snappiness of a Yamaha two-stroke of the same displacement. For maximum performance one needs to let the Morini engine rev before the next gear is selected. It's the kind of motorcycle that only a purist will appreciate."
They also noted that while happy enough in urban traffic, the "combination of rigid chassis and proper geometry, plus a steering damper unit, allows the Morini to follow exactly the rider's will. No wiggle, no wobble, no twitch."
In fact, testers found little to complain about. While some of the switchgear was poorly labeled and not as good as other manufacturers, Cycle World's testers were happily surprised that it seemed to work as it should. Gear changes were smooth and precise, although not quite up to the standard set by Ducatis of the era.
In all, the magazine was impressed with the machine, although they realized its limited appeal. "Perhaps most riders would have a hard time justifying the purchase of a solo machine that provides, in practical terms, the performance and vibration of a 350 Twin at the price of a [Honda] 750 Four. The Moto Morini 3 1/2 Sport is expensive, demanding and impractical. What you get for your money and emotional involvement is a motorcycle that moves you and makes you feel good.
For the lucky few, the Morini is worth what it costs," they opined.
Though Moto Morini is alive again today (and at press time had plans to again export bikes to the U.S.), you certainly don't see 3 1/2 Sports running around every day, as they were only imported for a few years following their U.S. release in 1977. We were able to scare up precious few for sale, and the ones we found weren't especially cheap.
Herdan Corporation (www.herdan.com ) in Port Clinton, Pa. the former U.S. importer, is still in business and carries many spare parts, so if you find a good example, you should be able to come up with the needed maintenance parts to keep it on the road.
Still rare more than 30 years later, the Sport continues to be a surprising performer and an appreciating classic that many have forgotten.
Two-cylinder alternatives to the Moto Morini 3 1/2 Sport
– 32hp @ 6,400rpm/97mph
– Air-cooled, four-stroke opposed twin
– Four-speed
– Drum brakes front and rear
– 440lb (wet)
– 50mpg (est.)
As the smallest of BMW's new range of /5 motorcycles introduced in 1969, the 498cc R50 /5 carried on a BMW tradition of offering a relatively small-displacement bike for the urban tourer. Sharing the same engine and chassis architecture as its bigger brothers, the 40hp, 599cc R60 /5 and 50hp, 745cc R75 /5, the R50 /5 made do with just 32hp.
When the R50 and its /5 siblings were introduced, speed was the word of the day. Although its bigger brothers were hardly roadburners, they were more powerful and faster, and with only a negligible weight penalty. (The R60 weighed the same, and the R75 only 15lb more.) And in the critical American market, buyers opted for the R60 /5 and R75 /5, which cost only a few dollars more, yet produced an extra 8hp and18hp, respectively.
Fewer than 8,000 R50 /5s were built (compared to almost 23,000 R60 /5s and more than 38,000 R75 /5s) so finding one today takes a little patience. The good news is, they're out there, and good R50 /5s typically carry a lower price than similar R60 /5 or R75 /5s.
An R50 /5 may not be a bahn stormer, but they handle well with acceptable performance, and with excellent economy. Those features, combined with BMW's legendary reliability, make the R50 /5 a great everyday classic.
Ducati 500 Sport Desmo
– 50hp @ 8,500rpm/115mph
– Air-cooled, four-stroke parallel twin
– Five-speed
– Dual discs front,
single disc rear
– 407lb (dry)
– 50mph (est.)
Every company has its dog. For Ducati, that dog was the Ducati 500 Sport Desmo.
Produced in small numbers over a six-year period beginning in 1976, the 500 Sport was supposed to address the shortcomings of the 500GTL introduced the year before. Ducati had carved out a market with its line of desmodromic singles and 90-degree V-twins, so when it introduced the 500GTL, a conventional 497cc parallel twin, the market responded with muted excitement, at best.
Unfortunately, the Sport Desmo suffered from poor development and even poorer build quality, and Ducati pulled the plug on the model in 1983. Available in the U.S. for only two years, 1977 and 1983, only 50 Sport Desmos made their way to our shores, making it one of the rarest Ducatis ever sold here.
2010 Moto Morini Corsaro Veloce 1200 – Ultimate MotorCycling
K2 Moto X Free Links
Moto Morini K2 by AD HOC Café Racers – Moto Rivista
News motorcycle 2013: Moto Morini 1200 Corsaro, Granpasso and Scrambler…
Classic Sport Bikes For Sale Archive Moto Morini