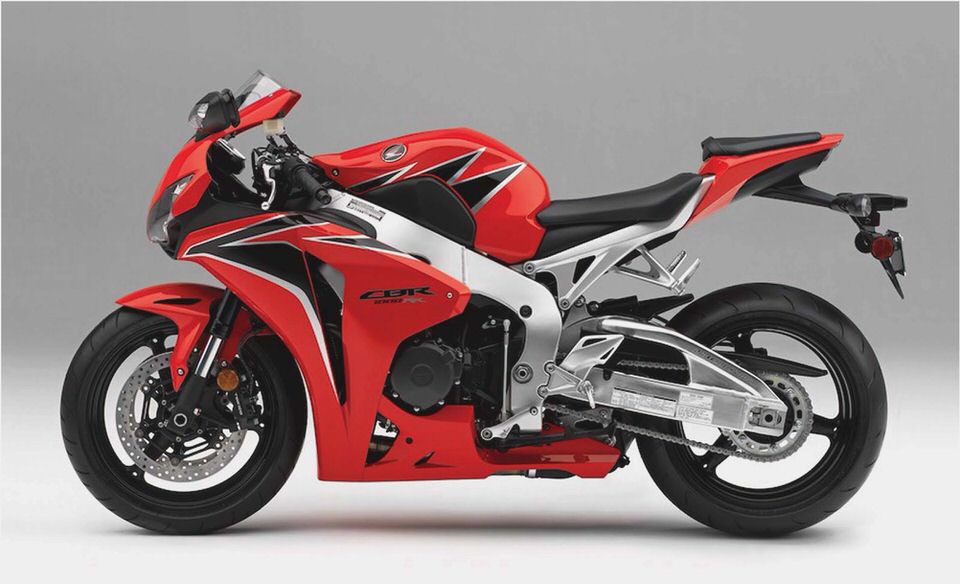 Introduction
While the simple model weighs in at 410 pounds wet, the C-ABS model adds an extra 22 pounds to that, but well worth braking performance as well. Because weight didn't change, you can forget about new suspensions and brakes, but at least you'll still be riding a mean machine with a 23.5-degree rake and 3.9 inches (97.7mm) trail.
History
Competition
The 2010 Yamaha R6 model offers, apart from the new, attractive colors and graphics, more mid-range power thanks to a remapped ECU, revised YCC-I intake funnels and airbox as well as a new, 100mm longer exhaust.
Suzuki and Kawasaki carry on producing their middleweight supersport models, the GSX-R600. respectively the Ninja ZX-6R with little tweaks.
Exterior
Because neither the engine nor the chassis feature any changes, we're left with 2010's bold new graphics and we must say these aren't too ecstatic either. Replacing the 2009 "Phoenix" paint job is the Leyla scheme, which I'm not sure if it tries to imitate a woman during orgasm, but it achieves that very well.
There's also the Pearl Orange/Black color scheme for those who want to skip the part with them explaining to the wife what's with that woman painted on a brand new motorcycle. I can even hear her saying: "Honda doesn't do that, you had that made especially for you." And the thing is that Honda does drift away from their tradition. It's enough to see such kind of a paint job on the same aggressive and aerodynamic fairing to know what's happening there.
A single Red/Black color scheme is available for the 2010 Honda CBR600RR C-ABS model, so at least this remains in some kind of accordance with what Honda got riders used to.
Press Reviews
Honda didn't really need to tweak the 107bhp, in-line-four-cylinder 599cc motor as it's a gem in the first place, with a powerful, screaming top-end and a decent dollop of mid-range. The engine is especially effective at delivering incredible performance, thanks to the Honda's lack of all-up weight (it's the lightest of all the 600s). MCN
The CBR's 599cc inline-Four pulled with an electric rheostat-like connection between twistgrip and rear tire exiting every cornereven uphill third-gear bends that saw revs drop to 7000 rpm. cycleworld
Puttering along in city traffic, we were pleasantly surprised to find that the C-ABS brakes' feel is indeed nearly identical to a conventional brake system. Everything from lightly brushing the brakes while negotiating a tight space to moderate use while pulling up to stop or slowing to avoid a lane-encroaching automobile revealed no weird mushiness or numbness. sportrider
Honda's all new combined anti-lock braking system has helped dampen the uncertainty of questionable conditions, be it wet weather, slippery surfaces, cold tires or a panic braking situation. superstreetbike
In a way, ABS leaves me feeling vulnerable, as if I'm only a passenger once the situation arises in which the system takes over. And in all reality, this is true. Once ABS is engaged the vehicle is going to stop only as quickly as the ABS system will allow it. There's nothing you can do to get it stopped any faster. motorcycle-usa
Under extremely hard braking, I felt the front brake release slightly but then re-engage just before the bike came to a stop. But the bike always stopped in a controlled, civilized manner. Amazing. ridermagazine
Price
The non-ABS model starts at $11,199 and it is a great bang for the buck, but it is the ABS model that represents Honda's latest achievements in the segment and that translates into a $12,199 MSRP.
Conclusion
Because we're in no measure to recommend Honda or any other manufacturers to get any ideas straight, do that or the other thing; we're just expressing our disappointment regarding their color schemes and graphics. Better said, painting women on bikes isn't cool if you're a manufacturer around the world. That's mainly for owners going through a divorce and still being in the denial faze.
On the other side, when you read what the motorcycle press is saying about the latest Honda CBR600RR generationlet's just say it makes it easier for you to write the check.
SPECIFICATIONS
Engine and Transmission
Engine Type: 599cc liquid-cooled inline four-cylinder
Bore and Stroke: 67mm x 42.5mm
Compression Ratio: 12.2:1
Valve Train: DOHC; four valves per cylinder
Induction: Dual Stage Fuel Injection (DSFI) with 40mm throttle bodies, Denso 12-hole injectors
Ignition: Computer-controlled digital transistorized with 3-D mapping
Transmission: Close-ratio six-speed
Final Drive: #525 O-ring chain
Chassis and Dimensions
Honda CR-V Expert Review Expert Review Honda CR-V Expert Review First…
Honda NT700v Review Motorcycle Reviews – Gear Reviews – Biker Network
Honda Shadow Specs eHow
Honda DN-01 – Wikipedia, the free encyclopedia
Speedmonkey: Living with – Honda VFR 800